Love and Taxes: A Holy Week Lesson
Walking back from the SEIU-SOULA* demonstration for immigrant rights at the downtown Federal Courthouse, I am wearing my clerical collar and carrying a CLUE-LA picket sign slung over my shoulder. Just across the 110 Freeway on Sixth Street, an older, tall, rather dapper looking white man passed me. Then about 10 paces on, he turns and asks: "What club are you with?"
"Clergy and Laity United for Economic Justice," I say.
To which he he asks, "Isn't there justice in this country?"
"If you're part of the one percent," I answer.
"Well, I am part of the one percent," he says, "And I am not giving any of it to you!" Then he strode on at an increased gait.
"Give" I thought. Who said anything about "giving"? Apparently, he does not believe in giving one's self to another for their nurture and for one's own. That principle,  expressed in psychoanalyst Erich Fromm's book, The Art of Loving, formed Fromm's definition of love. The African American public intellectual bell hooks used the same words to define love in her best-selling trilogy. The phrase reminds me daily of what I believe and try to practice.
But that sort of reciprocal relationship between people in the human community apparently does not fit the dapper man's worldview. In fact, it isn't the practice of many people, which is why governments collect taxes. Since people do not give generously to one another or toward the common good by their own choice, governments exact taxes. Taxes pay for the things we need to make society function, from streets to schools to "the common defense" and "the general welfare," as the prologue to the United States Constitution puts it.
Taxes provide the basis for social stability, solid markets and regulated financial systems that make commerce possible, while enabling some people to become wealthy. Taxes cover the costs of security – military defense and police who protect property and keep people safe. Taxes pay for government to set trade and monetary policies that make wealth accumulation feasible. Taxes insure that health systems and work environments are relatively safe for everyone.
For a century the tax policy of this country has required more money from those who benefit the most from this arrangement. The richest are supposed to pay more, both as a percentage of their income as well as in real dollars. Americans do not ask the rich to "give" them anything. We tell the rich to simply pay their share of what it takes to defend the country and maintain social equilibrium. Taxes are about obligation and social responsibility. They are not about giving or about love.
But there is room for love in all of this. In this Holy Week of the Christian calendar, Thursday marks the day Jesus gave his followers his one and only commandment. Over a Passover dinner, he told them that they "should love one another as I have loved you," a notion right out of his Jewish tradition. His signs of love – giving oneself to another for their nurture and for our own – was a reciprocal practice at once so shockingly interpersonal and communal that it upset the false calm imposed by the power of the Roman Empire.
Jesus' closest followers were people whom the one-percenters would call "losers." He fed people who were hungry because the empire system did not provide them enough to eat. He returned mental balance to people who had been driven mad by fear and terror. He upset the financial system that kept the empire and its collaborators wealthy and in power. Acting out love like that in the public arena is what we call justice, which every religion teaches, and which is why I marched with the union that day on behalf of undocumented workers. Which is what I would have told that dapper man that day, if only he had not kept on walking.
*Service Employees International Union-Security Officers United in Los Angeles.

A Woman's Art Is Never Done: The Feminae Exhibition
A striking juxtaposition between the past and present courses throughout the small gallery. Celia Blomberg's "International Women's Day March 8" can't help but make one think of 2017's Women's March, which occurred 37 years after the print's first appearance.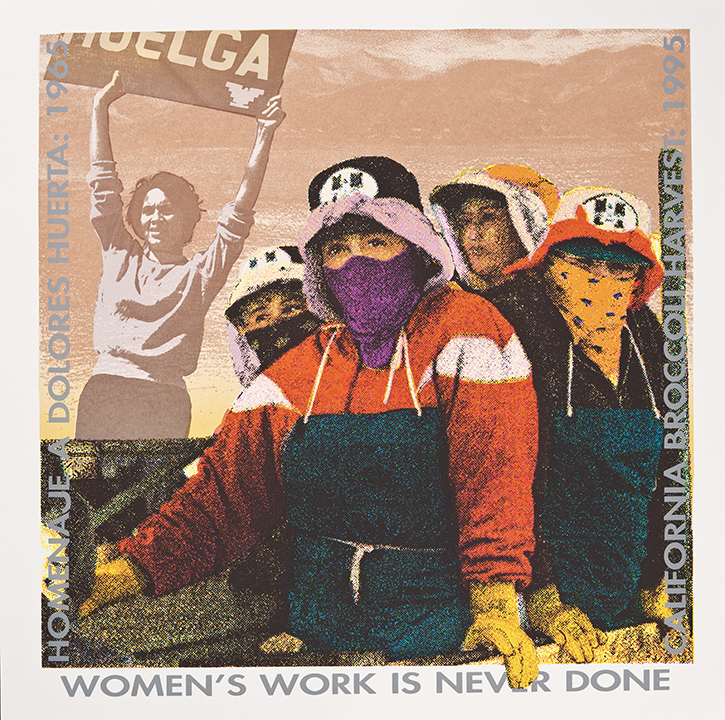 Among the 50-plus works in the Feminae: Typographic Voices of Women By Women exhibit is Yolanda Lopez's "Women's Work is Never Done." Lopez's title is particularly ironic, given the exhibit's gender-based subject matter. The show spans work from the past 50 years, making it easy to understand how much society is still grappling with its themes of gender inequality. Culled from the archives of the Center for the Study of Political Graphics, the graphic images of protest, persuasion and empowerment are truly works of art in their own right.
However, political posters aren't made to merely spruce up walls, but to help figuratively bring barriers down as well.
Two silkscreens from the 1970s, Liliana Porter and John Schneider's "This Woman is Vietnamese" and See Red Woman's Workshop's "So Long As Women Are Not Free People Are Not Free," are particularly powerful, underscoring, as they do, the fact that the subjugation and persecution of women crosses borders and cultures as an unfortunate shared global experience. These two pieces' stark simplicity exemplifies most of the work in the exhibit. In the former, a New York Times photo of a distraught Vietnamese woman with a gun held to her head is centered above these basic words typed out in a typewriter font: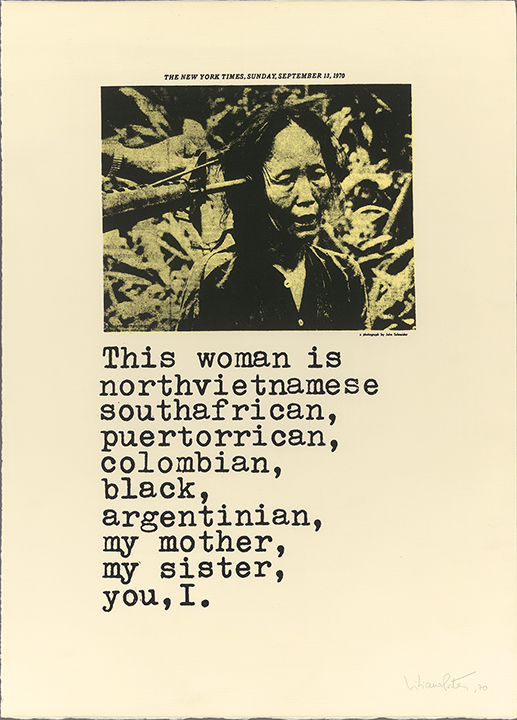 This woman is
northvietnamese
southafrican
puertorrican,
colombian,
black,
argentinian,
my mother,
my sister,
you, I.
By juxtaposing the photo with these words, the creators take the plight of this woman and immediately globalize her pain. In the latter, three female demonstrators are silkscreened in red onto a yellow background. They are marginalized by being stuck in the lower left third of the poster, but two of them are raising their fists skyward and their mouths are open, screaming in defiance. Its non-serif, eponymous type reads: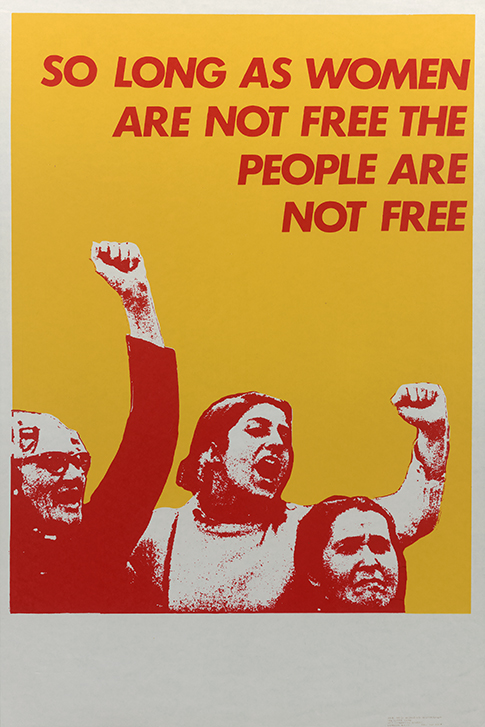 SO LONG AS WOMEN
ARE NOT FREE THE
PEOPLE ARE
NOT FREE
This piece's message takes the global message even farther, making the plight of women a human one — a common theme in the exhibition.
There is also a striking juxtaposition between the past and present that seethes throughout the small gallery. Celia Blomberg's "International Women's Day March 8" can't help but make one think of 2017's Women's March that would take place 37 years later. See Red Woman's Workshop's 1977 "Black Women Will Not Be Intimidated" could easily be repurposed to address the recent spate of blue-on-black brutality. Notable works by Barbara Kruger, Sister Corita Kent and the Guerilla Girls are also included.
Ironically , while it can be surmised that most of these works were made as populist posters to be distributed at the time as banners of protest, their beautiful simplicity and nostalgic elegance probably have resulted in the originals (mostly now found in art museums) sporting hefty vintage-resale prices.
But it is not just the art that has stood the test of time. The fact that the issues addressed in the show — feminism, choice, gender equality, war, immigration, police brutality or violence against women — are all issues at the forefront of debate in 2018 ultimately engenders conflicting feelings.
On one the hand, it is inspiring to see a vibrant exhibit that showcases such diversity in artistic styles, no doubt spawned by the diversity of the artists' own backgrounds. On the other hand, there is a realization that while there has been some progress over the past half century, there is so much work to be done.
Art Center's Hoffmitz Milken Center for Typography, 950 South Raymond Ave., Pasadena; through May 15.
---
Copyright Capital & Main