Los Angeles' War on Homelessness Begins: An Interview With Chris Ko
Although it took nearly two weeks to tally the votes from the March 7 election, Los Angeles County ballot Measure H has officially achieved the 69 percent vote supermajority needed to pass a half-cent sales tax hike.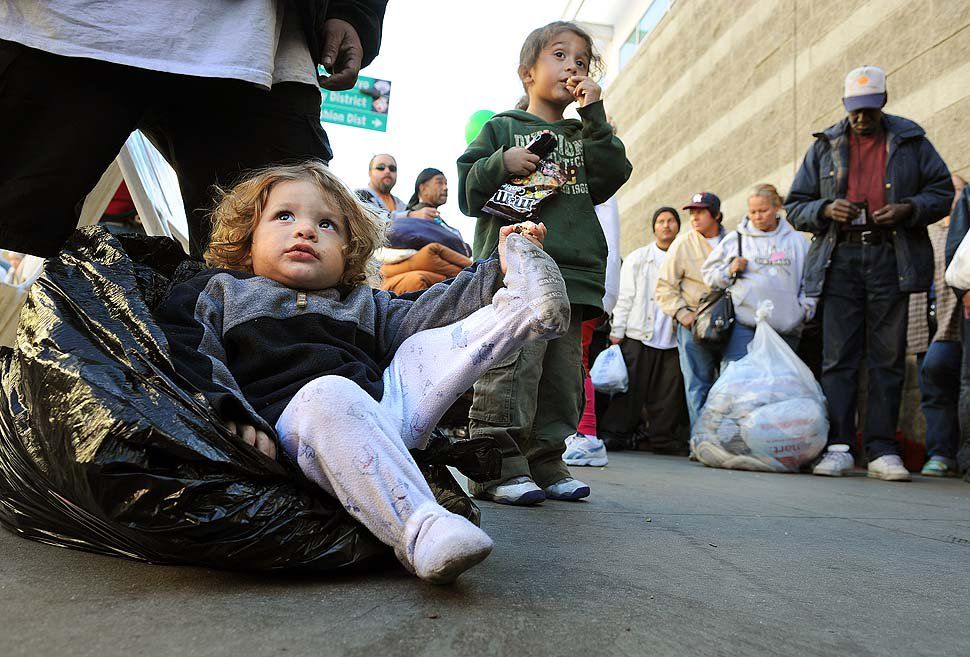 Although it took nearly two weeks to tally the votes from the March 7 election, Los Angeles County ballot Measure H has officially achieved the 69 percent vote supermajority needed to pass a half-cent sales tax hike. That creates $355 million a year for 10 years to fund programs to move thousands of L.A.'s homeless off the street and under permanent roofs, and to protect others at risk of becoming homeless. Measure H money provides rental subsidies, case management, mental health programs and other services. But it also supports an innovative personal and pilot-tested approach to connect with people that need those services, to get them off—or keep them off- the street and back into life in their own communities.
The idea was to end homelessness for 45,000 L.A. residents and prevent homelessness for 30,000 more. Measure H works in conjunction with Measure HHH, a $1.2 billion bond passed by City of Los Angeles voters last November to finance 10,000 units of permanent housing. No other city has put together those two large pieces to end homelessness. United Way of Greater Los Angeles took a leading role in the coalition to support Measure H, one that included the L.A. Area Chamber of Commerce and the L.A. County Federation of Labor—two groups often on different sides of the policy fence.
Chris Ko is Director of Systems and Innovations for the United Way of Greater Los Angeles and director of Home For Good. Capital & Main asked him about the vision behind Measure H, how it all came together and what happens next.
---
Capital & Main: Measure HHH creates permanent housing, while Measure H connects folks with services that help them stay "homed." Is that an appropriate characterization?
Ko: That's one huge component. I'd say there are other things. For one, homelessness exists outside of the City of Los Angeles too. Measure H makes sure that all of our homeless neighbors throughout the county– and especially for the communities outside the City of Los Angeles– have support. Forty percent of our homeless neighbors live outside of the City of L.A., so for them H is kind of the whole deal.
What does H provide the 40 percent outside the City of Los Angeles?
Ko: The HHH units would only be built in the city of Los Angeles.
And Measure H money will create support for people outside the city?
Ko: That's right, inside and outside–40 percent of our homeless population lives outside the City of L.A. —so a significant amount.
It seems it may have taken a while to get a consensus among those on the front lines of ending homelessness to arrive at this housing-first approach. Has that been a block to addressing homelessness in L.A. County?
Ko: I don't think that's been the fundamental deterrent. The reason we pushed at this point is that the main thing missing was resources at the scale, the solutions we thought would work. When you're dealing with the scarcity of resources, then you get in this game of constantly trying to figure out if housing is more important than support.
The vision here was: We've done this long enough–we know we need all of them. It is really important that people understand why housing-first is so important. That's been a five-to-seven year journey for us, helping the community better understand the concept that you can only end homelessness with a home– you need a home, at a minimum, to end someone's homelessness.
Has anything like this been attempted in other cities with scant affordable housing?
Ko: San Francisco attempted it. They had two measures, one requiring San Francisco to make it a budget priority. They passed one and did not pass the other measure to fund that budget priority.
New York has done a version. They've funded housing and they've had a right-to-shelter [approach] there, but they realized the shelter piece has not been the answer. They're looking at some of what we've done because they're realizing that they need to fund more holistic kinds of permanent solutions.
What mechanisms are in place or need to be in place to get these programs rolling? Three hundred and fifty-five million dollars are available beginning over the summer?
Ko: Per year, for the next 10 years, [starting] in July.
Where does that go then, what mechanisms are in place linking the homeless to services?
Ko: There are three main goals–immediate relief, ending homelessness for 45,000 individuals in the first five years, and then preventing homelessness for another 30,000 families and individuals.
Part of why we're so confident in this push is that we've been setting up community- based delivery systems for these services. We're not talking about $355 million dollars disappearing into county government. That's part of why there was a special tax that required a two-thirds vote—it's restricted for use on homelessness. We've been developing something called a coordinated entry system, a no-wrong-door system to deliver services with community-based providers in every single region of the county.
Before, if you were homeless but you didn't connect with the one agency that had gotten the contract, it was a little bit of a lottery–who you found, or who you got found by [to help you connect to support.]
Now, no matter where you enter, whether it's a food pantry, a clinic, a neighborhood provider—there [will be] a standard database used that's available free of charge [to providers]. A standard assessment takes place. You get matched to the resource that's the best fit for you. Whether that's a unit of permanent housing or a rapid re-housing rental. This network across the county, a community-based tool, is in place to deliver a good chunk of the Measure H dollar.
That sounds like an innovation.
Ko: Yes. It was a big one so. We piloted it in Skid Row. Over the next two or three years we grew it countywide with the support of a funders collaborative–private foundations and funders, and donors.
It became kind of the standard delivery system for L.A. The other thing that you'll see right out of the gate, are outreach teams. Traditionally, you waited for [those in need] to come to your programs. In this new model we go out to them. Even if the first couple times we get turned down.
There's a network ready, willing and able to go out. The difference is—that would be more fully funded. We'll finally start expanding our street outreach to be able to respond. We have eight boroughs of L.A. –service planning areas–including Antelope Valley, San Fernando Valley, West L.A., Metro and South L.A.
And now you have outreach teams in each of them.
Ko: Exactly, we have had leads in each outreach area– what we haven't had are the actual teams. It's kind of like we've had 911, but haven't had the police officers available on the other side.
The street outreach teams will be multidisciplinary, with clinical support so that [people requiring] mental health care may be treated and worked on while on the streets—that's one thing that you'll start seeing immediately. We're starting to get sobering centers, shelters [established]. Psychiatric urgent care facilities will also start opening.
I'd like to ask you to put a face on "the homeless." We always think Skid Row when we think "homeless" but that is not the face of homelessness entirely. There's a range, between families living in their cars and people camping on the street. What would be the different support steps for, say, a family living in a car or a person living on Skid Row for a few years—what would it take to reach out to them and get them homed?
Ko: The philosophy behind where we started – the whole idea of housing-first and the coordinated entry system – is that everyone can make it and deserves a home. That's number one. And two, they can make it in a home. It's just a matter of what kind of housing they can make it in.
Then the challenge becomes making sure they get paired with the right kind of housing. That's why this universal assessment is [already] in place and the coordinated entry system that tells us what kind of housing the person requires. So if they have a permanently disabling condition that's been certified, what kind of supportive services do they require to make it? It's harder to expect that that they would be fully self-sufficient, even with health care and employment training. It's still 43 percent cheaper to provide that than just leave someone on the street.
That second stage are folks who might have been homeless once or twice before and have a specific challenge that they're working through that's keeping them on the street. They may be able to work or regain self-sufficiency, but really need kind of a boost to get up there. Those folks, we'd be pairing with rapid re-housing, the modern form of transitional housing–you get to go to your own place and you work with someone to figure out your rental supports over a year or two.
[Homeless] families often start out by living with other people or in their cars. For this middle population, shelter is a viable option for them. But in the past, the reason people stayed in their cars or stayed on the street was that shelters were often not in their community and could be less safe than the streets.
We're calling [shelters] bridge housing– just to make it clear that it's not meant to be a destination. It's meant to be a bridge on the way out for that middle population. I think that face of homelessness that's not often understood or seen, are the folks who are right on the brink of homelessness.
How do you prevent them from falling into homelessness-how does Measure H figure in?
Ko: We've never been able to deal with prevention because the federal resources haven't allowed for it. Part of the vision of Measure H is that we're going to move "upstream"–helping someone stay in their home and never hit the streets to begin with. Help them weather financial emergencies by helping them with rent, helping with eviction defense, legal counsel.
Going upstream also means making sure that as people leave prison, hospitals and the foster care system, that they have really good linkages and supports. That's the other story of homelessness.
The final thing I'll say when you ask about the face of homelessness—it's predominantly Angelenos living in the communities in which they grew up or [lived in] before they became homeless. So 90 percent of our homeless neighbors actually live outside of Skid Row.
That means only 10 percent of our homeless population is on Skid Row.
Ko: Ten percent. So the face of homelessness may be hidden sometimes, may be visible at other times. But it really is in all of our communities at this point. The majority of the homeless are from those communities. They didn't come there intending to be homeless. That's where they were before their homelessness. They're looking to stay after they make it back inside.

No Walk in the Garden for the Urban Homeless
Throughout Los Angeles, landscaping is put to aggressive use, functioning as a weapon of anti-homelessness under the guise of beautification.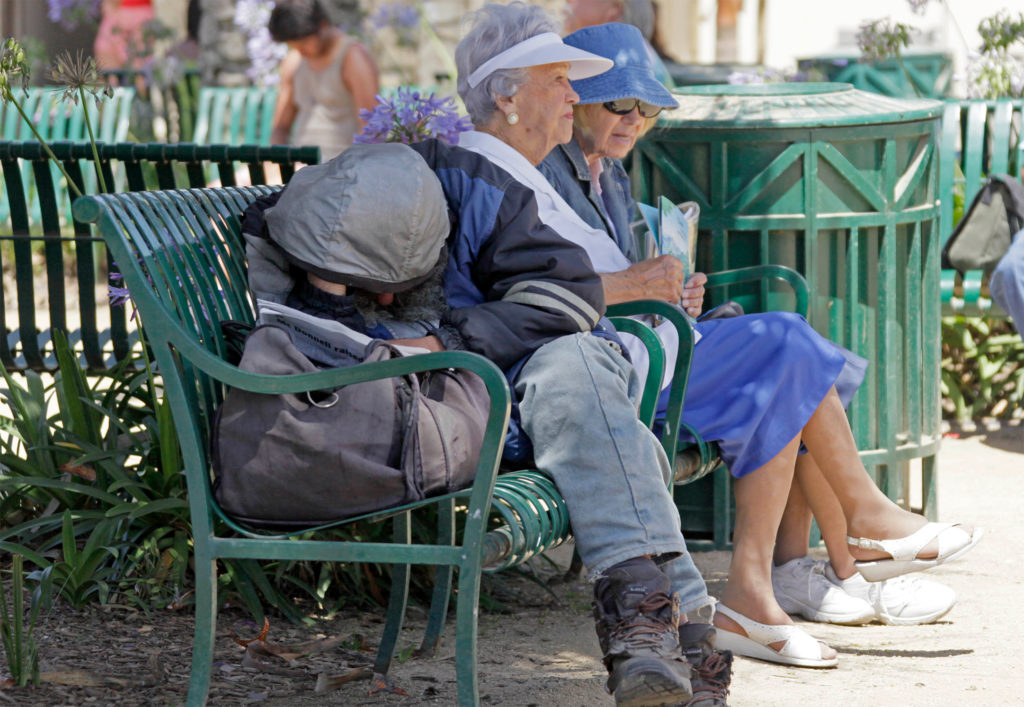 ---
The phenomenon of hostile landscaping in Los Angeles has further marginalized a swelling unhoused population.
---
Last May, in Los Angeles' coastal Venice neighborhood, Adam Smith noticed a series of planter boxes in the middle of a familiar sidewalk. Affixed near the intersection of Third and Sunset avenues, mere blocks from a Google campus and a suite of oceanside cafes, the standalone planters ran roughly the length of a wall delineating a parking lot behind a luxury condo complex.
Previously, Smith told Capital & Main, a group of six to 10 homeless people had regularly slept in tents on that block, favoring it for its relatively plentiful street light. A volunteer for the Culver-Palms Burrito Project, which prepares and serves the titular food to the unhoused of West Los Angeles, he'd become acquainted with individuals living there over the course of several years.
Once the planters were installed, however, the sidewalk was clear. "That next day, after I saw [the planter boxes] for the first time, I went there to look around because I figured they were sleeping somewhere else," Smith said. "I found people up around the corner, just, like, a block away."
---
Companies are privatizing public space to create more "landscape" for their businesses.
---
Throughout Los Angeles, landscaping is put to aggressive use, functioning as a weapon of anti-homelessness under the guise of beautification. Just as both public and private architectural design throttle space available to the unhoused internationally — via, among other examples, spikes on ledges and bars on benches to discourage sitting and lying down — and cities such as San Francisco arrange boulders to deter homeless encampments, the phenomenon of hostile landscaping in Los Angeles has further marginalized a swelling unhoused population.
Nearly 20 miles from Venice, a Los Feliz traffic median at the intersection of Vermont and Prospect avenues, and Hollywood Blvd., has regularly seen encampments arranged on its concrete ground, abutting a raised patch of desert landscaping and sycamore trees.
Christened "Vermont Triangle," the median's first redesign occurred in 2008, when the now-defunct Community Redevelopment Agency spearheaded a project to "improv[e] the pedestrian amenities" and "enhanc[e] the physical appearance of the existing median park." According to the Los Angeles Times, this yielded seating areas, lampposts to echo those at nearby Barnsdall Art Park, and the sycamores. Eventually, unhoused people began to pitch tents, availing themselves of the median's modest stretches of open public space.
Now, due to pressure from local business owners, Vermont Triangle is in flux. City Councilmember David Ryu's office, the Times noted, plans to invest $18,000 in another redesign, following a 2013 re-landscape. The 2013 update was financed in part by the Hollywood Hotel and Kaiser Permanente, according to Jeff Zarrinnam, who serves on the board of governors of the East Hollywood Business Improvement District. (Ryu's office couldn't be reached for comment.) Current proposals range from adding art installations and neighborhood signs, which Zarrinnam said the Los Feliz Neighborhood Council and East Hollywood Neighborhood Council have floated, to putting in planters.
Zarrinnam said he supports "bridge housing," a term the municipal government, neighborhood councils and local businesses use to favorably denote temporary homeless shelters and transitional housing. Yet reports indicate that the current state of temporary housing for many homeless people in Los Angeles County — who, as of May, numbered approximately 53,000 — is nothing short of abysmal. A recent investigation by radio station KPCC found infestations, harassment and medical negligence, among other scourges at various facilities throughout Los Angeles County, including those funded by the Los Angeles Homeless Services Authority (LAHSA), which conducts the county's annual homeless census.
Steve Diaz, an organizer for Los Angeles Community Action Network (LA CAN) who works with unhoused populations in downtown and South L.A., calls hostile landscaping of public space "the next level of criminalization" of homelessness. He alluded to an industrial neighborhood overlapping Skid Row, whose business owners call "The North Sea": a cluster of converted seafood warehouses and factories painted the same hues of oceanic blue — complete with landscaped sidewalks.
"They started breaking the concrete and taking away from the sidewalk to place different types of flowers, whatever garden they were putting in," Diaz said. "You have a major street [on] Skid Row that, at one point, was home to a lot of homeless folks now being gated off, and then the concrete being broken to start using these gardening pockets within the space to eliminate sidewalk access." (Miguel Nelson, a North Sea business owner involved in the area's marketing efforts, declined to respond publicly.)
As private property owners adopt guerrilla tactics to thwart homeless encampments, legal issues arise. Skid Row activist General Jeff Page has observed that, while property owners are permitted to control up to three feet of sidewalk extending from their buildings, "The North Sea is taking upwards of five to 10 feet of sidewalk, allowing only for ADA (Americans with Disabilities Act) compliance and zero space for homeless tents and/or encampments." (The Los Angeles Department of Public Works stated that the North Sea sidewalk landscaping is currently under investigation and thus couldn't comment further on the matter.)
What's more, business owners in South L.A. have illegally installed fences around their property, which, according to Diaz, will eventually give way to sidewalk landscaping. Relatedly, Adam Smith has been corresponding with city officials to ascertain the permit status of the Venice planters. The West L.A. office of the Bureau of Engineering, which issues revocable permits, told Capital & Main that it did not have a permit on file for the planters. Without one, according to the bureau, "no portion of the public right-of-way, including sidewalk, is allowed for private use."
Nevertheless, the planters remain and, according to Smith, have multiplied. Additional boxes, he said, are now ensconced in the sidewalk around the corner, to where the previously ousted people had first moved.
"For some people, [landscaping] sounds like a great idea," Diaz said. "But you're literally privatizing public space to create more 'landscape' for your business."
---
Copyright Capital & Main