L.A. Times Staffers Await Union Vote Tally
Thursday's vote by Los Angeles Times editorial staffers to choose or reject unionization was overseen by the National Labor Relations Board at the paper's downtown building and Orange County offices.

Thursday's first-ever union vote among editorial staff in the 136-year history of the Los Angeles Times was hailed as a landmark event by other news media observers, although it appears that the voting itself was a fairly low-key affair.
There had been a buzz of activity, along with rising tensions between management and the union effort in the weeks leading up to the daylong January 4 vote, which was overseen by the National Labor Relations Board at the downtown building and Orange County offices.
Union newsroom supporters had met with fellow journalists to discuss what the on-the-job priorities of editorial staffers might be and distilled a list of negotiation goals. There were phone calls to editorial staff to beef up union support and pro-union signs sprang up around the newsroom.
Management of the Los Angeles Times, which is owned by Tronc, sent out an anti-union eblast to its reporters touting the newspaper's history and implying that workplace flexibility would be threatened by a collective bargaining structure, and that the union couldn't guarantee pay hikes or protections against layoffs. It was not the first such email and matched the messaging in management-distributed flyers.
Despite that, one Times writer, speaking on condition of anonymity, described voting day in the Times Spring Street headquarters in anti-climactic terms.
"There was no line, really. I think I heard that at 10 o'clock on the dot [when polls opened] there was a bit of a line. It took 10 seconds to vote. You just marked an X, Yes or No, behind the curtain then dropped your ballot in the box."
Given that slightly over 350 staffers are in the bargaining unit and eligible to vote in two locations (and some by mail-in ballot), there was little potential for a stampede. Observers included a National Labor Relations Board officer, a NewsGuild-CWA union agent and another representing management.
Thursday evening, pro-union staffers who had been involved in the organizing retreated after work to Birds & Bees, a nearby watering hole, no doubt to relax a little after the past months fight and discuss next steps — outside media were not invited.
The drama now will lie in awaiting the results, not due until the mail-in ballots are counted and the NLRB announces the results on January 19.
There had been some skepticism in the newsroom, the Times staffer said, but "the opposition hadn't organized. So, it's tempting to think, Oh well, it's going to be overwhelming [for the union], but I just don't know. I can't predict — I wouldn't assume it's a done deal."
---
Copyright Capital & Main
Two Cousins and a Magical Ice Cream Truck Figure in Leon Martell's New Play
Although not all of ICE's comedy clicks, Martell's story has both weight and charm. The production's overriding plus is its successful rendering, fashioned with humor and craft, of the difficulties immigrants face.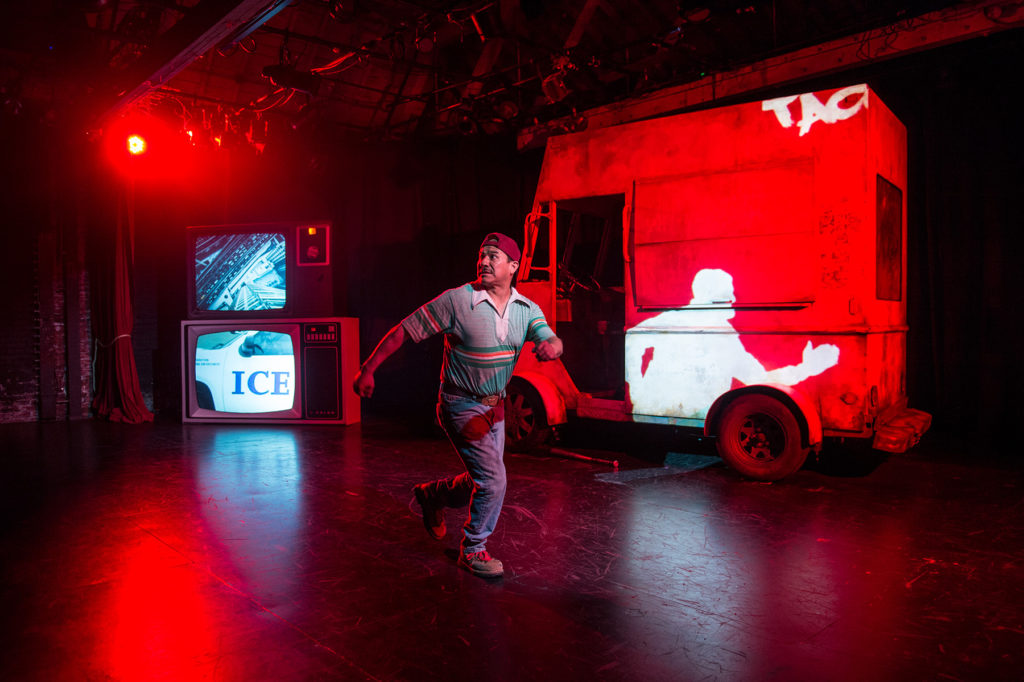 ICE, Leon Martell's family friendly play, takes place in 1988 and follows the misadventures of two undocumented immigrants: Chepe (Jesús Castaños-Chima), an avid baseball fan who dreams of making a fortune selling gourmet tacos; and his cousin Nacho (Tony Dúran), whom the beleaguered Chepe summons from Mexico to assist him in setting up his business. Directed by Debbie Devine at 24th Street Theatre, the show displays plenty of heart, not all of it realized in this premiere production. Despite this, there's enough political relevancy, moral truth and human comedy packed into the show's 65-minute time frame to overlook its shortcomings.
The core of the humor is the difference in personality between the two cousins. The ambitious Chepe is bitter and frustrated about his experience in America, where he's been cheated and lied to by bosses who exploit his labor and pay him next to nothing. Yet he's bought into the American Dream of money and fame, and to achieve that he's purchased a dilapidated old ice cream van to convert into a taco truck. It doesn't run, though, and the secret family salsa recipe is with his kin in Mexico. So, he phones home and implores his mechanic cousin to head north, bringing the salsa recipe as well as his skills.
Cousin Nacho, by contrast, is a sweet old-fashioned guy. He wants success too, but making money isn't the only thing he thinks about. He juggles tomatoes to make kids laugh and indignantly admonishes Chepe for his desperate inclination to do what it takes (steal tomatoes, for example) to score success.
Into the mix Martell tosses a blind, disgruntled priest (Davitt Felder), who plays guitar and wants to launch English classes for children in his parish (the archdiocese turns him down). Then there's Chepe's truck, which has opinions of its own. It breaks out in jingles at random intervals; later, it communicates with Nacho via blinking red letters that eerily appear on the side of the vehicle, furnishing the two men with simple directives and essential advice. When ICE (Immigration and Customs Enforcement) shows up, it alerts them to run.
Although not all of the comedy clicks, Martell's story has both weight and charm. The production's overriding plus is its successful rendering, fashioned with humor and craft, of the difficulties immigrants face. Its main weakness is Castaños-Chima's technically skilled but somewhat chilly depiction of his character, which leaves us wishing for more warmth and complexity. Felder appears awkward in his role of the blind priest, but proves versatile on video as Chepe's various nemeses. Dúran's naïve Nacho is a lovable presence from first to last.
Displayed on a monitor, Matthew G. Hill's video slides add historical and social perspective, and his backwall projections, in tandem with Dan Weingarten's lighting and Chris Moscatiello's sound, help conjure a magical aura to this parabolic piece.
24th Street Theatre, 1117 West 24th St., Los Angeles; Sat., 3 & 7:30 p.m.; Sun., 3 p.m.; through June 10, (213) 745-6516 or 24thstreet.org.
---
Copyright Capital & Main