The L.A.Times Misses the Bigger Picture
You wouldn't know it from the Los Angeles Times' recent coverage, but the labor contract with International Brotherhood of Electrical Workers (IBEW) Local 18 currently under consideration by city officials is a good deal for Department of Water and Power (DWP) customers and the city as a whole, and city officials would be wise to approve it, even if there are minor changes made to the deal. A regular reader might also miss the fact that Los Angeles has some of the lowest utility rates and most reliable service in the region.
A cursory review of the L.A. Times website reveals that the newspaper has published some 18 stories on issues related to labor costs at DWP over the last year. (This accounting does not include the Times' coverage of the mayoral campaign in which IBEW Local 18's support of Wendy Greuel became an issue.) Meanwhile, the paper has written only two stories on the coal transition, zero stories on energy efficiency, one story on electric vehicles and zero stories on the serious challenges posed by DWP's aging workforce. Readers would benefit from a more balanced coverage of our utility.
As for the agreement on the table, it is extremely fair. It will:
Save ratepayers more than $400 million over the next four years, primarily by having workers postpone their cost of living increase for those years and increasing pension contributions for new employees.
Create parity between DWP employees and other city employees in similar classifications. (The differential had caused a brain drain, with city employees moving over to DWP because of the higher compensation.)
Resolve a sick-day policy that has been subject to abuse by some employees.
Settle a lawsuit by the DWP's pension board against Los Angeles that could have saddled the city with $200 million in liability.
Reduce customers' utility rates by as much as 2.6 percent for water bills and by as much as 1.8 percent, for electric bills.
But don't just take our word for it, read the August 9 report prepared by Chief Legislative Analyst Gerry Miller.
"In light of the above and what follows, we strongly urge the Council to approve the proposal before you. It accomplishes the goals established several years ago with all labor negotiations, will provide the greatest protection to DWP ratepayers, creates certainty over the next several years in DWP revenue requirement and rate impacts on customers and provides a framework for ensuring that negotiations with other City unions result in an outcome that is consistent with cost containment measure that are essential in bringing the City's General Fund into structural balance over the next few year."
City Administrative Officer Miguel Santana, not always a friend of city employees, is singing the deal's praises, as well. Fred Pickel, the ratepayer advocate who conducted his own analysis of the deal, is also urging its approval. Finally, Ron Nichols, the DWP General Manager, is in support.
Some background: IBEW Local 18's contract expires in 2014, but the lawsuit filed by the DWP's pension board against the city presented city officials with an opportunity to jumpstart negotiations. The union agreed to forgo an already-negotiated pay raise as part of the agreement. If no deal is reached by September 1, the raise will go into effect and the Department will miss out on the opportunity to save money on behalf of customers. Failure to resolve the deal could also lead to a labor dispute just at the time the utility faces tremendous challenges, ranging from an infrastructure in need of repair to an aging workforce to a radical transformation in the DWP's energy mix. In addition, the deal was vetted at a public hearing August 16 — a highly unusual process since labor negotiations are typically done in closed session.
A parade of headlines about overtime pay, the abuse of a sick-time policy by a small percentage of employees and work rules related to contracting out paints a distorted picture of a department run amok. A more balanced coverage of our utility would reveal the following:
The vast majority of DWP employees are highly trained, hardworking and dedicated to the department's mission of bringing quality service to L.A. residents.
DWP's service is more reliable and less expensive than many of the surrounding utilities'.
Labor costs are not the driving factor behind rates. The increases are being driven by an aging infrastructure and rising energy costs.
The best way for people to keep their bills down in the face of rising rates is through water conservation or energy efficiency upgrades that can reduce bills by between 15 and 35 percent.
The contract negotiations, which have been ongoing for 18 months, address many of the work rule issues raised in the L.A. Times pieces and create a process for ongoing discussions.
So what's the deal with the L.A. Times? The DWP has long been a favorite target of the Times, as well as of politicians trying to stir up resentment among voters. While DWP rates are low relative to other utilities, all of us get sizable bills (which are also freighted with the city's sewer and sanitation charges), making some customers vulnerable to politicians trying to score points. And finally, DWP's union, IBEW Local 18, has effectively worked to create good jobs for members, many of whom do highly specialized and dangerous work. These are the type of middle class, family-supporting jobs we should be fighting to create and protect. Eroding the quality of those jobs – as has happened in the private manufacturing sector – will do nothing to substantially lower our rates and it could jeopardize the quality of service we get from our utility.
It's fair to ask IBEW Local 18 members to be open to reforms that make the utility run more efficiently. But the L.A. Times' reporting has been cynical and one-sided. Readers deserve better and so do the workers who literally risk their lives to bring us water and power.
Government Shutdown's Silver Lining: A Corporate Hiring Guru Speaks Out
Ending the shutdown won't curtail the hiring opportunities for corporate recruiters, says one expert. It's like divorce: Once you start thinking about leaving, the odds that it will happen go up dramatically.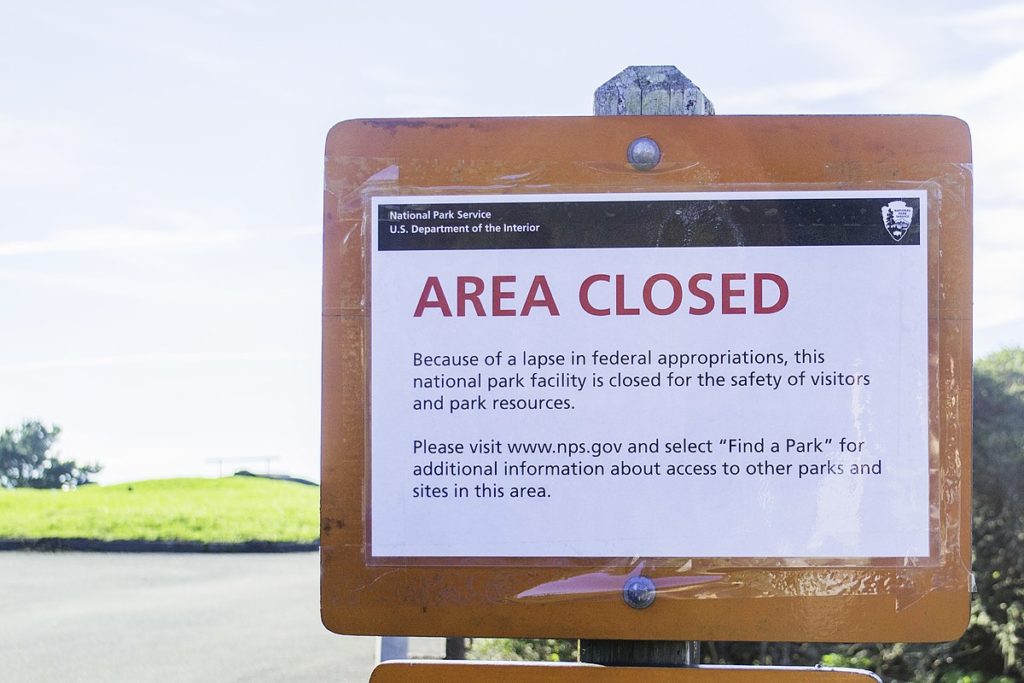 ---
In the new economic climate, even the most mission-driven of federal workers might be forgiven for abandoning the nation's parks, airways and regulatory agencies.
---
When the federal government shut down for 16 days in 2013, corporate hiring guru John Sullivan advised companies on how to raid federal government workplaces for talent.
A blog post he penned at the time caused some to charge him with being unpatriotic, he said recently, while others thanked him for the reminder that federal workers were ripe for the plucking.
This time around, the climate is even better for corporations looking to cull staff from a workforce that is already well-trained and also known for its loyalty, Sullivan tells Capital & Main by phone. He describes the current moment—with hundreds of thousands of federal employees forgoing paychecks and, in many cases, sitting at home — as tantamount to "a sale on Black Friday."
---
Congresswoman:  The shutdown could have a long-term impact on the federal government's ability to attract workers with IT skills.
---
"If you've been screaming for the last two years" about the skills-and-talent shortage, "this week there isn't one," says Sullivan, who heads the human resource management program at San Francisco State University's College of Business.
The partial shutdown, that began on December 22 when President Trump failed to secure funding from Congress for his border wall, has impacted employees at a host of federal agencies, including the departments of Agriculture, Commerce, Homeland Security, Housing and Urban Development, Interior, Justice, State, Transportation and Treasury and the NASA.
What makes this particular shutdown so suitable for raiding federal workplaces? It's not just that employee morale has taken a nosedive, thanks to a president who is at war with many of the agencies he oversees. Nor is it only the fact that Trump threatened to keep the government closed for as long as a year, a notion that "really scares people," says Sullivan.
---
With Amazon's opening new offices in the District of Columbia area, three out of four IT workers in DC say they would consider leaving their current jobs for the tech behemoth.
---
It's also the economic climate. Companies are growing. Unemployment is low. Remote work is increasingly an option. Technical advances have made looking for a job easier than it was in 2013. "You can say 'boo' to your phone and apply for a job," adds Sullivan, delivering his matchmaking pitch with such force that even the most mission-driven of federal workers might be forgiven for abandoning the nation's parks, airways and regulatory agencies.
Congresswoman Robin Kelly (D-IL), the ranking member of the House Subcommittee on Information Technology, worried, in a statement last week, that the shutdown would have a long-term impact on the federal government's ability to attract workers with IT skills. The federal government has generally struggled to attract young tech workers, and Amazon's new offices in the District of Columbia area has three out of four IT workers in DC saying they would consider leaving their current jobs for the tech behemoth.
Tech workers — and upper-salaried talent — are not the only employees coveted by the private sector, says Sullivan. Forest Service employees. Coast Guard workers. Transportation and Safety Administration agents. Any unpaid workers could be lured away, especially in states like California and Texas, where economies are strong, he maintains. An employment agency for California's casinos recently put this shout out on Twitter: "Any @TSA employees looking for new opportunities, PTGaming is hiring!" along with the popular hashtag, #shutdownstories.
The shutdown could also prompt federal employees to throw scruples to the wind and step into the infamous revolving door that leads workers from government jobs to the private sector and back again. When Sullivan was advising companies in 2013, he helped firms hire from agencies that regulated them.
"And by the way," asks Sullivan, persisting with his siren song, "if I was a regulator, [with] President Trump eliminating all those regulations, why am I needed? Why not go to the private sector?"
Sullivan, who says he is an underpaid government worker in his own right, is concerned about the public cost of his and others' efforts to lure away the federal government's top talent. The best employees will leave first, and "literally billions" in training dollars will be lost, he predicts.
But he puts the blame squarely on a public sector that undervalues its workers. Corporations that pilfer federal government workforce for talent offer a kind of public service and corrective by demonstrating the price that must be paid "for degrading public service and unnecessarily frustrating federal employees," he wrote in his 2013 post.
Ending the shutdown won't curtail the hiring opportunities for corporate recruiters, says Sullivan. "It's like divorce. Once you start thinking about [leaving], the odds [that it will happen] go up dramatically."
---
Copyright Capital & Main