L.A. Times' "Even-Handed" Approach to Prop. 47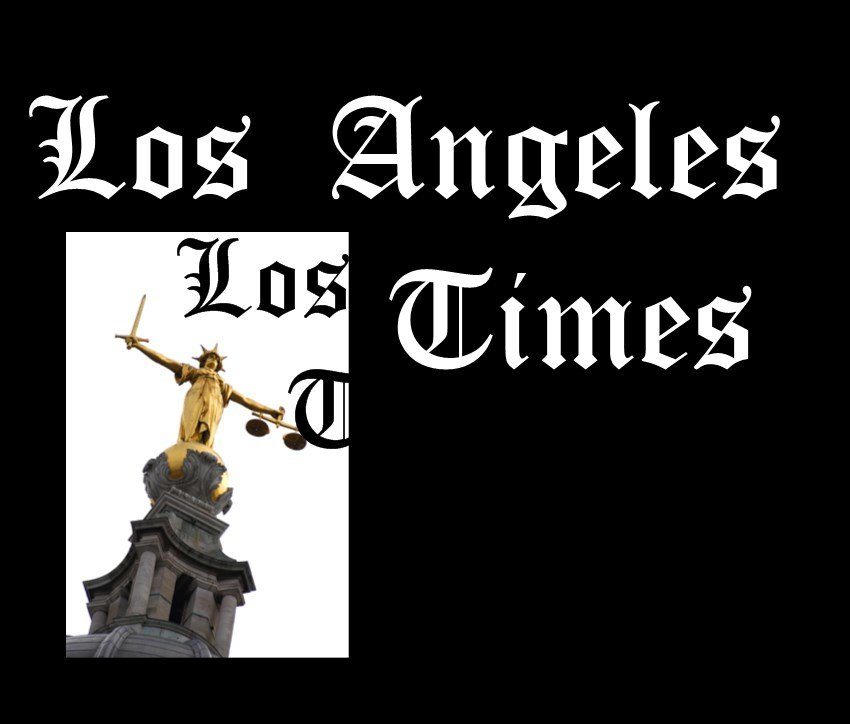 There they go again.
Last Saturday, three days before the election, the Los Angeles Times ran a somewhat bewildering piece about Proposition 47, the California state ballot initiative that seeks to de-felonize certain nonviolent crimes that are currently counted toward a convict's three-strike tally. 
"Prop. 47 puts state at center of a national push for sentencing reform," ran the feature's headline on the Times' website. ("Ground Zero for Penal Reform," was the print version's more succinct headline.) And, sure enough, for the first 300 words the piece is pretty much a description of Prop. 47, while noting its major funders are philanthropist George Soros and several liberal foundations. Then, however, in the seventh paragraph (a jump page in the print edition), we get what the Times really wants to say:
The coordination by a few wealthy foundations to change public policy represents a legitimate but worrying form of political influence, said Robert McGuire, who tracks such activity for the Center for Responsive Politics.
What's odd about this is that it isn't a direct quote – it's the Times summarizing McGuire. This is followed by a direct quote from McGuire: "Nonprofits are allowed to do this, but voters have a right to know what interest is trying to get them to vote a certain way."
So at this point, the article finally reveals its true purpose – to critique Prop. 47's funding, which by the way is public information. Except that it doesn't really do this. The McGuire quote and paraphrase are general observations and don't mention Prop. 47 – McGuire could have been talking about nearly any ballot initiative. And in fact, the Times, having admitted that Prop. 47's funding is legitimate, never establishes that the measure's funders will personally benefit from the initiative's passage – a standard definition of influence peddling.
The rest of the article mostly discusses the emergence of the movement to reform California's 1994 Three Strikes law, who in that movement gets money from Soros, the Ford Foundation and others, and who used to work for Kamala Harris, etc.
But this connect-the-dots exposé exists side by side with straight-ahead reporting about the ballot measure, quoting its leading proponents on its benefits to society, while not even seeking comment from Prop. 47's opponents. Neither the pull-quote nor the caption of the photo accompanying the online version mentions Prop. 47's finances or hints of a shadowy conspiracy to break the law. Readers skimming the piece could be forgiven for thinking it was just another neutral profile of a ballot initiative and not a financial take-down.
Except, that is, for a scary-looking infographic  titled, "The Big Campaign: Prop 47 is part of larger push." It was bizarrely exiled in the print edition to an entirely different section of the newspaper, where it was reproduced in black and white. Online, its wildly curving lines sprawl across screens in blood red and look like the handiwork of an Adderall binger armed with a Spirograph. At the top of an enormous web of pro-Prop. 47 organizations sits the California Endowment and, at the bottom, George Soros. About the only restraint the infographic shows is in not representing Soros as a giant spider.
Okay, we get it. The Los Angeles Times is a paragon of even-handedness. People cheer the city's paper of record when it agrees with them and cancel their subscriptions when their oxen are gored. The Times giveth and the Times taketh. But its schizoid November 1 piece on Proposition 47 can only leave readers scratching their heads. The article favorably quoted the measure's supporters yet reported there was something "worrying" about its perfectly legal sources of support. Such journalistic passive-aggressiveness reveals a newspaper that, like Hamlet, could not make up its mind. Oh, and for the record, the Times endorses Proposition 47.

'Skeleton Crew' Is a Play With a Moral Spine
Set in a Detroit automobile outfitting plant, Dominique Morisseau's drama grabs you from the start with its focus on blue-collar men and women, and their struggle for dignity and self-respect.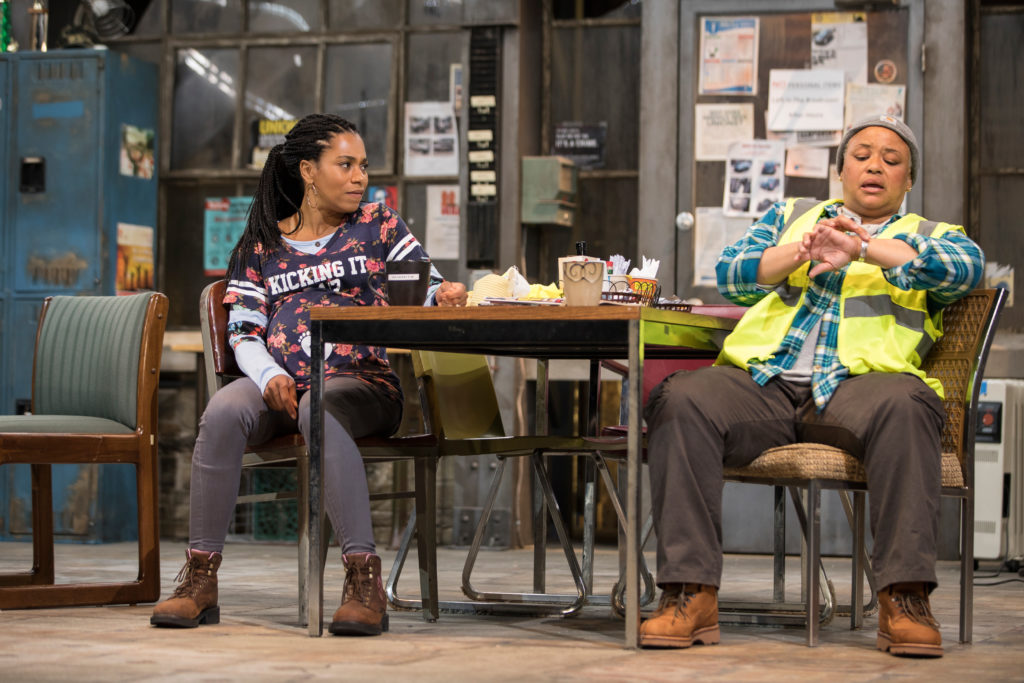 Working-class men and women of color are rarely front and center in today's media and, likewise, are presented all too occasionally on the American stage. So it's buoying to see that trend bucked in playwright Dominique Morisseau's percipient and well-crafted drama, Skeleton Crew. The play is the final installment in her Detroit  Project Trilogy; the first, Paradise Blue, is set in the 1940s amidst displacement caused by urban renewal and gentrification, while the second, Detroit '67, transpires on the eve of the 1967 Detroit riots sparked by a police action.
Directed by Patricia McGregor at Los Angeles' Geffen Playhouse, Skeleton Crew is a play with a moral spine. It takes place in 2008, when the shrinking U.S. auto industry is being further downsized. Morisseau's engaging quartet of characters — Faye (Caroline Stefanie Clay), Dez (Armari Cheatom), Shanita (Kelly McCreary) and Reggie (DB Woodside) – are employed at an automobile outfitting plant. Faye, Dez and Shanita are workers on the line while Reggie (who has a wife and kids, and has pulled himself together after a troubled youth) is their supervisor.
The first three customarily mingle in their break room (designer Rachel Myers' impressively cluttered, dingy and detailed set), trading the sort of familiar barbs and genuine concern for each other common among longtime co-workers. They also face off on philosophy: Upper-middle-aged Faye and the younger, pregnant Shanita take pride in their labor, while Dez, though a good worker, is a malcontent scornful of management and firm in the belief that everyone needs to watch out for himself. He's a thorn in Reggie's side, for while Reggie wants to be supportive of his workers, he must act at the behest of higher management. For his part, Dez resents Reggie's authority, and a palpable unease exists between them.
Besides this male matchup, we're made privy to Dez's attraction to Shanita, who mostly turns away his advances, but every now and then displays a hint of interest. Most poignant is Reggie's regard and affection for the lesbian Faye, which has roots in his boyhood when she loved, and lived, with his now-deceased mom.
These people's various predicaments intensify when rumors spread of the plant's shutdown — a disaster for all, but a particular calamity for the already near-broke Faye who, one year short of retirement, would lose her pension. The crisis forces each of these people to make a choice.
A sound piece of social realism, Skeleton Crew grabs you from the start in its focus on blue-collar men and women, and their struggle against odds for dignity and self-respect. Morisseau not only furnishes these characters a platform for their travails, she endows them with strong values, big hearts and the opportunity to choose between right and wrong.
Unfortunately, the performance I attended did not soar. Many exchanges lacked a fresh edge. The actors certainly had their characters down, but too often they appeared to be coasting on technique. (This seemed particularly true of Clay, who performed the role to great accolades in Washington, DC in 2017, also under McGregor's direction). Additionally, some of the stage movement was not entirely fluid; in confrontations, actors sometimes would just stand and face each other in an artificial way. And Cheatom's interpretation of Dez struck me as a bit overly churlish and depressive: I needed more glimpses of the intelligence and edge that would secretly attract the strong, self-directed Shanita.
The most compelling moments belong to Woodside, well-cast as a man trying his best in difficult circumstances to do the right thing.
---
Gil Cates Theater at the Geffen Playhouse, 10886 Le Conte Ave., Westwood Village; Tues.-Fri., 8 p.m.; Sat., 3 & 8 p.m. Sun., 2 & 7 p.m.; through July 8. (310) 208-5454 or www.geffenplayhouse.org