L.A. Times' "Even-Handed" Approach to Prop. 47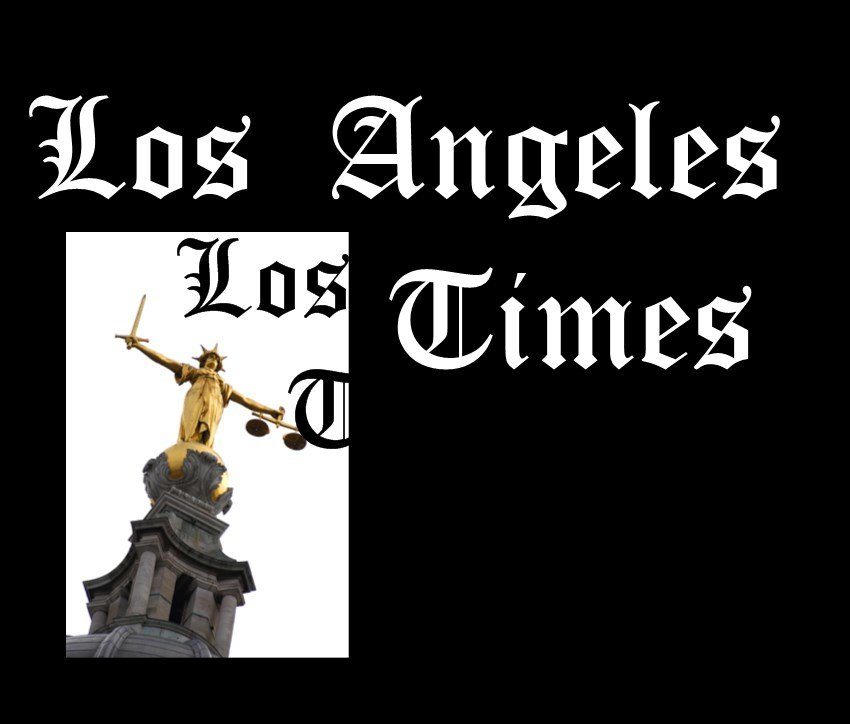 There they go again.
Last Saturday, three days before the election, the Los Angeles Times ran a somewhat bewildering piece about Proposition 47, the California state ballot initiative that seeks to de-felonize certain nonviolent crimes that are currently counted toward a convict's three-strike tally. 
"Prop. 47 puts state at center of a national push for sentencing reform," ran the feature's headline on the Times' website. ("Ground Zero for Penal Reform," was the print version's more succinct headline.) And, sure enough, for the first 300 words the piece is pretty much a description of Prop. 47, while noting its major funders are philanthropist George Soros and several liberal foundations. Then, however, in the seventh paragraph (a jump page in the print edition), we get what the Times really wants to say:
The coordination by a few wealthy foundations to change public policy represents a legitimate but worrying form of political influence, said Robert McGuire, who tracks such activity for the Center for Responsive Politics.
What's odd about this is that it isn't a direct quote – it's the Times summarizing McGuire. This is followed by a direct quote from McGuire: "Nonprofits are allowed to do this, but voters have a right to know what interest is trying to get them to vote a certain way."
So at this point, the article finally reveals its true purpose – to critique Prop. 47's funding, which by the way is public information. Except that it doesn't really do this. The McGuire quote and paraphrase are general observations and don't mention Prop. 47 – McGuire could have been talking about nearly any ballot initiative. And in fact, the Times, having admitted that Prop. 47's funding is legitimate, never establishes that the measure's funders will personally benefit from the initiative's passage – a standard definition of influence peddling.
The rest of the article mostly discusses the emergence of the movement to reform California's 1994 Three Strikes law, who in that movement gets money from Soros, the Ford Foundation and others, and who used to work for Kamala Harris, etc.
But this connect-the-dots exposé exists side by side with straight-ahead reporting about the ballot measure, quoting its leading proponents on its benefits to society, while not even seeking comment from Prop. 47's opponents. Neither the pull-quote nor the caption of the photo accompanying the online version mentions Prop. 47's finances or hints of a shadowy conspiracy to break the law. Readers skimming the piece could be forgiven for thinking it was just another neutral profile of a ballot initiative and not a financial take-down.
Except, that is, for a scary-looking infographic  titled, "The Big Campaign: Prop 47 is part of larger push." It was bizarrely exiled in the print edition to an entirely different section of the newspaper, where it was reproduced in black and white. Online, its wildly curving lines sprawl across screens in blood red and look like the handiwork of an Adderall binger armed with a Spirograph. At the top of an enormous web of pro-Prop. 47 organizations sits the California Endowment and, at the bottom, George Soros. About the only restraint the infographic shows is in not representing Soros as a giant spider.
Okay, we get it. The Los Angeles Times is a paragon of even-handedness. People cheer the city's paper of record when it agrees with them and cancel their subscriptions when their oxen are gored. The Times giveth and the Times taketh. But its schizoid November 1 piece on Proposition 47 can only leave readers scratching their heads. The article favorably quoted the measure's supporters yet reported there was something "worrying" about its perfectly legal sources of support. Such journalistic passive-aggressiveness reveals a newspaper that, like Hamlet, could not make up its mind. Oh, and for the record, the Times endorses Proposition 47.

A Woman's Art Is Never Done: The Feminae Exhibition
A striking juxtaposition between the past and present courses throughout the small gallery. Celia Blomberg's "International Women's Day March 8" can't help but make one think of 2017's Women's March, which occurred 37 years after the print's first appearance.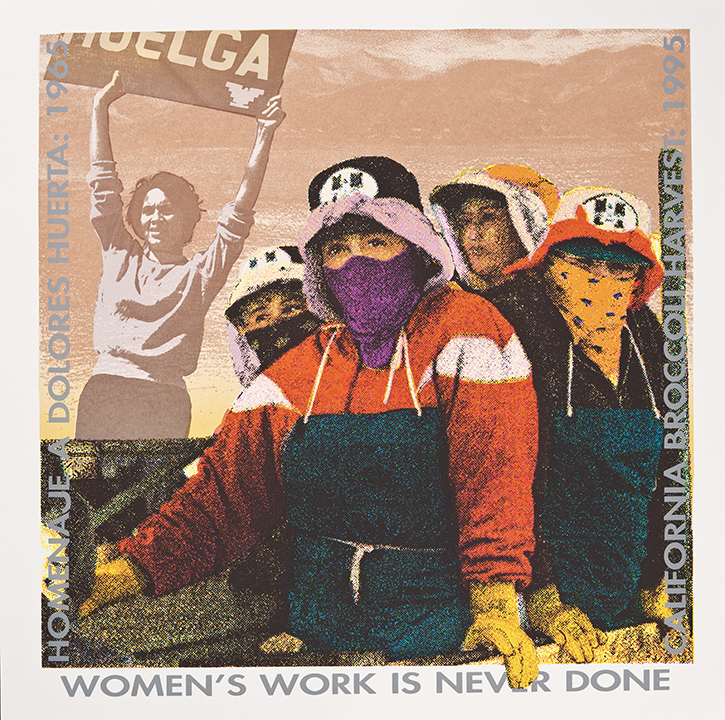 Among the 50-plus works in the Feminae: Typographic Voices of Women By Women exhibit is Yolanda Lopez's "Women's Work is Never Done." Lopez's title is particularly ironic, given the exhibit's gender-based subject matter. The show spans work from the past 50 years, making it easy to understand how much society is still grappling with its themes of gender inequality. Culled from the archives of the Center for the Study of Political Graphics, the graphic images of protest, persuasion and empowerment are truly works of art in their own right.
However, political posters aren't made to merely spruce up walls, but to help figuratively bring barriers down as well.
Two silkscreens from the 1970s, Liliana Porter and John Schneider's "This Woman is Vietnamese" and See Red Woman's Workshop's "So Long As Women Are Not Free People Are Not Free," are particularly powerful, underscoring, as they do, the fact that the subjugation and persecution of women crosses borders and cultures as an unfortunate shared global experience. These two pieces' stark simplicity exemplifies most of the work in the exhibit. In the former, a New York Times photo of a distraught Vietnamese woman with a gun held to her head is centered above these basic words typed out in a typewriter font: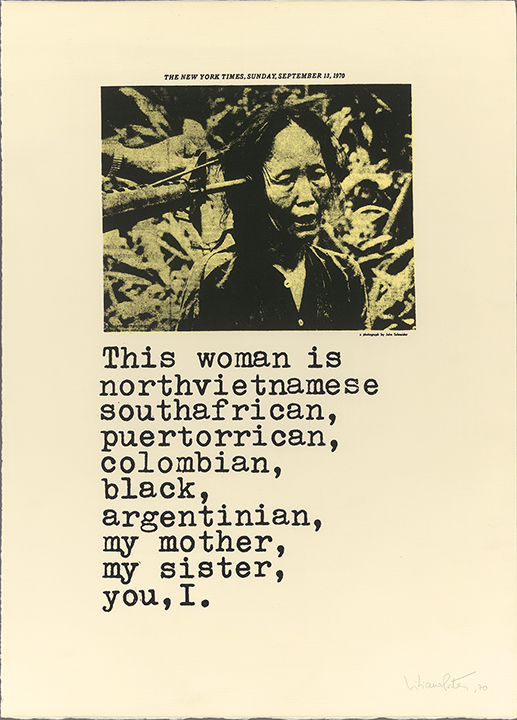 This woman is
northvietnamese
southafrican
puertorrican,
colombian,
black,
argentinian,
my mother,
my sister,
you, I.
By juxtaposing the photo with these words, the creators take the plight of this woman and immediately globalize her pain. In the latter, three female demonstrators are silkscreened in red onto a yellow background. They are marginalized by being stuck in the lower left third of the poster, but two of them are raising their fists skyward and their mouths are open, screaming in defiance. Its non-serif, eponymous type reads: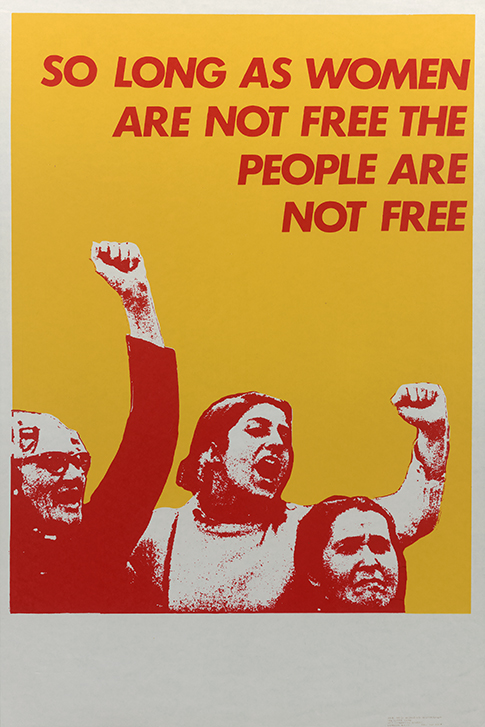 SO LONG AS WOMEN
ARE NOT FREE THE
PEOPLE ARE
NOT FREE
This piece's message takes the global message even farther, making the plight of women a human one — a common theme in the exhibition.
There is also a striking juxtaposition between the past and present that seethes throughout the small gallery. Celia Blomberg's "International Women's Day March 8" can't help but make one think of 2017's Women's March that would take place 37 years later. See Red Woman's Workshop's 1977 "Black Women Will Not Be Intimidated" could easily be repurposed to address the recent spate of blue-on-black brutality. Notable works by Barbara Kruger, Sister Corita Kent and the Guerilla Girls are also included.
Ironically , while it can be surmised that most of these works were made as populist posters to be distributed at the time as banners of protest, their beautiful simplicity and nostalgic elegance probably have resulted in the originals (mostly now found in art museums) sporting hefty vintage-resale prices.
But it is not just the art that has stood the test of time. The fact that the issues addressed in the show — feminism, choice, gender equality, war, immigration, police brutality or violence against women — are all issues at the forefront of debate in 2018 ultimately engenders conflicting feelings.
On one the hand, it is inspiring to see a vibrant exhibit that showcases such diversity in artistic styles, no doubt spawned by the diversity of the artists' own backgrounds. On the other hand, there is a realization that while there has been some progress over the past half century, there is so much work to be done.
Art Center's Hoffmitz Milken Center for Typography, 950 South Raymond Ave., Pasadena; through May 15.
---
Copyright Capital & Main