Los Angeles Tenants: The Rent's Getting Too Damn High!
A local dispute over evictions highlights the emergence of a tenants movement that is pushing back against rapacious landlords and a nationwide housing affordability crisis.
---
California tenants are taking their grievances to local governments, to courtrooms
and to the ballot box.
---
The ad on Redfin's website suggested a "wonderful" opportunity for an investor: a 25-unit building in a "NO RENT CONTROL AREA" of Los Angeles County. But it also obliquely warned of impending peril for the inhabitants: "[D]rive by only, tenants are unaware of the sale."
On October 2016, the tenants of a complex on East 61st Street, in an unincorporated area of South Los Angeles County, received a letter informing them that the two-story stucco building, built in 1925, had a new owner.
What happened next suggests the lack of protections afforded the state's low-income renters, particularly those residing in neglected and deteriorating housing. But the tenants' response also highlights the emergence of a movement that is pushing back against rapacious landlords and a nationwide housing affordability crisis that cuts across income levels, but hits the country's poorest residents hardest.
In California, tenants are taking their grievances to local governments, to courtrooms and, in November, to the ballot box, where voters will decide a controversial measure that could give municipalities more latitude to regulate rents.
Jose Nuñez, 62, was one of about a dozen tenants in the 61st St. building in Florence-Firestone—one of the county's most densely populated neighborhoods—to receive an eviction notice, according to Silvia Marroquin, an organizer with Strategic Actions for a Just Economy (SAJE), a Los Angeles-based non-profit that is working with the tenants.
---
At one property, a desiccated rat was visible in the exposed laths of one of the building's archways. Water dripped from the ceiling of an empty apartment that had been gutted.
---
Nuñez says he was puzzled to be given 60 days to vacate the apartment he has lived in with his wife, Juanita Rodriguez, for 20 years. "I was asking myself Why? because I always paid my rent on time," he says.
Nuñez suspects that the building's owner was unhappy that tenants had begun to demand repairs in response to being asked to pay for parking and utilities. "The owner shouldn't have been so unfair with us. He should have come to us and let us know that he wanted to raise rents," said Nuñez through an interpreter. He added that he would have kept quiet about repairs and agreed to modest rent increases.
Marroquin thinks the owner has other motives, as well: finding new tenants who will pay higher rents.
On a mid-August visit to the property, a desiccated rat was visible in the exposed laths of one of the building's archways. Water dripped from the ceiling of an empty apartment that had been gutted. The unit's former tenant, Monica Gomez, a 49-year-old seamstress, remembered being woken in the middle of the night more than a year ago by water dripping on her head. (She and her two sons have since moved out of the apartment and in with a friend.)
---
Los Angeles County has not had a rent control policy for its unincorporated areas since Ronald Reagan was president.
---
The building's owner, 3 Peacocks, is a limited partnership with ties to Swami International, a 40-year-old property management company with which it shares the same address in the city of Gardena. As of September 2017, the building was being managed by Torrance-based Crystal Property Management, according to a letter sent to tenants.
A group of about 20 tenants plan to file a lawsuit in Los Angeles County Superior Court early this week and will name all three entities as defendants, according to Grant Riley, the tenants' attorney, who claims the owner and property managers have been negligent in maintaining the building.
Monica Mittal, who works for Swami International and is listed as a signatory for the corporate general partner of 3 Peacocks LP, did not respond to a request for comment, nor did Crystal Property Management.
Several tenants have left in response to the eviction notice, but others – like Nuñez – have remained, turning down $1,500 if they agree to vacate the building by the end of July, according to Marroquin, who says it is not enough money to allow them to find housing in the area.
---
L.A. County supervisors are getting pressure from landlords, who argue that rent control will make the housing crisis worse by providing a disincentive for new investment in housing.
---
Jose Nuñez is in visible pain as he paces an immaculate room that holds the couple's bed, couch and a folding table. He left his job at a plastics factory five years ago after injuring his back. He's looked at apartments in the area and has been dismayed by rents that range from $1,000 to $1,200 per month. The $668 monthly rent he says he now pays eats up a sizable chunk of his $975 monthly disability payment.
But even as Nuñez gets ready to do battle in court, he has joined an effort to affect policy at the local level. His eyes light up as he shows me a hand-made sign. In Spanish, it reads, "Here in the County of L.A. Firestone and Florence: We want a stop to the high rents. Now!"
Stopping or slowing Los Angeles County's rising rents will take some work.  The county has not had a rent control policy for its unincorporated areas since Ronald Reagan was president. But Los Angeles County Board of Supervisors members Sheila Kuehl and Hilda Solis moved the ball forward on rent regulation in May of last year, the same month that a group of tenants from gentrifying East Los Angeles marched to the board's Kenneth Hahn Hall of Administration auditorium in support of rent control. The supervisors voted to establish a "Tenant Protection Working Group" of real estate professionals, tenant lawyers and social service providers, which has been meeting since early January to hammer out recommendations.
In its final report, dated August 15, the working group recommended by a 7 to 2 vote (with one abstention) that the county adopt a rent stabilization policy that would limit allowable rent increases for certain multifamily apartment buildings in unincorporated parts of the county. There are more than 93,000 rental units in unincorporated Los Angeles County, according to a report by the county's chief executive office.
The working group also recommended the establishment of "Just Cause" eviction protections, which limit the reasons tenants can be evicted from their apartments. Such a policy would be most applicable to the predicament that the East 61st Street tenants now face, says Dagan Bayliss, SAJE's organizing director.
If supervisors are feeling the heat from tenant groups in East and South Los Angeles, they are also getting pressure from landlords, who argue that rent control will make the housing crisis worse by providing a disincentive for new investment in housing. (Rent control proponents counter that there is no evidence that rent stabilization laws—which typically exempt new construction—have that effect.)
A sign of the landlords' sway might be found in the board's recent decision to delay a vote on an interim rent cap proposed by Kuehl and Solis. Concerned that rents were beginning to "spiral upward" while the working group met over a period of months, the two county supervisors had introduced a stop-gap motion in late June to direct staff to draft a six-month ordinance to limit rent hikes to three percent. That vote was scheduled for late July but never took place, to the disappointment of East 61st Street tenants who staged a brief protest in the supervisors' auditorium. The California Apartment Association had put out a call to action on its website in late June to rally opposition to the proposal.
When asked in mid-August about the temporary rent cap, supervisor Mark Ridley-Thomas, who represents the Florence-Firestone neighborhood, told Capital & Main in an email that, while he understood "the pressures are particularly acute for tenants," he "would like the opportunity to be informed by the working group's perspective before taking up any elements of this agenda." Board meetings will resume after Labor Day.
This local activity is part of a larger battle swirling around a state ballot measure, Proposition 10, which would repeal the Costa-Hawkins Act, a 23-year-old law that restricts rent control policies from being applied to buildings constructed after 1995, and to multifamily dwellings.
That ballot initiative has also drawn opposition from real estate interests, which have raised more than $20 million to defeat the measure, and more than $12 million in support — the vast majority from the AIDS Healthcare Foundation.
Not all the East 61st Street tenants are joining the lawsuit or activities surrounding a proposed county rent stabilization ordinance.
Less than a year ago Judien Langshaw, who is 33, moved into one of the building's remodeled apartments that includes a fresh coat of paint and new-looking countertops, although a flimsily constructed sink cabinet door hangs on by a single hinge.
Langshaw squats down to show me how she's fending off rodents with glue traps and an empty water bottle wrapped in duct tape that she uses to plug a hole under her sink. Her 4-year-old daughter is absorbed in play with two action figures from the Incredibles movie.
She pays a monthly rent of $983, significantly more than Nuñez. But the owner, after all, operates "like any business," she says.
Langshaw recognizes her luck at having housing at all. "From here, you're going into homelessness," she says.
---
Copyright Capital & Main
Can Airbnb Be Regulated?
Co-published by Fast Company
As cities struggle to rein in the short-term rental service, a detente in San Francisco may show the way.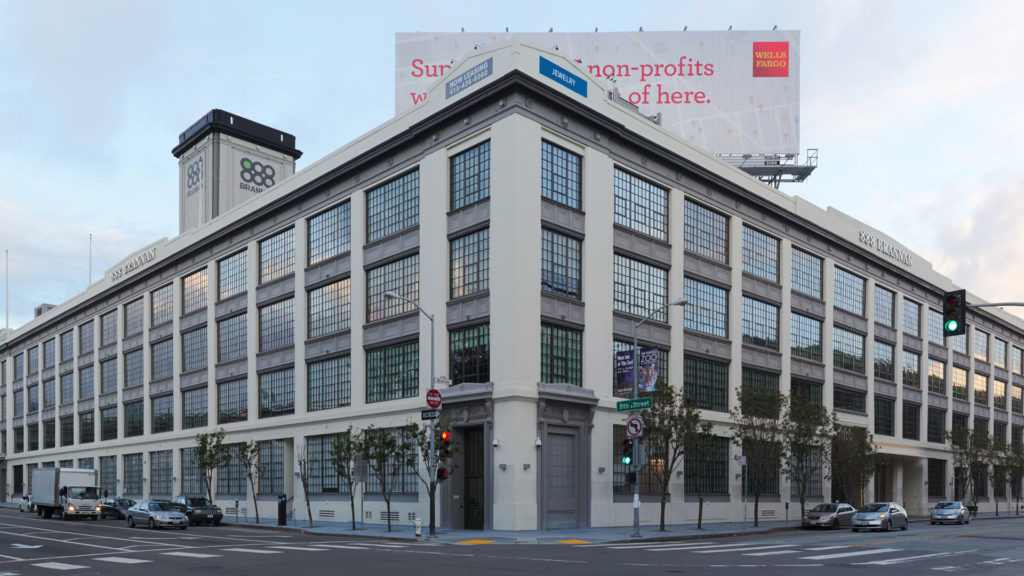 Co-published by Fast Company

From Barcelona to Santa Monica, cities alarmed by the proliferation of short-term rental homes have attempted to rein in Airbnb and its competitors with regulations. They have taxed them. They have limited them to certain neighborhoods or building types. They have banned them altogether. In December, after three years of debate, Los Angeles capped the number of days hosts could rent out their homes at 120.
But do these rules work? One test of the effectiveness of cities' regulatory efforts is their impact on Airbnb's growth. Two years ago, UBS, the Swiss investment bank, analyzed data from 127 cities and attributed slowing growth in listings at Airbnb to the emergence of local regulations. A November survey of travelers by Morgan Stanley lists their concerns about home sharing's legality as one of several factors explaining the company's plateauing growth. That said, Airbnb, which has a $30 billion valuation and is planning an initial public offering as early as this year, is still experiencing user growth in the double digits.
---
There are myriad ways for Airbnb hosts to elude cities' regulatory efforts.
---
The success of cities that have been able to regulate tech-enabled tourism owes to the powerful coalitions that have mobilized to challenge these data-driven platforms and to the fact that they are beginning to fight with their own digital weaponry.
One major challenge is simply finding and monitoring illegal rentals. Traditional code enforcement methods — door knocking and taking photos — have been supplanted with "web scrapes" and other high-tech approaches. Without these tools, "it's like bringing a knife to gun fight," says Ulrik Binzer, a former Airbnb host from Marin County who now runs San Francisco-based Host Compliance, a company that helps cities develop and enforce short-term rental regulation. "There are just too many of them."
In addition, a "city has to be able to go to a platform that ignores its law and hold it accountable," says Dale Carson, a hotel industry lobbyist and co-founder of Share Better San Francisco, a coalition of sometime adversaries — tenants, apartment owners, hotels and hotel workers — who advocate for regulations of the behemoth Airbnb and other home-sharing platforms. (Disclosure: Share Better New York is a financial supporter of this website.)
In a landmark 2016 case, a U.S. District Court upheld San Francisco's ability to hold Airbnb liable when hosts operate illegal rentals. Airbnb can now face fines if it charges a booking fee for units that are not legally registered with the city.
---
San Francisco shed about half of its short-term rental listings after its rules were updated in 2017.
---
But there are still myriad ways for hosts to elude cities' regulatory efforts, including setting up fake host names and shell companies, or registering on multiple platforms. The hardest violators to root out, according to some researchers, are hosts who run de facto hotels and take permanent housing off the market. "The biggest problem are the commercial short-term rentals" since "the risk might be worth it to stay operating," says Shirley Nieuwland, a doctoral candidate at Erasmus University in the Netherlands who co-authored a study on cities' attempts to regulate Airbnb.
*   *   *
San Francisco has been held up as a regulatory success story, in part because it shed about half of its short-term rental listings after its rules were updated in 2017.
City Attorney Dennis Herrera notably secured $2.25 million in penalties from property owners Darren and Valerie Lee, who, after being caught once in 2014, returned to illegally renting out 14 other apartments on Airbnb until being caught again last year. (Only permanent San Francisco residents may let their homes as a short-term rental — and for not more than 90 days in a year.)
More tellingly, what was once an adversarial relationship characterized by battles at the ballot box and legal sparring between the city and Airbnb is now a cooperative one. "I think we have a system in place that is very effective," says Kevin Guy, director of San Francisco's Office of Short-Term Rental. "We have a regular cadence of email communications back and forth" between the various platforms and the city.
Airbnb spokesman Christopher Nulty says that regulations help bring stability to the platform. "We think that to be regulated is to be recognized," says Nulty. Over the last five years, Airbnb has worked with "hundreds and hundreds of governments globally" to establish tax and regulatory partnerships, he adds.
Dale Carson credits a legal settlement between San Francisco and Airbnb for the new spirit of cooperation — after Airbnb and its competitor HomeAway/VRBO challenged a 2016 law requiring hosts to register with the city.
Even after the enforcement battles, Airbnb officials are sanguine about its prospects in its hometown. Revenue from bookings in the city have remained steady since the tougher enforcement regime was put in place. Meanwhile, the company has seen a 44 percent annual growth in guest arrivals in the five counties surrounding San Francisco. But what has watchdogs on alert is the sizable growth in listings of units that can rent for 30 days or more, according to the San Francisco Chronicle. Unlike other short-term rental hosts, the owners of such units are not required to be permanent residents.
And a study by McGill University researchers raises questions about the law's effectiveness, claiming it merely purged Airbnb of hosts who rarely rented their homes and had "relatively little impact" on those hosts renting out multiple units or a single home with great frequency. "This suggests that few if any Airbnb listings in San Francisco have been returned to the long-term rental market," according to the report, which was published in January.
*   *   *
Meanwhile, New York City remains a legal battleground for Airbnb. Typical New Yorkers saw their rents rise by $384 in a three-year period – and by more than $700 in some Manhattan neighborhoods, according to another McGill University study, published last year. While San Francisco allows its residents to rent their homes for months at a time when they leave town, New York City's stricter law bans short-term rentals in most buildings unless the home sharer is present.
---
Data activist: "Airbnb is constantly suing cities or threatening to sue them."
---
That has not stopped short-term rentals in Airbnb's largest domestic market from proliferating. Last month, the New York Times recounted an elaborate scheme undertaken by local real estate brokers who allegedly raked in more than $20 million from thousands of illegal rentals.
There were more than 56,000 active daily Airbnb listings in New York City last year, according to the 2019 McGill University study, which also estimated that 68 percent of host revenue came from illegal reservations.
Airbnb has fought back hard against the city's tough regulatory regime. After New York passed a law that required platforms to provide regulators with hosts' names and addresses, Airbnb sued, arguing the city had violated Fourth Amendment protections from unreasonable search and seizure. In January, a U.S. District Court judge in Manhattan placed an injunction on the law. The city has since subpoenaed Airbnb for data on 20,000 listings that regulators believe may be in violation of local laws.
"Airbnb is constantly suing cities or threatening to sue them, and so there's a lot of hesitancy from cities" to regulate them, said Murray Cox, a New York-based data activist who runs a website called Inside Airbnb.
Airbnb's Nulty counters that the number of lawsuits that Airbnb has brought is small relative to the 88,000 cities where the platform operates, and objects to New York's desire to have "unfettered access" to host data "without due process."
At least one host is not impressed by cities' regulatory efforts. Gene Dexter owns seven short-term rental properties in Thailand and in cities across the U.S., from Los Angeles to New Orleans, and manages rentals for clients. He takes great pride in carefully designing each of his units with items from his travels. He said that tougher regulations in a city would not be a major factor in his deciding where to operate. "They are kind of a cool challenge for me," says Dexter. "With the tech, I could easily play the game to the point where — catch me if you can."
---
Copyright Capital & Main