Los Angeles Teacher Contract Talks: The Sounds of Silence
With a January 10 strike deadline looming, little progress has been made in negotiations between teachers and their school district.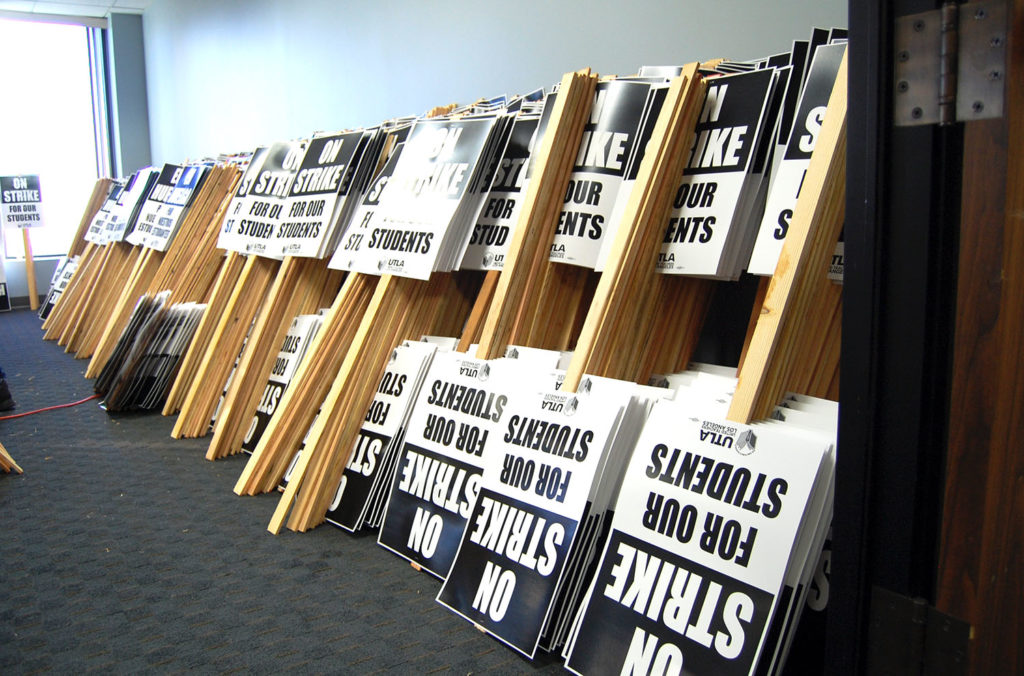 "I think universally there is support," says ESL instructor Monica Braunstein. "Parents are saying, 'What can we do to support the teachers?'"
---
Los Angeles' public school drama resumed Wednesday amid a flurry of finger-pointing over responsibility for stalled contract negotiations between Los Angeles Unified School District (LAUSD) and United Teachers Los Angeles (UTLA) that are now in their 21st month.
The new year began with an LAUSD press release charging that UTLA had refused the district's offer to resume talks since the December 17 release of the state fact-finding panel's report. "We are willing to work around the clock to resolve all of the outstanding issues, but we cannot make progress if UTLA will not even meet or engage in any discussions," LAUSD superintendent Austin Beutner said in the statement.
The panel's report had tried to strike a compromise by urging LAUSD to at least partly agree to union demands for lowering class sizes with a modest set-aside for hiring more social services support staff, and for the union to accept the district's six percent pay raise offer. But the fact-finders didn't address such non-salary union issues as investments in community schooling, early and adult education, and putting limits on standardized testing. And it left untouched what has emerged as one of the negotiations' most contentious issues — the district's protestations of poverty even as it's built up a nearly $2 billion surplus.
Later that Wednesday morning, Beutner claimed on KPCC radio that the district had asked the union to come back to the table over the holidays but that "UTLA has refused to engage in any kind of bargaining." The superintendent again asserted that L.A. Unified did not have the money to meet all of UTLA's demands and that it was up to the union to decide which of them were more important to their members than others.
That brought a quick rejoinder from UTLA, whose own press statement asserted the union hadn't received a bargaining proposal from LAUSD since October 30 and that the union's bargaining representatives were still waiting for a formal proposal outlined in informal emails sent by the district on December 28 and 31.
"Rather than formally communicate with the union that represents all LAUSD teachers," UTLA president Alex Caputo-Pearl declared, "Beutner once again tries to spin the narrative to make it seem UTLA is unreasonable."
UTLA followed with a second statement Wednesday night that included a formal rejection of the district's latest offer, which it described as "basically the same as LAUSD has been putting forward for months, just dressed up slightly differently." The union added that its bargaining team would be available to meet on Monday, "if the district has a legitimate and clear offer for us to consider."
In the meantime, both sides continue to brace for the January 10 strike deadline, with the district hiring about 400 non-union substitute teachers and promising that schools will remain open, and teachers at school sites organizing pickets. What remains unclear is how many students will cross those picket lines.
Like many UTLA teachers who are also LAUSD parents, Monica Braunstein, a 15-year adult education ESL teacher at the Abram Friedman Occupational Center, is hoping to avoid a walkout but says that if the mood at her son's high school is any indication, then parents and students will be squarely behind the strike.
"I think universally there is support," said Braunstein "The parents are saying, 'What can we do to support the teachers?' And there's been debate. Parents are asking, 'Are you keeping your kids home? Are you sending them to school?' My son plans to go picket with the teachers and not cross the picket line."
Braunstein and other veteran Friedman teachers have already had their hopes dashed by LAUSD's refusal to negotiate the union's demand that adult ed teachers be brought up to the same salary schedule as K-12 teachers.
The last time L.A. teachers struck was 1989's nine-day walkout. According to Jackie Goldberg, who during that dispute was a school board member representing Board District 5 —a seat she is again seeking in the March special election — the relatively minor differences between the district and the union on salaries aren't the sticking point this time around.
"It's about the teaching conditions," she said by phone. "We need more teaching assistants. Every school should have its own plant manager instead of sharing them. It's ridiculous — [LAUSD is] behaving like we're still in the Great Recession. Almost every other public agency in California has [restaffed] most if not all the [positions] they either didn't fill or they laid off since the Great Recession. So we have huge class sizes — amongst the largest in the nation."
One similarity between 1989 and 2019 that LAUSD's current surplus dramatically illustrates, Goldberg added, is the district's credibility problem over its pessimistic, annual three-year budget forecasts.
"In the last 30 years they've never been right," she said. "No one's saying spend all $1.8 billion. Spend half of it. Spend $800 million. Put $200 million [into] hiring 2,000 classroom teachers, reduce class sizes from the 45 that they are now, or the 40, depending on which school you're at. There are things they could be doing right now and still put away a billion dollars for reserve."
---
Copyright Capital & Main