Los Angeles Teacher Contract Talks: The Sounds of Silence
With a January 10 strike deadline looming, little progress has been made in negotiations between teachers and their school district.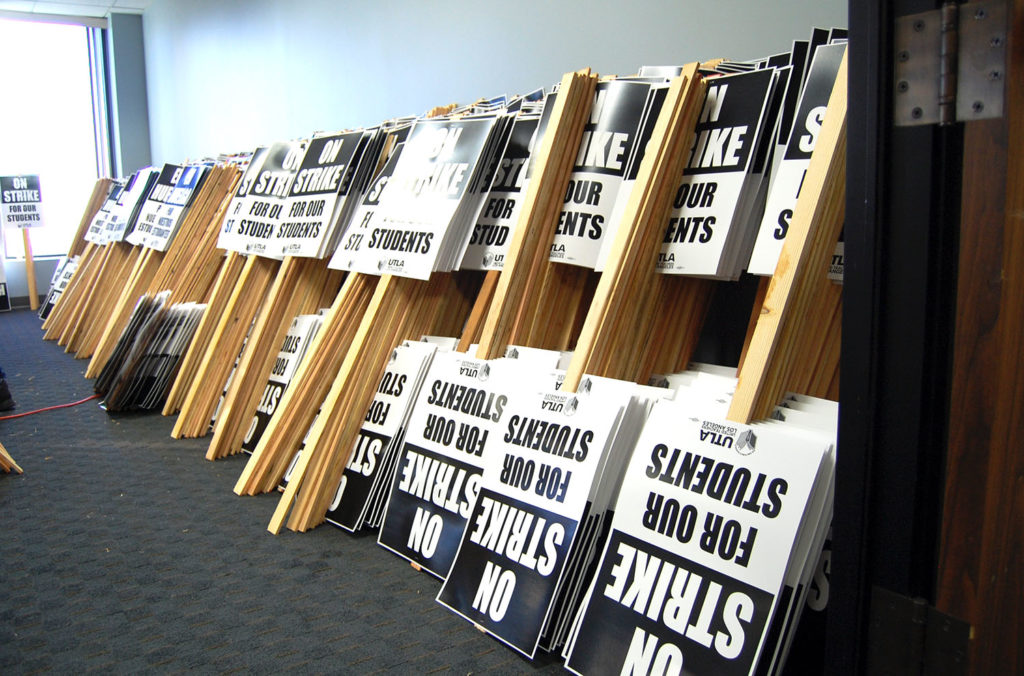 "I think universally there is support," says ESL instructor Monica Braunstein. "Parents are saying, 'What can we do to support the teachers?'"
---
Los Angeles' public school drama resumed Wednesday amid a flurry of finger-pointing over responsibility for stalled contract negotiations between Los Angeles Unified School District (LAUSD) and United Teachers Los Angeles (UTLA) that are now in their 21st month.
The new year began with an LAUSD press release charging that UTLA had refused the district's offer to resume talks since the December 17 release of the state fact-finding panel's report. "We are willing to work around the clock to resolve all of the outstanding issues, but we cannot make progress if UTLA will not even meet or engage in any discussions," LAUSD superintendent Austin Beutner said in the statement.
The panel's report had tried to strike a compromise by urging LAUSD to at least partly agree to union demands for lowering class sizes with a modest set-aside for hiring more social services support staff, and for the union to accept the district's six percent pay raise offer. But the fact-finders didn't address such non-salary union issues as investments in community schooling, early and adult education, and putting limits on standardized testing. And it left untouched what has emerged as one of the negotiations' most contentious issues — the district's protestations of poverty even as it's built up a nearly $2 billion surplus.
Later that Wednesday morning, Beutner claimed on KPCC radio that the district had asked the union to come back to the table over the holidays but that "UTLA has refused to engage in any kind of bargaining." The superintendent again asserted that L.A. Unified did not have the money to meet all of UTLA's demands and that it was up to the union to decide which of them were more important to their members than others.
That brought a quick rejoinder from UTLA, whose own press statement asserted the union hadn't received a bargaining proposal from LAUSD since October 30 and that the union's bargaining representatives were still waiting for a formal proposal outlined in informal emails sent by the district on December 28 and 31.
"Rather than formally communicate with the union that represents all LAUSD teachers," UTLA president Alex Caputo-Pearl declared, "Beutner once again tries to spin the narrative to make it seem UTLA is unreasonable."
UTLA followed with a second statement Wednesday night that included a formal rejection of the district's latest offer, which it described as "basically the same as LAUSD has been putting forward for months, just dressed up slightly differently." The union added that its bargaining team would be available to meet on Monday, "if the district has a legitimate and clear offer for us to consider."
In the meantime, both sides continue to brace for the January 10 strike deadline, with the district hiring about 400 non-union substitute teachers and promising that schools will remain open, and teachers at school sites organizing pickets. What remains unclear is how many students will cross those picket lines.
Like many UTLA teachers who are also LAUSD parents, Monica Braunstein, a 15-year adult education ESL teacher at the Abram Friedman Occupational Center, is hoping to avoid a walkout but says that if the mood at her son's high school is any indication, then parents and students will be squarely behind the strike.
"I think universally there is support," said Braunstein "The parents are saying, 'What can we do to support the teachers?' And there's been debate. Parents are asking, 'Are you keeping your kids home? Are you sending them to school?' My son plans to go picket with the teachers and not cross the picket line."
Braunstein and other veteran Friedman teachers have already had their hopes dashed by LAUSD's refusal to negotiate the union's demand that adult ed teachers be brought up to the same salary schedule as K-12 teachers.
The last time L.A. teachers struck was 1989's nine-day walkout. According to Jackie Goldberg, who during that dispute was a school board member representing Board District 5 —a seat she is again seeking in the March special election — the relatively minor differences between the district and the union on salaries aren't the sticking point this time around.
"It's about the teaching conditions," she said by phone. "We need more teaching assistants. Every school should have its own plant manager instead of sharing them. It's ridiculous — [LAUSD is] behaving like we're still in the Great Recession. Almost every other public agency in California has [restaffed] most if not all the [positions] they either didn't fill or they laid off since the Great Recession. So we have huge class sizes — amongst the largest in the nation."
One similarity between 1989 and 2019 that LAUSD's current surplus dramatically illustrates, Goldberg added, is the district's credibility problem over its pessimistic, annual three-year budget forecasts.
"In the last 30 years they've never been right," she said. "No one's saying spend all $1.8 billion. Spend half of it. Spend $800 million. Put $200 million [into] hiring 2,000 classroom teachers, reduce class sizes from the 45 that they are now, or the 40, depending on which school you're at. There are things they could be doing right now and still put away a billion dollars for reserve."
---
Copyright Capital & Main
California Ramps Up College Education Behind Bars
Co-published by the American Prospect
Prisons have been called universities of crime. What if they became, instead, actual universities?
---
A 2014 law is turning state lockups into de facto institutions of higher learning.
---
Co-published by the American Prospect
In January 2017, Peter Fulks, a former police officer, stepped inside the California Correctional Institution (CCI), a sprawling supermax prison of more than 4,000 inmates, located just west of the foothill community of Tehachapi. The previous year, Fulks had accepted a teaching job at Cerro Coso Community College, which serves the sparsely populated eastern end of Kern County. The baby-faced 32-year-old had only a semester under his belt when he had volunteered to take his course about criminal justice inside a criminal justice facility, part of a daring experiment in California to provide face-to-face college courses to people behind bars.
Fulks wasn't sure what to expect at CCI. He admired the idea of teaching prisoners, and believed education could be transformative, but he was also prepared for resistance. "I was ready to argue for four months straight," he said. The first day was rocky. After he announced that he would be dividing the inmates into groups, a man at the back of the classroom interjected, "Professor, I believe we have already established our groups." Fulks looked at his new students, who had organized their seating arrangements by race, as so much else was organized inside the prison, and let it be.
---
Inmate: "Everywhere I turned, people were talking about what classes they have, what homework they had due, how many units they needed to complete their degree. I had to see what this was all about."
---
Like Fulks, his students seemed to believe in the value of education—they had signed up for his intro course, after all—but he sensed they were skeptical that anything positive could come from their time in prison. (And for good reason, Fulks conceded.) The skepticism didn't last. During the semester, they studied the history of prisons, analyzed the budget of the California Department of Corrections and Rehabilitation (CDCR), and wrote letters to elected officials regarding various public safety bills. The inmates were enthusiastic and sharp, and they were soon high-fiving and chest-bumping each other without regard to the institution's racial order.
"I got to see in front of my eyes a complete breakdown of the prison's subculture," Fulks told me. He also saw a side of the criminal justice system that hadn't been visible from the perspective of a beat cop: the talent, drive and dreams of the people he had once put away. After that first semester, he set out with his colleagues to scale up the program and has turned Cerro Coso into what is likely the largest provider of face-to-face college education in the nation. This academic year, 10 full-time and 36 part-time Cerro Coso instructors will teach more than 1,200 inmates at CCI and another state prison located in Kern County, the California City Correctional Facility.
*   *   *
Fulks and Cerro Coso stand at the forefront of a remarkable effort to turn California's prisons into de facto institutions of higher learning, made possible by the passage, in 2014, of state Senate Bill 1391. Inmates had previously been mostly limited to GED, career technical and correspondence programs, but the new law allowed community college professors to teach inside prisons and be compensated for instructing inmates as if they were students on the outside. Though the experiment has been operating largely below the radar, the results have been striking: In the fall of 2018, nearly 5,000 inmates from all security clearance levels took face-to-face college courses. That's more than in any other state, and more than the total number of students enrolled in the federal Second Chance Pell Pilot Program, which began under the Obama administration in 2016.
---
Prison Teacher: "You are entering an area
of supreme control, of which you have none."
---
There is plenty of evidence to support bringing higher education classes into prisons. Nearly all inmates will eventually be released, and a comprehensive 2013 RAND Corporation study found that inmates who participated in educational programs lowered their chances of recidivating by 43 percent. The RAND study also found that each dollar invested in correctional education returns between four and five dollars. And prisoners are often hungry to learn: Thus far, incarcerated students in California who take community college courses are consistently receiving higher grades than their campus counterparts.
One inmate, a student of Fulks who didn't want to include his name, wrote that he had been transferred to a prison for disciplinary reasons. He described himself as a "multi-striker" who had first entered prison in 1993. After his transfer, he noticed "a buzz around the facility that I have never experienced in this environment. Everywhere I turned, people were talking about what classes they have, what homework they had due, how many units they needed to complete their degree. I had to see what this was all about and signed up for whatever I could get."
Last fall, he took five courses, including art history and psychology, and is on track to earn his associate degree later this year. "For the first time in a long time, I don't feel like a 'lost cause,'" he concluded, adding that he was "on the right path to becoming a success story [and a human being again]."
*   *   *
"People talk about reduced recidivism, safer communities, and saving money, and those things are true," said Rebecca Silbert, a senior fellow at the Opportunity Institute in Berkeley and co-director of a statewide initiative, Renewing Communities, that supports providing higher education in prison. "But, fundamentally, this matters because we are a nation that believes in opportunity for all. What is the point of public higher education, if not to create opportunity for the public—meaning all of us, even those who made bad decisions in the past?"
Silbert has been heartened by what California has been able to achieve in a relatively short period. Still, challenges remain. Textbooks are expensive, especially for inmates who might earn only 25 cents an hour. Much of the administrative work is labor intensive and unfunded—to register students, someone has to physically travel to the prison yard with a clipboard. And professors must learn how to design lesson plans that don't require the Internet and avoid assigning banned books, which in California include such titles as Dante's Inferno and Freud for Beginners. There are delicate relationships, as well, to manage between CDCR and the California Correctional Peace Officers Association, the union that represents prison guards. As a teacher in a prison, Fulks told me, "You are entering an area of supreme control, of which you have none."
However, both Fulks and Silbert feel that California is on the right path and can provide a model for other states. Fulks told me that he had recently returned to teach a more advanced course to his initial students, a handful of whom have earned their associate degrees and want to pursue a PhD program. To meet this demand, Cerro Coso will soon be bringing in doctoral students from the University of California, Los Angeles, who will mentor inmates during their final year in prison and help place them into a bachelors-to-PhD program upon their release.
Fulks laughed, thinking about this prison-to-PhD pipeline: "That has happened zero times with my students on the outside."
---
Copyright Capital & Main