Los Angeles Street Food Vendors Hopeful About New Cart Design Approval
The bureaucratic battles over cart permitting have high stakes for Los Angeles' 10,000 vendors.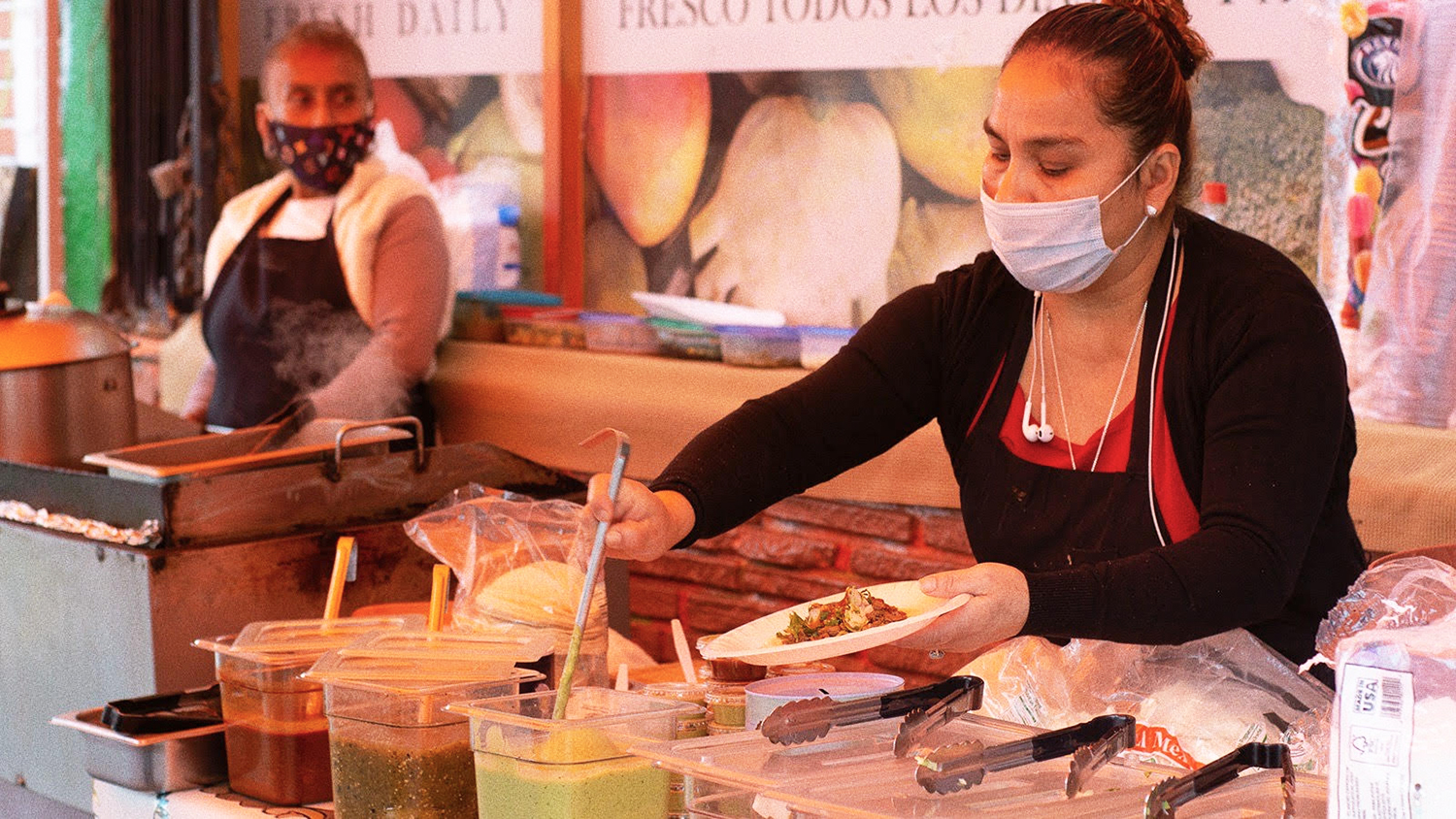 On January 4, 1892, Los Angeles politicians were in the city papers griping about tamale wagons. Again. "The 'tamale' wagons on the street corners the [street maintenance] Superintendent thinks should be made a thing of the past," the Los Angeles Times reported. The wagons scattered throughout the Downtown area were still legal, despite the city council's best efforts to limit their hours or ban them outright. Permits cost $1 every three months.
 
Nearly 130 years later, arduous health codes and vicious enforcement by health inspectors and police officers continue to torment vendors in the underground economy. But on April 20, the Los Angeles County Department of Public Health (DPH) gave the green light to a new tamale cart designed by Richard Gomez, a food truck engineer who grew up street vending and has worked for years to develop a code-compliant vending cart. In approving the 21st century tamale wagon the DPH made critical concessions on refrigeration, waste and sink requirements, indicating some welcome flexibility over health rules that vending advocates blame for sabotaging vending legalization efforts.
Gomez had nearly given up hope as the county rejected design after design, he told Capital & Main and L.A. TACO last fall.
"It's pretty much the ice cream cart that you see rolling on the streets," a happy Gomez says of his design. "It's like a breakfast cart, for people to get a quick bite before they go to work or drop off their kids at school." (The model, selling under the name Revolution Carts, is available for preorder online and on Instagram.)
 
---
Until the L.A. County Department of Public Health approves cooking and food handling at the sidewalk level, street vending is essentially illegal.
---
 
Gomez's success bodes well for designers in a county pilot program currently trying to build an affordable, permitted food cart for vendors conducting "full food preparation," the ultimate prize for vending advocates in the city's vending certification wars. Until the DPH approves cooking and food handling at the sidewalk level, street vending is essentially illegal.
The Los Angeles City Council voted to legalize street vending in 2018 after lawmakers decriminalized vending at the state level. But for L.A. vendors preparing food it proved essentially impossible to pass health inspection because the state health code was written for brick-and-mortar restaurants. The code makes substantial demands of vendors with $10,000 annual incomes, like three-compartment sinks, a handwashing sink and refrigeration space.
This fall, Gomez submitted a design for a tamale cart he thought was sure to pass inspection, but the DPH rejected it, asking him to include space for a microwave to keep the tamales hot.
That was "a cold bucket of water," Gomez told Capital & Main and L.A. TACO when interviewed in February. "It was so much time put into this."
*   *   *
The bureaucratic battles over cart permitting have high stakes for Los Angeles' 10,000 vendors. Without approved carts, vendors cannot get permitted, but the DPH has continued its enforcement of unpermitted vendors, confiscating food in disastrous raids often conducted in collaboration with law enforcement. The city of Los Angeles has paused its enforcement until next year as the county pilot program concludes.
The Kounkuey Design Initiative, a community development and design nonprofit contracted by the county, has submitted its own cart to the Department of Public Health, according to Lyric Kelkar, policy director for vending nonprofit Inclusive Action for the City, which is assisting with the project. Kelkar says they are awaiting revisions from the DPH.
Gomez's approved design has no microwave, no sinks, and can carry 336 tamales across four steam buckets, each with a capacity of seven dozen. The fiberglass carts come in a variety of colors, including Dodger Blue and the dark green of the Mexican flag.
As Gomez submitted his designs, the county made its usual demands for three-compartment sinks, storage and refrigeration, among other asks like microwaves and sanitizer buckets. "Each one of those things we challenged," he says. "We went back to the original code and challenged."
As the Kounkuey Design Initiative finalizes its cart, Inclusive Action for the City is following the same playbook with county representatives, according to Kelkar, closely analyzing the state health code and arguing for concessions.
The new tamale cart costs "in the $7,500 range," according to Matt Geller of the National Food Truck Association, who fought alongside Gomez to get it approved. Some market options for tamale carts do exist, but are significantly larger to accommodate waste units, sinks and refrigerators, and cannot be pushed down a sidewalk. They are also more expensive: one tamale cart designed by Kareem Carts, a Los Angeles based manufacturer, sells for $12,000.
Inclusive Action for the City will be offering loans to vendors to acquire the new tamale cart, according to Geller. "Our hope is that we can get these carts in the hands of vendors with no money down," he says.
 
---
Street vendor Juana Dominguez has had her carts confiscated three times. Losing her first cart cost her and her husband $3,800.
---
 
"The more carts the better, especially if those carts will help vendors become legit in this industry," says Sergio Jimenez, an organizer with the Community Power Collective, another vending advocacy nonprofit. "The cost is, I think, too much for just keeping the temperature constant, but perhaps with city and county funding, those carts could definitely be used."
For vendors who can lose thousands of dollars when their carts are confiscated by the health department, the approval is a small glimpse of what they hope is to come. This year, vendors who spoke with Capital and Main and L.A. TACO said they were open to purchasing a cart that would be approved by the health department so long as it was not too big and not too expensive.
*   *   *
Street vendors like Juana Dominguez, who currently sells quesadillas and tacos on Main and 41st streets in Los Angeles, are open to the idea of purchasing a cart that would pass DPH's brutal inspections. The 52-year-old vendor has been street vending since before she arrived in the U.S. She started out 10 years ago, selling candy and gum before eventually being able to afford a cart for tacos.
Dominguez recognizes the need for a county-approved cart. In the last couple of years, she has had her carts taken away three times. Losing her first cart, a combination grill and refrigerator set-up, cost her and her husband $3,800.
"Me da mucho gusto that there finally is a cart, because it hasn't been easy for many vendors," she said, smiling, after seeing a picture of the design.
Although the design done by Gomez does not apply to Dominguez as a vendor who sells tacos, she is happy. She said she once sold tamales too, and understands the difficulties those vendors face. "Me salía a vender en las fábricas," she says. "I would go out and sell in the factories."
 
---
State health code demands that a variety of foods — like tamales — be prepared only at commissaries. Even fruit vendors are not technically allowed to slice fruit on the street.
---
 
To keep her tamales, which were made at home, warm, she'd cover her pot with plastic and a cloth to keep the steam flowing, then strap the pot to a wheeled cooler. When asked what she thought of the price of the newly designed tamale cart, she said something similar to what she said back in March.
"If it comes with the permisos (the permits), it's great, because that makes the price of the cart not look so bad, but if we still need to purchase permits on the side after getting the cart it may be difficult for some vendors," she said, referring to vendors who are recovering from the pandemic. "But we understand that it's a step forward."
Her main concern was having to pay a monthly or hourly fee at a commissary: DPH approved kitchens where vendors can pre-prepare food before going out to sell. The state health code demands that a variety of foods — like tamales — be prepared only at commissaries. Even fruit vendors are not technically allowed to slice fruit on the street and can do so only in an approved kitchen. According to Lyric Kelkar, fees can be anywhere from $20-$32 an hour. An overnight stay could cost up to $200, around what a vendor makes in a day of work.
"See, that's something to take into consideration, because it's an extra bill for us, not to mention not every vendor has transportation to be going back and forth," says Dominguez.
Beverly Estrada from At Bev's Tamales, who sells near USC, says she's already in line to purchase one of Gomez's creations. "I'm waiting for mine," she says with excitement.
The 42-year-old vendor sells traditional Mexican tamales, including chicken tamales and birria tamales accompanied by a cup of consommé (broth). She has been selling for a little over a year and has already been given verbal warnings from the health department. Currently without a permit, she cooks in a pot at home with a small burner and propane tank. For big orders the vendor vacuum seals her tamales.
"I think it's gonna be an awesome opportunity for street vendors like myself because, to be honest, sometimes it feels like we don't have a lot of support," she said. "The cart gives vendors a bit of hope, and now it's here."
Juana Dominguez is already looking forward to the county approving more designs.
"I hope a grill cart is next," she says.
---
 
Copyright 2021 Capital & Main