Los Angeles Responds to Charlottesville Violence With Protest, Vigil
Hundreds of protesters marched through the streets of downtown Los Angeles on Sunday to denounce the deadly violence in Charlottesville.

Demonstrators rally outside Los Angeles City Hall to protest Charlottesville violence. All photos by Jessica Goodheart.
Copyright Capital & Main
---
T
he events broadcast on television and through social media over the weekend were shocking: Torch bearing white supremacists and neo-Nazis marching on the streets of Charlottesville, Virginia. A Dodge Challenger — allegedly driven by a white nationalist demonstrator — plowing through a crowd of anti-racism protesters, leaving
19 injured people
in his wake. Then the snapshot of the paralegal, Heather Heyer, 32, killed when she was struck by the speeding vehicle while crossing the street.
Californians responded swiftly. They assembled in Long Beach, Temecula, Redlands and Riverside as well as San Francisco, Oakland, and El Cajon to denounce the white nationalist movement that many say has been fueled by Trump's candidacy and presidency.
On the streets of Los Angeles, about 1,000 marched from City Hall, past photo-snapping tourists on Olvera Street, stopping at the federal Metropolitan Detention Center to highlight the increasing number of undocumented immigrants being detained due to the Trump crackdown, and at the Japanese American Museum, where a protester and survivor of the Japanese internment camp, John Yuasa, expressed dismay about the targeting of Muslims and Latinos under the current administration.
Pastor William Smart, who heads the Southern Christian Leadership Conference, was on a national conference call that included some Charlottesville clergy at 8 a.m. on Saturday as right-wing protesters clashed with police and counter-protesters in the streets of Charlottesville.
That call – in addition to a slew of subsequent phone calls to local clergy by parishioners and residents following the deadly attack by the apparent white supremacist – led Smart to join clergy leaders in pulling together a "Love Transcends Hate" interfaith prayer and vigil on Sunday. The vigil, held at Holman United Methodist Church in Mid-City, brought out hundreds of residents from all over the city, including Los Angeles Mayor Eric Garcetti and City Councilman Marqueece Harris-Dawson.
"We need to fight for the heart and soul of America, the real America," Smart said in a phone call with Capital & Main early Monday morning. He also stressed the importance of non-violent tactics, coalition-building, and direct action.
Smart, like many of the protesters, placed the blame for Saturday's violence squarely on the president, who took an astonishing two days to condemn the Ku Klux Klan, neo-Nazis and white supremacists.
From the pulpit on Sunday evening, the mayor criticized Trump's unwillingness to call Heyer's murder terrorism, and his failure to acknowledge that "a car going through a crowd in Charlottesville" is the same thing as one plowing through a crowd in London. The mayor also stressed that Los Angeles struggles against its own history of racism. "We might not have Robert E. Lee statues, but we've had confederates," he said. "We've had white supremacy here and police chiefs who have said black people died in chokeholds because they were built differently."
The crowd that assembled at City Hall earlier in the day came to the protest in a similar spirit – to mourn, to protest and to express solidarity with the people of Charlottesville – although the young organizers leading the march struck more militant tone.
Michelle Xai, an organizer with the anti-Trump group Refuse Fascism Los Angeles, called on those assembled to participate in a Nov. 4 national day of action that she described as "the beginning of millions of people taking to the streets nationally" and "not stopping until this whole regime is driven from power."
Sheryl Avisado, 34, never considered herself an activist, but was attending her third protest since Trump's election. She was perplexed and dismayed by the emergent white nationalist movement.
"I don't know what the KKK wants," said Avisado, whose family hails from the Philippines and who now works as a development assistant at Universal Pictures. "America is about diversity."
Cheryl Hayduk, an English professor from West Los Angeles College and veteran protester, was near tears when she spoke about the events of Charlottesville. "I think if I fought harder maybe she wouldn't have died," she said of Heyer.
Ana Cabrera, a South LA resident originally from El Salvador, said she is in constant fear for her family members, some of whom are undocumented and for whom "every day is a challenge to go to work." Cabrera, who is 57, said the protest gave her strength "to represent people who don't have the courage" to join demonstrations.
Seventeen-year-old Sofia Sears, a high school senior from Santa Monica, remained focused on a political solution to the rise of the extreme right — address the gerrymandering that has led to a Republican hold on political power and expand access to voting.  "We need to have someone who can demolish Trump in 2020," she added.
The peaceful, multi-racial protest in downtown Los Angeles felt worlds away from the battle over a symbol of the confederacy in Charlottesville. But as Capital & Main has documented, the Golden State has its own history of right wing extremism. Indeed, James Alex Fields, who was identified as the  suspect behind the Charlottesville car attack, may have been affiliated with a neo-Nazi, alt-right group, Vanguard America, that was birthed in California. He wore the group's uniform of khaki pants and white polo shirt.
Vanguard America has disavowed any connection to Fields, according to the Southern Poverty Law Center's description of the Charlottesville tragedy. Fields' mother told reporters that she knew her son had gone to Virginia for a rally but that "I thought it had something to do with Trump," she said. "Trump's not a supremacist."

State Senator Predicts "Sledgehammer Time" If GOP Tax Bill Passes
Holly Mitchell, a leading legislative advocate for children and low-income Californians, says the state may return to the days of budget cutting if the current Congressional Republican tax plan becomes law.

State Senator Holly Mitchell (All photos by Joanne Kim)
Holly Mitchell, the state Senator who represents Los Angeles' heavily blue-collar 30th District, has been called by one colleague the "social conscience of the entire Senate." A personable policy wonk whose career included a stint as chief executive of Crystal Stairs, a child development nonprofit, Mitchell chairs the Senate Budget Committee — the first African-American woman to do so. She recently sat down in Pico-Fairfax with Capital & Main at the Paper and Plastik Cafe to talk about the possible effects of the Republican tax bill on California's poor.
---
Capital & Main: Taking the temperature between now and New Year's, what's your prognosis for the House and Senate tax bills?
Senator Mitchell: The GOP tax plan is a redistribution of wealth from the poor to the rich or semi-rich. It gambles away the health care of poor people and this is unacceptable.
I'm so disappointed with the work of the [U.S.] Senate Budget Committee. I can't imagine being a legislator, getting a report from the Congressional Budget Office that says the things it says about these bills — and voting to pass it. Did they ignore it? Did they not care?
One Senator, when interviewed, expressed concern about the bill's potential to make the deficit skyrocket. When asked if that was enough to make him not vote for it he said, "I'm not sure. I'm still working on it."
Senator Mitchell: The whole point of having the support of fiscal analysts and the Congressional Budget Office, with their independent status, is to provide you with critical data to help you make a decision. How can you say, "Oh yeah, that's bad, but I'm not sure if I'm going to go forward on this or not"? Politics is continuing to trump — lowercase T—what's best.
Is Sacramento concerned?
Senator Mitchell: Am I concerned? Yes! But I think what I'm more concerned about now is the Healthy Families Program.
This is the entitlement for California families who aren't poor enough for Medi-Cal — but don't earn enough to have private insurance.
Senator Mitchell: It provides care for about two million kids [and] requires federal reauthorization. And [Congress] has not reauthorized it. That could have immediate impacts on California's budget. It's a separate process [from the federal tax bills] but they have already missed the deadline.
It's also been said that the tax proposals could undermine affordable housing construction in California because they would affect the credits and tax breaks that developers receive.
Senator Mitchell: Yes, which are critical for developments to pencil out. Given how far behind we are in terms of our housing-unit need, it would be devastating. L.A. County has done amazing things — voters have said yes to Prop M, yes to Prop HHH. All of that could be compromised — this delicate balance where developers can come in, get these credits to build affordable units. We're already behind the eight ball in terms of our need. This would be yet another blow.
Defenders of the tax bill say everybody will get their taxes cut initially. Then by 2027, according to the Congressional Budget Office, middle- and low-income people will experience a net loss.
Senator Mitchell: They claim that they're protecting "the middle class" — folks who make $100,000 and over. But that's not how we define the middle class in California—here the salary threshold is much lower. What they claim is good news, I think, masks the bad news. And they're rushing it through the process.
What steps are needed to analyze and create a response for a new federal tax plan's effect on California?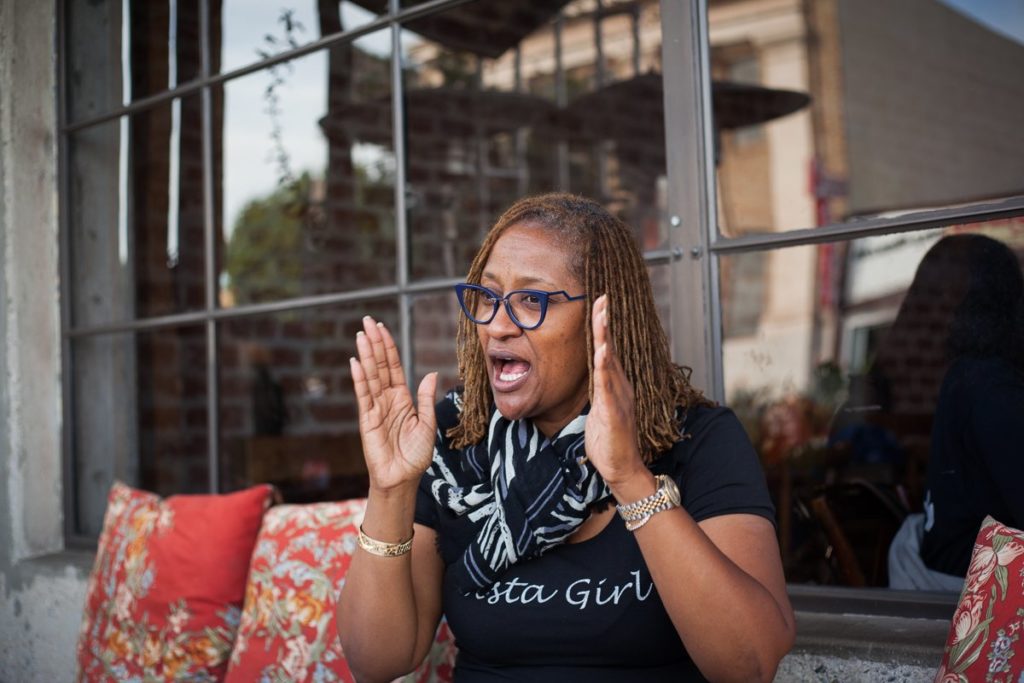 Senator Mitchell: It will be a process. Unlike [the U.S. Senate], I will rely on our Department of Finance, the Legislative Analyst's Office, the Senate Budget Committee staff to have discussions, to have a full budget hearing.
What's your sense of the tax proposals' potential effect on the state's economic health?
Senator Mitchell: How we earn income as a state government could be severely impacted. We are socking money away into rainy-day funds to try to prepare for the time at which our recovery will slow down — [but] we couldn't save enough to prepare for these [federal] proposals and the kind of hole they could blow in the state's general fund.
What's your plan if California does take a financial hit?
Senator Mitchell: As budget chair, I would be forced, as painful as that would be, to go back to the days of cutting. We may not be able to use a scalpel. It may be sledgehammer time — it would be devastating. In terms of the trend we've experienced with investments in K through 12, early education, the investments we have made in the last couple of years in the University of California and Cal State University systems — all these investments that we've made to expand access to services, would be impacted.
We fund Opti-Cal and Dental-Cal [for eye and dental care] — those are the kinds of core, basic human services that we could potentially have to roll back again. Medi-Cal funding helps undergird and support our overall health-care delivery system. If that went away, everything would be compromised.
---
Copyright Capital & Main