L.A. Mayor's Race: The View from the Valley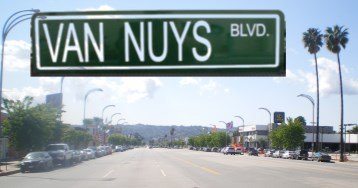 (As the May 21 mayoral runoff election approaches, Frying Pan News is asking voters what they believe the next mayor's priorities should be — as well as what he or she should avoid doing once in office. This week reporter Marc Haefele interviews three San Fernando Valley voters near the corner of Van Nuys and Burbank boulevards; all three women are Van Nuys residents.)
Karen Rontowski
We do need a better distribution of wealth in our city. At the same time, we need more funding for both teachers and police. Of course I'd like to see more jobs, but how much can the mayor alone do to accomplish something like that? Maybe we can only work with that problem on the national level. There was a lot of flash to Antonio Villaraigosa and yet not too much substance. I would hope that the new mayor could do a better job of partnering with Governor Brown for the sake of the city and the state.
One thing the new mayor can do that might help — and this is something which Antonio has actually started doing — is promoting the city. I'm a professional comic, so I travel all over the West. And when I was in Seattle recently, I saw some of the ads our city is running nationally. They show Los Angeles as a place you would really want to visit, with real people . . . a place you might even want to move to. I give the mayor credit for the effectiveness of those ads. He makes the most of his flash – that really helps them sell the city out there. The new mayor should keep this campaign up.
Otherwise, I suppose it would help create more jobs if we made a greater effort to give a break to small businesses, which is where most of the jobs seem to be these days.
What should the new mayor avoid doing when he or she takes office? He or she should not be untrustworthy, but should be honest. There also shouldn't be a sense, as there has so often been with this and some past mayors, that they are using the post as a step toward higher office — governor, vice president, president, whatever.
Debbie Grande
I would like to see the new mayor become much stronger on vital environmental issues — like providing  future water resources. What happened to the city's water recycling program? Long Beach and Orange County have got way ahead of Los Angeles on this one. Why aren't we doing a better job of planning for the future, as the city's water resources from out of the Southern California area diminish and the climate keeps getting warmer and drier?
Environmental problems are important to a lot of us voters in this part of the Valley, and I think that we feel the current mayor hasn't kept up with all of his promises on them. We also want to see more of those green jobs that everyone is talking about, for instance. Unemployment is still too high.
The new mayor is also going to have to be tough and direct on the city's pending financial crisis. We all know the city is spending more money than it takes in, and everyone is already taxed almost to the max. That's why there is a huge deficit that keeps going up. Will services have to be cut? I don't know. How about those employee pensions? The city retirees have earned them, and the cost of living keeps rising. Is it fair to cut them to save city services or to keep the city from going bankrupt? I don't know, but the mayor will have to figure out the answers to all these questions.
Teresa Thorp
If I had to pick one area of services we can't afford to cut back on, it would be senior services. More people are growing older, more people need more care as they age. All those baby boomers zooming past retirement age. And of course there is so much competition for all that funding that is needed for senior services from other agencies. Yes, even to fix potholes, and they are really a problem around here. Just look at some of these streets. I'm not sure how much of the burden of senior care service costs falls on the city, but I know the city does provide senior centers and some care.
And of course part of the burden on the city has to do with what the state and federal agencies aren't providing. For instance, federal veterans' care seems to be very inadequate. I know the mayor can't do too much about that. Mental health care too, from the state and county. But the shortfalls there show up on the streets of the city.
I would just hope that the new mayor would not ignore these problems and would work with other agencies to help solve them.
(Marc Haefele is a commentator on KPCC's Off Ramp program and has written for the New York Times and Los Angeles Times.)
Reviewed: A DIY Guide for "The Magicial Resistance"
A new book offers practical tips on how to organize — and cast spells — for equality and the environment.
Religion and politics have gone hand in hand at least from the time of Hammurabi's Code. Though we are guaranteed separation of church and state in the United States, many a prayer has been uttered for political gain. Any and all religions make no bones about their desire to influence social events and governmental organizations using their own methods and views of the Divine, whether it's the Catholic Workers marching for the rights of the poor, Baptist churches rallying for the right of the unborn — or witches casting spells to protect the environment.
---
At a time when many people feel helpless, ceremonial magic places power firmly in the hands of people who want to see positive change for the future.
---
While mainstream faithful said their prayers, conservative chaos magicians invoked Pepe the Frog to aid the 2016 elections. Since then, sorcerers of all stripes and more than few faithful in the Abrahamic faiths have been very publicly throwing down to counteract what they perceive as harmful acts by the current administration.
David Salisbury's Witchcraft Activism is a smart, direct guide to incorporating activism into your witchcraft practice, or experimenting in your activism by adding a little extra whammy. An experienced, long-time activist and well-respected pagan practitioner, Salisbury lays out a guide for activism that incorporates strategy, defense, offense, victory and loss with spiritual tools and magical methods drawn from Western European folk magic traditions.
He begins with setting intention and leads us to getting off the couch and carrying out an action, be it letter writing, participating in marches, attending city council meetings or lobbying — each with certain magical additions to aid in success. Salisbury also gives results based on his actions incorporating magic and suggests a variety of means for different scenarios. Concentration, visualization and focus are stressed as tools, with the addition of sigils, herbs and incantations.
Spiritual actions range from the simple to the complex. Whether meditating before a meeting, doing a divination for suggested actions, writing out a petition and placing it under a candle or using advanced magical practices like egregores, the acts suggested by Salisbury increase dedication to our causes and shift perspective, creating space for new ideas, for relief from burnout and for refocusing on goals.
Over 1.5 million in the United States identify as Pagan or Wiccan in a 2014 Pew Research Center poll—and that's not counting those witches, sorcerers and others who do not identify in those categories. The numbers of magical practitioners have risen steadily over the decades, perhaps because organized religions may not offer a sense of personal connection, of gnosis, or may have goals that are in opposition to participants'. At a time when many people feel helpless, witchcraft, ceremonial magic and folk/indigenous faiths place power firmly in the hands of people who want to see positive change for the future.
Don't believe in magic? Give Salisbury's methods a try and see what happens. You may be surprised, success is your proof. Just stay away from the Goetia!
---
Copyright Capital & Main