L.A. Mayor's Race: The View from Philippe's
(Jack Lavitch and Henry Lee are two West L.A. retirees who are also part-time, second-hand car buyers. They were lunching at Philippe the Original sandwich diner near central Chinatown when asked about the coming mayor's race.)
Jack Lavitch
"First and foremost, the next mayor should fix up our city streets. There are potholes everywhere and they are a danger to us all. This would be something everyone could easily see — it would make a huge difference for everyone. That's something [the mayor] could actually accomplish. It wouldn't cost that much and it would make us all feel better about the whole city."
"Oh yes," he adds, biting into his sandwich. "He could get everyone free French dips like this one every Friday. I am joking."
Jack is skeptical about official claims stating the city is nearing bankruptcy. "Maybe they actually are but they haven't convinced me or the public. There are still plenty of places to cut expenses. Like with city officials' over-padded travel budgets."
What big mistake should the mayor try the most to avoid once he or she is elected?
"He should avoid graft—like that pay-to-play stuff that was going on a few years ago at City Hall. It destroys the voters' trust and wastes a lot of the taxpayers' money. Oh yeah, and he ought to watch his sex life. He should only get laid in private."
"I'm really just kidding," he added.
Henry Lee
"My feeling is that the first thing the new mayor ought to do is to back off on some of the severe, uncalled-for city revenue-enhancement policies. Particularly with the city's parking meter collections.  Did you know the city can actually reach into your private banking account to collect traffic fines? Yes, and they did it to me and I think it's just too much. It's driving me out of the city. Literally. I'm moving to Palm Springs.
"They have these computerized parking meters now that reset the meter when someone leaves a space. That's just like stealing money out of your pocket. The mayor ought to avoid such costly measures that don't really bring in that much revenue, but which make people really angry at the city.
"I also kind of wonder if the city is really having all the revenue problems they claim to have. Maybe they are just shuffling money around from department to department, like the papers say the state has been doing.
"I think the new mayor [ought] not to do that. I believe that instead, he ought to give a fair accounting of the city's real finances."
(Marc Haefele is a commentator on KPCC's Off Ramp program and has written for the New York Times and Los Angeles Times.)
The Tests Facing California's New Governor
Gavin Newsom now leads the state with the nation's biggest economy and largest population — and one riven by economic inequality. What will be his most important challenges?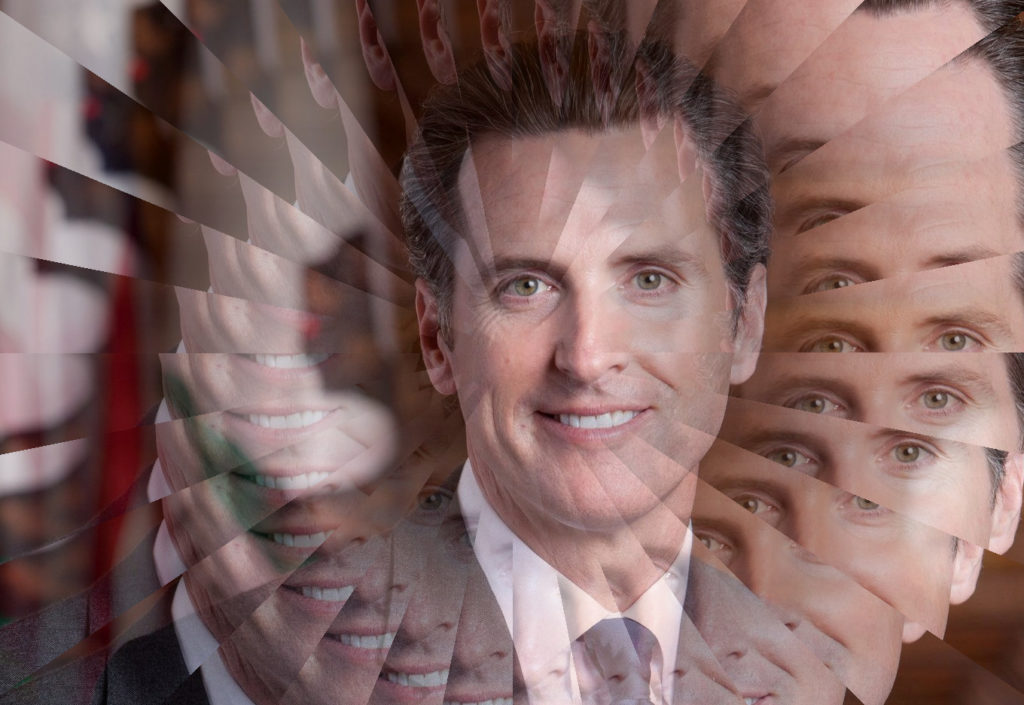 Gavin Newsom inherits a state that should be any governor's dream: A California that is the cradle of the tech revolution and brims with prosperity, a one-party state with supermajorities in both chambers for Newsom's Democrats. But there are clouds darkening the horizon: Daily prophecies tell of coming economic storms; legislative initiatives taken on behalf of immigrants, retirement security and the stemming of global warming are increasingly thwarted by a bellicose White House. And that Democratic Party monopoly in Sacramento masks a deepening ideological fault line dividing pro-business moderates and progressives – the latter of which have largely chafed for the last 16 years under the thrifty administrations of Jerry Brown and Arnold Schwarzenegger, and are eager to burst out with far-reaching (if pricey) legislation.
Then, there are memories of three high-riding liberal governors (Pat and Jerry Brown, and Gray Davis) whose programs or careers were derailed by resentful taxpayers. There are more recent memories, too: Of an impulsive, hard-partying San Francisco mayor whose blunted ambitions led him to spend eight years in the ceremonial wilderness of the lieutenant governor's office. Newsom is said to have matured into a more circumspect, pragmatic politician, although some of the old doubts were fanned back to life by an unflattering New Yorker profile that appeared shortly before his landslide victory November 6.
Perhaps overriding all these auguries is the undeniable fact that despite its enviable economy, its abundance of billionaires-in-residence and laudable array of social services, California still has the highest poverty rate in the U.S., nearly half of its children live in poverty or near-poverty, and merely finding an affordable place to live has become an existential challenge for many. These and similar factors superimpose on the state another kind of fault line, that of economic inequality. Most of the new governor's time will be spent wrangling crises that spring from this disparity. Which is why the following Capital & Main stories primarily focus on the inequality that separates so many Californians from one another.
Affordable Housing, by Jessica Goodheart.
Single-Payer Health Care, by Gabriel Thompson.
Climate Change and Big Oil, by Judith Lewis Mernit.
Inequality Interviews with Manuel Pastor, Ann Huff Stevens and David Grusky.
Early Childhood Education, by Bill Raden.
Inequality in California: Six Takeaways.
---
Copyright Capital & Main