Los Angeles May Target Border Wall Profiteering With Contractor Disclosure Requirement
Co-published by The American Prospect
A Los Angeles City Council member has announced he will introduce a motion requiring city contractors to disclose whether they're bidding or working on Donald Trump's border wall – or risk stiff fines and penalties.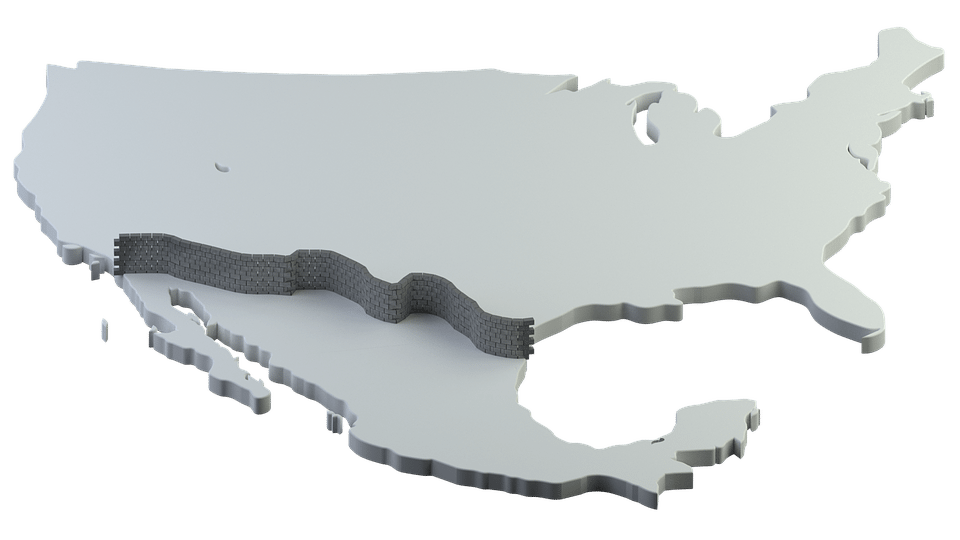 Co-published by The American Prospect
If you're bidding to build the border wall, the City of Los Angeles may soon want to know about it. In the latest effort by blue cities to resist President Trump's anti-immigrant policies, a Los Angeles City Council member announced Thursday that he will introduce a motion requiring city contractors to disclose whether they're bidding or working on Donald Trump's border wall – or risk stiff fines and penalties. The motion is the first of its kind, but follows a trend of major cities exercising their authority to oppose the wall.
Los Angeles is home to more than 1.5 million immigrants. Voters in the county voted more than three to one for Hillary Clinton; the president's policies remain unpopular here, and the school district and City Council have already taken other measures against the administration.
"City residents deserve to know how the City's public funds are being spent, and whether they are supporting individuals or entities involved in the construction or operation of the Border Wall," reads a draft of the motion, which Councilmember Gil Cedillo's office says will be introduced Friday.
The move is being supported by a broad coalition of religious and immigrant-rights groups as well as unions, whose members include construction workers. "Every construction worker I know takes great pride in showing their children the things they built," says Rusty Hicks, who leads the Los Angeles County Federation of Labor. "None of them want to point with pride to something as horrible as a wall between two countries."
If firms are forced to disclose any bids on the wall, advocates will then have an opportunity to put pressure on these companies — something that many businesses might rather avoid.
The city's approach is novel, and it's informed by the work of the Partnership for Working Families (PWF), a national network of advocacy organizations that develop city-based policy campaigns. In March, PWF sent a letter to major contractors urging them not to bid on the border wall; few companies responded. PWF has also been working with officials in individual cities to figure out how to identify contractors that are planning to bid on the wall and have existing city contracts. In Los Angeles, it's been working closely with the L.A. Alliance for a New Economy, or LAANE, to get a motion off the ground.
New York City's public advocate unveiled a plan to block border wall contractors from getting city contracts. Berkeley's city council voted unanimously to approve a resolution that both denounces the wall and seeks to divest from any companies that are working on the project. It was the first to do so.
But Berkeley's plan may face a legal challenge. John Yoo, a former Bush administration official who now teaches at the University of California, Berkeley Law School, told Fox Business that the resolution "may violate the Dormant Commerce Clause, which prevents cities from discriminating against outside companies, and there's no legal exception for political disagreements." Any ordinance that blocks corporations working on the border wall from operating in certain cities may also violate federal preemption statutes, which stipulate that when local and federal laws are in conflict, the federal standard applies.
The proposed Los Angeles ordinance seeks to circumvent these restrictions by requiring city contractors to disclose their participation in the wall rather than penalizing them. That doesn't mean corporations bidding to work on the border wall wouldn't file suit or otherwise protest should L.A. move forward with the ordinance. Tom Janssen, who directs external affairs for Nebraska-based Kiewit, a corporation that's registered as an interested party to build the border wall, says the company doesn't publicly discuss its projects. He withheld further comment pending release of the motion's full language.
Enforcing the ordinance may also present a challenge. A wide spectrum of contractors do business with the City of Los Angeles, and keeping track of their involvement with the border wall could prove challenging. When the city council passed an anti-apartheid ordinance 30 years ago restricting contracts with companies that did business in South Africa, more than 900 ordinance exemptions were racked up in just three years. But PWF's Jackie Cornejo, who has been coordinating efforts for various border wall ban and disclosure proposals, is confident the city's Bureau of Contract Administration will ensure accountability. "It's worked to keep policies like the city's living wage in place," she says.
Councilmember Cedillo has high hopes that the proposed ordinance will soon become law. "We will work with the City Attorney's office to make it a reality," says Cedillo, "and start talking with colleagues on the City Council to build consensus."
---
( Gil Cedillo photo by Martinrad)
ICE's Stealth Campaign to Expand Its Budget
The new Democratic majority in the House of Representatives could pose a challenge to the agency's chronic overspending — and to its aggressive detention and deportation policies.
---
In June the Dept. of Homeland Security asked Congress to allow it to transfer $200 million to ICE to cover agency overspending, continuing a pattern of such requests.
---
Big spending on immigration enforcement at the Department of Homeland Security promises to be a major sticking point as Congress prepares to negotiate a budget deal early next month.
Even though illegal immigration to the United States appears to be at its lowest point in 46 years, spending on immigration enforcement is at an all-time high. (The U.S. Border Patrol reported that in 2017, the last year for which statistics are available, apprehensions at the U.S.-Mexico border had dropped to 303,000, and had been declining nearly every year since 2000, when a record 1.6 million people were arrested.)
---
 By overspending its congressional allocation, ICE is effectively writing its own budget.
---
U.S. Immigration and Customs Enforcement's detention operations exceeded the agency's budget this year, while ICE spending on its vast system of immigration jails shows no sign of slowing.
But a newly elected Democratic majority in the House of Representatives could pose a challenge to the agency's chronic overspending — and to its aggressive detention and deportation policies.
ICE jailed so many immigrants in 2018 that it ran out of space in its more than 200 lock-ups, and placed 1,600 people in medium-security prisons.
Congress set detention and deportation spending for 2018 at $4.4 billion, enough to detain some 40,520 people annually.
However, by June, 44,000 men and women languished in immigration detention, filling 4,000 more beds than Congress authorized. DHS asked Congress to allow it to transfer $200 million to ICE to cover agency overspending. The department plucked the funds from several of its agencies, including the Federal Emergency Management Agency, the Coast Guard and the Transportation Security Administration.
Critics of ICE say that by overspending its congressional allocation, the agency has engineered a stealth expansion of the U.S. detention system, effectively writing its own appropriation, and skirting the Constitution's separation of powers in which Congress, not the executive branch, has the authority to set spending limits.
---
Congressman: "We shouldn't be using FEMA as a piggy bank to fund detention beds."
---
"It allows them to quickly expand the detention system contrary to congressional intent," said Heidi Altman, director of policy at the National Immigrant Justice Center, a non-profit immigrant rights group.
Such intradepartmental funds transfers aren't uncommon, but a congressional staffer who asked that his name not be used for this story said this one was controversial because nearly all of the money went to ICE for detention and deportation. ICE has received other big budget increases in the past two years. In March 2017, the agency got a $2.6 billion supplemental appropriation; three months later, ICE was back, requesting that Congress approve a $91 million funds transfer.
The $200 million June 2018 transfer, wrote DHS spokeswoman Katie Waldman in an email, was "in line with the FY 2019 president's budget request for U.S. Immigration and Customs Enforcement."
However, the additional funds covered FY 2018 overspending – not future shortfalls in 2019; Congress has yet to agree to a permanent fiscal year 2019 budget. Waldman didn't answer an email asking to clarify her comments.
---
Congressional Staffer: Whenever ICE outspends its budget and adds detention beds, it gains leverage for the next round of budget negotiations.
---
The same congressional staffer who discussed the controversy surrounding the $200 million DHS funds transfer also noted that when ICE outspends its budget and adds detention beds, it gains leverage for the next round of budget negotiations because reducing beds would mean freeing detainees and, ICE argues, their release could jeopardize public safety.
Growth by funds transfer also generally avoids public scrutiny. Transfer documents submitted by government agencies are not released to the public. But earlier this year, Sen. Jeff Merkley (D-OR) released DHS's June 2018 transfer and reprogramming request, noting that $10 million had been taken from FEMA just as Hurricane Florence was making landfall in North Carolina.
DHS shot back, claiming the funds were administrative and weren't earmarked for hurricane relief. But according to Ur Jaddou, director of the advocacy group DHS Watch, and a former Chief Counsel at U.S. Citizenship and Immigration Services, the DHS agency that oversees immigration and citizenship applications, "The government these days doesn't operate on a plethora of administrative resources. It's really functioning on a very limited budget. When they say they're using unused money, it's just a ruse."
Congress has shown its frustration with ICE's disregard for its authority, but hasn't acted to rein in agency spending.
---
Congress has scolded ICE for its "lack of fiscal discipline and cavalier management."
---
In budget recommendations for fiscal year 2019, the Senate Appropriations Committee wrote, "In light of the Committee's persistent and growing concerns about ICE's lack of fiscal discipline, whether real or manufactured, and its inability to manage detention resources…the Committee strongly discourages transfers or reprogramming requests to cover ICE's excesses."
Two years before, the explanatory language in the supplemental appropriations bill was even harsher. Appropriators pointed to a "lack of fiscal discipline and cavalier management" of detention funding, saying the agency seemed to think its detention operations were "funded by an indefinite appropriation. This belief is incorrect."
"We shouldn't be using FEMA as a piggy bank to fund detention beds," said Rep. Dutch Ruppersberger (D-MD). "Unelected agency heads shouldn't unilaterally shift taxpayer dollars for purposes they weren't intended."
Still, despite congressional annoyance with ICE's free-spending ways, it hasn't conducted meaningful oversight of the immigration detention system, said Greg Chen, director of government relations for the American Immigration Lawyers Association.
"The current leadership in Congress hasn't been interested in conducting hearings on detention spending and whether detention is even necessary at the scale it is now," Chen said.
When President Trump issued an executive order calling for no-holds-barred arrests of undocumented immigrants in January 2017, the border patrol reported that apprehensions at the U.S.-Mexico border were lower than at any time since 1972 — when the detention population was a fraction of its current size.
ICE reported that in fiscal year 2017, 41 percent of crimes of which detainees had been convicted were traffic- or immigration-related.  Just 11.4 involved murder, sexual assault, kidnapping, robbery or assault.
Chen argued that ICE has a legal responsibility to screen each person in its custody for risk – either of flight or to public safety. "ICE is just not doing that and defaulting to the practice of detaining people."
Democrats in Congress could take on a more robust role in overseeing ICE spending, now that they've gained a majority in the House. They could put conditions on spending, call for Government Accounting Office reports and hearings, cut funding, demand answers if ICE overspends and bring its actions to the attention of the press, said DHS Watch director Ur Jaddou, who is also a former congressional staffer.
"The next time they [ICE] need something," Jaddou said, Congress can respond, 'Do you really want it? You better listen.'"
---
Copyright Capital & Main