Los Angeles Magazine's Mary Melton on What's Wrong With the Times
Mary Melton
Many of us love Los Angeles, but few get paid to love it. Los Angeles magazine editor-in-chief Mary Melton is one of the lucky few. Since taking over as editor in 2009 (she had been executive editor since 2002), Melton has continued to push the publication beyond its former Westside comfort zone into the far corners of our megalopolis.
A native Angeleno, Melton – whose great-grandmother came to L.A in 1918 to escape the stifling constraints of her upper-crust Midwest family – went to Hollywood High and worked for years at the L.A. Weekly and the L.A. Times before coming over to Los Angeles magazine. She rides the bus from Eagle Rock to work when she can, and thinks every public official should be required to do the same at least once a week. This is hardly Melton's only civic improvement idea — in the course of an hourlong conversation, she proposes a cultural competency course for all Angelenos, endorses a union for nannies and zeroes in on the L.A. Times' agoraphobic reporting style.
What do you love most about L.A.?
Diversity is our greatest strength. And, setting aside the incredible weather and the beauty, the feeling that you can do anything here. It's a place that people come not only to reinvent themselves, but to invent themselves. You're not judged by where you went to school or what family you're from. New York is far more provincial than L.A. There's much more of a uniform to what people wear, more of a conformity. L.A. offers more promise of equal opportunity despite the economic disparity.
And yet L.A. is a city where close to half of the population is poor. How do we bridge the gap between the promise and reality?
Through engagement. I have a responsibility to educate readers and take them into pockets of the city they wouldn't see otherwise. This magazine was heavily identified with the Westside, and our goal was to change that. Even if our readers haven't been to Fillmore or can't find Bell on a map, they can have an understanding of these places. We have a lot of affluent readers but also people who just moved here and are living in apartments for $1200 a month. Information is really important. You can't force someone who is not sympathetic to care, but you can present information that can motivate them to care. It's vitally important to the life of the city to engage. I'm not sure that people don't want to be engaged, I don't think they know how.
How does it affect the city to have so many people who are poor?
It affects the city, absolutely – there's a whole private economy. Think how much every day the city relies on the work of people who are not here legally, who keep the city going. It's too easy not to care. I didn't grow up with a lot of money – my dad was a schoolteacher, I was one of four kids, we lived in a modest house in the Valley with one tiny bathroom. I was the child of two Depression babies. Still, we were always made aware that there were people much less well off than us. If anything I am more aware now because of my job. The focus in L.A. on the "Industry" can make the city seem more superficial than it is. There are tons of unsung heroes, organizations trying to address the problems. There's a sad lack of coverage of these issues.
We're 20 years out from the riots – what does it say about the city that we still have such great inequality?
I've always felt that it wouldn't take too much for the mayor to pick two issues that could be his legacy to confront and address. I've always been surprised that homelessness and poverty haven't been those issues. We are too comfortable being sequestered here – you can live your life without ever going to poor areas. There should be a required cultural competency course for everyone who lives here.
What is missing from the city's journalistic landscape?
The mainstream press needs to reintroduce beats, cover California and L.A. issues, have more reporters devoted to local politics and politicians. Websites don't have the resources to do deep reporting.
If you were editor of the L.A. Times, what would you do to change things?
The first thing I would do is hire a fleet of buses and have everyone in the building get on one and go see the city. Too many people at the Times never leave the building. I remember during the 2000 Democratic Convention, which was in downtown. I was working at the Times, and I decided to go over to check it out. I tried to get some folks to come with me, and everyone said, "It's so far." What?
I will continue to subscribe to the Times no matter what state it's in – I think it's our civic duty. There's still talent there and some excellent work being done, but they didn't think through their downsizing, they lost so much talent. I don't want it to become irreparable.
What could Los Angeles magazine do to tell the real stories of L.A.?
We do tell real stories. That said, there are other stories I would be all over, but they would require heavy lifting and investigative reporting – we don't have the resources. This year we are planning on taking on some kind of cause, something that the magazine identifies that the city needs to fix and report on it in a very active way, whether it's a social cause or civic improvement. We will declare that this thing is broken, and see what we can do to fix it. We will be looking for ways to motivate wealthy people to be part of that.
What are your impressions of the social justice movement that has developed in L.A. over the past 15 years?
I feel that much of the constructive work that has come out of the last 20 years goes unnoticed. People are used to quick results, box office tallies for the weekend. It's much harder to measure the results of social justice.

'Skeleton Crew' Is a Play With a Moral Spine
Set in a Detroit automobile outfitting plant, Dominique Morisseau's drama grabs you from the start with its focus on blue-collar men and women, and their struggle for dignity and self-respect.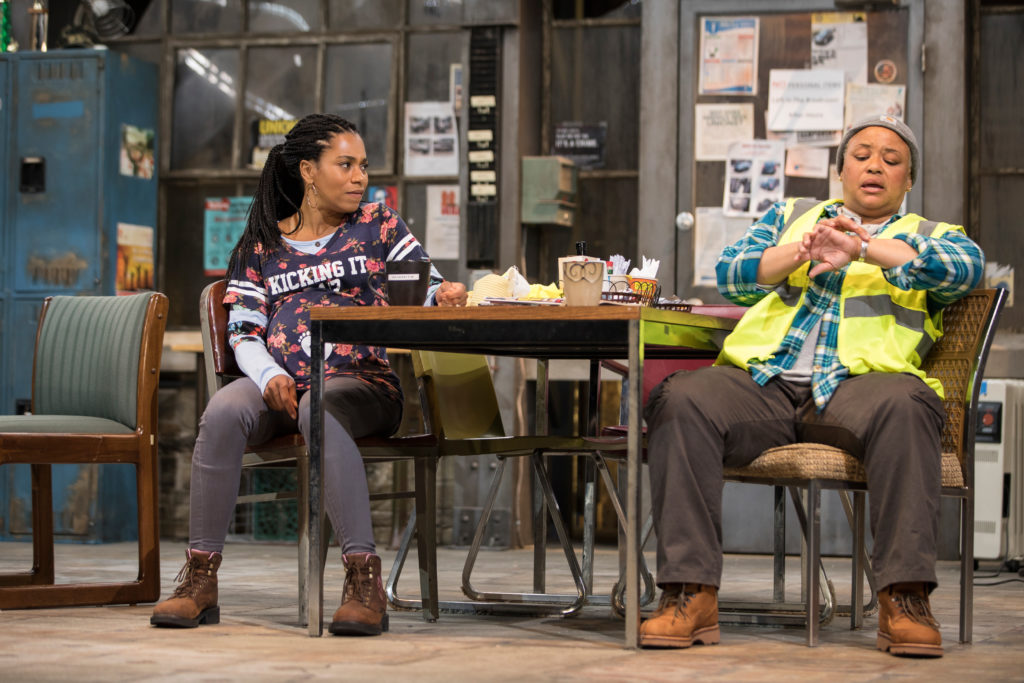 Working-class men and women of color are rarely front and center in today's media and, likewise, are presented all too occasionally on the American stage. So it's buoying to see that trend bucked in playwright Dominique Morisseau's percipient and well-crafted drama, Skeleton Crew. The play is the final installment in her Detroit  Project Trilogy; the first, Paradise Blue, is set in the 1940s amidst displacement caused by urban renewal and gentrification, while the second, Detroit '67, transpires on the eve of the 1967 Detroit riots sparked by a police action.
Directed by Patricia McGregor at Los Angeles' Geffen Playhouse, Skeleton Crew is a play with a moral spine. It takes place in 2008, when the shrinking U.S. auto industry is being further downsized. Morisseau's engaging quartet of characters — Faye (Caroline Stefanie Clay), Dez (Armari Cheatom), Shanita (Kelly McCreary) and Reggie (DB Woodside) – are employed at an automobile outfitting plant. Faye, Dez and Shanita are workers on the line while Reggie (who has a wife and kids, and has pulled himself together after a troubled youth) is their supervisor.
The first three customarily mingle in their break room (designer Rachel Myers' impressively cluttered, dingy and detailed set), trading the sort of familiar barbs and genuine concern for each other common among longtime co-workers. They also face off on philosophy: Upper-middle-aged Faye and the younger, pregnant Shanita take pride in their labor, while Dez, though a good worker, is a malcontent scornful of management and firm in the belief that everyone needs to watch out for himself. He's a thorn in Reggie's side, for while Reggie wants to be supportive of his workers, he must act at the behest of higher management. For his part, Dez resents Reggie's authority, and a palpable unease exists between them.
Besides this male matchup, we're made privy to Dez's attraction to Shanita, who mostly turns away his advances, but every now and then displays a hint of interest. Most poignant is Reggie's regard and affection for the lesbian Faye, which has roots in his boyhood when she loved, and lived, with his now-deceased mom.
These people's various predicaments intensify when rumors spread of the plant's shutdown — a disaster for all, but a particular calamity for the already near-broke Faye who, one year short of retirement, would lose her pension. The crisis forces each of these people to make a choice.
A sound piece of social realism, Skeleton Crew grabs you from the start in its focus on blue-collar men and women, and their struggle against odds for dignity and self-respect. Morisseau not only furnishes these characters a platform for their travails, she endows them with strong values, big hearts and the opportunity to choose between right and wrong.
Unfortunately, the performance I attended did not soar. Many exchanges lacked a fresh edge. The actors certainly had their characters down, but too often they appeared to be coasting on technique. (This seemed particularly true of Clay, who performed the role to great accolades in Washington, DC in 2017, also under McGregor's direction). Additionally, some of the stage movement was not entirely fluid; in confrontations, actors sometimes would just stand and face each other in an artificial way. And Cheatom's interpretation of Dez struck me as a bit overly churlish and depressive: I needed more glimpses of the intelligence and edge that would secretly attract the strong, self-directed Shanita.
The most compelling moments belong to Woodside, well-cast as a man trying his best in difficult circumstances to do the right thing.
---
Gil Cates Theater at the Geffen Playhouse, 10886 Le Conte Ave., Westwood Village; Tues.-Fri., 8 p.m.; Sat., 3 & 8 p.m. Sun., 2 & 7 p.m.; through July 8. (310) 208-5454 or www.geffenplayhouse.org