Los Angeles Election: Walton Family Values?
From Brian C. Johnson's campaign Web site.
Even as more Los Angeles politicians are pledging to refuse contributions from Walmart, one candidate with Walton family support placed third in the closely-watched June 6th primary for Assembly District 46 in L.A.'s San Fernando Valley.
Charter school champion Brian Johnson lost the race despite massive independent expenditures on his behalf by political action committees, including two that are closely tied to Carrie Walton Penner and her husband Greg Penner. Ms. Penner is the daughter of Walmart Chairman Rob Walton and Mr. Penner is a member of the Walmart Board of Directors.
PAC spending was widely expected to carry Johnson into the general election. But in the end it may have hurt more than it helped.
Johnson was put on the defensive by winning candidate Adrin Nazarian's charge that "right-wing anti-teacher organizations funded by the owners of the Walmart Corporation are spending hundreds of thousands of dollars to elect Brian Johnson to the Assembly."
Johnson's campaign issued a response which implied that Nazarian's claim was unfounded, but campaign finance records suggest otherwise.
In the first place, Carrie Walton Penner contributed $7,800 directly to Johnson's campaign, according to reports filed with the California Secretary of State. But this is not the whole story because Johnson's campaign spent just $367,000, while independent committees backing him reportedly poured another $1.5 million into the race.
There is good reason to believe the Penners contributed to Johnson via these independent committees. In April, Carrie Penner contributed $128,500 to the Edvoice Independent Expenditure Committee, an organization to which she has given more than $600,000 since 2010. During the campaign, Edvoice made more than $166,900 in independent expenditures on Johnson's behalf.
Another political committee that backed Johnson was Govern for California, established last year by Greg Penner and two associates, the multi-millionaire retired banker and former Swarzenegger adviser David Crane and billionaire high-tech investor Ron Conway. Govern for California pumped more than $191,000 into efforts on Johnson's behalf, according to our analysis of campaign finance reports.
The one-percenters who backed Johnson share a commitment to a narrow vision of education reform and a deep dislike for teachers unions. As Reuters explains, their agenda includes:
Expanding charter schools, which are publicly funded but typically run by private firms; evaluating teachers in large part by their students' scores on standardized tests; and abolishing the seniority rules that protect veteran teachers from layoffs.
The Penners have played a leading role in the Walton family's efforts to undermine public education and blame teachers for the problems facing public schools.
Beyond the issue of education, Govern for California's founders have made it clear that they view public sector workers as "narrow special interests" whose pay and pensions should be cut to solve California's fiscal crisis (see also here, here, and here).
Johnson was the first candidate publicly supported by Penner's Govern for California organization. Despite the organization's PR-efforts, it is clearly a defeat for them that he failed to advance to the general election.
As people around the nation and around the globe increasingly recognize how Walmart hurts our economy and the Walmart 1 Percent distort our democracy, taking money from Walmart or the Walton family may carry an increasing downside for politicians concerned with winning elections.
(This post first appeared on Making Change at Walmart's The Walmart One Percent blog.)
The Tests Facing California's New Governor
Gavin Newsom now leads the state with the nation's biggest economy and largest population — and one riven by economic inequality. What will be his most important challenges?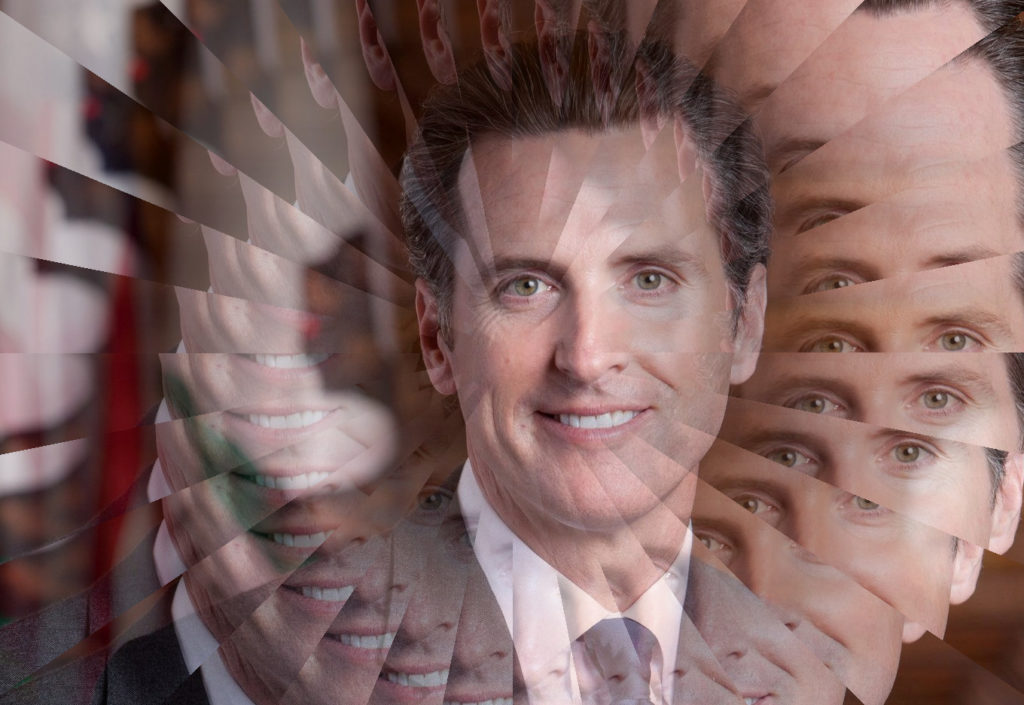 Gavin Newsom inherits a state that should be any governor's dream: A California that is the cradle of the tech revolution and brims with prosperity, a one-party state with supermajorities in both chambers for Newsom's Democrats. But there are clouds darkening the horizon: Daily prophecies tell of coming economic storms; legislative initiatives taken on behalf of immigrants, retirement security and the stemming of global warming are increasingly thwarted by a bellicose White House. And that Democratic Party monopoly in Sacramento masks a deepening ideological fault line dividing pro-business moderates and progressives – the latter of which have largely chafed for the last 16 years under the thrifty administrations of Jerry Brown and Arnold Schwarzenegger, and are eager to burst out with far-reaching (if pricey) legislation.
Then, there are memories of three high-riding liberal governors (Pat and Jerry Brown, and Gray Davis) whose programs or careers were derailed by resentful taxpayers. There are more recent memories, too: Of an impulsive, hard-partying San Francisco mayor whose blunted ambitions led him to spend eight years in the ceremonial wilderness of the lieutenant governor's office. Newsom is said to have matured into a more circumspect, pragmatic politician, although some of the old doubts were fanned back to life by an unflattering New Yorker profile that appeared shortly before his landslide victory November 6.
Perhaps overriding all these auguries is the undeniable fact that despite its enviable economy, its abundance of billionaires-in-residence and laudable array of social services, California still has the highest poverty rate in the U.S., nearly half of its children live in poverty or near-poverty, and merely finding an affordable place to live has become an existential challenge for many. These and similar factors superimpose on the state another kind of fault line, that of economic inequality. Most of the new governor's time will be spent wrangling crises that spring from this disparity. Which is why the following Capital & Main stories primarily focus on the inequality that separates so many Californians from one another.
Affordable Housing, by Jessica Goodheart.
Single-Payer Health Care, by Gabriel Thompson.
Climate Change and Big Oil, by Judith Lewis Mernit.
Inequality Interviews with Manuel Pastor, Ann Huff Stevens and David Grusky.
Early Childhood Education, by Bill Raden.
Inequality in California: Six Takeaways.
---
Copyright Capital & Main