Los Angeles Close to Enacting Regulations on Airbnb
After years of pressure from housing advocates and residents, the L.A. City Council is close to limiting short-term property rentals to 120 days a year.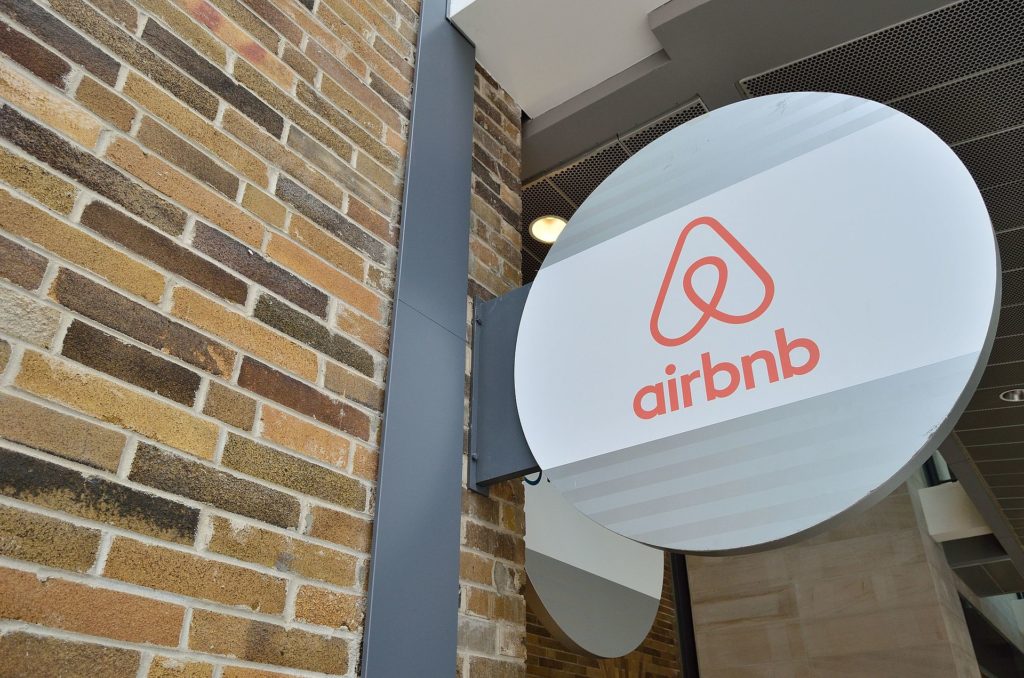 Cities across the U.S. have done it, from New York to Santa Monica, and San Francisco to Louisville, Kentucky. All have adopted laws to regulate Airbnb and other temporary home-rental platforms, and now Los Angeles is on track to join them.
The Los Angeles City Council voted 15-0 on Wednesday to move forward on a set of proposed home-sharing regulations that have been slowly moving through City Hall for nearly three years. Further hearings and analysis are required before a final draft of the measure returns to the City Council to be voted into law. Proponents expect Mayor Eric Garcetti to sign the ordinance following council approval.
The measure establishes a permitting system and places a 120-day annual limit on short-term rentals of a property. Two nuisance violations can get a host's permit revoked.
The business world calls the home-sharing platform a "disruptive innovation." But "disruptive" also applies to what it can do to a neighborhood, according to Judith Goldman of Keep Neighborhoods First. The coalition of tenants, housing advocates, local businesses, hotel owners and workers has advocated since 2013 for home-sharing regulations in Los Angeles.
"In different neighborhoods around the city, people were seeing problems," she said of the impetus to start organizing with people in Los Angeles communities from Mar Vista to Silverlake. "They see neighbors disappearing, people being evicted. People thought that they had neighbors, but instead they had party houses with a revolving door of strangers."
Municipal regulation attempts across the nation (and around the world) continue to pop up even as home-sharing platform companies achieve ever greater visibility and clout. Airbnb is only one such platform; HomeAway, and its subsidiary VRBO were valued at nearly $3 billion in 2015.
The origins of Airbnb trace back to 2007, when two guys in San Francisco had the idea to make a few bucks letting out-of-town visitors stay at their apartment when local hotels were full. The company, most recently valued at $31 billion, is ranked as the second most-valuable startup in the U.S.
Airbnb has accrued celebrity cache in addition to investment dollars. In 2016, Ashton Kutcher argued against proposed regulations in Chicago, saying he liked the "authentic experience" Airbnb accommodations provided. He was also an early investor. John Legend recently partnered with the company to curate exclusive "nightlife experiences" for users of the travel platform.
The home-sharing model does bring in cash to Californians — $1 billion to hosts in 2016, Airbnb reported.
But who are the hosts? In Los Angeles, commercial operators control multiple units across many platforms and are responsible for a significant portion of home-share listings, said Susan Hunter of the L.A. Tenants Union. A study by the Los Angeles Alliance for a New Economy showed that leasing companies make up 6 percent of listings and net 35 percent of revenue while on-site hosts comprise 52 percent of listings but earn only 11 percent.
According to Hunter, the lucrative aspects of short-term rentals displace tenants and challenge an already-squeezed housing market.
Her organization hears complaints of repairs neglected, management harassment and the perennial party atmosphere that can occur in areas where there are a lot of home-share units. Loud vacationers who make noise all night can make it difficult for neighboring tenants. Some property owners permanently transition apartments to short-term rentals when long-term tenants move out.  "The certificate of occupancy is for a housing unit [but] it's [functioning] as a transitional unit — which is a hotel. That's where it's depleting our housing stock."
That pits tenants against tourists, she said.
That issue manifests in other cities. A McGill University study shows 12 percent of Airbnb hosts in New York City are commercial operators who control multiple units in many buildings. This, the study concludes, removes units from the New York rental market. The scarcity drives up rental prices.
New York has had an ordinance on the city books since 2010 that prohibits the short-term rental of a residence in a building of three or more dwellings when the resident is not present. Authorities say their focus is on the commercial operators, but resources are thin and the law has been tough to enforce.
The various local measures across the U.S. differ greatly and there are challenges as to resources to enforce them and degrees of industry resistance. Chicago's ordinance is complex in terms of how many units are allowable and what exemptions are permitted.
Austin passed an ordinance in 2016 regulating short-term rentals in residential areas that are not occupied by the owner of the property. The city is gradually phasing out these rentals, with a ban going into effect in 2022. The new law is being challenged in court with the help of the Texas Public Policy Foundation, a conservative think-tank.
Santa Monica has had a tough time enforcing its own home-sharing ordinance, passed in 2015.  According to a city study, between June 2015 and October 2017, only 187 of the 950 estimated short-term rentals in Santa Monica were licensed. But the city recently prevailed in court against an injunction by HomeAway and Airbnb to suspend the law.
Airbnb's cradle, San Francisco, came under legal attack from the company for its restrictions; the suit was settled out of court.
Potential lack of enforcement is a concern with the pending Los Angeles measure. Even supporters who want to see it pass are a little skeptical of the city's ability to monitor the 120-day rental window.
Rick Coca, Communications Director and Senior Advisor for Councilmember Jose Huizar, an architect of the ordinance, responded to doubts. "If there are bad operators with quality-of-life complaints related to their home-sharing logged against them and they are trying to extend their home-sharing beyond the 120 days, it will be extremely difficult for them to do so. And if there are substantial complaints logged during the 120-period, they can have their original permits revoked."
Skeptical or not, supporters see the L.A. ordinance as a beachhead.
"There's no way we're going to perfect this thing in time to help stop the hemorrhaging of the housing that we're losing," said Hunter. "The push right now is just get this thing moving. It will give us a starting point so that we can fight back for the housing we've lost."
The Governor and the Oil Lobbyist: Report Blasts Jerry Brown's Friendship With Lucie Gikovich
Co-Published by Fast Company
How much influence has a former Jerry Brown staffer-turned-lobbyist had over the governor?
---
A report calls on incoming governor Gavin Newsom to investigate a lobbyist's efforts in California.
---
Co-Published by Fast Company
Lucie Gikovich, a longtime friend and former member of California Governor Jerry Brown's staff, repeatedly lobbied his office on behalf of a group of oil and gas companies that won major concessions from the governor on important state legislation, according to a report released today by a New York-based non-profit organization.
Gikovich's decades-long friendship with Brown has previously been reported by the Sacramento Bee, including the fact that he stays at her home while on official business in Washington, DC. But her oil and gas industry ties have not received attention prior to this report, according to report author Derek Seidman, a research analyst with the Public Accountability Initiative, which is funded by foundations and the American Federation of Teachers.
---
Lucie Gikovich, her business partner and firm have donated $114,500 to Brown's campaigns over the years.
---
"She's someone that Brown clearly completely trusts and yet is being extremely well paid by her clients to lobby on behalf of their interests," said Seidman, whose report is titled The California Oil Veto: The Lobbyist Behind Governor Jerry Brown's Concessions to Big Oil. Gikovich, who works with the D.C.-based Crane Group, has lobbied Brown's office on behalf of corporate clients for a range of industries since 2011. Gikovich, her business partner and firm have donated $114,500 to Brown's campaigns over the years.
For her part, Gikovich denies having an outsized influence on Brown and minimizes her role in legislation that the report says she influenced. "Governor Brown, more than anyone I know, makes up his own mind after hearing from all sides and carefully analyzing all aspects of the issues," she wrote in an email. "He makes his decisions on the merits, regardless of his relationships with those involved."
Evan Westrup, a spokesperson for the Governor, added a few choice words about the then-unpublished report, when it was described to him in an email. "This report is about as factual – and substantive – as a tweet from Donald Trump," said Westrup. "The governor had no knowledge that any of these companies were her clients, but even if he did, it would've made no difference. On these bills – and the thousands of others that have crossed his desk – the focus has always been on what's best for California, which is why the state's record of climate action is unmatched in the Western world."
---
Phillips 66, one of Gikovich's clients, has paid her $937,500 in fees and retainers to lobby the governor's office and state regulatory boards since 2012.
---
The Public Accountability Initiative's report builds on a longstanding critique of the California governor who, many environmentalists claim, has been too cozy with Big Oil interests in spite of his reputation as a national leader in combating global climate change and reducing demand for fossil fuels in the state. The report also calls on incoming governor Gavin Newsom to investigate Gikovich's lobbying efforts in California and to "sever the state's ties to Gikovich."
One of Gikovich's clients, the oil refinery operator Phillips 66, has paid her $937,500 in fees and retainers to lobby the governor's office and various state regulatory boards since 2012. She was the Houston-based firm's highest paid lobbyist in California, according to the report.
Gikovich served as a top aide to Brown during his first two terms as governor and he hired her as his federal lobbyist when he was mayor of Oakland, a job that earned her $780,000 from 2001 to 2007, according to the report. She also served as Brown's press secretary during his failed 1982 run for the U.S. Senate. As governor, Brown has included her in trade delegations to China and Mexico.
Brown reportedly stayed with Gikovich in her Washington D.C. home in 2013, at the time she was lobbying on behalf of Phillips 66 and Halliburton, and other corporate clients. Such hospitality might not violate ethics laws if the stay "is related to another purpose unconnected with the lobbyist's professional activities," according to the state's ethics rules at the time.
"I find it hard to believe that they would've not talked about any official business but no one can know for certain, of course," says Seidman, whose report says those visits may constitute a "possible violation of ethics rules."
The visits were "all personal, not business" and evidence of Brown's frugality as well as his desire to visit with friends, according to Gikovich's email.
Gikovich's client during the battle over two bills to extend California's landmark climate program, known as cap-and-trade, was Phillips 66, which operates oil refineries in Santa Maria and Rodeo. The package that the governor signed last year included major concessions to the oil industry and split the environmental community, with mainstream environmentalists supporting the compromise and environmental justice groups turning against it.
Gikovich said that her work on the cap-and-trade program—for which she reportedly was paid $105,000 in 2017—was mostly confined to monitoring the legislation. "There was no contact with the Governor personally on these issues," she wrote.
In 2013, Gikovich also reported lobbying Brown's office on behalf of Houston-based Halliburton, the oilfield services giant, on a proposed senate bill sponsored by then-Democratic State Senator Fran Pavley that regulated hydraulic fracturing—"fracking"—an oil extraction method that brings with it the risks of drinking water contamination and of inducing earthquakes, as well as air pollution.
That bill lost the support of environmentalists after the oil industry lobbied to amend it to allow fracking to continue while the process was being studied, as High Country News reported at the time. Westrup countered via email that "prior to this bill, there was no integrated, comprehensive regulatory oversight of this production stimulation method, which has been used in California for more than 30 years."
Gikovich wrote that the Crane Group "had a small subcontract" to provide strategic advice to Halliburton and that she "never spoke even once to the Governor or staff on their issues, including fracking."
The report also credits Gikovich with playing a key role in advocating for the Southern California Gas Company after its Aliso Canyon natural gas storage facility sprung a massive methane leak in 2015, causing the evacuation of thousands of nearby residents. She lobbied Brown's office on behalf of the utility in opposition of a bill that would have granted disaster victims more latitude in litigation against the company. In an email, she said that she submitted a lengthy policy memo, but did not speak to Brown or his staff.
Brown nixed the bill, writing that "nothing has been shown to indicate that current law is insufficient to holding polluters accountable."
"It seems pretty clear that Gikovich's lobbying of his office correlated really closely with his veto of this," said Seidman.
---
Copyright Capital & Main