L.A. Mayor's Race: The View from Crenshaw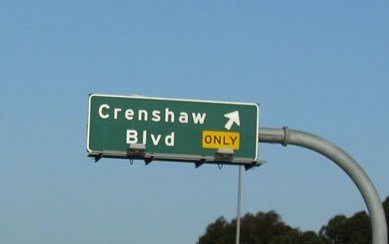 (As the May 21 mayoral runoff election approaches, Frying Pan News is asking voters what they believe the next mayor's priorities should be — as well as what he or she should avoid doing once in office. This week reporter Marc Haefele interviews South Los Angeles residents at the Baldwin Hills Crenshaw Plaza, the sprawling retail complex located at Martin Luther King Jr. and Crenshaw boulevards.)
Carmen Navarro:
I would hope the new mayor would at least do better than the current one. Of course, they are all politicians aren't they — what can you expect? Sometimes the most you can do is to hope that it just doesn't get worse when someone new is elected.
But here's what I hope the new mayor would do — do a lot more to help the poor folks. Help them to get more opportunities. The economy right now is still simply horrible for poor folks. They need more jobs, and good jobs. But even a lot of people who have jobs now, who drive to work and own their houses are also living on the edge. They are working harder and earning less. They can't spare a dollar anymore for anything.
And the mayor should do something about crime, which is still too bad around here, and help improve our education, which never gets enough money. But jobs for the poor people, that should be the Number One city-wide priority for the new mayor.
What should the new mayor avoid doing? Most importantly of all, he should not break his promises to all the people who elected him. That's what so many politicians do, that is what our current mayor has done. He or she should keep their promises to the people. That's the important thing.
And the new mayor should not spend too much time fraternizing with the powerful, with the big corporations. They are not the ones who elected the mayor.
Edgar Flemming:
Mayoral candidates? I'll vote for one of them, of course. I always do vote. But they're all the same no matter what they promise. I'm 69 now — I've lived in South Los Angeles for 40 years, and I've seen a lot of them.
What is the most important thing that a new mayor could do, assuming he would do it? The first thing he could do would be to make a serious effort to improve the quality of life for us here in Los Angeles. He should make Los Angeles competitive with other cities. That should include everything from better policing, cleaner streets, better schools and more jobs — better jobs for the people who need them. And there are a lot of people who do really need them.
He should keep in touch with the people who elected him, and not forget us.
What shouldn't he do? Well, he should not mess up in the end, like all the other mayors I have seen so far have messed up, sooner or later.
Willard Sweatt:
The mayor ought to fix the potholes and make the streets a whole lot safer. One way to do that would be to commit the police force to better traffic enforcement, just to start with, by handing out more tickets. Just look at what that traffic is like over there on Crenshaw. People drive through here much too fast. The police just aren't working hard enough around here. They need to make us feel more safe, in our homes and on the street.
Of course, we need a lot more jobs too. Whatever the mayor can do about that, he should try to do it. If he can.
As for what is it that the mayor ought to try to avoid? Well that's pretty simple. He ought to just try to stay out of trouble. Sounds easy, doesn't it? But our mayors keep getting into trouble anyway. I don't know why it is, but that is the way it always is.
(Marc Haefele is a commentator on KPCC's Off Ramp program and has written for the New York Times and Los Angeles Times.)