Longshore Clerks Tentatively Agree to New Contract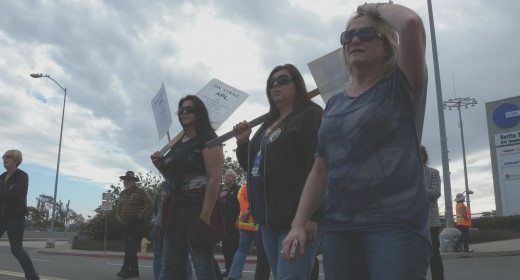 The nine-day strike by International Longshore and Warehouse Union clerks at the ports of Los Angeles and Long Beach has tentatively ended with a new contract with the Harbor Employers Association. If approved by the union's membership, the pact will expire in 2016.
It was tempting to joke that the strike was a case of deja vu all over again – if the stakes weren't so high for the port clerks' Local 63. The sticking point was the outsourcing of jobs offsite, an issue that many thought was resolved with the local's 2007 contract with port employers. Technology has made such job migration possible – and desirable — for shipping companies and terminal operators. Since the ILWU's historic pivot in 1960 toward accepting labor-saving mechanization in exchange for greater member benefits and job security, the union has shown a consistent ability to accept and adapt to technology – even while that acceptance has reduced its membership.
"Outsourcing is a difficult issue to tackle," ILWU spokesman Craig Merrilees told Frying Pan News. "Local 63 is trying hard to figure out how to save good jobs for this community – but whenever they tackle it in one place it pops up somewhere else. It's a slippery problem and the companies have been reluctant to sit down and talk to us about it."
Port management claimed that no currently held jobs were threatened by its contract proposal, but that didn't mean it wanted to keep those positions here in L.A. once attrition removed union members from their posts. The ILWU knows all too well how easy it is to make permanent those clerical positions that have been "temporarily" moved away from union control. The proof of this is in the numbers: At the time of the 2002 owner's port lockout, Local 63 had about 1,100 members; today the figure ranges somewhere between 750 and 800.
There was another case of deja vu here – how the media and talk-radio played up the comparatively high wages paid union clerks and the effect the strike had on workers earning far lower salaries. What was seldom mentioned was the complexity of Local 63's jobs, which require knowledge of international trade regulations, maritime laws, Homeland Security protocols and esoteric areas of logistics.
Mark Lacter at L.A. Observed wondered aloud in his columns how "a few hundred clerical workers" could hold up the economy for everyone else. KFI talk-show host Bill Handel, apparently confusing wages with total-compensation packages – and then grievously overstating those — claimed that Local 63's members were getting "$180,000 a year for a clerk . . . It's really depressing stuff to know that a union is that powerful." Handel partly blamed that power on California voters who defeated Proposition 32.
Local 63, however, kept its eye on the ball, although the strike's central issue will continue to confront nearly every union in America.
"The question is, will good jobs be outsourced?" says the ILWU's Merrilees.