Loan Star: Oportun Comes Knocking in Blue-Collar Neighborhoods
Co-published by Fast Company /
Oportun has managed to operate profitably while making a dent in a difficult-to-serve market – the 45 million people that the Consumer Financial Protection Bureau identifies as having little-to-no credit history. BY JESSICA GOODHEART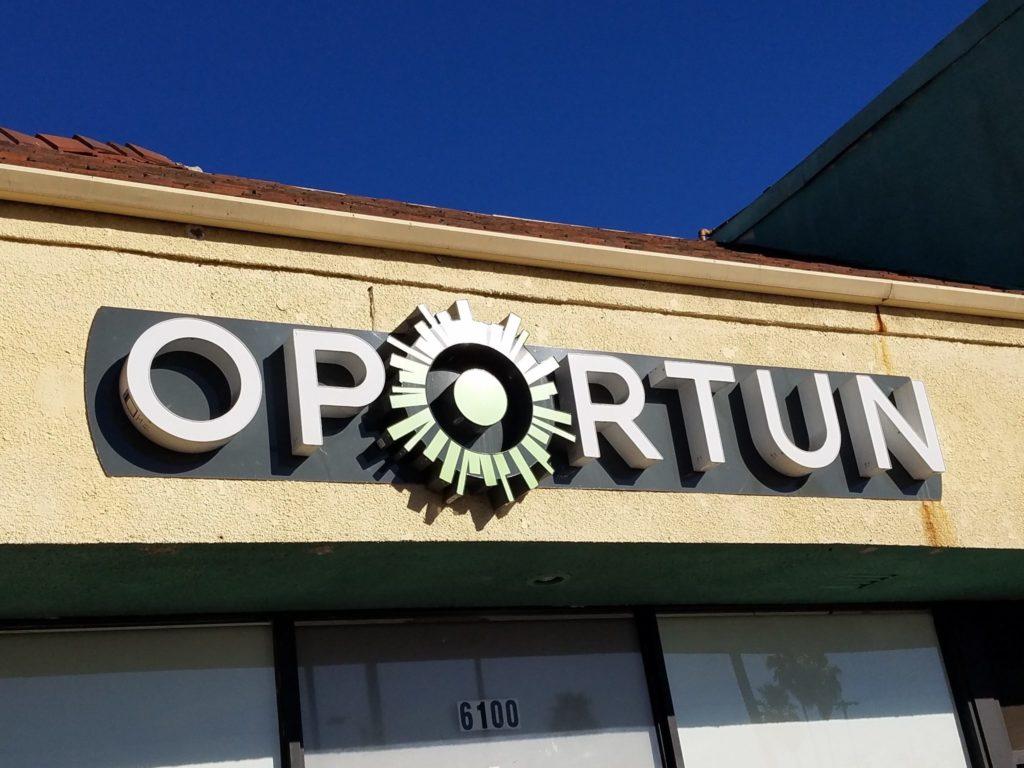 All photos by Jessica Goodheart
---
Copyright Capital & Main
Co-published by Fast Company
Strict underwriting criteria are part of the reason that Redwood City-based lender Oportun has been hailed by many as a responsible outlier in a subprime market where "payday lenders" dominate. The company, which primarily targets Latino borrowers, declines half of all applicants.
So it was perhaps no surprise to meet one hopeful applicant, Salvador Rivera, outside Oportun's Altadena storefront office after he had just been turned down for a loan. He had arrived at the office with his cousin and step-daughter in tow. A letter suggesting that he could "build a better financial future with an unsecured personal loan" had led Rivera to try his luck at obtaining a $1,000 loan to put toward a deposit on a first apartment, one he'd share with his girlfriend and her daughter.
Instead, the 22-year-old received a lesson in tough financial love. "They told me I failed," said Rivera, unsure of his next steps after being promised that another letter would be mailed to him – one explaining why his loan was denied.
"Sometimes the best thing you can do is tell someone that you can't make a loan now because they don't have the resources to pay us back," says Oportun's chief executive officer, Raul Vazquez, who grew up on the Mexico-Texas border and headed Walmart.com before taking the helm at Oportun in 2012.
Founded in 2005, Oportun has managed to operate profitably while making a dent in a difficult-to-serve market – the 45 million people that the Consumer Financial Protection Bureau identifies as having little-to-no credit history.
The company has made nearly two million installment loans and earned, from the U.S. Treasury Department, a Community Development Financial Institution certification that is reserved for companies that meet the financing needs of underserved communities.
Because Oportun reports to credit bureaus, its customers have the opportunity to build credit histories and access less expensive credit in the future. Credit scores are also used as screening tools by employers and landlords.
A key ingredient in Oportun's secret sauce is advanced data analytics. The company has developed the ability to score applicants, even if they lack a FICO score — as do half of Oportun's borrowers.
That scoring system, developed with the help of $260 million in venture capital, contributed to Oportun's reaching profitability just over two years ago, according to Vazquez. Another key to its profitability has been the company's ability to reach scale all while adhering to a business model that recalls earlier days of consumer finance.
"While some institutions continue to close physical branches, we have added over 150 locations in the last five years," wrote Vazquez in an email during his paternity leave. He notes that Oportun has more than 230 locations in six states, some of them stand-alone offices, while others are housed inside Latino-oriented grocery stores. In all, the company has 1,500 employees.
O
portun swims in the same waters as a handful of so-called "Fintech" lenders that are attempting to step into a space left vacant by traditional banks and serve the underserved. They include Elevate, LendingPoint and Ascend. These companies offer credit to customers at subprime rates, use data analysis to score loan applicants, and may promise them lower rates in the future by helping them build credit. Many of them, however, have only an online presence. They are, in some sense,
the tech sectors' response
to the increasing income volatility and economic insecurity that have been on the rise since the 1970s.
But unlike some of its competitors, Oportun is also throwback. It resembles the middle and working class-oriented consumer credit firms of the 1950s, like Household Finance Company, says Todd Baker, a senior fellow at the Mossavar-Rahmani Center for Business & Government at Harvard Kennedy School, who published a working paper about the Fintech industry last month.
"What Oportun did is combine the technology for credit analysis with a very high-touch, office-based delivery system to help customers succeed," says Baker.
Stephanie Gonzalez worked on Oportun's front lines as a customer service representative handling the holiday rush at an El Super grocery store location in Huntington Park at the end of 2015.
She processed paper work for loans and reviewed contracts with customers whose lack of knowledge about the importance of building and maintaining good credit "really opened [my] eyes," she said. It concerned her that many of her customers—especially young people and borrowers she thought might be undocumented immigrants—seemed focused on securing a loan but would "not know the importance of maintaining a good credit score."
Nevertheless, the data suggest that a significant number of Oportun's customers are seeing improvements in their credit scores. Over a four-year period, 61 percent of borrowers who took out multiple loans increased their credit scores, according to a California Department of Business Oversight report. In 2014, the change in score for all customers was a net positive of 198 points. Yet the report lacks data on the percentage of customers who saw declines in their credit scores.
What about the loan product itself? Consumers Union's Suzanne Martindale says she would like Oportun to offer lower rates to borrowers, but understands the company is trying to strike a balance.
"I know that they have tried really hard to thread that needle and to make their loans affordable while, obviously, sustaining their business," says Martindale.
A sample $1,000 loan listed on Oportun's marketing literature can be repaid over the course of 13 months in fixed bimonthly payments of $49 for a total cost of $295 at an average percentage rate (APR) of 49.1 percent. That rate is significantly higher than that of a high-cost credit card (which is about 23 percent), but once borrowers repay, they can earn their way toward lower rates on their next loan.
The average interest rate—which, unlike the APR, doesn't take into account fees—across the Oportun portfolio is 33 percent, according to Vazquez's recent interview with Lend Academy's Peter Renton.
Targeting this demographic is "very expensive to do," according to Nick Bourke, consumer finance director of the Pew Charitable Trusts. "A company has to spend a lot of money finding and acquiring those customers." Banks have easy access to capital and a built-in customer base but, says Bourke, federal regulations make it difficult to for them to engage in so-called small dollar lending.
G
oing back decades, banks have not had much of a track record making small loans, says Harvard's Todd Baker. They typically will invest in the high-risk consumer lending businesses "during the early parts of the credit cycle when losses are low," but "don't have the stomach to stick with them" when the going gets tough during the latter part of the cycle, according to the working paper Baker published last month.
Payday lenders, whose storefronts outnumber McDonald's in the U.S., have filled the gap left by banks with loans that have triple-digit interest rates and are notorious for creating debt traps. When borrowers can't repay those loans, they must take out another loan and another. Auto title loans, another alternative to traditional banks, put borrowers at risk of losing their means of transport.
It was this state of affairs that led founder James Gutierrez to launch Oportun – first called Progreso Financiero – as a booth inside a San Jose grocery store when he was just out of Stanford Business School. He'd grown up in Southern California's Inland Empire in a Mexican immigrant family and wanted to find a way to serve a community with "high moral capital" but poor access to financial resources, he says.
He began by administering a lengthy eHarmony-like questionnaire, says Gutierrez, but over time the information requirements have been whittled down. Today a would-be borrower is simply asked to bring in a pay stub or bank statement, her landlord and work supervisor's contact information, identification and five references.
"You can't actually build wealth if you don't have access to capital," says Gutierrez, who left the company in 2012 and started another, Insikt, which has developed a platform that allows other companies to lend to a similar demographic.
In 2010, Gutierrez worked with California legislators to craft a pilot program, since revised twice, that permits Oportun to impose higher interest rates than what is allowed under current lending law for consumer loans between $300 and $2,500. In exchange, the company committed itself to strict underwriting standards, mandatory reporting of loans to credit report bureaus and a set of other requirements. (Oportun recently failed to expand into Florida by winning similar concessions in that state.)
Oportun's social mission has not prevented it from facing some legal difficulties. In March, a borrower from Montebello seeking class-action status accused the company of violating California's debt collection law. The borrower's lawsuit alleged that the company's debt collection letter threatening legal action listed an amount several thousand dollars in excess of the $2,500 than it intended to–and is permitted to–sue for in small claims court. The litigation could increase regulatory scrutiny of the company's compliance with consumer protection laws, according to a report by the Kroll Bond Rating Agency published in May.
Oportun declined to comment on the litigation. "We always strive to ensure that our collections efforts are compliant with all the applicable laws, rules, and regulations and that they are also aligned with our overall mission," Marivi Lerdo de Tejada, a company spokesperson, wrote in an email. Lerdo de Tejada added that the company will always try to work with a borrower before taking legal action.
California consumer advocates offer qualified support for the work Oportun has done under the pilot program and they have joined together with the company on some legislative efforts, as well.
"Oportun isn't perfect. The pilot isn't perfect," says Liana Molina, director of community engagement at the California Reinvestment Coalition. "I think they're really trying to be the good guys, and we have a friendly relationship."
But loans are not always the answer for communities struggling financially, she adds. Good public policies that guarantee living wages, access to health care and to safety net services are key.
"It's easy to say, 'Oh, go get a loan,' and solve your problem today, but then you've just created another problem that's going to last for who knows how long — months, years?"
Oportun seems to have found the customers who can, for the most part, avoid those debt traps. Its loss rate has remained in the single digits, according to Vazquez.
Arturo Banuelos is one customer that Oportun is willing to bet on. He lost his job as a waiter at a country club after injuring himself playing soccer. He took out a $3,000 loan to tide him over until he found a new job.
Interviewed as he made his way to his car after visiting Oportun's Altadena office, he appeared pleased that he been able to reduce his $89 biweekly payments to make them more manageable. He acknowledged the interest rate was high, but, he said, "they helped me a lot."
He still had a noticeable limp from his injury but seemed optimistic about his future. He had found work as a plumber's assistant.
---
Copyright Capital & Main
Saving Private Enterprise: Director Jacob Kornbluth on His New Robert Reich Film
After their critically acclaimed 2013 documentary, Inequality for All, Jacob Kornbluth and Robert Reich reunited to make Saving Capitalism, which explores the expanding economic and political power of America's wealthy.
Saving Capitalism  begins streaming on Netflix November 21.
Jacob Kornbluth had never had a job — not even an internship — by the time he graduated from college. When he applied to scoop ice cream at Double Rainbow, he was turned down. But he was used to feeling marginalized. Growing up in Manhattan and then in rural Michigan, he didn't have many friends and got beat up a lot. Both parents, wealthy in intellect but poor in assets, passed away by the time he was 18. All his grandparents too. With a life so rich in adversity, and unable to secure gainful employment, Kornbluth did what any young intellectual would do. He became a writer.
That led to directing some theater. In the early 2000s, inspired by the emotionally gritty films of British director Mike Leigh, he made a couple of feature comedies that not that many people saw. Then, with the economics of documentaries changing, he turned to the realm of nonfiction films to express himself. He grabbed a camera and followed Bill Clinton's former Secretary of Labor, Robert Reich, on his mission to raise awareness about America's widening economic gap. The resulting 2013 doc, Inequality for All, was no joke, both in its message and to critics, who lauded the film. But for Kornbluth and Reich there were some issues they touched on that still needed to be addressed. So they reunited in Saving Capitalism, a Netflix-streaming feature documentary that underscores the expanding economic power — and resulting political might — of America's wealthy. Nearly 30 years after someone decided against putting an ice cream scooper in his hands, Kornbluth sat down with Capital & Main to discuss politics and economics.
---
Capital & Main: The obvious divisions in this country are political ideology, race and gender, but it seems that few people focus that much on class.
Kornbluth: Well, I think the other divisions you mentioned are very real and meaningful, certainly, and I had started looking at class and economic divisions in Inequality for All. But I began to think that we were missing the story of power. As economic inequality grows, so does the concentration of political power, leaving a lot of people across the economic spectrum feeling like the game is rigged against them. You really see this line cutting across political viewpoints.
---

"As economic inequality grows, so does the concentration of political power, leaving a lot of people across the economic spectrum feeling like the game is rigged against them."

---
Perhaps the moment in the film that underscores that most is when you juxtapose footage of protesters in the Tea Party with those in the Occupy movement, and they are saying virtually the same things.
Kornbluth: Right. I certainly don't agree with a lot of the people in the Tea Party. But I have some empathy and I think we all need to see the connection between when economic inequality widens, this really does affect people and it changes the sort of reality that they live in. So basically, of those in the top 10 percent [economically], you see Republicans and Democrats disagree on just about everything — but the economy is essentially working for them. I don't think Americans like to see themselves as a country where class is that much at the forefront, in the way they do in Europe, but when you see the economic division spilling over into these other areas like politics, and it's really changing the way politics function on a meaningful level, I don't think you can ignore it anymore.
In the past, politicians had to play to the center to be successful. But in this last election, Trump didn't play to the middle and was able to get 60 million votes. People used to think that political ideology runs along a spectrum, but we see that [Bernie] Sanders and Trump supporters had a lot in common and that political ideology is really more circular.
Kornbluth: The political model has fundamentally changed into something that looks a lot more like a circle than like [a set of] polar opposites. We started making a film that was going to introduce that concept in 2015, before this election happened, when Hillary Clinton was the leader on the Democratic side and Jeb Bush was the leader on the Republican side, and it turned out we ran into that change as it happened.
---

"If you cede the system to the wealthy and powerful, and you don't fight back, then it's not going to get any better."

---
Your film and Reich's book are called Saving Capitalism. Some have said Marx was wrong about communism but he was right about capitalism, that eventually it would devour itself and spin out of control because of greed, and that is what we are seeing now. So why should we save it?
Kornbluth: It's a really important question. I mean, you're talking to the son of very left-leaning parents. One thing that Reich has taught me, is to forget the "ism" for a moment and just look at rules of an economic system. Stop thinking that capitalism is going to save or hurt us, and stop thinking socialism is going to save us or hurt us and start thinking that we have one economic political system and let's think about all the rules that go into it and examine them one by one, and ask, Who do those rules benefit and who do they hurt?
You see that the rules of our economic system are written by the people with the power to write them, and then over the last 40 or 50 years all of those rules have gone more towards the wealthy and the powerful and away from regular people. Well, it wasn't always like that in America.
But that system does keep breaking.
Kornbluth: You are absolutely right. But I think it's actually important, though, for people who think that maybe the materialism and greed of capitalism is fundamental and unchangeable [not to give up]. That's sort of like permission to check out, to say, "This system is broken and therefore I won't engage." And I think one of the crucial problems with that is if you cede the system to the wealthy and powerful, and you don't fight back, then it's not going to get any better.
A recent poll said that more millennials believe in socialism than capitalism. And more believed in fascism than capitalism, too. What does that say? Are millennials just fed up, or maybe more idealistic, or are they just more naïve?
Kornbluth: There's a bunch of ways to read something like that. One way to say it is [that] a lot of people feel like the game is rigged, which is true, and they are sick of it. They don't feel like their voices are heard. But there is a very important question which is, What is capitalism, specifically? If it's simply the free exchange of private property, then every country in the world today is some version of a capitalist country, or on some sort of a capitalism/socialism spectrum. You sort of can decide what you want to call it.
---

"This economic and political situation that we're in is unique — it means that we don't get to go back to normal."

---
But people forget, that in the past there was Ross Perot, and John Anderson to a lesser degree. Perot was an extremely viable candidate who had a chance of winning, before he imploded. There has been a bubbling of this discontent in every generation. Could one make the argument that the way a forest needs to burn to regenerate, you need a Trump to have both sides react and act — is this the equivalent of a political forest fire that could signal a regrowth for the country?
Kornbluth: I'd phrase it slightly differently. You certainly have seen bubbling of this growing anti-establishment wave [besides] Ross Perot, with Pat Buchanan on the right, when he was running his campaigns in the '90s. And you see in our film that in '92 Reich thought that they had a real chance to fix a systemic problem with the economy that was broken, that an increasing amount of gains from growth were going to the top. And he thought that this was going to be a long-term problem going forward. But I think the film's thesis is that this is not the same, but that, in fact, this economic and political situation that we're in is unique and it means that we don't get to go back to normal.
To your second point, I hear this argument sometimes from people on the left who say, "Maybe this Trump presidency is what we need to really have the progressive revolution that we've been waiting for." There may be some truth to that, but don't underestimate the threat to the economy and to democracy that we're experiencing right now.
There was a really poignant moment in the film, when Reich is talking to students about the regret he has, and it seems he may even be on the verge of tears. Tell me about that moment.
Kornbluth: You have a guy who's been fighting for 40 or 50 years, engaging in a political system and trying to in a very genuine way help out regular people around the country. And you look up after you've been at it for so long and you see a shorter time ahead of you than you have behind you and you say, "Wow, it's gotten worse. I can't say that all of the efforts that I've made have fixed it and what do we do with that? How do we answer to those questions?"
Reich is the same age as Donald Trump; and Hillary and Bill Clinton, and Clarence Thomas, were all at Yale when Reich attended. He's seen what his generation has done. I think that there's some answers he has to give about what [this generation] did to get us to where we are. I think he genuinely is torn, he's worried. He's fighting every day give his best to turn this system around but I think he's worried that time is running out.
You see in your film his ability to talk and connect with all types of people with differing politics than his own. What is it about him that lets him connect with people so well?
Kornbluth: Firstly, I think it's rare to see somebody who's that smart and successful who is that genuine, and I think that genuine quality, that sort of humanity, really comes across in him. It makes him an extraordinary screen presence. I've dealt with a lot of famous people in my time and I've never met anyone more grounded than him. But the real secret sauce, which makes him somebody that, if he didn't exist you'd want to invent, is that he's an unbelievable intellect and an unbelievable communicator. He can take complex issues and boil them down in a way that makes it easy for anybody to understand and not feel dumbed-down to. The smartest economists that I've talked to, the biggest idea people who I've talked to, are not always the best communicators.
Obviously, he did a lot of great work when he served the White House, but it's almost like his second act has been more powerful and more meaningful. Maybe because he's not hamstrung by the restrictions of working in the system?
Kornbluth: He was a Secretary of Labor in Clinton's administration but, honestly, how many labor secretaries can most Americans name? One of the most amazing and unique things about him is he has embraced social media in a way that a lot of his contemporaries haven't. I run a nonprofit with him, Inequality Media, and we make short videos for the Internet. Those videos in the last few years have been seen over 250 million times.
He is as motivated, passionate and driven as are people a quarter of his age. He runs me [and] everybody at our organization ragged, and he's 71 years old. He still feels like it's his legacy and he wants to do his best to fix the things that he sees are broken.
---
Copyright Capital & Main