Living in a World Without Justice: What We Can Do
A friendly and regular reader of this blog wrote me that she recently spent a week sitting in on the trial of a teenaged girl in Compton who was tried for murder and will likely spend the rest of her life in prison. She regularly responds to my essays and often asks me to explain exactly what we can do to change the circumstances of injustice that I write about. Such situations seem – like that of the young girl whose trial she watched – impossible to affect, much less fix.
Still, my reader's question remains a fair one, and I have given it a lot of thought. I know what I do, and it ranges on a continuum from action at a distance to action up close. On that first end of the scale, I make it a practice to sign every petition that crosses my path. Stop the Keystone XL Pipeline, support a human rights worker in Russia, end the arrest of an environmental activist in Peru, stop the firing of a hotel worker in Long Beach: I sign them all. You probably get these petitions yourself – online or in the mail – and instead of throwing them out, you probably sign them also.
Do they work? Often. More often than I would have guessed. People in positions of power are influenced by the mail they receive, even if it is mass email or a list of names so long it takes a card board box to hold them all. Letters matter. Phone calls matter. I personally dislike making phone calls even if I am just leaving a message. But doing it, even if it only takes a few seconds, can make a difference.
I also support the work of advocacy organizations financially. While I have started more than a dozen social service agencies, my wife Susan and I make our personal donations almost exclusively to organizations that advocate for social justice. Even contributions to our faith community go to a congregation that constantly involves itself with issues of low-wage workers, racism, immigrant rights and witness against nuclear arms. We figure that most people who give will donate to charities, not for projects focused on injustice.
We also participate regularly in public demonstrations. From farm worker demonstrations in the Central Valley to five-star hotels in Bel Air, I have carried picket signs and shouted slogans — whether or not it got anyone's attention. In other more direct actions, I have joined delegations. These face- to-face meetings with elected officials or corporate spokespersons provide information or let powerful people know why they should act differently. Sometimes these matter. I participate anyway, because I do it for myself as much as I do it for others. I need to know I was not silent.
At the other far end of the protest continuum comes civil disobedience. Submitting to arrest for a nonviolent act that breaks a small law in order to dramatize another unjust law or situation has become a key part of my spiritual discipline. As a small child I was kept on a leash because I had an older brother who drowned and my mother did not want that to happen again. So when I let myself be handcuffed and held in jail under the authority of strangers, the experience goes to the core of my emotional life like no other. These actions may not cause change – although sometimes they have an effect far beyond any expectations. I do them because I need to make a witness for the sake of circumstances that must change. Activists practice nonviolent civil disobedience for many reasons.
When my friend left that girl's courtroom, she went home to chop vegetables. Numb from the experience, it was all she could do. But doing the rote work of cutting and slicing, she resolved to act: She would write this young woman throughout her ordeal, for as long as she is imprisoned. Now that is a personal commitment of time and duration. It won't fix the circumstances of injustice this young woman grew up in, and it will not change the consequences of that horror which she will now live out for the remainder of her life. It will address one person's condition of isolation and by extension the brokenness of our society. Sometimes that is all we can do.

'Skeleton Crew' Is a Play With a Moral Spine
Set in a Detroit automobile outfitting plant, Dominique Morisseau's drama grabs you from the start with its focus on blue-collar men and women, and their struggle for dignity and self-respect.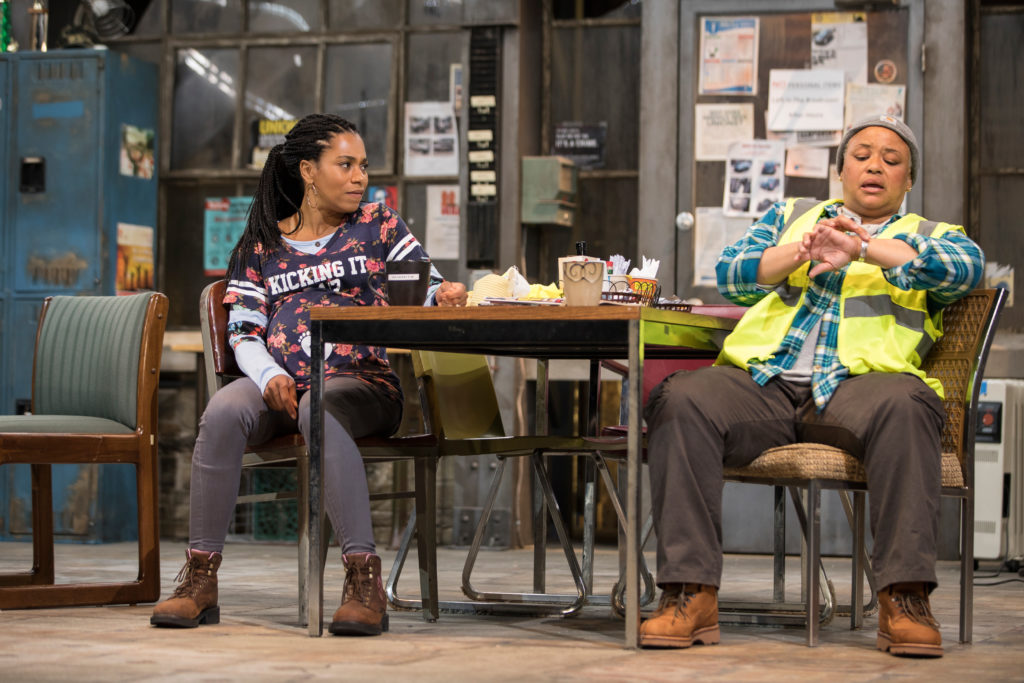 Working-class men and women of color are rarely front and center in today's media and, likewise, are presented all too occasionally on the American stage. So it's buoying to see that trend bucked in playwright Dominique Morisseau's percipient and well-crafted drama, Skeleton Crew. The play is the final installment in her Detroit  Project Trilogy; the first, Paradise Blue, is set in the 1940s amidst displacement caused by urban renewal and gentrification, while the second, Detroit '67, transpires on the eve of the 1967 Detroit riots sparked by a police action.
Directed by Patricia McGregor at Los Angeles' Geffen Playhouse, Skeleton Crew is a play with a moral spine. It takes place in 2008, when the shrinking U.S. auto industry is being further downsized. Morisseau's engaging quartet of characters — Faye (Caroline Stefanie Clay), Dez (Armari Cheatom), Shanita (Kelly McCreary) and Reggie (DB Woodside) – are employed at an automobile outfitting plant. Faye, Dez and Shanita are workers on the line while Reggie (who has a wife and kids, and has pulled himself together after a troubled youth) is their supervisor.
The first three customarily mingle in their break room (designer Rachel Myers' impressively cluttered, dingy and detailed set), trading the sort of familiar barbs and genuine concern for each other common among longtime co-workers. They also face off on philosophy: Upper-middle-aged Faye and the younger, pregnant Shanita take pride in their labor, while Dez, though a good worker, is a malcontent scornful of management and firm in the belief that everyone needs to watch out for himself. He's a thorn in Reggie's side, for while Reggie wants to be supportive of his workers, he must act at the behest of higher management. For his part, Dez resents Reggie's authority, and a palpable unease exists between them.
Besides this male matchup, we're made privy to Dez's attraction to Shanita, who mostly turns away his advances, but every now and then displays a hint of interest. Most poignant is Reggie's regard and affection for the lesbian Faye, which has roots in his boyhood when she loved, and lived, with his now-deceased mom.
These people's various predicaments intensify when rumors spread of the plant's shutdown — a disaster for all, but a particular calamity for the already near-broke Faye who, one year short of retirement, would lose her pension. The crisis forces each of these people to make a choice.
A sound piece of social realism, Skeleton Crew grabs you from the start in its focus on blue-collar men and women, and their struggle against odds for dignity and self-respect. Morisseau not only furnishes these characters a platform for their travails, she endows them with strong values, big hearts and the opportunity to choose between right and wrong.
Unfortunately, the performance I attended did not soar. Many exchanges lacked a fresh edge. The actors certainly had their characters down, but too often they appeared to be coasting on technique. (This seemed particularly true of Clay, who performed the role to great accolades in Washington, DC in 2017, also under McGregor's direction). Additionally, some of the stage movement was not entirely fluid; in confrontations, actors sometimes would just stand and face each other in an artificial way. And Cheatom's interpretation of Dez struck me as a bit overly churlish and depressive: I needed more glimpses of the intelligence and edge that would secretly attract the strong, self-directed Shanita.
The most compelling moments belong to Woodside, well-cast as a man trying his best in difficult circumstances to do the right thing.
---
Gil Cates Theater at the Geffen Playhouse, 10886 Le Conte Ave., Westwood Village; Tues.-Fri., 8 p.m.; Sat., 3 & 8 p.m. Sun., 2 & 7 p.m.; through July 8. (310) 208-5454 or www.geffenplayhouse.org