LISTEN: Why We're Never Going Back to the Traditional Office Layout
On the latest edition of The Bottom Line podcast, Rick Wartzman chats with Herman Miller CEO Brian Walker.

Rick Wartzman photo by Joanne Kim
On this edition of The Bottom Line podcast, host Rick Wartzman chats with Herman Miller CEO Brian Walker. Wartzman describes the episode below.
---
Certain things seem to go out of fashion, only to come around again: suede and velvet clothing for men, vinyl records, the underhanded free throw in basketball.
But Brian Walker, the CEO of furniture company Herman Miller, is convinced that the traditional office—with executives stuck behind closed doors and most everyone else assigned to a fixed workstation—is gone for good.
"I think this falls into the broader trends we see," Walker tells me on the latest episode of my podcast, The Bottom Line. "You and I probably believed we had to have a car when we turned 16 years old . . . Well, my children are graduating from college and say they're going to move to Chicago, that they don't want a car. They're very comfortable using Uber or using Zipcar or public transportation. In fact, they like it better."
"In some ways, attitudinally, the digital natives are more used to moving through things that way," Walker adds. "Ownership isn't about a thing. It's about what I get from it."
Beyond generational values, he notes, something else is fueling this shift to more dynamic and flexible workspaces: technology.
Herman Miller, for example, recently introduced cloud-connected smart office furniture that, before long, will function like this: As you walk toward an open desk and chair, the system will hook into your cellphone and recognize that it's you. It will then know, based on your digital calendar, what tasks you're about to take on.
Ready to settle in for a few hours to finish up that report? The furniture will automatically adjust, based on your height and weight, for the optimal ergonomic experience. Just stopping by quickly? The desk will anticipate that, too, rising to a standing position, so you can check your email before you dash off to your next meeting.
A bit later, as you head over to a more collaborative area to brainstorm with some colleagues, the system can tell whom you're gathering with. And although that kind of tracking is sure to incite fears of Big Brother in some organizations, such information can be invaluable for a manager if handled right.
"I'd love to know . . . when I'm in the product-development cycle how much are my marketing folks actually sitting with the R&D team, or are my finance folks ever really involved," Walker says. The data could reveal "how the organization is mixing."
You can listen to my entire interview with Walker here, as well as Marty Goldensohn reporting on how employers are trying to tackle the "privacy crisis" in open offices, and Natalie Foster exploring why it's time for a big, bold expansion of the Earned Income Tax Credit for the working poor.
---
The Bottom Line is a production of Capital & Main. 

The Most Successful Union Organizer in America Thinks Traditional Organizing Is a Lost Cause
On the latest episode of "The Bottom Line" podcast, David Rolf of the SEIU explains why worker advocates need to move to a different model.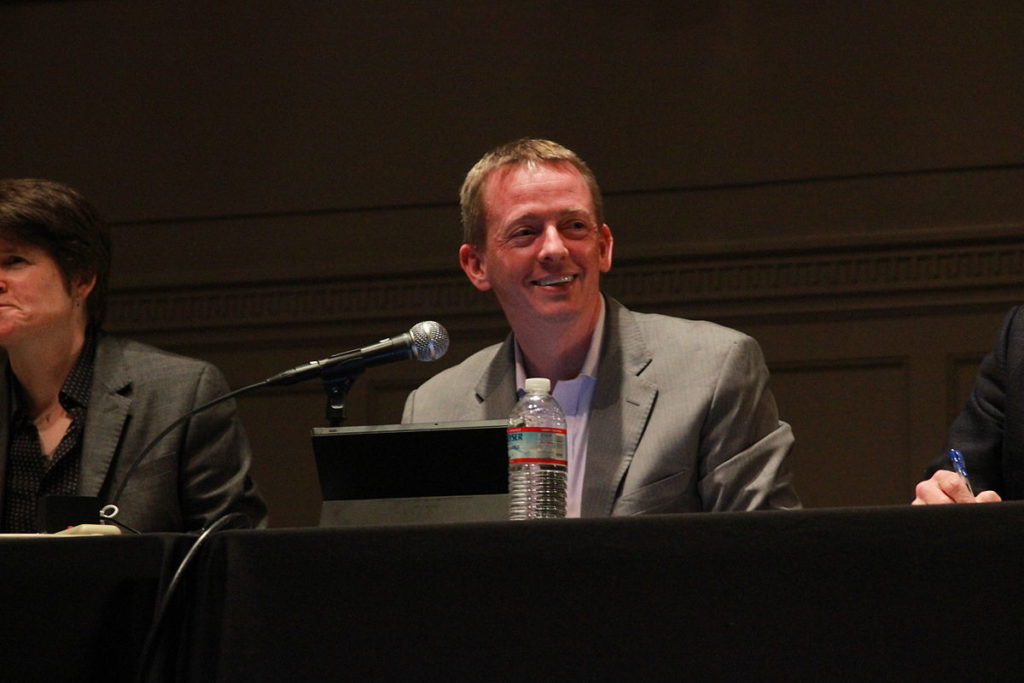 If anyone has shown a keen understanding of how to unionize workers in America, it's David Rolf.
In the 1990s, he was a key player in the Service Employees International Union winning the right to represent some 74,000 home care aides in Los Angeles—the largest union organizing campaign since the 1940s. In his present post, as president of SEIU Local 775 in Seattle, he has spearheaded growth from 1,600 to 45,000 members. In 2014, The American Prospect called Rolf "the most successful union organizer of the past 15 years."
All of which makes Rolf's take on the collective-bargaining system—that it is a relic, and that those who truly care about workers should stop focusing their efforts on promoting it—particularly provocative.
"I think we made a valiant . . . bet that if we put enough talent and enough resources behind traditional union organizing that we could somehow bring back the old model," Rolf told me on the latest episode of my podcast, The Bottom Line. "It wasn't the wrong theory to try necessarily. . . . But ultimately, when you try something over and over again and cannot achieve the results you want, it's time to try something new."
Instead of being sufficiently innovative, Rolf adds, most labor leaders have been "reinvesting and doubling down on our American system of enterprise-based collective bargaining since the union movement started to shrink in the early 1950s." The result: "Through decades . . . we've seen unions grow weaker and weaker every year while continuing to repeat the same strategic directions."
Today, less than 6.5% of the private-sector workforce in the United States is unionized, a steady drop from nearly 35% in 1955, 26% in 1975, and 10% in 1995.
To move forward, Rolf has plenty of ideas, including promoting worker ownership and introducing "ethical workplace" certification and labeling programs designed to appeal to socially conscious consumers.
Especially important, he believes, is to supplant firm-by-firm bargaining with a European-style paradigm in which representatives of the employees, employers, and the government set standards for wages and benefits throughout an entire industry or across a geographic area.
"The more there's bargaining centralization," Rolf says, "the less anti-union the culture is, the more union coverage you have in the workplace, the lower inequality is within the overall society, the lower the level of gender wage inequality is, and the more time people get for social and leisure activity."
Another part of Rolf's strategy has been to build advocacy organizations like the Fight for $15, which, in his words, has put forth a "bold and morally compelling demand" to elevate the pay of more than 20 million low-wage workers.
Whether a critical mass of labor leaders will ever agree with Rolf and push hard to replace the status quo is far from certain. But nobody, he says, should interpret the organizing triumphs that he and a relatively small number of others around the country have enjoyed as a sign that 20th century trade unionism can survive the 21st.
"Overall, the trend lines are not good," Rolf says, suggesting that the current system is simply "marking time until its eventual extinction."
"It's not to say that you can't find a few dozen black rhinos left in the wild somewhere," he continues, "but that shouldn't make us think that they're suddenly going to take over the world."
You can listen to my entire interview with Rolf here, along with Marty Goldensohn reporting on the state of employee stock ownership plans, and Kanyi Maqubela reflecting on why the toughest obstacle facing driverless cars is psychological, not technical.
The Bottom Line is a production of Capital & Main.