Lights, Camera – Activism!
A revamped Hollywood Film Festival aims to bring cinema and activism together in L.A.
HFF's Jon Fitzgerald
Activists, filmmakers and audiences alike have a reason to be excited about the 2014 Hollywood Film Festival that unspools this October. Under new management, the festival, which was founded in 1997, is shifting its focus to the socially engaged side of cinema and turning the spotlight on films with a message.
Jon Fitzgerald, who first managed the Hollywood Film Festival in 2013 and has experience putting on similar festivals around the globe, will return as the event's organizer. This year, however, a separate organization he heads, CineCause, has acquired the festival and plans to give it a decidedly different tone.
Speaking to Capital and Main by phone from a documentary shoot in Florida, Fitzgerald said CineCause plans to remake the festival into a showcase for filmmakers who want to make a change. CineCause, he said, is about working to "connect social impact cinema with related causes," adding that while films often raise awareness about important issues, audiences are not always sure how to get involved.
CineCause is designed, Fitzgerald said, to "provide the avenue for [audiences] to learn more about the causes and take action." For example, some of CineCause's work involves building bridges between educators and documentarians, and creating materials for teachers who use film in the classroom.
Fitzgerald said this year's Hollywood Film Festival will be "anchored by social impact cinema" as it showcases "independent films with a message."  For him one of the main goals is to "elevate access to the industry" for filmmakers who are trying to encourage positive change with their work.
"We're showing another side of Hollywood," he says.
In addition to helping activist filmmakers gain exposure, Fitzgerald plans to broaden the impact of film by incorporating into the festival a "series of presentations, panel discussions and workshops" called the "Global Summit for Good." This will provide filmmakers and others who work in the intersection between activism and cinema with a platform to share their insights, skills and technical knowledge about the practice of socially engaged filmmaking.
Fitzgerald feels that Los Angeles is more than ready for a film festival that puts issues first, and sees the growing popularity of documentary as a sign that audiences are hungry for real world stories. He believes that the "documentary has evolved as an art form," as films such as The Cove have merged exciting storytelling with information about pressing issues, and inspired audiences to take action. Fitzgerald also sees the way that so many celebrities have taken up social causes as further proof that an activism-oriented film festival is a good fit for Hollywood.
For Fitzgerald, the power of film as a medium of communications is clear, but how films can go beyond raising awareness is less obvious. He hopes that CineCause can be the "missing piece" between inspiring audiences with compelling films and getting them actively involved in creating change.

A Woman's Art Is Never Done: The Feminae Exhibition
A striking juxtaposition between the past and present courses throughout the small gallery. Celia Blomberg's "International Women's Day March 8" can't help but make one think of 2017's Women's March, which occurred 37 years after the print's first appearance.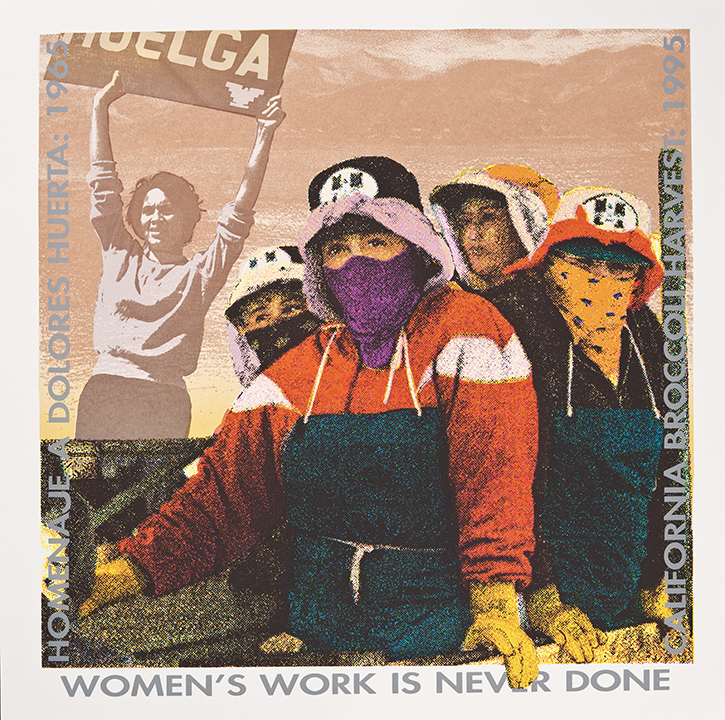 Among the 50-plus works in the Feminae: Typographic Voices of Women By Women exhibit is Yolanda Lopez's "Women's Work is Never Done." Lopez's title is particularly ironic, given the exhibit's gender-based subject matter. The show spans work from the past 50 years, making it easy to understand how much society is still grappling with its themes of gender inequality. Culled from the archives of the Center for the Study of Political Graphics, the graphic images of protest, persuasion and empowerment are truly works of art in their own right.
However, political posters aren't made to merely spruce up walls, but to help figuratively bring barriers down as well.
Two silkscreens from the 1970s, Liliana Porter and John Schneider's "This Woman is Vietnamese" and See Red Woman's Workshop's "So Long As Women Are Not Free People Are Not Free," are particularly powerful, underscoring, as they do, the fact that the subjugation and persecution of women crosses borders and cultures as an unfortunate shared global experience. These two pieces' stark simplicity exemplifies most of the work in the exhibit. In the former, a New York Times photo of a distraught Vietnamese woman with a gun held to her head is centered above these basic words typed out in a typewriter font: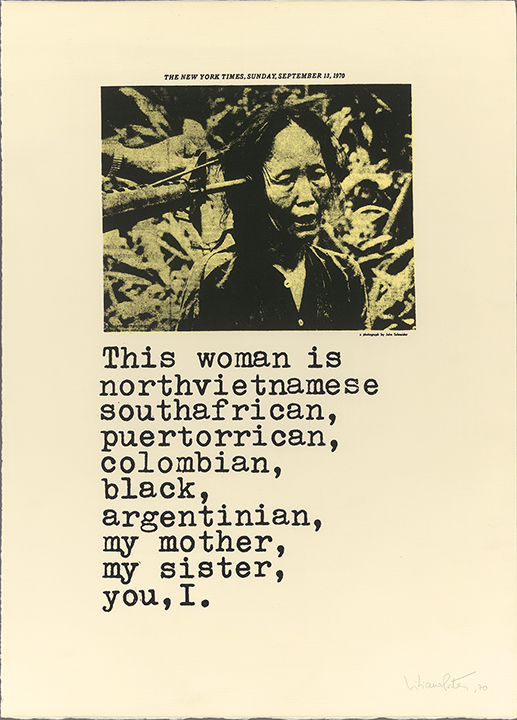 This woman is
northvietnamese
southafrican
puertorrican,
colombian,
black,
argentinian,
my mother,
my sister,
you, I.
By juxtaposing the photo with these words, the creators take the plight of this woman and immediately globalize her pain. In the latter, three female demonstrators are silkscreened in red onto a yellow background. They are marginalized by being stuck in the lower left third of the poster, but two of them are raising their fists skyward and their mouths are open, screaming in defiance. Its non-serif, eponymous type reads: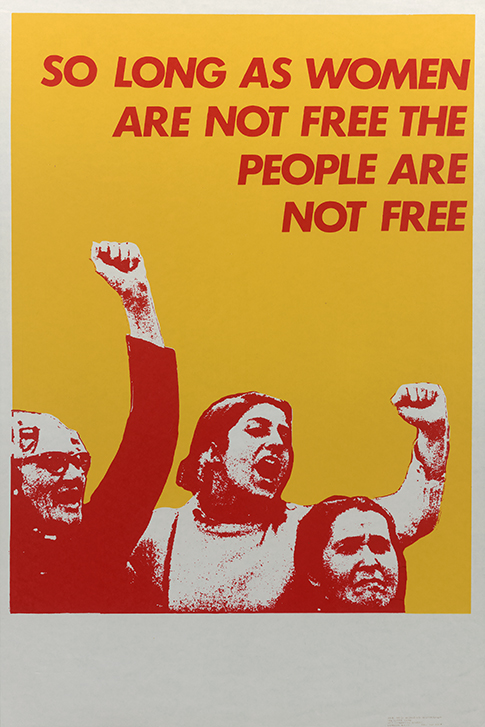 SO LONG AS WOMEN
ARE NOT FREE THE
PEOPLE ARE
NOT FREE
This piece's message takes the global message even farther, making the plight of women a human one — a common theme in the exhibition.
There is also a striking juxtaposition between the past and present that seethes throughout the small gallery. Celia Blomberg's "International Women's Day March 8" can't help but make one think of 2017's Women's March that would take place 37 years later. See Red Woman's Workshop's 1977 "Black Women Will Not Be Intimidated" could easily be repurposed to address the recent spate of blue-on-black brutality. Notable works by Barbara Kruger, Sister Corita Kent and the Guerilla Girls are also included.
Ironically , while it can be surmised that most of these works were made as populist posters to be distributed at the time as banners of protest, their beautiful simplicity and nostalgic elegance probably have resulted in the originals (mostly now found in art museums) sporting hefty vintage-resale prices.
But it is not just the art that has stood the test of time. The fact that the issues addressed in the show — feminism, choice, gender equality, war, immigration, police brutality or violence against women — are all issues at the forefront of debate in 2018 ultimately engenders conflicting feelings.
On one the hand, it is inspiring to see a vibrant exhibit that showcases such diversity in artistic styles, no doubt spawned by the diversity of the artists' own backgrounds. On the other hand, there is a realization that while there has been some progress over the past half century, there is so much work to be done.
Art Center's Hoffmitz Milken Center for Typography, 950 South Raymond Ave., Pasadena; through May 15.
---
Copyright Capital & Main