Learning Curves: New Column Reports on the Education Wars
If privatization is making American education the Wild West for those wishing to profit off children using public dollars, then Los Angeles Unified is its Tombstone.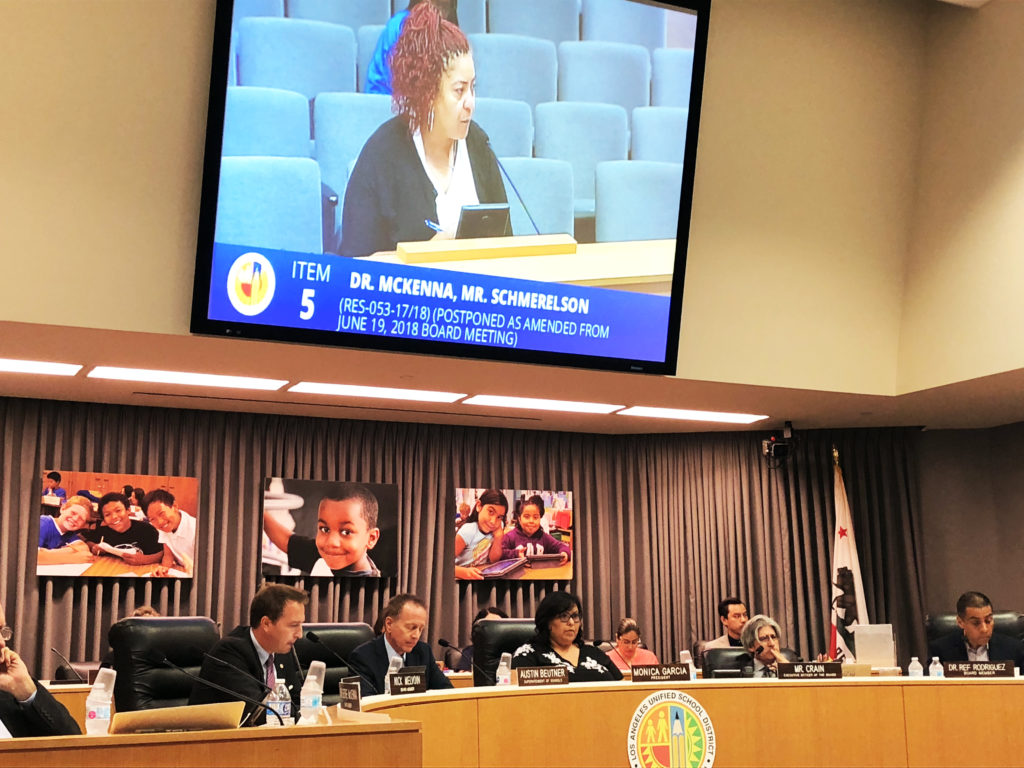 Editor's Note: Today Capital & Main's education reporter, Bill Raden, begins a new weekly column covering the contentious, ever-changing landscape of California's education system. A staccato-paced selection of news items, profiles and dish, "Learning Curves" will report on everything from charter school controversies in K-12 schools to the skyrocketing costs of attending college. Other issues will include school funding, equity, and the intersection of education and inequality.
Send tips, feedback and announcements of upcoming events to  braden@capitalandmain.com, @BillRaden.
---
We wanted the launch of Learning Curves, Capital & Main's new weekly roundup of education inequality headlines, to be a Golden State affair. But the week's leading education story turned out to be national: The unusually copious ideological paper trail left by D.C. Circuit Judge Brett Kavanaugh, President Donald Trump's hard-right choice to replace Supreme Court Justice Anthony "Swing Vote" Kennedy. Politico reported that Kavanaugh favors —
One measure of the cost to California from privatization came out in May. Breaking Point: The Cost of Charter Schools for Public School Districts compared the current school budgets in Oakland, San Diego and San Jose — three of the state's most chartered-up and financially stressed school districts — with a hypothetical alternative in which all students remained enrolled in traditional public schools. The difference, parsed by the state's Local Control Funding Formulas, became the privatization price tag. The $57.3 million calculated for Oakland Unified, which claims the state's highest percentage of charter enrollment, made up both its 2017 shortfall and paid off the $40 million still owed to California from its $100 million bailout and state takeover in 2003.
That kind of policy math has earned California a D+ in last month's Grading the States report card, released by the Network for Public Education and the Schott Foundation for Public Education.
"[California] is near the bottom of the country when it comes to accountability and transparency," researcher Carol Burris explained to Learning Curves. "California is one of only four states that allow for-profit charters, and even its non-profit charters can be run by for-profit corporations. … It is the Wild West for those who wish to make a profit off kids using public dollars."
If so, the Tombstone in that Wild West is Los Angeles Unified, the nation's largest charter school district in sheer enrollment, presided over by a pro-charter school board majority and its newly handpicked, no-experience-required superintendent, the Wall Street financier Austin Beutner. One vote taken at Tuesday's board meeting turned into an OK Corral moment.
The Los Angeles global law firm Latham & Watkins won a conflict-of-interest waiver vote to do "realignment" work for the superintendent, thanks in part to an ethics nod by pro-charter District 5 board member Ref Rodriguez. The firm has frequently sued the district for millions on behalf of the California Charter School Association (CCSA), while Rodriguez has been under the cloud of three felony charges and 25 misdemeanor counts related to alleged money laundering from his 2015 election.
Ref also helped shoot down a CCSA-opposed local parcel tax measure proposal on Tuesday. Aimed for the November ballot and designed to take a significant bite — and much of the anticipated classroom sting — out of a $482.2 million shortfall projected for 2020-2021, the tax had already polled at an extraordinary 68 percent approval rating with voters.
"This is urgent now. If you wait, it may never happen," former board president Jackie Goldberg exhorted after Beutner argued for putting it on the 2020 ballot instead.
The no vote may have had less to do with election timing than it did with "Hard Choices," the financial restructuring blueprint released in June by a blue-ribbon task force chaired by none other than Austin Beutner. That report targeted district employees' compensation, pensions and health care for "realignment," but its presumptive sense of urgency would definitely not be served by a parcel tax rescue.
Meanwhile, United Teachers Los Angeles, which has been without a contract for over a year, last week singled out the task force report when it formally filed an impasse with the California Public Employment Relations Board. (The union later agreed to return to the bargaining table July 24.) Stay tuned.
---
Copyright Capital & Main

Corruption Exposed in College Admissions Indictments
Wealthy parents caught gaming the system. Eli Broad spends on privatization. The price of each vote for L.A. school board race.
---
"Learning Curves" is a weekly roundup of news items, profiles and dish about the intersection of education and inequality. Send tips, feedback and announcements of upcoming events to braden@capitalandmain.com, @BillRaden.
---
Californians made up a telling majority of those charged in Tuesday's sensational, 50-person federal bust of a $25 million, Newport Beach-based college admissions bribery ring. The indictment, which also names five coaches from USC and UCLA and wilts the ivy at revered elite schools ranging from Yale and Stanford to Georgetown University, netted Hollywood stars Felicity Huffman and Lori Loughlin, along with 23 more of the Golden State's most privileged and allegedly cheatingest parents. The Los Angeles Times' Teresa Watanabe and Andrew Khouri frame the crackdown as the illicit tip of a higher ed inequality iceberg that includes the largely unregulated, multibillion-dollar college admissions prep sector.
"I hope that this whole coaching industry gets a closer look," University of California, Santa Barbara American studies professor Christopher Newfield told Learning Curves about the policy implications of the scandal. "Because it's really expensive, it's skewed toward affluent people and makes the playing field even less level than it was before. … And it's constantly gaming the [admissions] process so that people lose confidence in its validity, which is not that hard to begin with."
Newfield, whose books and research have focused on how 40 years of privatization and state divestment has undercut the public university's goals of providing broad access and high quality, added that states like California also need to look at why quality college seats have not grown with the population of college students. (He recommends erasing the degree differences that underpin a perceived Cal State/UC diploma caste system.) The final piece to eliminating bad behavior is admissions reform: "When you are rejecting 95 percent of your applicants, you're rejecting a whole bunch of great people, and the rejection process is somewhat arbitrary. You introduce these odd categories that [are] not fair, and they're really gameable. That's what people try to do. It's crazy."
The first big-dollar charter donation in L.A. Unified's special school board election was spotted last week by the L.A. Times' eagle-eyed Howard Blume, and to nobody's surprise it bore the signature of L.A.'s own free market-ed megadonor, Eli Broad. Neither was it surprising in a primary distinguished by the determination of pro-charter candidates to remain in the privatization closet until the last possible moment that the $100K check, made out to a PAC supporting former Eric Garcetti aide Heather Repenning, was inked on Election Day.
There's much at stake for Broad. The billionaire is not only a close, longtime political ally of LAUSD superintendent Austin Beutner, he also paid for much of Beutner's portfolio district transformation plan, which risks being dead on arrival should progressive Jackie Goldberg repeat her overwhelming first-place finish in what looks like a May 14 runoff.
Goldberg's runoff challenger won't be known until a final ballot tally confirms whether or not Repenning's now-razor thin, 35-vote lead over March 5's current third-place finisher, Huntington Park Councilperson Graciela Ortiz, is sustained (fewer than 100 uncounted ballots remain). But intrepid data cruncher Sara Roos ran the committee expenditures of the March 5 primary race on her RedqueenInLA blog earlier this week to come up with a preliminary per-vote price tag.
The costliest votes of the race went to Repenning, whose underwhelming 13.13 percent outcome cost her backers roughly $352 for each vote; Ortiz's 13.02 percent set her supporters back $109 per; and the best bargain of the race proved to be Goldberg, whose 48.2 percent cost a mere $63 each.
That leaves billionaires like Broad and Reed Hastings with an interesting campaign-finance calculation on their hands: After throwing $50 million at failed bids to elect pro-privatization candidates as governor and state schools superintendent in the last cycle, do they now risk another expensive confirmation at the polls of voter disenchantment with "school choice" while Sacramento is in the midst of reigning in California's unregulated charter marketplace?
---
Copyright Capital & Main