Learning Curves: New Column Reports on the Education Wars
If privatization is making American education the Wild West for those wishing to profit off children using public dollars, then Los Angeles Unified is its Tombstone.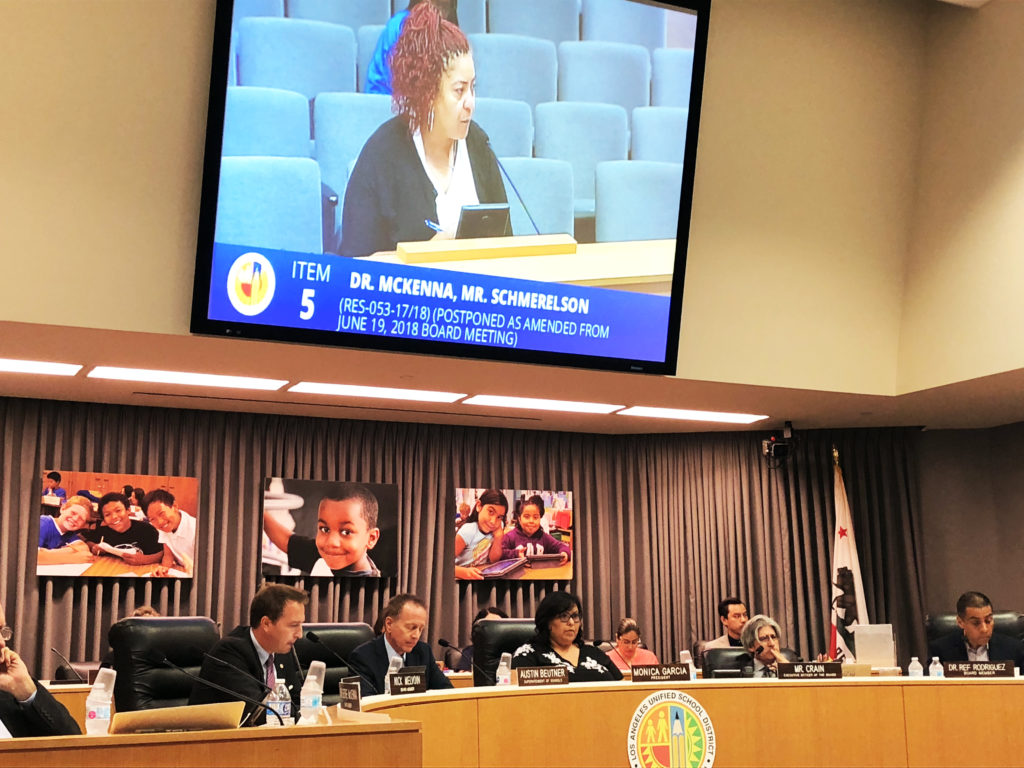 Editor's Note: Today Capital & Main's education reporter, Bill Raden, begins a new weekly column covering the contentious, ever-changing landscape of California's education system. A staccato-paced selection of news items, profiles and dish, "Learning Curves" will report on everything from charter school controversies in K-12 schools to the skyrocketing costs of attending college. Other issues will include school funding, equity, and the intersection of education and inequality.
Send tips, feedback and announcements of upcoming events to  braden@capitalandmain.com, @BillRaden.
---
We wanted the launch of Learning Curves

, Capital & Main's new weekly roundup of education inequality headlines, to be a Golden State affair. But the week's leading education story turned out to be national: The unusually copious ideological paper trail left by D.C. Circuit Judge Brett Kavanaugh, President Donald Trump's hard-right choice to replace Supreme Court Justice Anthony "Swing Vote" Kennedy. Politico reported that Kavanaugh favors —
One measure of the cost to California from privatization came out in May. Breaking Point: The Cost of Charter Schools for Public School Districts compared the current school budgets in Oakland, San Diego and San Jose — three of the state's most chartered-up and financially stressed school districts — with a hypothetical alternative in which all students remained enrolled in traditional public schools. The difference, parsed by the state's Local Control Funding Formulas, became the privatization price tag. The $57.3 million calculated for Oakland Unified, which claims the state's highest percentage of charter enrollment, made up both its 2017 shortfall and paid off the $40 million still owed to California from its $100 million bailout and state takeover in 2003.
That kind of policy math has earned California a D+ in last month's Grading the States report card, released by the Network for Public Education and the Schott Foundation for Public Education.
"[California] is near the bottom of the country when it comes to accountability and transparency," researcher Carol Burris explained to Learning Curves. "California is one of only four states that allow for-profit charters, and even its non-profit charters can be run by for-profit corporations. … It is the Wild West for those who wish to make a profit off kids using public dollars."
If so, the Tombstone in that Wild West is Los Angeles Unified, the nation's largest charter school district in sheer enrollment, presided over by a pro-charter school board majority and its newly handpicked, no-experience-required superintendent, the Wall Street financier Austin Beutner. One vote taken at Tuesday's board meeting turned into an OK Corral moment.
The Los Angeles global law firm Latham & Watkins won a conflict-of-interest waiver vote to do "realignment" work for the superintendent, thanks in part to an ethics nod by pro-charter District 5 board member Ref Rodriguez. The firm has frequently sued the district for millions on behalf of the California Charter School Association (CCSA), while Rodriguez has been under the cloud of three felony charges and 25 misdemeanor counts related to alleged money laundering from his 2015 election.
Ref also helped shoot down a CCSA-opposed local parcel tax measure proposal on Tuesday. Aimed for the November ballot and designed to take a significant bite — and much of the anticipated classroom sting — out of a $482.2 million shortfall projected for 2020-2021, the tax had already polled at an extraordinary 68 percent approval rating with voters.
"This is urgent now. If you wait, it may never happen," former board president Jackie Goldberg exhorted after Beutner argued for putting it on the 2020 ballot instead.
The no vote may have had less to do with election timing than it did with "Hard Choices," the financial restructuring blueprint released in June by a blue-ribbon task force chaired by none other than Austin Beutner. That report targeted district employees' compensation, pensions and health care for "realignment," but its presumptive sense of urgency would definitely not be served by a parcel tax rescue.
Meanwhile, United Teachers Los Angeles, which has been without a contract for over a year, last week singled out the task force report when it formally filed an impasse with the California Public Employment Relations Board. (The union later agreed to return to the bargaining table July 24.) Stay tuned.
---
Copyright Capital & Main
Wealthy Charter Backers Flood California Schools Chief Race With Cash
The record-shattering spending on candidate Marshall Tuck mirrors the threat level that a Sacramento without Jerry Brown represents to the charter school lobby.
---
"Learning Curves" is a weekly roundup of news items, profiles and dish about the intersection of education and inequality. Send tips, feedback and announcements of upcoming events to  braden@capitalandmain.com, @BillRaden.
---
The state schools superintendent contest between East Bay progressive Assemblymember Tony Thurmond and onetime Los Angeles charter school operator Marshall Tuck has been what one might expect of a down-ballot race swamped by below-the-belt attack ads and low-flying slate mailers— namely, a race paid for by unprecedented levels of outside independent expenditure committee (IE) spending by conservative billionaires trying to remake California education according to their privatizing vision.
On October 28, the non-profit journalism website EdSource reported that campaign spending had pushed past the stratospheric $50 million mark, easily making it the costliest schools chief race in history. Roughly $34 million benefited Tuck, whose pair of PACs directed by charter lobbyists EdVoice outspent the lone pro-Thurmond labor IE by $28.8 million to $12.2 million. (Disclosure: Some unions financially supporting Thurmond are also supporters of this website.) Top Tuck contributors represented a Who's Who of philanthropists who have been leveraging their personal fortunes to radically reconfigure public schools:
| | |
| --- | --- |
| Contribution | Contribution |
| 1. Bill Bloomfield | $6,761,900 |
| 2. The Walton Family | $5,138,400 |
| 3. Eli Broad | $3,216,305 |
| 4.  Arthur Rock |  $3,216,305 |
| 5. Doris F. Fisher |  $3,090,400 |
| 6. Richard Riordan |  $2,007,000 |
|  Total |  $23,928,605 |
Source: Cal-Access
One problem with having the Walmart Waltons foot a candidate's bills is the presumptive link to the far-right agenda of Trump education secretary Betsy DeVos. Carrie Walton Penner's support for DeVos included a board seat on her pet pro-voucher organization, Alliance for School Choice. Tuck's moneyed backers are also betting big on neoliberal neophyte Buffy Wicks (and against progressive firebrand Jovanka Beckles) to fill Thurmond's Assembly District 15 seat. If successful, Wicks could help dilute any legislative fixes of charters before they reach the desk of Gavin Newsom, the gubernatorial bête noir of the California Charter School Association.
One advantage to having Walmart-sized buying power is traction. In mid-October, EdVoice's $8.55 million "thermonuclear" media response to a $3 million pro-Thurmond ad buy had Tuck squeaking ahead in the polls by October 24. That lead widened in last Wednesday's University of California, Berkeley IGS Poll, with Tuck polling 48 percent to Thurmond's 36 (although a self-survey on iSideWith.com has Thurmond at 46 and Tuck at 34). The poll noted that 64 percent of Republicans favored Tuck, compared to 14 percent for Thurmond.
Tuck's appeal to the right is no accident. Last week, members of California's congressional delegation called on Tuck to disavow the $233,000 EdVoice has spent to plaster his face on Republican slate mailers around the state. During the primary, Tuck appeared on reelection mailers for key Trump allies Devin Nunes (R-CA 22) and Kevin McCarthy (R-CA 23). This time out, Representative Barbara Lee (D-CA 13) complained, he's effectively helping Republicans in districts key to Democratic hopes to flip Congress in Tuesday's hoped-for blue wave. They include the 25th District, where 31-year-old Katie Hill appears poised to knock out Republican Steve Knight, and the 45th District, where UC Irvine law professor Katie Porter hopes to retire Orange County Trump loyalist Mimi Walters. And on Saturday, Republican gubernatorial candidate John Cox tweeted his endorsement of Tuck, alongside that of Republican EdVoice cofounder Steve Poizner for state insurance commissioner.
Tuck is also taking heat for EdVoice attack ads tarring Thurmond with racially tinged falsehoods. On Thursday, the American Civil Liberties Union of Northern California objected to its name being used on a Tuck slate mailer that doubled down on debunked claims in an EdVoice TV spot that the Obama White House "reprimanded" Thurmond over mishandling of Title IX claims when he was a school board member. That ad earned Tuck an angry censure by state Democratic Party Women's Caucus Chair Christine Pelosi and Southern Chair Carolyn Fowler, along with California-Hawaii NAACP president Alice Huffman, over the ad's alleged use of racist "dog whistles" and for "being willing to weaponize children's trauma."
The record-shattering spending on Tuck ultimately mirrors the threat level that a Sacramento without Jerry Brown represents to EdVoice executive director Bill Lucia. With Gavin Newsom ahead of his Republican opponent, John Cox, by 18 points in Wednesday's poll, Newsom's pledges for greater accountability and a moratorium on further expansion in charter-heavy districts are the stuff that keeps California school privatizers turning in their sleep. Of the supe candidates, Tuck alone has flatly rejected a "pause" in favor of limited financial help to those districts for orderly downsizing through school closures and mass teacher layoffs. For the laissez-faire ed-reform faithful, "disruption" is proof that deregulated markets and robust competition are working.
---
Copyright Capital & Main