Los Angeles Teachers Strike Enters Second Week Without a Deal in Sight
Contract talks between the Los Angeles school district and teachers union continue, but don't expect classes to resume before Wednesday.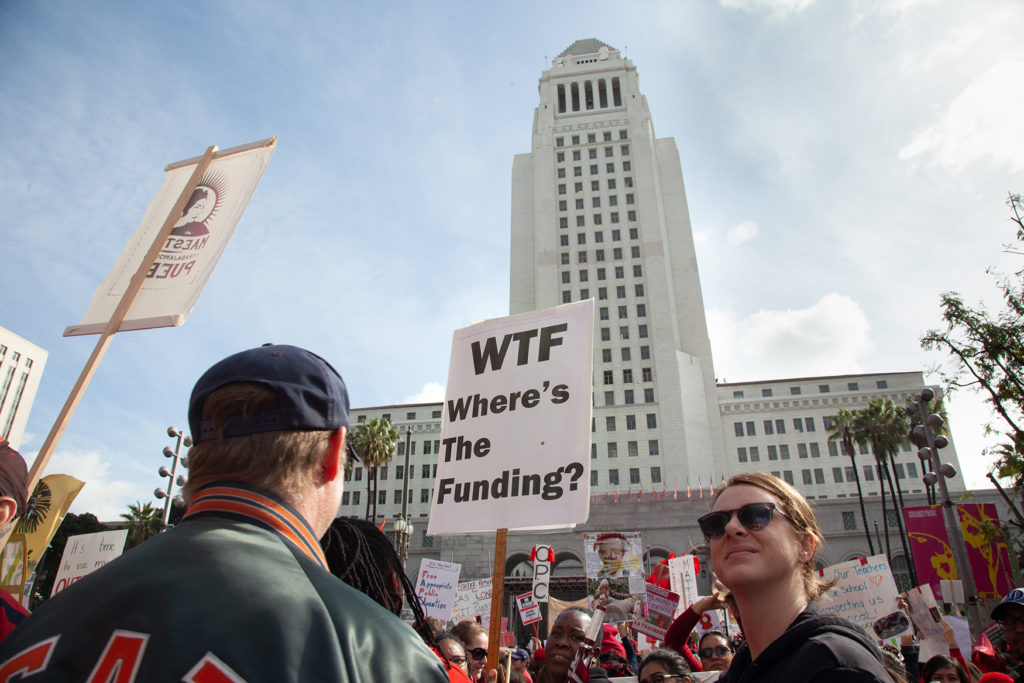 ---
"Learning Curves" is a weekly roundup of news items, profiles and dish about the intersection of education and inequality. Send tips, feedback and announcements of upcoming events to  braden@capitalandmain.com, @BillRaden.
---
Capital & Main's budget analysis of the Los Angeles Unified School District's financials have revealed a school district with far more money at its disposal than LAUSD has claimed during the teachers strike. Estimates that new money from the governor's recently proposed budget, plus unspent revenues from LAUSD's yearly over-projections of spending and under-projections of LCFF funding increases, should give schools superintendent Austin Beutner roughly $640 million more to settle core union demands that the district has priced at $400 million per each contract year. That leaves only philosophical disagreements. The union has framed the strike as a fight for democratic, civic values and as holding the line against gearing education to serve solely private economic interests. Teachers are also demanding a greater say in school site budgets and on reducing non-mandated achievement testing.
The January 16 release of Governor Gavin Newsom's revised state budget had thoroughly upended LAUSD's monetary objections to a strike settlement. The district had been insisting that LAUSD couldn't afford United Teachers Los Angeles' demands for lower class sizes or for bringing school sites up to pre-Great Recession levels of full-time nurses, librarians, counselors and social services workers. But Newsom's proposal to spend a record $80.7 billion on K-12 education undercut that poverty argument with pension savings worth as much as an additional $140 million that LAUSD can now put onto the bargaining table. The district has also been sitting on another $1.9 billion in surplus cash reserves.
For those keeping score, Week One of the strike saw the union gaining support of parents and students as the days wore on. LAUSD reported that school attendance, which was around 30 percent of normal on Tuesday, had plunged to 17 percent by Thursday and Friday. Despite driving rains, UTLA strike organizers staged several mass rallies, including gatherings in front of the California Charter Schools Association (to protest the opening of a Boyle Heights "mega KIPP" charter school) and in front of school board member Mónica García's house. Friday saw UTLA's most impressive flexing of its muscle, when over 60,000 strikers and supporters converged on downtown's Grand Park just as bargaining was getting under way across the street.
Political casualties of the strike may turn out to be onetime (and future?) L.A. mayoral hopeful Beutner and fellow Democrat allies in the school board majority voting bloc, who have been increasingly isolated as party leaders, both statewide and nationally, have come out on the side of the teachers. Vermont Senator Bernie Sanders expressed solidarity with L.A. teachers and urged "a revolution in public education." Sanders' theme was echoed by New York Representative Alexandria Ocasio-Cortez in her own tweet of support. By week's end even the L.A. school board itself officially split when board members George McKenna and Scott Schmerelson came out with strong statements backing the teachers.
As striking Los Angeles teachers take a break from school picket lines today for the Martin Luther King Jr. holiday, negotiations that had resumed on Thursday and continued through the long weekend don't appear to have yielded the breakthrough needed to get educators back into the classroom by Tuesday. A tersely worded statement yesterday from L.A. Mayor Eric Garcetti, who is hosting the sessions at City Hall under a media blackout, described Sunday's meeting as "productive" and affirmed that both sides remained committed to working around the clock to resolve the outstanding issues as quickly as possible. But don't expect classes to resume before Wednesday. It will take at least a day, says UTLA, for the rank and file to approve any settlement.
---
Copyright Capital & Main