Los Angeles Teachers Strike Enters Second Week Without a Deal in Sight
Contract talks between the Los Angeles school district and teachers union continue, but don't expect classes to resume before Wednesday.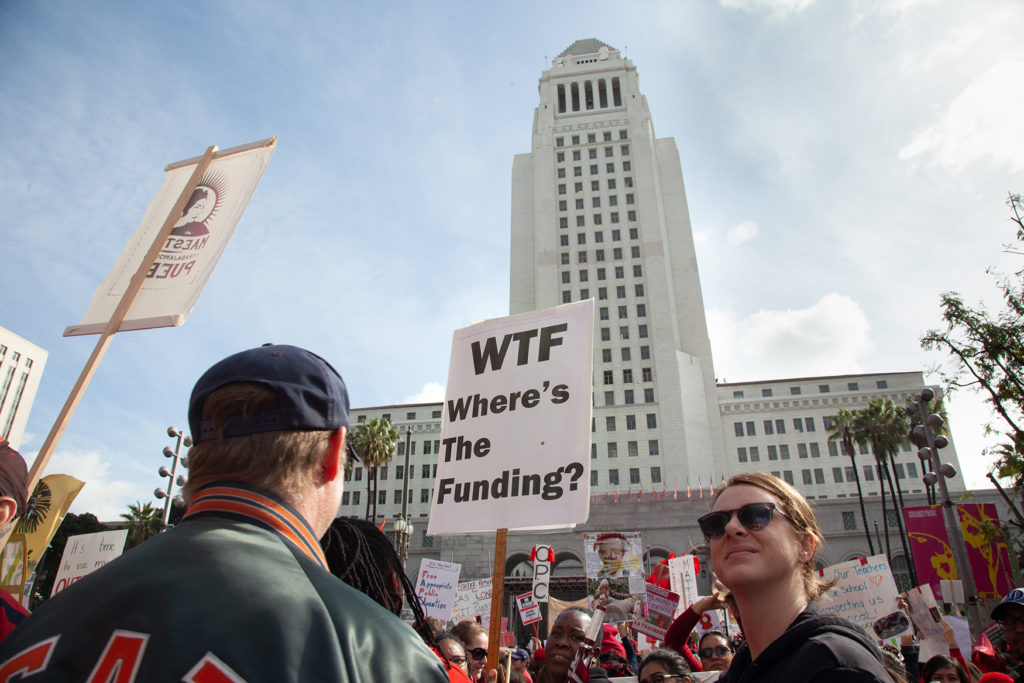 ---
"Learning Curves" is a weekly roundup of news items, profiles and dish about the intersection of education and inequality. Send tips, feedback and announcements of upcoming events to  braden@capitalandmain.com, @BillRaden.
---
Capital & Main's budget analysis of the Los Angeles Unified School District's financials have revealed a school district with far more money at its disposal than LAUSD has claimed during the teachers strike. Estimates that new money from the governor's recently proposed budget, plus unspent revenues from LAUSD's yearly over-projections of spending and under-projections of LCFF funding increases, should give schools superintendent Austin Beutner roughly $640 million more to settle core union demands that the district has priced at $400 million per each contract year. That leaves only philosophical disagreements. The union has framed the strike as a fight for democratic, civic values and as holding the line against gearing education to serve solely private economic interests. Teachers are also demanding a greater say in school site budgets and on reducing non-mandated achievement testing.
The January 16 release of Governor Gavin Newsom's revised state budget had thoroughly upended LAUSD's monetary objections to a strike settlement. The district had been insisting that LAUSD couldn't afford United Teachers Los Angeles' demands for lower class sizes or for bringing school sites up to pre-Great Recession levels of full-time nurses, librarians, counselors and social services workers. But Newsom's proposal to spend a record $80.7 billion on K-12 education undercut that poverty argument with pension savings worth as much as an additional $140 million that LAUSD can now put onto the bargaining table. The district has also been sitting on another $1.9 billion in surplus cash reserves.
For those keeping score, Week One of the strike saw the union gaining support of parents and students as the days wore on. LAUSD reported that school attendance, which was around 30 percent of normal on Tuesday, had plunged to 17 percent by Thursday and Friday. Despite driving rains, UTLA strike organizers staged several mass rallies, including gatherings in front of the California Charter Schools Association (to protest the opening of a Boyle Heights "mega KIPP" charter school) and in front of school board member Mónica García's house. Friday saw UTLA's most impressive flexing of its muscle, when over 60,000 strikers and supporters converged on downtown's Grand Park just as bargaining was getting under way across the street.
Political casualties of the strike may turn out to be onetime (and future?) L.A. mayoral hopeful Beutner and fellow Democrat allies in the school board majority voting bloc, who have been increasingly isolated as party leaders, both statewide and nationally, have come out on the side of the teachers. Vermont Senator Bernie Sanders expressed solidarity with L.A. teachers and urged "a revolution in public education." Sanders' theme was echoed by New York Representative Alexandria Ocasio-Cortez in her own tweet of support. By week's end even the L.A. school board itself officially split when board members George McKenna and Scott Schmerelson came out with strong statements backing the teachers.
As striking Los Angeles teachers take a break from school picket lines today for the Martin Luther King Jr. holiday, negotiations that had resumed on Thursday and continued through the long weekend don't appear to have yielded the breakthrough needed to get educators back into the classroom by Tuesday. A tersely worded statement yesterday from L.A. Mayor Eric Garcetti, who is hosting the sessions at City Hall under a media blackout, described Sunday's meeting as "productive" and affirmed that both sides remained committed to working around the clock to resolve the outstanding issues as quickly as possible. But don't expect classes to resume before Wednesday. It will take at least a day, says UTLA, for the rank and file to approve any settlement.
---
Copyright Capital & Main
Corruption Exposed in College Admissions Indictments
Wealthy parents caught gaming the system. Eli Broad spends on privatization. The price of each vote for L.A. school board race.
---
"Learning Curves" is a weekly roundup of news items, profiles and dish about the intersection of education and inequality. Send tips, feedback and announcements of upcoming events to braden@capitalandmain.com, @BillRaden.
---
Californians made up a telling majority of those charged in Tuesday's sensational, 50-person federal bust of a $25 million, Newport Beach-based college admissions bribery ring. The indictment, which also names five coaches from USC and UCLA and wilts the ivy at revered elite schools ranging from Yale and Stanford to Georgetown University, netted Hollywood stars Felicity Huffman and Lori Loughlin, along with 23 more of the Golden State's most privileged and allegedly cheatingest parents. The Los Angeles Times' Teresa Watanabe and Andrew Khouri frame the crackdown as the illicit tip of a higher ed inequality iceberg that includes the largely unregulated, multibillion-dollar college admissions prep sector.
"I hope that this whole coaching industry gets a closer look," University of California, Santa Barbara American studies professor Christopher Newfield told Learning Curves about the policy implications of the scandal. "Because it's really expensive, it's skewed toward affluent people and makes the playing field even less level than it was before. … And it's constantly gaming the [admissions] process so that people lose confidence in its validity, which is not that hard to begin with."
Newfield, whose books and research have focused on how 40 years of privatization and state divestment has undercut the public university's goals of providing broad access and high quality, added that states like California also need to look at why quality college seats have not grown with the population of college students. (He recommends erasing the degree differences that underpin a perceived Cal State/UC diploma caste system.) The final piece to eliminating bad behavior is admissions reform: "When you are rejecting 95 percent of your applicants, you're rejecting a whole bunch of great people, and the rejection process is somewhat arbitrary. You introduce these odd categories that [are] not fair, and they're really gameable. That's what people try to do. It's crazy."
The first big-dollar charter donation in L.A. Unified's special school board election was spotted last week by the L.A. Times' eagle-eyed Howard Blume, and to nobody's surprise it bore the signature of L.A.'s own free market-ed megadonor, Eli Broad. Neither was it surprising in a primary distinguished by the determination of pro-charter candidates to remain in the privatization closet until the last possible moment that the $100K check, made out to a PAC supporting former Eric Garcetti aide Heather Repenning, was inked on Election Day.
There's much at stake for Broad. The billionaire is not only a close, longtime political ally of LAUSD superintendent Austin Beutner, he also paid for much of Beutner's portfolio district transformation plan, which risks being dead on arrival should progressive Jackie Goldberg repeat her overwhelming first-place finish in what looks like a May 14 runoff.
Goldberg's runoff challenger won't be known until a final ballot tally confirms whether or not Repenning's now-razor thin, 35-vote lead over March 5's current third-place finisher, Huntington Park Councilperson Graciela Ortiz, is sustained (fewer than 100 uncounted ballots remain). But intrepid data cruncher Sara Roos ran the committee expenditures of the March 5 primary race on her RedqueenInLA blog earlier this week to come up with a preliminary per-vote price tag.
The costliest votes of the race went to Repenning, whose underwhelming 13.13 percent outcome cost her backers roughly $352 for each vote; Ortiz's 13.02 percent set her supporters back $109 per; and the best bargain of the race proved to be Goldberg, whose 48.2 percent cost a mere $63 each.
That leaves billionaires like Broad and Reed Hastings with an interesting campaign-finance calculation on their hands: After throwing $50 million at failed bids to elect pro-privatization candidates as governor and state schools superintendent in the last cycle, do they now risk another expensive confirmation at the polls of voter disenchantment with "school choice" while Sacramento is in the midst of reigning in California's unregulated charter marketplace?
---
Copyright Capital & Main