Leaders of Pension-Cutting Ballot Proposal Look for Supporters Online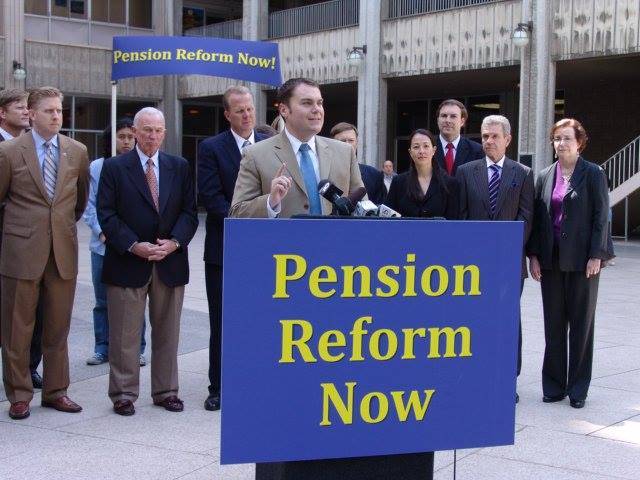 Carl DeMaio
Backers of a proposed statewide ballot measure that would radically change the way wages and pensions of California's government employees are formulated have begun an email campaign seeking pledges of support for the measure – as well as volunteers to circulate signature petitions when they become available in a few weeks.
The pension activists have 180 days from August 11, the date Attorney General Kamala D. Harris assigned a full title and ballot summary to the measure, in order to qualify it for the November, 2016 election.
Such email campaigns can help an initiative qualify for the state ballot if coupled with other efforts, Mike Madrid of Grassroots Lab, a Sacramento-based public affairs group, told Capital & Main by phone. "But if it is the only thing you are doing the chances for success are slim."
In ballot-box politics, the bottom line is money. Email campaigns offer a cost-free opportunity to organize volunteers, Kim Alexander of the California Voter Foundation told Capital & Main.
However, there are limits to what such email appeals can accomplish, according to Madrid.
"Signature-gathering has to be a well-resourced and funded effort," Madrid said. "My guess is that they [ballot initiative leaders Carl DeMaio and Chuck Reed] are using emails to build a fundraising database, and not an actual volunteer army of signature gatherers who can deliver the valid voter signatures, which requires training."
If this is so, it could mean that the reformers are short of cash to pay trained signature-gatherers. Accordingly, the pension activists' email strategy could be a move to kill the proverbial two birds with a single stone.
"To get a measure on the California ballot requires more than $1 million," pointed out Steven Maviglio, a spokesman for Californians for Retirement Security, which opposes the ballot measure.
In an August 11 statement, DeMaio and Reed vowed "to commission a legal review the [sic] ballot measure [sic] 'Title and Summary' concocted by state politicians" prior to launching their drive for voter signatures.
But that may be a tall order, says Clark Kelso, a McGeorge School of Law professor at the University of the Pacific. "The Attorney General got it right," Kelso said in a statement regarding Harris' interpretation of the initiative. "The 'Voter Empowerment Act of 2016' removes the constitutional prohibition on making prospective reductions to statutory retirement benefits to public employees."
DeMaio declined to answer Capital & Main's questions about a possible court challenge to Harris' title and wording of the ballot proposal.
Then there is the matter of the initiative's main anticipated opponent, organized labor.
"Taking on unions directly has never really worked in California," Madrid said. "I'm not saying it won't be successful, but the track record is pretty dismal."