Lawsuit: Immigrant Detainees Forced to Work for $1 a Day
Co-published by International Business Times
Attorneys say private-prison company CoreCivic is engaged in a "deprivation scheme" aimed at forcing detainees to keep the detention center running at a fraction of the cost of hiring local workers.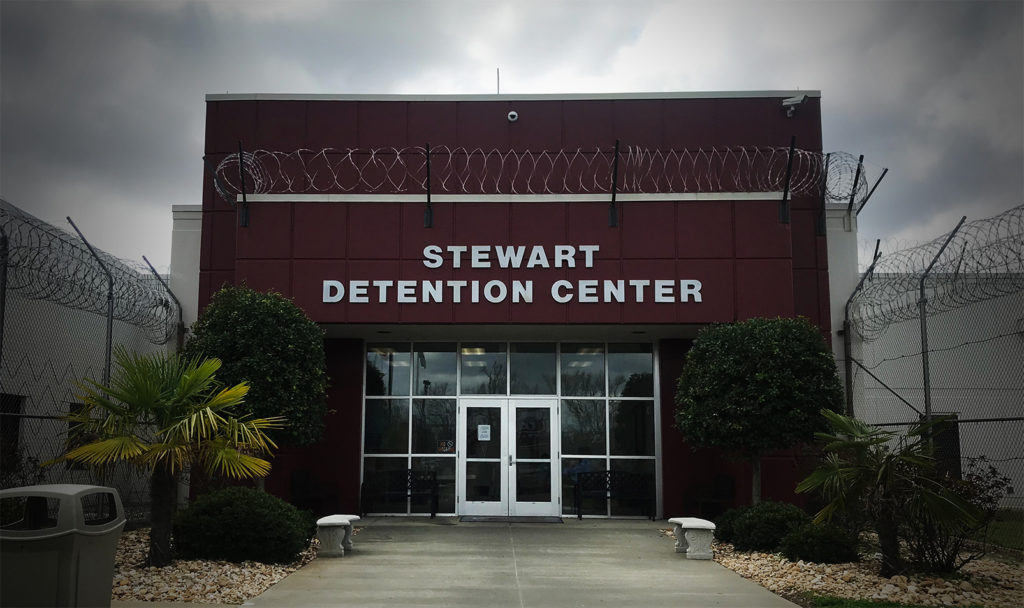 Co-published by International Business Times
CoreCivic, a for-profit prison company with annual revenues of nearly $1.8 billion in 2017, has further enriched itself by forcing immigrant detainees in Georgia's Stewart Detention Center to work for as little as $1 a day under threat of criminal prosecution, solitary confinement or transfer to substandard living quarters. That's according to three men – all current or former detainees — who have filed a federal lawsuit against the company, alleging they have worked at the detention center under such threats.
Some 1,700 men are held at Stewart as they await deportation, or fight for asylum or relief from deportation.
---
One detainee alleges a guard denied his request for toilet paper, saying the detainee could use his hands instead.
---
Plaintiffs' attorneys say CoreCivic is engaged in a "deprivation scheme" aimed at forcing detainees to mop floors, scrub toilets, do laundry, cook and essentially keep the detention center running at a fraction of the cost of hiring local workers.
"CoreCivic deprives detained immigrants of basic necessities like food, toothpaste, toilet paper and soap — and contact with loved ones — so that they have to work in order to purchase those items at CoreCivic's store (the Stewart commissary)," the complaint claims.
The alleged forced labor also denies Stewart County residents, who are among the state's poorest, employment opportunities they could have if it weren't for a ready supply of nearly free detainee labor, the plaintiffs' attorneys allege.
---
Detainees told Homeland Security's inspector general that they weren't given mandated hygiene items promptly or that they weren't replaced after they'd been used up.
---
Immigration and Customs Enforcement rules specify that work is to be voluntary and compensated at the rate of $1 per day. The regulations also state that detainees must be provided with hygiene supplies like toothpaste and soap.
ICE spokesman Bryan Cox wrote in an email that the agency doesn't comment on pending litigation. However, he noted that "U.S. Immigration and Customs Enforcement is firmly committed to the safety and welfare of all those in its custody." Cox wrote that Stewart is subject to announced and unannounced inspections and has repeatedly been found to be in compliance with the agency's standards.
However, a report released last December by the Department of Homeland Security Inspector General noted that Stewart detainees reported that they weren't given such items promptly or that they weren't replaced after they'd been used up.
Wilhen Hill Barrientos, a 23-year-old asylum seeker from Guatemala, who is a plaintiff in the lawsuit, alleged that a Stewart guard once denied his request for toilet paper, saying Hill Barrientos could use his hands instead. The lawsuit notes that Hill Barrientos now uses his earnings to purchase such basic supplies from the detention center commissary.
Last February, Hill Barrientos, who works in the Stewart kitchen, told Capital & Main that he suffered a burn on the job, but wasn't allowed to leave his post to seek medical help. He also claimed that forced work played a part in 33-year-old detainee Yulio Castro Garrido's death of pneumonia last December. Castro, also a Stewart kitchen worker, became sick and weak, but wasn't allowed to skip work to see a doctor, Hill Barrientos said.
Hill Barrientos alleged in his lawsuit that he'd been put in medical segregation for two months last year in retaliation for filing a grievance against a guard who forced him to work while he was ill. Another plaintiff, Shoaib Ahmed, an asylum seeker from Bangladesh, said he was punished with isolation for 10 days for threatening a work action.
A CoreCivic spokesman didn't comment on the lawsuit in time for this story.
Core Civic segregation (solitary confinement) rosters obtained by Capital & Main show that seven detainees were placed in solitary at Stewart for similar protests, between June and October 2017. A Haitian man endured 26 days in solitary for encouraging others to participate in a work action. Six other detainees were punished for "inciting a group demonstration," including three men who each spent nearly a month in isolation on that charge.
The plaintiffs seek class action status, and demand an end to the alleged forced labor regime, and disgorgement of CoreCivic profits that resulted from it, along with compensation and damages for detainee workers.
Attorneys from the Southern Poverty Law Center and Project South represent the plaintiffs, as do several attorneys who have made similar claims in cases on behalf of detainees in Colorado in 2014, and San Diego and Adelanto, California last year.
The Colorado case—against another private prison company, the Geo Group, was granted class action status this year, and a settlement conference is scheduled for May, while the California cases—against CoreCivic in San Diego and Geo in Adelanto — are in early stages of litigation. Washington state Attorney General Bob Ferguson also filed suit on behalf of detainees at the Geo Group's Northwest Detention Center in Tacoma last year, alleging unjust enrichment and violation of the state's minimum wage law.
"I hope the fact that so many of these cases are pending will lead to momentum that will result in the end of forced-labor practices at detention centers nationwide," said plaintiffs' attorney Meredith Stewart, of the Southern Poverty Law Center.
---
Copyright Capital & Main
California Lawyers Strategize to Save Targeted Immigrants
Attorneys are gearing up for an intensification of a brutal, two-year fight to protect immigrant communities from an increasingly punitive federal government and its enforcement agencies.

Since Donald Trump's election in 2016, immigrant-rights attorneys have been waging a furious rearguard action to protect immigrants and would-be immigrants from a race-baiting federal administration. The last couple of months have been particularly ferocious.
In April, the Trump administration embraced a "zero tolerance" policy against those crossing the southern border without papers, a decision that resulted in the separation of thousands of children from their parents. It also slowed to a crawl the processing of asylum claims, locking out thousands of asylum seekers who have been left encamped in Mexico. It continued to largely shut U.S. doors to refugees – barely a few dozen Syrian refugees have been admitted into the U.S. in the first half of 2018. It continued the roll back of temporary protected status for more than half a million U.S. residents. And it has made clear it intends to lock legal immigrants out of a vast array of public services. In June, the Supreme Court upheld Trump's Muslim travel ban, paving the way for the president to claim a national security prerogative for an array of anti-immigrant and discriminatory policies.
Here in California, attorneys across the state are gearing up for an intensification of an already brutal, two-year fight to protect immigrant communities from an increasingly punitive federal government and its enforcement agencies.
Capital & Main interviewed five leading immigrant-rights attorneys about their legal strategies and their predictions as to how these struggles will play out in California, and nationally — with California continuing to take the lead in efforts to resist the swing to xenophobia — over the coming months and years.
---
Capital & Main: Are we at the nadir now, nationally, vis-à-vis immigration policy?
Judy London, directing attorney for Public Counsel's Immigrants' Rights Project in Los Angeles: How low can our government get? It keeps getting lower than anyone thought. The meanness, the complete disregard for human rights is staggering. And the sophistication in trying to eliminate every remedy. The illegality of what they're doing is stunning. Pre-Trump, we could advocate and reach out to human beings in government. We didn't always prevail, but we prevailed a lot.
Kevin Johnson, Dean of the University of California, Davis Law School: We're seeing a series of skirmishes on immigration that reveal some fundamental problems with our immigration laws. We still haven't been able to come to a consensus about the kinds of compromises immigration reform might entail. It has to deal with the undocumented, with legal immigration and with some kind of enforcement devices – like workplace enforcement. I view all these things as part of the bigger problem and inability to agree on reform. We're currently at a place where we can't have rational and unemotional discussions about the hard issues.
C&M: Let's not forget that many of the harsh government actions towards immigrants, especially those without documents arriving from Central America, began under President Obama. Is this simply more of the same or is it qualitatively different?
Holly Cooper, co-director of the Immigration Law Clinic at UC Davis, and co-counsel in Flores v. Sessions (a case that limited the amount of time children caught crossing the border could spend in detention facilities): We had predictability under Obama. Now there's just a huge level of unpredictability. Obama was very hard on women and children arriving as asylum seekers. He had family separation; we had to litigate that. [But] we could kind of tell what his priorities were and develop strategies for the long term. Now, it's a war on everything, and we never know when the next executive order will come down.
DACA [Deferred Action for Childhood Arrivals] was beneficial, but a limited recourse for young people. Trump's tried to take that away. It's still under heavy litigation. There's also the travel ban. Immigration advocates are under a constant hyper-vigilance. I never felt like I was always responding to a massive crisis under Obama.
Judy London: Post-2014, there [has been] a great deal of success getting foundations to fund legal services for unaccompanied minors. Right now we represent 180 unaccompanied minors. And we've done a lot of work around protections for immigrant children, both in the DACA context and [with] asylum seekers amongst the unaccompanied children. They have more access to lawyers than families released from detention, who land in L.A. and literally are sleeping on Skid Row. We have a team of about 12 people serving unaccompanied minors released from shelters.
C&M: How do you respond to the huge crisis created not only by neglectful treatment of unaccompanied minors, but also by the recent deliberate wholesale separation of parents from children along the border?
Judy London: We're going to see all kinds of different lawsuits. The scope is new — there's going to be a lot of law created. It's just a matter of time before a child dies in custody or is raped. There is absolutely no plan for how to manage detaining families and children. They have no idea what they're doing. There's very much the banality of evil. It is breathtaking.
C&M: There are so many fires to try to put out at the moment. What, for you, are the most urgent?
Holly Cooper: For children's detention, in the short term we have a plan to defend the Flores settlement agreement. There's been an executive order where Trump has told the government to modify it so he can create internment camps. [On June 21] they filed an ex parte motion to modify the agreement, even though the judge already decided the issue in 2015. It was upheld by the Ninth Circuit. Now they're saying things have changed and the decision has led to more immigration. We don't believe it has. They don't provide any evidence. Most people are telling me they are migrating to protect their children from death. I've never met an immigrant who said, "I migrated with my child so I wouldn't be detained." To say someone from the highlands of Guatemala understands the Flores settlement is pretty far-fetched.
We have one girl, a client, [who] crossed the border, was traumatized when she was separated from her siblings, had a psychotic breakdown and was put in a residential psychiatric treatment center. At the time, she was 15. We're even hearing reports there are kids as young as 6 this is happening to. We've had reports from the American Bar Association that the kids are so traumatized they're being sedated. The government has told us they believe they have the authority to medicate children. We're getting reports 300 parents can't find their children in Texas. There may be more. It's the kind of stuff that keeps you up at night. I can't sleep.
Stephen Kang, detention attorney with the American Civil Liberties Immigrants' Rights Project, based in San Francisco: There's so much work to be done. There's been such activity in this administration to roll back protections for immigrants and take an extreme enforcement-oriented position to immigration. We're in year two, and it doesn't look that much better than year one. My role as a litigator is mitigating this. I view it as part of a broader movement of folks mobilizing around immigrant-rights issues. It's important to remember the Muslim ban was an executive decision. Congress still has the power to override it. I think there's hope in the sense that there's going to be individual and potentially systemic cases.
C&M: Does being in California, with a legislature and an attorney general sympathetic to immigrants, help you here?
Kevin Johnson: The attorney general of California understands that the more [federal] policies are at the edge, the more lawsuits you're going to see. Over the next six months we'll see challenges to the legality of indefinite detention; it's an issue the Supreme Court recently bounced back to the Ninth Circuit, in Jennings v. Rodriguez. We'll return to DACA rescission and a lot of fights over sanctuary legislation.
Holly Cooper: When you put the state in as well, that's helpful. We can pool our ideas — the more brains behind something, the better your legal case is. That can have an effect on the judiciary. Judges are now very, very receptive to granting more creative forms of relief.
Anoop Prasad, senior staff attorney at the Asian Law Caucus' Immigrant-Rights Program: One of the biggest challenges is the Justice Department lawsuit against California's sanctuary policy — the series of laws putting limits on the way California cooperates with immigration officers.
C&M: Do you think the Justice Department challenge will succeed?
Anoop Prasad: It seems like it is going to get dismissed, [though] I'm sure they will appeal it up. It's going to be a fairly slow process working its way up to the Supreme Court. We're looking at three-plus years of litigation. It seems unlikely the district court judge will issue an injunction. So, the laws will stand. State and local jurisdictions have a lot of tools [with which] to push back on deportations – because the deportation machine has been built on state and local law enforcement.
The primary driver of internal deportations is local law enforcement. ICE is picking up most people because they have some contact with local law enforcement, and there is a very high level of electronic information sharing. California's sanctuary policy says it's up to them to say, "No, we're not going to cooperate." Also, ICE's detention system is spread over hundreds of facilities; very few are federally owned. California passed a law restricting the abilities of local sheriffs to rent future space to ICE. The goal is to make it as hard on ICE as possible, to push back. Long-term, we must think about chipping away at, and dismantling, this really awful system of deportation we've built over the past couple of decades.
C&M: Does the Supreme Court's upholding of the travel ban, which uses national security arguments to bar visitors and immigrants from several Muslim-majority countries, open the door to broader bans? And if so, how will immigrant-rights attorneys in the state respond?
Kevin Johnson: This president likes to poke the bear every day on immigration. Just this weekend, he tweeted something about deporting people without hearings. It's not legal — you can't just summarily deport people. This is a time when lawyers can really make a difference – organizations, and the attorney general of California, who understand that the only way to deal with ignorance of the rule of law is to file lawsuits. Resort to the courts — bring lawsuits, get injunctions stopping illegal executive orders going into place. The next step will be to challenge them [national security executive orders] and show they are not legitimate. They are arbitrary and capricious, possibly motivated by discriminatory intent. We're going to see things being slowed down. The public outrage with pictures of family separations really touched a chord and got this president to change his mind. The thing with this president, it took him three times to get the travel ban maybe right. It's not like they're technicians who take the time to get things right.
Anoop Prasad: It's very important for lawyers to bear witness. In terms of the ban, there are challenges that are still available. It's not a complete blank check he has. [But Trump] may try and abuse his power even more, and inch toward broader and broader bans. It's quite possible he'll attempt to add more countries to the ban. I'd assume he would be sued again.
---
Copyright Capital & Main