Lawrence Summers: Where's Occupy Now?
Lawrence Summers
In the fall of 2011, millions of Americans were drawn to a movement directly challenging dramatically rising income inequality. The Occupy Movement dominated public discourse and put economic unfairness at the center of policy debates. Yet only two years after Occupy began on Wall Street, efforts to redress still worsening income inequality have stalled. The national grassroots campaign to get House Republicans to enact immigration reform has not been matched by similar efforts to raise the minimum wage or end corporate tax loopholes, with advocacy for such policies no stronger today than before Occupy's emergence. We even face the prospect of President Obama selecting Lawrence Summers, a longtime backer of the One Percent, as the new head of the Federal Reserve. Are activists preoccupied with other issues, or have people decided that challenging the power of the One Percent is not a winnable political fight?
This past weekend I came across two documentaries about dramatic wealth inequality in the United States: Alex Gibney's November 2012, Park Avenue: Money, Power & the American Dream and Inequality for All, a film about Robert Reich's critique of inequality that opens on September 27. These films join others on this topic, and while it's always good to see outrageous economic inequality exposed, my chief reaction was: why after Occupy are we still "exposing" the problem instead of doing something about it?
Clearly, it's easier to depict gross inequality than to change it. But Americans already know that the rich are getting richer at everyone else's expense.
Incredible as it seems in the wake of Occupy, until the fast-food worker strikes that recently hit 60 cities there were no mass mobilizing efforts pushing to change this troubling wealth dynamic.
These strikes, along with the movement to raise the federal minimum wage, are addressing the nation's striking inequality. And should these efforts grow, they will make a tremendous difference in reducing economic unfairness.
But it will not be easy. Whereas Occupy's emergence made economic inequality a daily news story, reports on fast food protests and the inadequate minimum wage are episodic. And as demonstrated by the media virtually abandoning coverage of widespread homelessness in the United States—its persistence means it is no longer "news"—low-paid fast food workers face a challenge of creating ongoing "breaking news" events to keep the media's attention.
Lawrence Summers
Occupy's critique went far beyond the plight of low-wage workers, and its other targets—corporate tax loopholes, anti-worker trade agreements, the ongoing power of big banks and financial institutions— are still not subject to mass grassroots pressure in the United States.
That seems like a missed opportunity to mobilize a public already unhappy about rising inequality and declining economic mobility. But now an opportunity has presented itself: a major grassroots campaign could be launched against President Obama's increasingly likely selection of Lawrence Summers to head the Federal Reserve.
Supporters of Obama's 2008 campaign were furious when the President selected Summers for a key economic post in 2009. Now a President who supports a higher minimum wage, raising taxes on corporations and the wealthy and extending unemployment benefits is potentially going to turn the keys to the country's economy over to someone who opposes all these positions.
Even its critics thought the Occupy movement raised important questions about dramatically rising income inequality in the United States. And that's why I doubt Obama would be considering Summers if the Occupy movement were still dominating the public debate.
(Randy Shaw is the editor of BeyondChron and author of The Activist's Handbook, Second Edition. This post first appeared on BeyondChron and is republished with permission.)

A Woman's Art Is Never Done: The Feminae Exhibition
A striking juxtaposition between the past and present courses throughout the small gallery. Celia Blomberg's "International Women's Day March 8" can't help but make one think of 2017's Women's March, which occurred 37 years after the print's first appearance.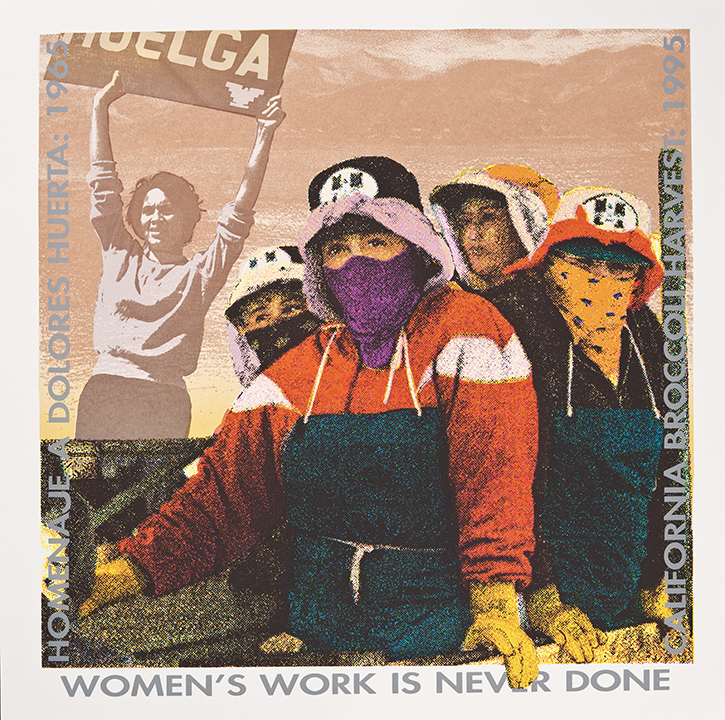 Among the 50-plus works in the Feminae: Typographic Voices of Women By Women exhibit is Yolanda Lopez's "Women's Work is Never Done." Lopez's title is particularly ironic, given the exhibit's gender-based subject matter. The show spans work from the past 50 years, making it easy to understand how much society is still grappling with its themes of gender inequality. Culled from the archives of the Center for the Study of Political Graphics, the graphic images of protest, persuasion and empowerment are truly works of art in their own right.
However, political posters aren't made to merely spruce up walls, but to help figuratively bring barriers down as well.
Two silkscreens from the 1970s, Liliana Porter and John Schneider's "This Woman is Vietnamese" and See Red Woman's Workshop's "So Long As Women Are Not Free People Are Not Free," are particularly powerful, underscoring, as they do, the fact that the subjugation and persecution of women crosses borders and cultures as an unfortunate shared global experience. These two pieces' stark simplicity exemplifies most of the work in the exhibit. In the former, a New York Times photo of a distraught Vietnamese woman with a gun held to her head is centered above these basic words typed out in a typewriter font: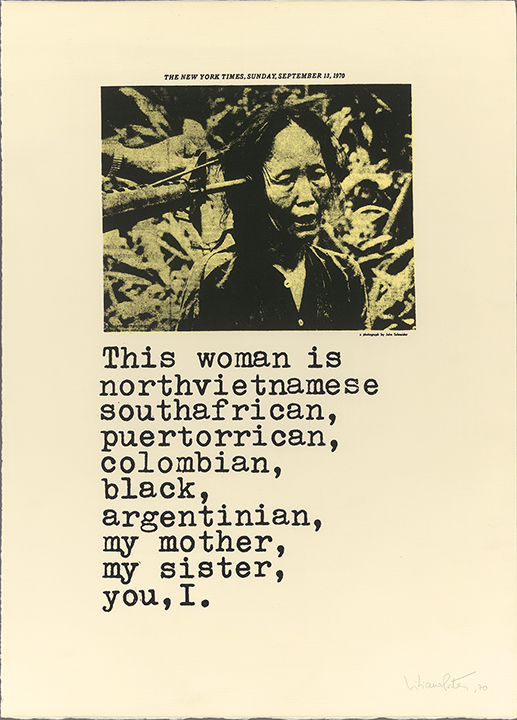 This woman is
northvietnamese
southafrican
puertorrican,
colombian,
black,
argentinian,
my mother,
my sister,
you, I.
By juxtaposing the photo with these words, the creators take the plight of this woman and immediately globalize her pain. In the latter, three female demonstrators are silkscreened in red onto a yellow background. They are marginalized by being stuck in the lower left third of the poster, but two of them are raising their fists skyward and their mouths are open, screaming in defiance. Its non-serif, eponymous type reads: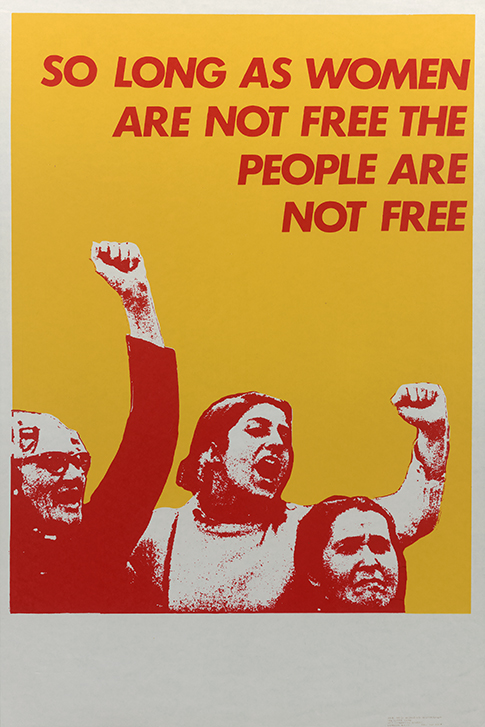 SO LONG AS WOMEN
ARE NOT FREE THE
PEOPLE ARE
NOT FREE
This piece's message takes the global message even farther, making the plight of women a human one — a common theme in the exhibition.
There is also a striking juxtaposition between the past and present that seethes throughout the small gallery. Celia Blomberg's "International Women's Day March 8" can't help but make one think of 2017's Women's March that would take place 37 years later. See Red Woman's Workshop's 1977 "Black Women Will Not Be Intimidated" could easily be repurposed to address the recent spate of blue-on-black brutality. Notable works by Barbara Kruger, Sister Corita Kent and the Guerilla Girls are also included.
Ironically , while it can be surmised that most of these works were made as populist posters to be distributed at the time as banners of protest, their beautiful simplicity and nostalgic elegance probably have resulted in the originals (mostly now found in art museums) sporting hefty vintage-resale prices.
But it is not just the art that has stood the test of time. The fact that the issues addressed in the show — feminism, choice, gender equality, war, immigration, police brutality or violence against women — are all issues at the forefront of debate in 2018 ultimately engenders conflicting feelings.
On one the hand, it is inspiring to see a vibrant exhibit that showcases such diversity in artistic styles, no doubt spawned by the diversity of the artists' own backgrounds. On the other hand, there is a realization that while there has been some progress over the past half century, there is so much work to be done.
Art Center's Hoffmitz Milken Center for Typography, 950 South Raymond Ave., Pasadena; through May 15.
---
Copyright Capital & Main