Lawrence Summers: Where's Occupy Now?
Lawrence Summers
In the fall of 2011, millions of Americans were drawn to a movement directly challenging dramatically rising income inequality. The Occupy Movement dominated public discourse and put economic unfairness at the center of policy debates. Yet only two years after Occupy began on Wall Street, efforts to redress still worsening income inequality have stalled. The national grassroots campaign to get House Republicans to enact immigration reform has not been matched by similar efforts to raise the minimum wage or end corporate tax loopholes, with advocacy for such policies no stronger today than before Occupy's emergence. We even face the prospect of President Obama selecting Lawrence Summers, a longtime backer of the One Percent, as the new head of the Federal Reserve. Are activists preoccupied with other issues, or have people decided that challenging the power of the One Percent is not a winnable political fight?
This past weekend I came across two documentaries about dramatic wealth inequality in the United States: Alex Gibney's November 2012, Park Avenue: Money, Power & the American Dream and Inequality for All, a film about Robert Reich's critique of inequality that opens on September 27. These films join others on this topic, and while it's always good to see outrageous economic inequality exposed, my chief reaction was: why after Occupy are we still "exposing" the problem instead of doing something about it?
Clearly, it's easier to depict gross inequality than to change it. But Americans already know that the rich are getting richer at everyone else's expense.
Incredible as it seems in the wake of Occupy, until the fast-food worker strikes that recently hit 60 cities there were no mass mobilizing efforts pushing to change this troubling wealth dynamic.
These strikes, along with the movement to raise the federal minimum wage, are addressing the nation's striking inequality. And should these efforts grow, they will make a tremendous difference in reducing economic unfairness.
But it will not be easy. Whereas Occupy's emergence made economic inequality a daily news story, reports on fast food protests and the inadequate minimum wage are episodic. And as demonstrated by the media virtually abandoning coverage of widespread homelessness in the United States—its persistence means it is no longer "news"—low-paid fast food workers face a challenge of creating ongoing "breaking news" events to keep the media's attention.
Lawrence Summers
Occupy's critique went far beyond the plight of low-wage workers, and its other targets—corporate tax loopholes, anti-worker trade agreements, the ongoing power of big banks and financial institutions— are still not subject to mass grassroots pressure in the United States.
That seems like a missed opportunity to mobilize a public already unhappy about rising inequality and declining economic mobility. But now an opportunity has presented itself: a major grassroots campaign could be launched against President Obama's increasingly likely selection of Lawrence Summers to head the Federal Reserve.
Supporters of Obama's 2008 campaign were furious when the President selected Summers for a key economic post in 2009. Now a President who supports a higher minimum wage, raising taxes on corporations and the wealthy and extending unemployment benefits is potentially going to turn the keys to the country's economy over to someone who opposes all these positions.
Even its critics thought the Occupy movement raised important questions about dramatically rising income inequality in the United States. And that's why I doubt Obama would be considering Summers if the Occupy movement were still dominating the public debate.
(Randy Shaw is the editor of BeyondChron and author of The Activist's Handbook, Second Edition. This post first appeared on BeyondChron and is republished with permission.)

'Skeleton Crew' Is a Play With a Moral Spine
Set in a Detroit automobile outfitting plant, Dominique Morisseau's drama grabs you from the start with its focus on blue-collar men and women, and their struggle for dignity and self-respect.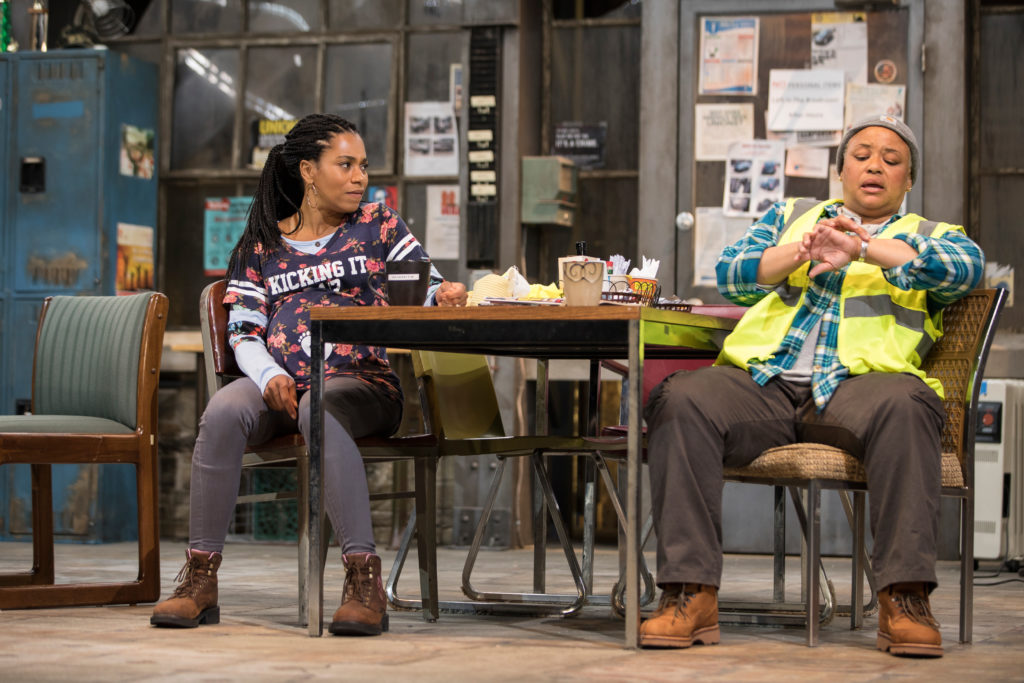 Working-class men and women of color are rarely front and center in today's media and, likewise, are presented all too occasionally on the American stage. So it's buoying to see that trend bucked in playwright Dominique Morisseau's percipient and well-crafted drama, Skeleton Crew. The play is the final installment in her Detroit  Project Trilogy; the first, Paradise Blue, is set in the 1940s amidst displacement caused by urban renewal and gentrification, while the second, Detroit '67, transpires on the eve of the 1967 Detroit riots sparked by a police action.
Directed by Patricia McGregor at Los Angeles' Geffen Playhouse, Skeleton Crew is a play with a moral spine. It takes place in 2008, when the shrinking U.S. auto industry is being further downsized. Morisseau's engaging quartet of characters — Faye (Caroline Stefanie Clay), Dez (Armari Cheatom), Shanita (Kelly McCreary) and Reggie (DB Woodside) – are employed at an automobile outfitting plant. Faye, Dez and Shanita are workers on the line while Reggie (who has a wife and kids, and has pulled himself together after a troubled youth) is their supervisor.
The first three customarily mingle in their break room (designer Rachel Myers' impressively cluttered, dingy and detailed set), trading the sort of familiar barbs and genuine concern for each other common among longtime co-workers. They also face off on philosophy: Upper-middle-aged Faye and the younger, pregnant Shanita take pride in their labor, while Dez, though a good worker, is a malcontent scornful of management and firm in the belief that everyone needs to watch out for himself. He's a thorn in Reggie's side, for while Reggie wants to be supportive of his workers, he must act at the behest of higher management. For his part, Dez resents Reggie's authority, and a palpable unease exists between them.
Besides this male matchup, we're made privy to Dez's attraction to Shanita, who mostly turns away his advances, but every now and then displays a hint of interest. Most poignant is Reggie's regard and affection for the lesbian Faye, which has roots in his boyhood when she loved, and lived, with his now-deceased mom.
These people's various predicaments intensify when rumors spread of the plant's shutdown — a disaster for all, but a particular calamity for the already near-broke Faye who, one year short of retirement, would lose her pension. The crisis forces each of these people to make a choice.
A sound piece of social realism, Skeleton Crew grabs you from the start in its focus on blue-collar men and women, and their struggle against odds for dignity and self-respect. Morisseau not only furnishes these characters a platform for their travails, she endows them with strong values, big hearts and the opportunity to choose between right and wrong.
Unfortunately, the performance I attended did not soar. Many exchanges lacked a fresh edge. The actors certainly had their characters down, but too often they appeared to be coasting on technique. (This seemed particularly true of Clay, who performed the role to great accolades in Washington, DC in 2017, also under McGregor's direction). Additionally, some of the stage movement was not entirely fluid; in confrontations, actors sometimes would just stand and face each other in an artificial way. And Cheatom's interpretation of Dez struck me as a bit overly churlish and depressive: I needed more glimpses of the intelligence and edge that would secretly attract the strong, self-directed Shanita.
The most compelling moments belong to Woodside, well-cast as a man trying his best in difficult circumstances to do the right thing.
---
Gil Cates Theater at the Geffen Playhouse, 10886 Le Conte Ave., Westwood Village; Tues.-Fri., 8 p.m.; Sat., 3 & 8 p.m. Sun., 2 & 7 p.m.; through July 8. (310) 208-5454 or www.geffenplayhouse.org