LA's Redistricting War and the Health of Our Democracy
On and off for two years – between 1988 and 1993 – I worked at the law firm of Latham and Watkins, representing some of the most powerful developers and corporations in Los Angeles. I vividly remember going down to the council chambers in City Hall, standing at the rope separating the public from council members and watching my colleagues pull lawmakers over to lay out what needed to be done in support of a development proposal or a big city contract. I would look around the council chambers and – unless there was some rare public controversy that brought a lot of people down to City Hall – I would see only white lawyers and lobbyists dressed in fancy suits who essentially owned the place.
When I left Latham and Watkins and helped to start LAANE in 1993, I resolved to bring the knowledge of developer lobbyists into our work and get thousands of real people from all stripes down to City Hall. Meaning, I wanted to see regular people down at City Hall every day, talking to council members, their staff  and department officials about the important issues, such as the need for good jobs, affordable housing, parks, accountable development and environmental decisions that responsibly balanced corporate profits with community health.
In particular, I wanted to see working people, middle-class and especially poor people down at the "ropes," pulling council members and their staff aside and talking about how things should be done. I wanted the "people" to learn how to own the place.
Fast-forward 20 years to the current debate about the redistricting of the L.A. City Council, which is the creation of the new geographic districts whose 15 current council members will divide up the representation of all of us. In the past few weeks, there have been numerous controversies swirling around this process. Members of the Koreatown community want to make sure that they have one city council member who is charged with effectively representing the full spectrum of their community interests.
Council members Jan Perry and Bernard Parks – feeling left out of the process – have complained about "transactional" politics unfairly influencing redistricting. The L.A. Times– in a recent editorial on the subject – urged city officials to reject "incumbent oriented politics [for] empowering politics, which are the engine of a healthy democracy."
As both a long-time veteran and observer of City Hall politics, I have been asking myself what this redistricting process means for the health of our democracy. On the one hand, I hate the hypocrisy of City Hall insiders who complain about the "transactional" nature of local politics when they themselves are the leading practitioners of the backroom deal. I'm just saying.
On the other hand, I love the fact that hundreds of people are attending the hearings to express their views on how to best represent the incredible diversity of interests in Los Angeles. While open animosity and four-letter words are not necessarily a reflection of our highest "democratic" selves, large-scale participation is a good thing in and of itself, especially if, of course, that participation is a harbinger of a future trend.
Which brings me back to my experience as a developer lobbyist. What will it take for us to get large numbers of ordinary people – not paid lobbyists – to essentially take over their own government? In many ways, the recent "occupation" of City Hall was a great symbol, with 1,000 people camped out on the City Hall lawn for more than a month. But, unfortunately, most of those people spent the entire occupation camped out on the outside, not participating in the real debates inside City Hall.
The true test of our democracy, the real demonstration of the type of empowering politics that the L.A. Times advocates, is how many of those people will be "down at the ropes" on a regular basis from now on. Meaning, how many people will participate in the ongoing debate about the issues of the day as they come up from week to week over the next 10 years? My hope is that the lawyers in fancy suits will find themselves in a tiny minority in a sea of democratic participation.

Seven Restless GOP Districts Revisited
This week, in a run-up to the June 5 primary, we are re-highlighting our profiles of seven Republic congressional districts whose flipping would signal a fundamental groundswell against the Trump administration.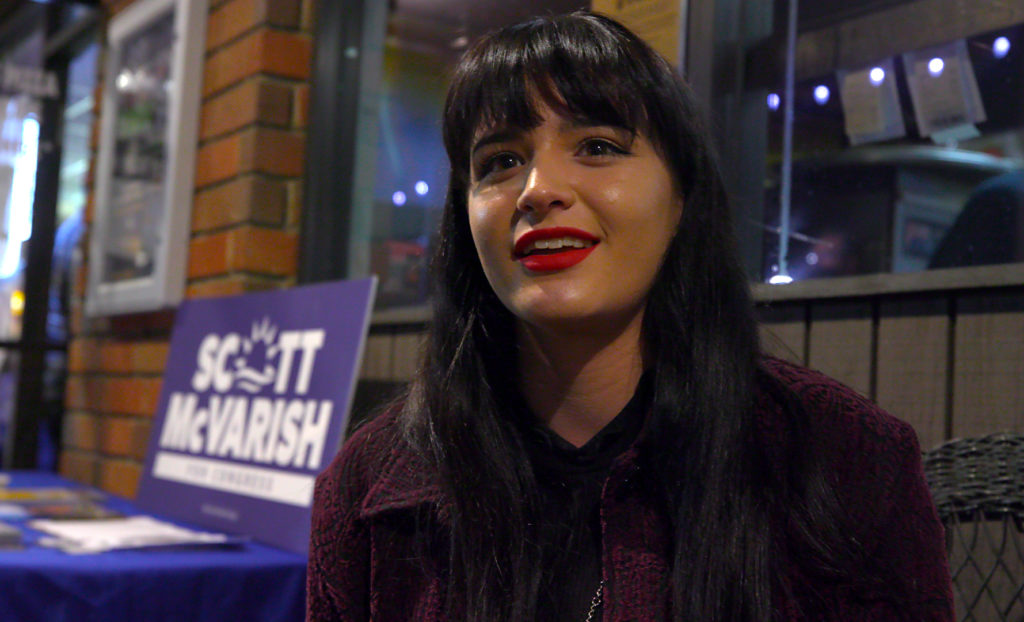 On February 1 Capital & Main launched its Blue State/Red District series profiling seven Republican-held congressional red districts — specifically, the challenges shaping their destinies and the policy rifts between the districts' representatives and their constituents. We began the series because, in 2016, seven of California's 14 Republican-held congressional districts returned all GOP incumbents to the House of Representatives, yet majorities in seven of those districts chose Hillary Clinton over Donald Trump for president. The districts were located in places long associated with rock-ribbed conservatism: The High Desert, Orange County, interior San Diego County and the Central Valley.
This week, in a run-up to the June 5 primary, we are rerunning these stories in the hope of returning attention to these key districts, whose flipping would signal a fundamental groundswell against the Trump administration and its policies.
---
CA 49 (Northern and Central San Diego County) — Kelly Candaele. Co-published by International Business Times.
CA 48 (Coastal Orange County) — Judith Lewis Mernit. Co-published by The American Prospect.
CA 10 (Central Valley) — Larry Buhl. Co-published by International Business Times.
CA 25 (High Desert) — Steve Appleford. Co-published by International Business Times.
CA 21 (San Joaquin Valley) — Larry Buhl.
CA 45 (Orange County) — Judith Lewis Mernit. Co-published by International Business Times.
CA 4 (The Gold Country) — Kelly  Candaele.
---
Copyright Capital & Main