Landslide Union Victory at Los Angeles Times
By 11:30 a.m. Friday morning the votes were tallied in the first-ever union vote taken by L.A. Times editorial staffers: 248 in favor, 44 opposed.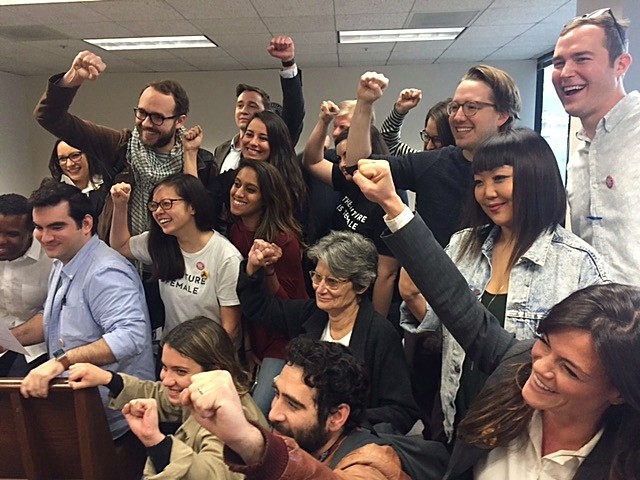 All was quiet nine floors above the noisy corner at Figueroa and Ninth Streets in downtown Los Angeles Friday morning. There, in a National Labor Relations Board hearing room packed with spectators, two NLRB staff members began counting ballots in the first union vote by editorial staff in the Los Angeles Times' 136-year history. (The newspaper's pressroom has had union representation since 2007.)
L.A. Times newsroom writers and editors who had worked for months building support for NewsGuild CWA representation watched (and tweeted) in silence as the counting began at 10:16 a.m., with union and company representatives present.
By 11:30 a.m. the vote tally revealed a landslide union victory— 248 in favor, 44 opposed. The election had been held in the Times' headquarters January 4, but the NLRB count was conducted today to include mail-in ballots.
The room erupted. "The 'yes' column was crazy!" said data journalist Anthony Pesce.
"I had this urge to laugh and cry—we had been working towards this for months," said copy editor Kristina Toi. "This was a day we all knew was coming but at the same time it felt like it was never going to come."
The Los Angeles Times is owned by Tronc, formerly Tribune Publishing Company. Editorial staff argued that Tronc management has challenged both working and journalistic standards, causing tumult at the top and eroding pay and benefits. Tronc's chairman, tech CEO Michael Ferro, took a $5 million consulting fee for himself late last year, and the company also paid $4.6 million for him to use a private plane over seven months. "That $9.6 million could have been used to hire more than 70 reporters," Steven Greenhouse, a former longtime New York Times labor reporter, wrote in an email to Capital & Main.
If Tronc executives continue trimming the size of the L.A. Times' newsroom, Greenhouse said, the resulting product "could result in an accelerated loss of subscribers, whether digital or paper.  And any further reduction of the editorial staff will be bad for the citizens of Los Angeles," who count on the coverage of neighborhoods, City Hall, Sacramento and Washington. He called the vote "an emphatic statement that the staff "wants more of a voice in the future of the newspaper to which they've devoted so much of their talent and energies."
It will take about a week to get formal NLRB certification, Pesce said. Union activists don't expect ballot challenges from Tronc management and will begin surveying the newsroom to determine member priorities. "After that we need to move right into bargaining," said Pesce.
In a statement, Tronc expressed support for the outcome, despite emails and leaflets it sent out during the Guild's organizing campaign opposing the union:
"We respect the outcome of the election and look forward to productive conversations with union leadership as we move forward. We remain committed to ensuring that the Los Angeles Times is a leading source for news and information and to producing the award-winning journalism our readers rely on."
---
Copyright Capital & Main
A Combative Immigrant Fights Her 'Ironbound' Destiny
Born in Poland and brought up in New Jersey by an immigrant mom who cleaned houses for a living, playwright Martyna Majok has fashioned her experience into a compelling feminist work.

In American theater, as in life, not all voices receive equal airtime — one reason why Martyna Majok's pitch-black dramedy about a Polish-born factory worker/cleaning lady is so poignant and arresting. The play, first produced by New York's Rattlestick Playwrights Theatre in 2016, is currently running at the Geffen Playhouse under Tyne Rafaeli's direction.
Majok's insightfully written, unabashedly woman-centered tale is set at a bus stop in a squalid industrial neighborhood in Elizabeth, New Jersey. The central character is a hardscrabble female survivor. We first meet combative, down-on-her-luck Darja (Marin Ireland), an immigrant, in 2014, as she confronts her live-in lover, Tommy (Christian Camargo), over his sexual liaison with the wealthy woman she works for. Vulnerable beneath his swagger, Tommy pleads remorse and begs Darja not to leave him, to which she responds with an unsentimental demand for hard cash — money she needs to track down her missing wayward son, a drug addict. The pair negotiate; in the end, sexual attraction and codependence best rage and resentment, and they lock in fierce embrace, each extending a finger to the intrusive honks of passing motorists.
Marcel Spears and Marin Ireland, as Vic and Darja.
Scene 2 flashes back to 1992 and a more tender exchange between Darja and Maks (Josiah Bania), her Polish first husband and the father of her child. Maks is a musician, and the conflict between the couple revolves around his desire to relocate to Chicago to pursue art and fame — a move that makes Darja fearful (better the hell you're living in now….). So, Maks departs on his own, leaving Darja to an uncertain and, and as it turns out, far more purgatorial future.
That fate manifests later, in 2006, when (in this production's finest, most memorable scene) a teenage hustler, Vic (Marcel Spears), happens on a bruised and bleeding Darja, lying under a bench after a beating from her abusive second husband. A rich kid out at night sowing down-and-dirty oats, the youth is appalled by Darja's appearance and wants to help. But Darja, who doesn't know how to say thanks, rejects this offer of assistance, though she desperately needs it — till Vic points to the moon and offers a gift of surprising generosity.
Ironbound, which claims its title from a slum area in Newark, offers an illuminating portrait of a vulnerable, volatile woman most middle-class Americans would probably never look twice at. Yet Darja is no fool; despite being a stranger in a strange land, with limited language skills, she understands how the capitalist system operates to her disadvantage, and what she must do to get by. Her actions and choices, made in anger, fear or frustration (she sets fire to her fornicating employer's clothes), work against her.
Ireland, who commanded the role to accolades in New York, performs with energy and commitment (her character never leaves the stage) but without the fresh edge that must have brought down earlier houses. Some of that may have to do with Camargo, with whom she has the most stage time. As with Darja, Majok has drawn Tommy as a complex ambivalent figure, but instead of exploring why this two-faced lothario still needs Darja to be his woman, the actor storms about, relying on heated dialogue and comic gesture to define his role.
Bania, who also reprises his role from the original production, is warm and likable — and especially on target in moments when he pleads with Darja to let him have his dreams. Spears' glowing performance as a compassionate youngster determined to aid an abused, beleaguered stranger is the evening's highlight.
Born in Poland and brought up in New Jersey by an immigrant mom who cleaned houses for a living, Majok has written about what she knows, fashioning her experience into a compelling feminist work.
Gil Cates Theater at the Geffen Playhouse, 10886 Le Conte Ave., West Los Angeles; ; Tues.-Sat., 8 p.m.; Sat., 3 p.m.; Sun., 2 & 7 p.m.; through March 4.
---
Copyright Capital & Main