Landslide Union Victory at Los Angeles Times
By 11:30 a.m. Friday morning the votes were tallied in the first-ever union vote taken by L.A. Times editorial staffers: 248 in favor, 44 opposed.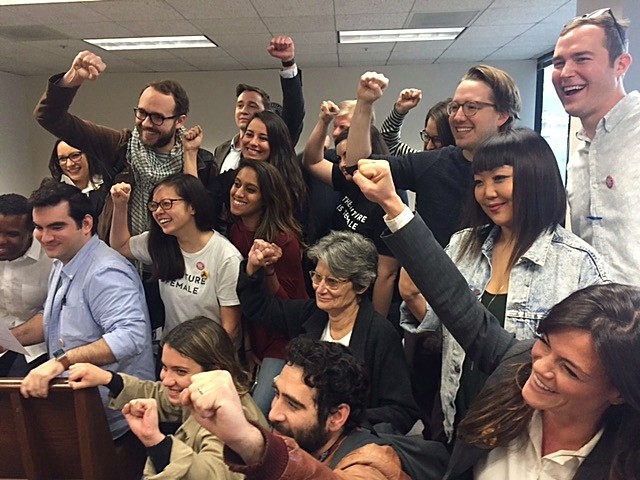 All was quiet nine floors above the noisy corner at Figueroa and Ninth Streets in downtown Los Angeles Friday morning. There, in a National Labor Relations Board hearing room packed with spectators, two NLRB staff members began counting ballots in the first union vote by editorial staff in the Los Angeles Times' 136-year history. (The newspaper's pressroom has had union representation since 2007.)
L.A. Times newsroom writers and editors who had worked for months building support for NewsGuild CWA representation watched (and tweeted) in silence as the counting began at 10:16 a.m., with union and company representatives present.
By 11:30 a.m. the vote tally revealed a landslide union victory— 248 in favor, 44 opposed. The election had been held in the Times' headquarters January 4, but the NLRB count was conducted today to include mail-in ballots.
The room erupted. "The 'yes' column was crazy!" said data journalist Anthony Pesce.
"I had this urge to laugh and cry—we had been working towards this for months," said copy editor Kristina Toi. "This was a day we all knew was coming but at the same time it felt like it was never going to come."
The Los Angeles Times is owned by Tronc, formerly Tribune Publishing Company. Editorial staff argued that Tronc management has challenged both working and journalistic standards, causing tumult at the top and eroding pay and benefits. Tronc's chairman, tech CEO Michael Ferro, took a $5 million consulting fee for himself late last year, and the company also paid $4.6 million for him to use a private plane over seven months. "That $9.6 million could have been used to hire more than 70 reporters," Steven Greenhouse, a former longtime New York Times labor reporter, wrote in an email to Capital & Main.
If Tronc executives continue trimming the size of the L.A. Times' newsroom, Greenhouse said, the resulting product "could result in an accelerated loss of subscribers, whether digital or paper.  And any further reduction of the editorial staff will be bad for the citizens of Los Angeles," who count on the coverage of neighborhoods, City Hall, Sacramento and Washington. He called the vote "an emphatic statement that the staff "wants more of a voice in the future of the newspaper to which they've devoted so much of their talent and energies."
It will take about a week to get formal NLRB certification, Pesce said. Union activists don't expect ballot challenges from Tronc management and will begin surveying the newsroom to determine member priorities. "After that we need to move right into bargaining," said Pesce.
In a statement, Tronc expressed support for the outcome, despite emails and leaflets it sent out during the Guild's organizing campaign opposing the union:
"We respect the outcome of the election and look forward to productive conversations with union leadership as we move forward. We remain committed to ensuring that the Los Angeles Times is a leading source for news and information and to producing the award-winning journalism our readers rely on."
---
Copyright Capital & Main