Landslide Union Victory at Los Angeles Times
By 11:30 a.m. Friday morning the votes were tallied in the first-ever union vote taken by L.A. Times editorial staffers: 248 in favor, 44 opposed.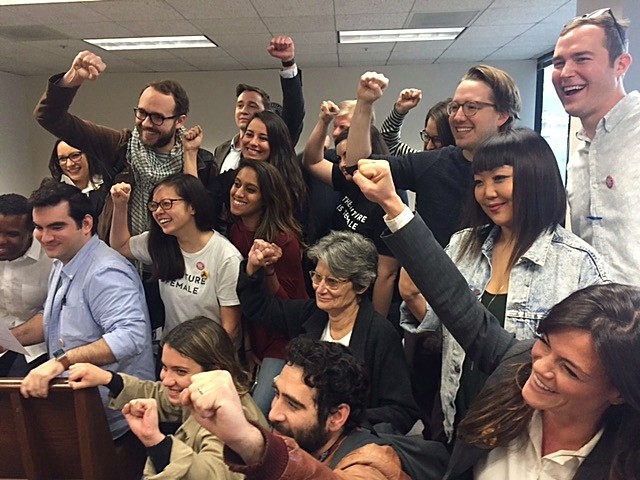 All was quiet nine floors above the noisy corner at Figueroa and Ninth Streets in downtown Los Angeles Friday morning. There, in a National Labor Relations Board hearing room packed with spectators, two NLRB staff members began counting ballots in the first union vote by editorial staff in the Los Angeles Times' 136-year history. (The newspaper's pressroom has had union representation since 2007.)
L.A. Times newsroom writers and editors who had worked for months building support for NewsGuild CWA representation watched (and tweeted) in silence as the counting began at 10:16 a.m., with union and company representatives present.
By 11:30 a.m. the vote tally revealed a landslide union victory— 248 in favor, 44 opposed. The election had been held in the Times' headquarters January 4, but the NLRB count was conducted today to include mail-in ballots.
The room erupted. "The 'yes' column was crazy!" said data journalist Anthony Pesce.
"I had this urge to laugh and cry—we had been working towards this for months," said copy editor Kristina Toi. "This was a day we all knew was coming but at the same time it felt like it was never going to come."
The Los Angeles Times is owned by Tronc, formerly Tribune Publishing Company. Editorial staff argued that Tronc management has challenged both working and journalistic standards, causing tumult at the top and eroding pay and benefits. Tronc's chairman, tech CEO Michael Ferro, took a $5 million consulting fee for himself late last year, and the company also paid $4.6 million for him to use a private plane over seven months. "That $9.6 million could have been used to hire more than 70 reporters," Steven Greenhouse, a former longtime New York Times labor reporter, wrote in an email to Capital & Main.
If Tronc executives continue trimming the size of the L.A. Times' newsroom, Greenhouse said, the resulting product "could result in an accelerated loss of subscribers, whether digital or paper.  And any further reduction of the editorial staff will be bad for the citizens of Los Angeles," who count on the coverage of neighborhoods, City Hall, Sacramento and Washington. He called the vote "an emphatic statement that the staff "wants more of a voice in the future of the newspaper to which they've devoted so much of their talent and energies."
It will take about a week to get formal NLRB certification, Pesce said. Union activists don't expect ballot challenges from Tronc management and will begin surveying the newsroom to determine member priorities. "After that we need to move right into bargaining," said Pesce.
In a statement, Tronc expressed support for the outcome, despite emails and leaflets it sent out during the Guild's organizing campaign opposing the union:
"We respect the outcome of the election and look forward to productive conversations with union leadership as we move forward. We remain committed to ensuring that the Los Angeles Times is a leading source for news and information and to producing the award-winning journalism our readers rely on."
---
Copyright Capital & Main
'Skeleton Crew' Is a Play With a Moral Spine
Set in a Detroit automobile outfitting plant, Dominique Morisseau's drama grabs you from the start with its focus on blue-collar men and women, and their struggle for dignity and self-respect.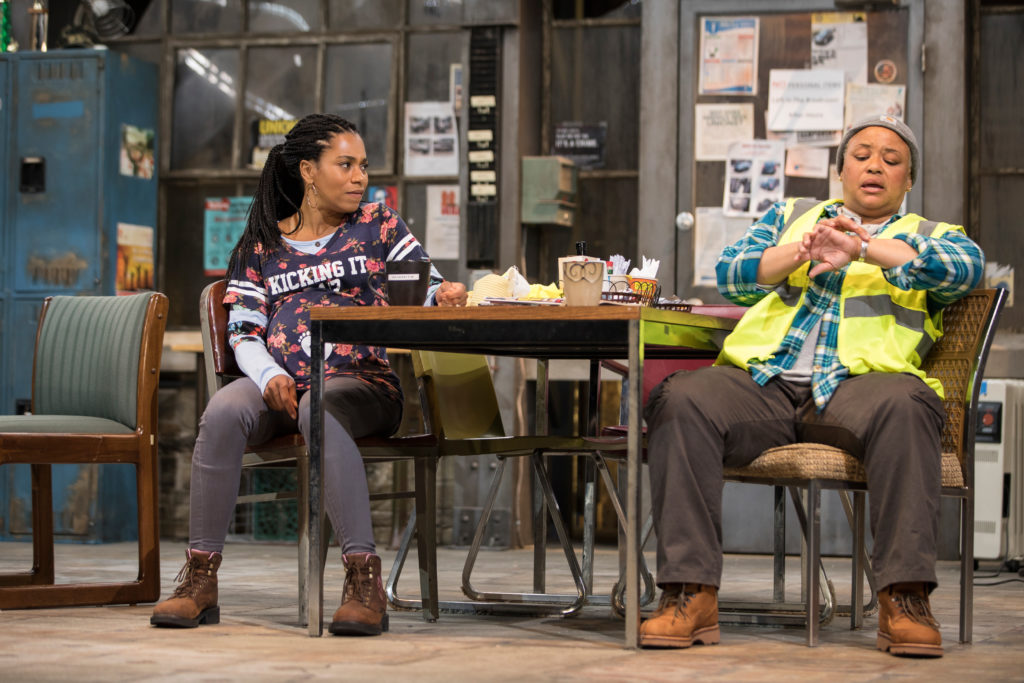 Working-class men and women of color are rarely front and center in today's media and, likewise, are presented all too occasionally on the American stage. So it's buoying to see that trend bucked in playwright Dominique Morisseau's percipient and well-crafted drama, Skeleton Crew. The play is the final installment in her Detroit  Project Trilogy; the first, Paradise Blue, is set in the 1940s amidst displacement caused by urban renewal and gentrification, while the second, Detroit '67, transpires on the eve of the 1967 Detroit riots sparked by a police action.
Directed by Patricia McGregor at Los Angeles' Geffen Playhouse, Skeleton Crew is a play with a moral spine. It takes place in 2008, when the shrinking U.S. auto industry is being further downsized. Morisseau's engaging quartet of characters — Faye (Caroline Stefanie Clay), Dez (Armari Cheatom), Shanita (Kelly McCreary) and Reggie (DB Woodside) – are employed at an automobile outfitting plant. Faye, Dez and Shanita are workers on the line while Reggie (who has a wife and kids, and has pulled himself together after a troubled youth) is their supervisor.
The first three customarily mingle in their break room (designer Rachel Myers' impressively cluttered, dingy and detailed set), trading the sort of familiar barbs and genuine concern for each other common among longtime co-workers. They also face off on philosophy: Upper-middle-aged Faye and the younger, pregnant Shanita take pride in their labor, while Dez, though a good worker, is a malcontent scornful of management and firm in the belief that everyone needs to watch out for himself. He's a thorn in Reggie's side, for while Reggie wants to be supportive of his workers, he must act at the behest of higher management. For his part, Dez resents Reggie's authority, and a palpable unease exists between them.
Besides this male matchup, we're made privy to Dez's attraction to Shanita, who mostly turns away his advances, but every now and then displays a hint of interest. Most poignant is Reggie's regard and affection for the lesbian Faye, which has roots in his boyhood when she loved, and lived, with his now-deceased mom.
These people's various predicaments intensify when rumors spread of the plant's shutdown — a disaster for all, but a particular calamity for the already near-broke Faye who, one year short of retirement, would lose her pension. The crisis forces each of these people to make a choice.
A sound piece of social realism, Skeleton Crew grabs you from the start in its focus on blue-collar men and women, and their struggle against odds for dignity and self-respect. Morisseau not only furnishes these characters a platform for their travails, she endows them with strong values, big hearts and the opportunity to choose between right and wrong.
Unfortunately, the performance I attended did not soar. Many exchanges lacked a fresh edge. The actors certainly had their characters down, but too often they appeared to be coasting on technique. (This seemed particularly true of Clay, who performed the role to great accolades in Washington, DC in 2017, also under McGregor's direction). Additionally, some of the stage movement was not entirely fluid; in confrontations, actors sometimes would just stand and face each other in an artificial way. And Cheatom's interpretation of Dez struck me as a bit overly churlish and depressive: I needed more glimpses of the intelligence and edge that would secretly attract the strong, self-directed Shanita.
The most compelling moments belong to Woodside, well-cast as a man trying his best in difficult circumstances to do the right thing.
---
Gil Cates Theater at the Geffen Playhouse, 10886 Le Conte Ave., Westwood Village; Tues.-Fri., 8 p.m.; Sat., 3 & 8 p.m. Sun., 2 & 7 p.m.; through July 8. (310) 208-5454 or www.geffenplayhouse.org