Labor Secretary Nominee Puzder Sexually Harassed Senior CKE Female Executive, 2004 Lawsuit Alleged
Co-published by Newsweek

Capital & Main has discovered a lawsuit by a former corporate executive alleging sex discrimination and sexual harassment by Donald Trump's Labor Secretary nominee, Andrew Puzder, and other male executives at CKE Restaurants.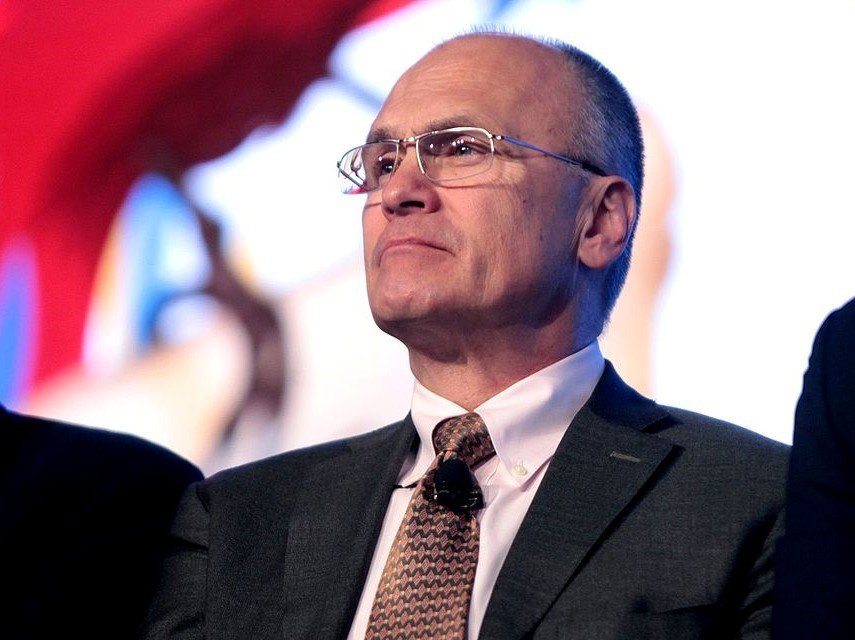 Andrew Puzder photo by Gage Skidmore
Co-published by Newsweek

Capital & Main has discovered a lawsuit by a former corporate executive alleging sex discrimination and sexual harassment by Donald Trump's Labor Secretary nominee, Andrew Puzder, and other male executives at CKE Restaurants.
Puzder, whose Senate confirmation hearing is Thursday, is already facing intense opposition from critics, many of whom have cited the corporation's treatment of both its mid-level managers and store employees during Puzder's tenure as CEO. CKE is the parent company of Carl's Jr. and Hardee's.
Caroline Leakan, a onetime CKE vice president of investor relations, filed a lawsuit in 2004 in Santa Barbara Superior Court. The suit alleged that Leakan was fired for demanding the same raises male colleagues received. Leakan sued Puzder and the company, along with CFO Ted Abajian and his predecessor, for sex discrimination, sexual harassment, retaliation, wrongful termination and violation of California's Equal Pay Act.
Leakan alleged that CKE executives would make lewd comments as they screened the company's sexually charged ads in her office. She described one ad that showed "a voluptuous blond woman writhing on top of a mechanical bull in a sexual fashion…The male executives wryly commented that they needed to remove themselves from the office because of their sexual reaction to the viewing of the commercial."
Puzder himself behaved inappropriately, Leakan alleged, causing her "considerable discomfort and humiliation."
"Puzder made it a habit of reaching down to his genitals and 'adjusting himself' in front of Plaintiff," Leakan's complaint also asserted.
Leakan described a February 2004 investor conference call in which she told Puzder that the company's conferencing equipment wasn't working, and he would have to sit close to her to be heard on the phone. "Moving closer to plaintiff, Puzder replied in a sexual tone, 'Oh, this could turn out to be a very interesting call, very interesting!" the lawsuit noted.
Leakan claimed that Puzder talked often about his wife's body. "He even commented upon his wife's body dimensions during investor meetings," her complaint said. "Puzder also touched and rubbed his wife in an explicit, sexual manner in front of plaintiff and other company personnel during executive business trips."
On one occasion, Puzder allegedly looked Leakan up and down and asked if she'd lost weight, commenting that she "looked really good."
At a company holiday party Puzder hosted, the CEO allegedly mocked Leakan for her defense of the company's sexually suggestive TV ads. Leakan had been quoted saying CKE didn't use sex to sell burgers. But in court papers, Leakan recounted that her boss repeatedly told his guests, "Of course we use sex to sell," laughing each time he did so.
On a flight home from a business trip, another executive allegedly told Leakan that he couldn't wait to get home "to get laid," and proceeded to describe his sexual needs to Leakan. "During a separate conversation in Plaintiff's office, the executive told Plaintiff that he should have taken her on a recent vacation in Mexico 'to help her relax.'"
The company denied all of Leakan's allegations in its 2004 answer to her lawsuit. Based on the court's schedule of hearings and references to settlements made by both parties, it appears that CKE reached a settlement with Leakan just two months after she filed suit. The settlement amount remains undisclosed.
In response to Capital & Main's questions about the Leakan case, a company spokeswoman cited a confidentiality agreement that bars all parties from discussing it.
"Without reference to this case, anyone can say almost anything in a lawsuit and they often do. Allegations are just that: unproven allegations."
Leakan said in a text message that she was bound by what she called a gag order in the case and could not discuss it. Leakan's attorney didn't respond to Capital & Main's interview request.
Leakan's lawsuit detailed her troubles at CKE, beginning shortly after her hiring when she told her boss, then-CFO Dennis Lacey, she was pregnant, and ending with her firing some 17 months later, allegedly in retaliation for requesting raises that she said male colleagues had received.
Lacey unleashed a torrent of abuse after learning she was pregnant, Leakan said in court documents. "Lacey continued to treat plaintiff and other female employees in a hostile and demeaning manner," Leakan's complaint reads. He was loud, abusive and allegedly referred to Leakan and other women as "stupid" and "an idiot," rolled his eyes at Leakan's comments and became "angry, annoyed and resentful" when she took time off for prenatal medical appointments.
The former CFO shared his belief that women "should stay at home with the kids" and told her that he wouldn't be surprised if she didn't return to work after maternity leave, Leakan claimed in her lawsuit.
Leakan said that she appealed to the company's senior vice president for human resources, but claimed that instead of an investigation into her allegations, the human resources manager simply suggested Leakan do as she had done when faced with similar harassment and discrimination by CFO Ted Abajian: threaten to quit.
The company has faced court action for pregnancy discrimination in the past, including a 2005 lawsuit brought by the federal Equal Employment Opportunity Commission on behalf of Lori Donohue, a biscuit maker at an Arkansas Hardee's who was allegedly fired for her pregnancy. The company entered into a consent decree with the government, promising not to discriminate on the basis of pregnancy, to train its managers in relevant civil rights law and to pay Donohue $8,500 in damages.
The company currently faces additional employee lawsuits, including suits over wage and hour laws, and sexual harassment. An Orange County judge recently agreed to postpone a hearing on an age and disability discrimination lawsuit against CKE until June when company attorneys pointed to potentially prejudicial bad publicity brought about by Puzder's nomination.
---
Additional reporting by Roxane Auer.