Labor Day: The Higher Power of Justice
St. Paul, who wrote the earliest documents we have from the Christian era, declared: "Each will receive wages according to the labor of each." You work, you get paid.

Welder, New Flyer bus factory. (Photo: Deanne Fitzmaurice)
When clergy leaders and laity walk with workers, we say, "All religions believe in justice." We mean that people from spiritual communities believe that our traditions call us to stand with low-wage working people who seek fairness and dignity and respect in the work place and, indeed, throughout our society.
Not every spiritual community practices that belief. Many think that religion is only a personal experience, without public responsibilities. But the textual sources of our spiritual traditions clearly and pervasively speak to a larger social role for religious followers. Personal salvation or the private practice of a particular religious way only begin to express the full demands of the historic texts.
Catholic priest Leslie J. Hoppe lists a thousand references to the poor in his book There Shall Be No Poor Among You. He writes, "Whenever the Bible uses the vocabulary of the poor, it is calling for justice and for an end to oppression." As Cornell West puts it, love in public is called Justice – and all our religions call us to love.
In fact Jesus was very specific about that call. When he was asked by a lawyer to name the greatest commandment in Judaism, their shared tradition, Jesus said, "Love God and love your neighbor." Throughout the stories about his life, Jesus practiced that belief, feeding people, crossing taboo boundaries to stand with the outcast and demanding justice for day-workers and their families.
St. Paul, who wrote the earliest documents we have from the Christian era, said it in a letter to the community at Corinth, Greece: "Each will receive wages according to the labor of each." You work, you get paid.
Or as writings attributed to the earliest Bishop of Jerusalem proclaimed: "The wages of laborers kept back by fraud cry out." Here the poor are the victims of the avarice of those who can and do take advantage of them.
These declarations reference texts that permeate the Jewish tradition, from the Torah to the prophets. In the last book of Torah, it reads:
You shall not abuse the needy and destitute laborer, whether a fellow countryman or a stranger [immigrant] in one of the communities of your land. You must pay him his wages on the same day, before the sun sets, for he is needy and he sets his life on it; else he will cry to the Lord against you and you will incur guilt.
The prophet Jeremiah rails at the practice of wage theft:
Woe to him who makes neighbors work for nothing and does not give them their wages.
These Hebrew texts exemplify the tone and the explicit direction the religious teachings implore us to follow. But what about other religions?
In Islam, the Prophet Muhammad said, "Give to the worker his wages before his sweat dries." He also wrote, "Your servants/workers are your brothers whom God the most High has placed under your authority. Therefore a person who has a brother under his authority should feed him out of that which he eats himself and should dress him with the same kind of clothes which he wears himself…" So between the worker and the employer, there should be no distinction. Everyone's basic needs must be met for the fundamental health of the community.
Buddhism spells out five ways an employer should respect workers:
1. By allocating work according to their aptitude
2. By providing them with wages and food
3. By looking after them when they are sick
4. By sharing special treats with them
5. By giving them reasonable time off work
Even Hinduism, with its caste system and other social strictures, speaks to justice in both the social and political order. Belief becomes a leveling tool, and a "means of protecting the weak from the strong" as Georgetown University's Berkley Center for Religion, Peace and World Affairs interprets the tradition. This focus on justice comes from a view of life as a sacred unity in diversity and "the ubiquitous presence of God in its every aspect."
These few references among traditions neither exhaust the number of spiritual communities in human experience nor cover the spectrum of their various teachings. But they illustrate – among a few of the major world religions – an undeniable direction: As followers we are to ensure that workers receive justice in the work place and in our communities. Not a bad set of instructions to remind ourselves of this Labor Day.
---
Copyright Capital & Main

Is a Conflict-Minerals Law Helping or Harming African Miners?
A Dodd-Frank rule requires Silicon Valley tech companies and others to reveal whether minerals in their supply chains fund conflicts in Central Africa. Why do some progressives oppose this requirement?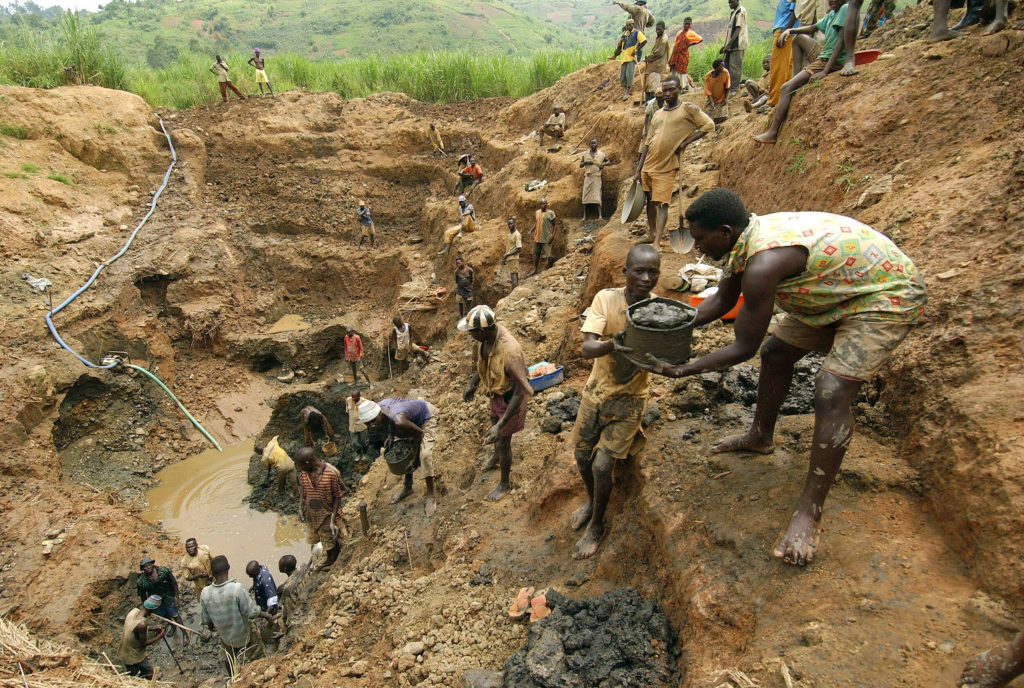 ---
The conflict-minerals law's opponents include progressive journalists and academics who say the rule rests on an overly simplistic analysis of a complex crisis.
---
By the end of next month Intel, HP and more than a thousand publicly traded companies are expected to report to the U.S. Securities and Exchange Commission on whether the minerals in their cellphones, laptops or other products were used to fund armed conflict in Central Africa.
This, despite concerted attempts by the Trump administration and Republicans in Congress to do away with an Obama-era rule that requires them to reveal whether their supply chains include tin, tantalum, tungsten or gold from the Democratic Republic of Congo (DRC) and surrounding countries.
The survival of Section 1502 of the Dodd-Frank Wall Street Reform and Consumer Protection Act may look at first glance like a case of blue-state resistance with California's tech companies—backed by their ethically minded consumers—standing strong against Republicans bent on destroying progressive, forward-looking regulations.
---
"The legislation has actually made the situation worse for these [miners]."
---
"Tech companies are the ones leading the way," says Annie Callaway, deputy director of advocacy at the Enough Project, a Washington, DC-based human rights organization that led the campaign to pass the conflict mineral law. Their due diligence efforts have been among the best arguments against those who say the law is too burdensome, she says.
But the law's opponents include progressive journalists and academics who say the rule rests on an overly simplistic analysis of a complex crisis. Some say it has done more harm than good to Eastern Congolese mining communities, whose livelihoods are already precarious.
The law has deprived "very vulnerable populations, already very poor people, of their sole means of livelihood," says Séverine Autesserre, a political science professor at Barnard College and Columbia University, and a former humanitarian aid worker who studies the DRC. "The legislation has actually made the situation worse for these people."
The law seems to have staying power, nonetheless. Eight years after its passage, tech companies have changed their sourcing practices, making it unlikely that the law's repeal would alleviate companies' concerns about having their products associated with violent militias, supporters and a critic of the measure say.
There are "very strong business reasons" to maintain the relationships and programs connected to Dodd-Frank, according to Michael Rohwer, who worked on conflict minerals for the Electronic Industry Citizenship Coalition, now known as the Responsible Business Alliance.
Companies increasingly recognize the efficiencies as well as the "risk mitigation" benefits, says Rohwer, now with BSR, a non-profit business network focused on sustainability.
The risks of sourcing from the DRC were made clear to companies in 2008 when U.S. human rights organizations launched a campaign that highlighted the role that the minerals found in jewelry and electronics play in funding violence, including sexual violence used as a weapon of war against women and girls, in the eastern DRC.
---
The goals of multinational companies—and their ethically-minded consumers—are not identical to those of any region, war-torn or otherwise.
---
That campaign drafted high profile celebrities, like actors Ben Affleck and Robin Wright, as well as idealistic college students eager to leverage their buying power and social media prowess to help a region that has seen millions die over the last two decades in the deadliest conflict since World War II.
Last fall, the Enough Project, a lead organization in the campaign, released a progress report that ranked the 20 largest jewelry retail and consumer electronics companies—industries that consume the most tin, tantalum, tungsten and gold–on their sourcing practices. Four of the five best performers—in terms of responsible sourcing practices–were Silicon Valley-based tech companies, with Apple securing the lead spot.
Thus far, the rule has withstood a lawsuit brought by the National Association of Manufacturers, a threatened executive order and House legislation aimed at its elimination. (The biggest threat to the rule remains the attachment of a rider to a continuing resolution in Congress, according to Arvind Ganesan of Human Rights Watch.)
The law has also withstood criticism from more than 70 critics who signed an open letter in 2014 that blamed Dodd-Frank for driving some unemployed miners to join militias or to turn to smuggling, and for misunderstanding the cause of the conflict. Last year, a journalist completed a two-part investigative series that found that the law imposed a monopoly on miners that suppressed prices and forced some to trade their wares illegally.
Both the rule's advocates and critics agree that its roll-out was problematic. The DRC's president, Joseph Kabila, instituted a six-month ban on mining shortly after the law was passed in 2010 but before it was implemented. A United Nations Working Paper, published in 2016, attributed a child mortality increase of 143 percent in mining communities to the implementation of the Dodd-Frank conflict mineral rule.
The Enough Project's Callaway argues that most of the criticism of the Dodd-Frank rule relies on information from 2014 and earlier, in the aftermath of its implementation. "Since then, there's been tons of progress," she says. She points out that of miners producing tin, tantalum and tungsten, 79 percent of those surveyed in 2016 by the International Peace Information Society are no longer working under threat of armed groups and that less violence can pave the way for other improvements, "once the conflict is out of the mines."
But "overall, armed presence at mining sites has persisted over the last years in eastern DRC," according to the study by the Belgian International Peace Information Service that Callaway cites. That's because the majority of gold mines – the most important mining sector in the region – remain under the influence of armed actors, even as the tin, tantalum and tungsten mines have seen dramatic reductions in violence, according to the report.
The law has supporters from the region. Representatives from more than a 100 Congolese civil society organizations signed letters in support in of the rule when SEC commissioner Michael Piwowar opened up public comment to explore whether it should be implemented early last year. "The people who are most impacted by these changes are saying please don't mess with this," Callaway said.
Ben Radley, a British doctoral student, who helped make a 2015 documentary sharply critical of the Enough Project, remains a skeptic of the law. But he argues that repealing it would also constitute "a backward step" and a futile one at a time when the DRC and the European Union are creating sourcing standards for mining.
It's very difficult to measure the impacts of the law because information is so hard to come by in the region, adds Radley, who lives in Kinshasa. "The numbers are so easily manipulated from both sides of the debate" because of lack of quality data, he says.
Furthermore, the Dodd-Frank rule is not the only force affecting miners' livelihoods for better or worse. The price of minerals has been falling in recent years. Meanwhile, a U.N. peacekeeping force of 18,000, the world's largest, is stationed in the eastern part of the country.
The laws' critics say there are lessons to be learned for consumers and businesses that want to make a positive difference in the region. Autesserre would like to see Western advocacy groups do a much better job consulting Congolese mining communities as they develop their policy agenda. Radley suggests that advocates focus on labor and human rights issues instead of ensuring products are "conflict free."
The Enough Project's report calls for increased investment in "livelihood projects" on the part of end-user companies doing business in the region. So far, such investment has been inadequate . Apple, Microsoft Corp., Google, Signet and Tiffany contributed a paltry $500,000 toward improvements in Congolese mining communities in the last fiscal year, a mere "rounding error of the more than $3 trillion combined market capitalization of the 20 companies Enough ranked," as the report points out.
Most of the due diligence work conducted by multinational corporations happens outside the DRC, at smelters, the factories that extract the minerals from the ore. Radley says companies would have more credibility if they undertook the more resource-intensive approach of working directly at the mine site, where advocates hope to improve conditions.
Some companies are already moving in that direction. Bloomberg reported in February that Apple is in negotiations to secure cobalt, a mineral used in batteries, directly from miners. Cobalt is not covered under the Dodd-Frank rule, but a 2016 investigation conducted by Amnesty International found cobalt was mined by child laborers.
Still, the goals of multinational companies—and their ethically-minded consumers—are not identical to those of any region, war-torn or otherwise. Perhaps partly with the tangled politics and human rights landscape of Central Africa in mind, Apple pledged last April to one day end its reliance on mining entirely and make products only from renewable resources or recycled material.
That has BSR's Rohwer feeling optimistic. "I'm eager to see more companies get involved in product reuse, repair, refurbishment and recycling," he says. "I think that would be a huge benefit for the tech sector."
---
Copyright Capital & Main