Labor Day News of the WEIRD
Why are so many Americans wary of labor unions? Unions are, after all, good for everyone who works for a living. In occupations with a high rate of unionization all the workers get paid more, even employees who aren't in a union. As rates of unionization have fallen, so has compensation. One might expect unions to be all the rage with anyone who ever put in a hard day's work. But this is not always the case, particularly in the United States.
Americans have WEIRD attitudes towards unions – as in, Western, Educated, Industrialized, Rich, and Democratic. The Canadian behavioralists who coined this acronym were interested in how sweeping generalizations about human psychology and economic behavior might be incorrect if they were based on only one kind of (WEIRD) people, and reviewed a number of cross-cultural studies to make their point. To scholars at the University of British Columbia, Americans often appeared to be the most exceptional; "outliers among outliers."
What does this WEIRD-ness have to do with attitudes towards organized labor? Among many of their findings, the researchers noted that in experiments based on game-playing, Americans are eager to punish a luckier player if they think the other person has gotten an unearned reward, even if the punishment comes at a cost to themselves. WEIRD minds are also more individualistic and more likely to focus narrowly and analytically on one small problem while having difficulty seeing objects in a larger context.
These findings offer one explanation for the American tendency to attack union members on the grounds that they are getting something other people don't have — say, higher wages or better health insurance — even if reducing this compensation is likely to hurt all workers over time. How could we not see this? Americans are looking for details, not the big picture, focusing on small analytic tasks instead of taking a more holistic view. We are also thinking about the problem individualistically, focused more on how to punish particular people than on identifying with them as part of a community.
Certainly there are many explanations for the demise of organized labor in the United States. There are the concerted efforts of conservatives to dismantle unions, for one thing, and the various missteps of labor itself for another. But the American mind-set and the peculiarities of our culture must be accounted for as well. Take the recent labor dispute involving Bay Area Rapid Transit (BART) workers: The New York Times printed this quote from a passenger:
"Given the economy, I think the unionized people should be breaking even, not necessarily getting ahead…. There are a lot of workers out there who don't even have a union or a pension or health care benefits."
This opinion hardly seems unusual, and reveals a curious impulse to take away from union members rather than assert the rights of others to the same wages and benefits. Could this be an example of the WEIRDness identified by scholars? A willingness to punish? Check. At one's own expense? Check. Without seeing the big picture? Check.
This type of myopic focus, sadly, seems to be more the norm than the exception. (Although in Los Angeles many newer working-class immigrants are also decidedly not WEIRD and comprise a noted exception to prevailing anti-union attitudes.) Many Americans plow forward with a studied disdain for labor unions, blithely undercutting our own opportunities in life, not to mention our children's, but happy in the thought that we are ensuring that no one is doing better than we are in one little way at one particular point in time.
Weird, indeed.

A Woman's Art Is Never Done: The Feminae Exhibition
A striking juxtaposition between the past and present courses throughout the small gallery. Celia Blomberg's "International Women's Day March 8" can't help but make one think of 2017's Women's March, which occurred 37 years after the print's first appearance.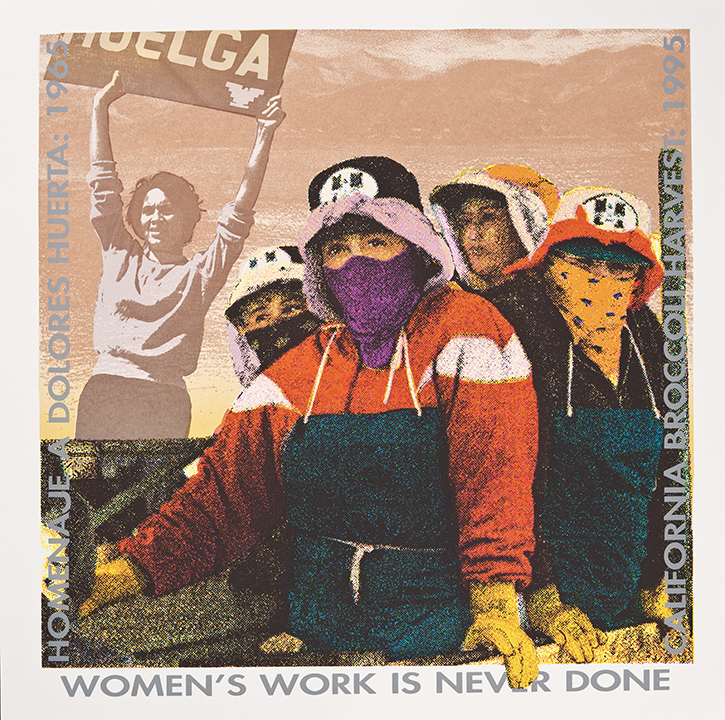 Among the 50-plus works in the Feminae: Typographic Voices of Women By Women exhibit is Yolanda Lopez's "Women's Work is Never Done." Lopez's title is particularly ironic, given the exhibit's gender-based subject matter. The show spans work from the past 50 years, making it easy to understand how much society is still grappling with its themes of gender inequality. Culled from the archives of the Center for the Study of Political Graphics, the graphic images of protest, persuasion and empowerment are truly works of art in their own right.
However, political posters aren't made to merely spruce up walls, but to help figuratively bring barriers down as well.
Two silkscreens from the 1970s, Liliana Porter and John Schneider's "This Woman is Vietnamese" and See Red Woman's Workshop's "So Long As Women Are Not Free People Are Not Free," are particularly powerful, underscoring, as they do, the fact that the subjugation and persecution of women crosses borders and cultures as an unfortunate shared global experience. These two pieces' stark simplicity exemplifies most of the work in the exhibit. In the former, a New York Times photo of a distraught Vietnamese woman with a gun held to her head is centered above these basic words typed out in a typewriter font: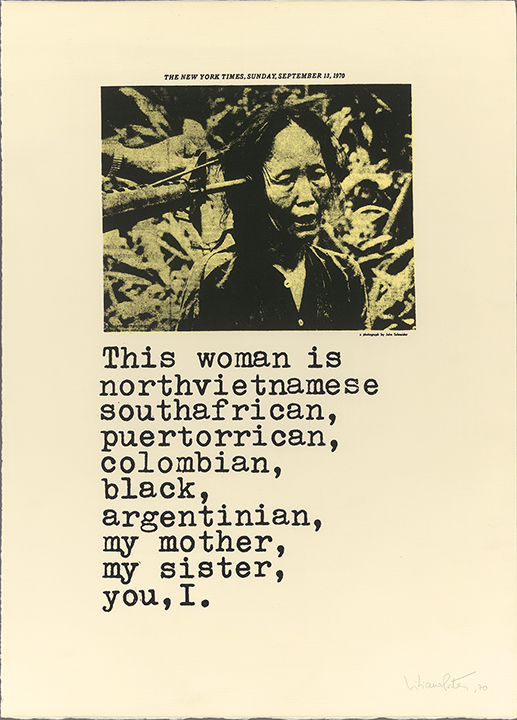 This woman is
northvietnamese
southafrican
puertorrican,
colombian,
black,
argentinian,
my mother,
my sister,
you, I.
By juxtaposing the photo with these words, the creators take the plight of this woman and immediately globalize her pain. In the latter, three female demonstrators are silkscreened in red onto a yellow background. They are marginalized by being stuck in the lower left third of the poster, but two of them are raising their fists skyward and their mouths are open, screaming in defiance. Its non-serif, eponymous type reads: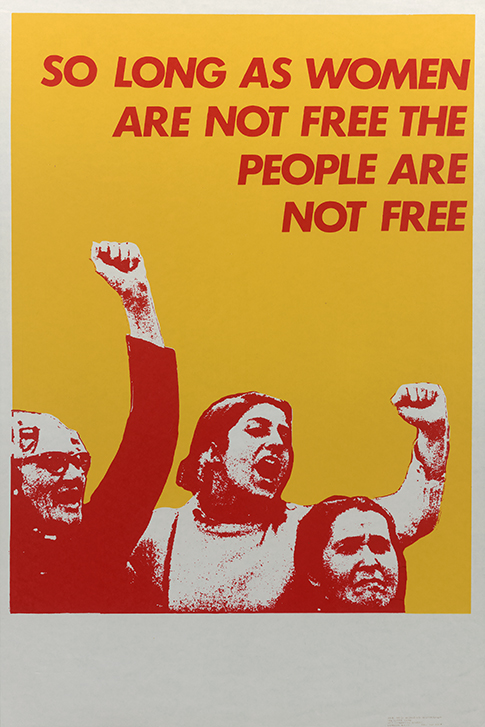 SO LONG AS WOMEN
ARE NOT FREE THE
PEOPLE ARE
NOT FREE
This piece's message takes the global message even farther, making the plight of women a human one — a common theme in the exhibition.
There is also a striking juxtaposition between the past and present that seethes throughout the small gallery. Celia Blomberg's "International Women's Day March 8" can't help but make one think of 2017's Women's March that would take place 37 years later. See Red Woman's Workshop's 1977 "Black Women Will Not Be Intimidated" could easily be repurposed to address the recent spate of blue-on-black brutality. Notable works by Barbara Kruger, Sister Corita Kent and the Guerilla Girls are also included.
Ironically , while it can be surmised that most of these works were made as populist posters to be distributed at the time as banners of protest, their beautiful simplicity and nostalgic elegance probably have resulted in the originals (mostly now found in art museums) sporting hefty vintage-resale prices.
But it is not just the art that has stood the test of time. The fact that the issues addressed in the show — feminism, choice, gender equality, war, immigration, police brutality or violence against women — are all issues at the forefront of debate in 2018 ultimately engenders conflicting feelings.
On one the hand, it is inspiring to see a vibrant exhibit that showcases such diversity in artistic styles, no doubt spawned by the diversity of the artists' own backgrounds. On the other hand, there is a realization that while there has been some progress over the past half century, there is so much work to be done.
Art Center's Hoffmitz Milken Center for Typography, 950 South Raymond Ave., Pasadena; through May 15.
---
Copyright Capital & Main