When I started Unionosity, my goal was to provoke discussion about important workplace and economic issues. Work is such a significant part of our lives – many of us spend the majority of our waking hours at it. Yet we don't talk enough about what it means and how we can do it better — specifically, what can be accomplished if we work together.
Unfortunately, the "working together" part can sometimes go awry before it has the chance to begin. I've learned to be mindful of some of the predicaments that the working poor have long lived with. One of these I learned the hard way during an affordable housing campaign I took part in nearly 20 years ago in South Central Los Angeles. The program we were organizing around — ironically, a Jack Kemp HUD program — would transfer ownership of publicly subsidized housing to tenant groups made up of Section 8 voucher recipients, essentially giving people ownership over where they lived. Virtually everyone we spoke to saw the great benefits of the program.
Yet the would-be beneficiaries of the program refused to participate and the campaign failed. Despite generalized support for the idea, the people we spoke to would not join in because they couldn't envision themselves remaining where they were for long enough to benefit from it. Almost to a person, they gave the same explanation: "That's great for everyone else, but I'll have a new job/opportunity/start by next year." Despite the sad fact that almost every one of them would be in the exact same place next year – and in even worse economic shape – they were paralyzed by even thinking about this economic reality. The hope of a better tomorrow was keeping them from a better today.
Labor Day is the day we summon the collective will to honor the day-in, day-out labor that keeps this economy working. For union people, it is our day. Yet in 2012, on the cusp of a key Presidential election and after 30 years of policy favoring top-down economics created to benefit the rich and widen the gap between the haves and have-nots, economic freedoms and the right to unionize are far from secure in the United States (and worse than not secure in many states).
Given the continuing emergency level of unemployment throughout the country and the dire economic position many of us find ourselves in, one would reasonably expect that the general public would rise up and demand that something be done, now. The erosion of the middle class, occurring in lockstep with the lowering of union representation density, would appear to be a natural first item on the agenda.
But as we've seen over and over, Americans often behave opposite of their economic interests. Organizations (read: unions) that support the cause of equality, the leveling of the playing field, and accountability from the most powerful are forced to spend valuable time defending their existence from proposals designed to destroy their effectiveness, instead of using that time to advocate for economic opportunity.
This is about more than just the difficulties that would-be union members confront when wanting to join or form a union. Much of it is because the economic rights protected by the law are in shabby repair – or go largely unenforced while unions are required to fight back against anti-union legislation (such as California's Proposition 32) and other hurdles concocted by those with the most to gain from a lopsided economic system.
It is also because there are so many people, like those people I spoke to on the affordable housing campaign, living in an illusion of impending prosperity – the "one day I'll be a winner in the casino economy and join the One Percent" dream. Yet this illusion is so powerful that many cannot confront the reality that they – we, collectively – are sinking.
To be clear, those in the grip of the prosperity illusion understand exactly how bad the economy is for them and those around them. The prosperity illusion isn't about them not getting it. It is about them not being able to go forward if they don't believe things are going to change for them – even if that means refusing policies and programs that would help them because it would require them to accept that they will never be the success they dream of being. And the prosperity illusion is exactly what Republicans peddle.
If the Republican National Convention conveyed anything other than the GOP's empty chair policies and politics, it is that the casino economy snake oil is still a potion that works to scare and divert people from their collective interest in economic polices that promote fairness. But the snake oil of fake economic opportunity cannot be effectively countered by the castor oil of bitter economic reality. Progressives can't win with a campaign or policies that require our would-be citizen supporters to recognize their unfortunate and – if things don't change – likely permanent plight. People need hope, and the very word "progressive" implies moving forward, onward and upward, improved. Our platform and policies must emphasize how we can change what is economically possible, and it is only through durable institutions that represent values and interests of economic improvement and fairness that we can capture the imaginations of those who would stand with us.
And those institutions are unions.
It is a fundamental question about the kind of world we want to live in: a fragmented, freelance society where insecurity is the new normal, or one that addresses the risks inherent in a world that creates insecure careers and attempts to find solutions for economic security. The choice is ours.
Jeff Boxer is the publisher and president of Unionosity, and a union-side labor attorney in the L.A. area with the law firm of Bush Gottlieb Singer Lopez Kohanski Adelstein & Dickinson. He is on the board of CPER, the Learning Rights Law Center and Creative Migration. This post first appeared on Unionosity and is republished with permission.


'Skeleton Crew' Is a Play With a Moral Spine
Set in a Detroit automobile outfitting plant, Dominique Morisseau's drama grabs you from the start with its focus on blue-collar men and women, and their struggle for dignity and self-respect.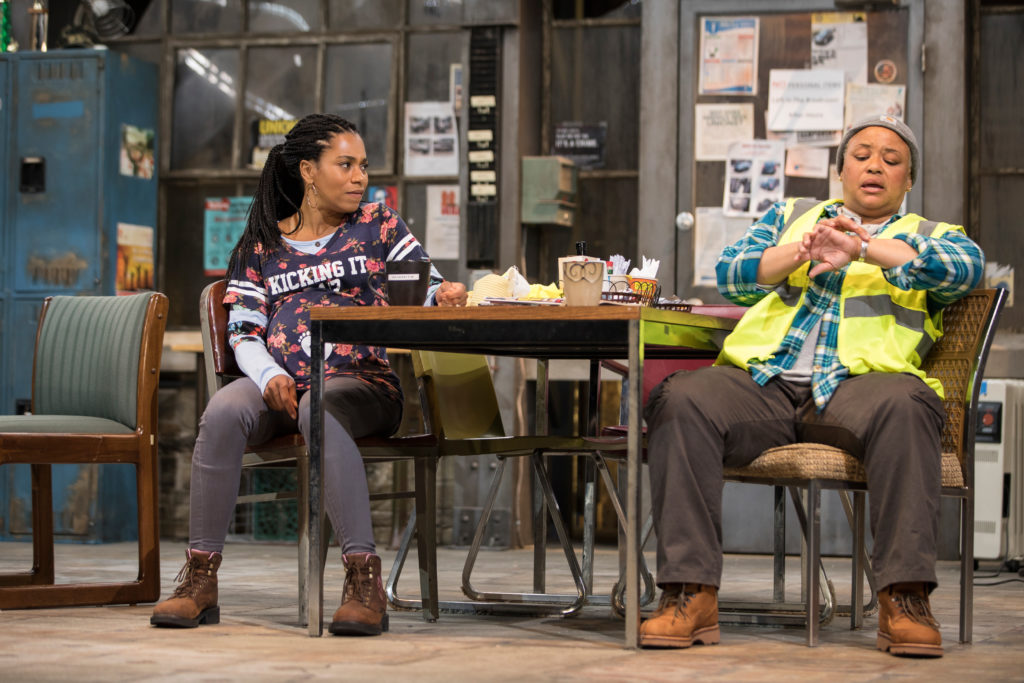 Working-class men and women of color are rarely front and center in today's media and, likewise, are presented all too occasionally on the American stage. So it's buoying to see that trend bucked in playwright Dominique Morisseau's percipient and well-crafted drama, Skeleton Crew. The play is the final installment in her Detroit  Project Trilogy; the first, Paradise Blue, is set in the 1940s amidst displacement caused by urban renewal and gentrification, while the second, Detroit '67, transpires on the eve of the 1967 Detroit riots sparked by a police action.
Directed by Patricia McGregor at Los Angeles' Geffen Playhouse, Skeleton Crew is a play with a moral spine. It takes place in 2008, when the shrinking U.S. auto industry is being further downsized. Morisseau's engaging quartet of characters — Faye (Caroline Stefanie Clay), Dez (Armari Cheatom), Shanita (Kelly McCreary) and Reggie (DB Woodside) – are employed at an automobile outfitting plant. Faye, Dez and Shanita are workers on the line while Reggie (who has a wife and kids, and has pulled himself together after a troubled youth) is their supervisor.
The first three customarily mingle in their break room (designer Rachel Myers' impressively cluttered, dingy and detailed set), trading the sort of familiar barbs and genuine concern for each other common among longtime co-workers. They also face off on philosophy: Upper-middle-aged Faye and the younger, pregnant Shanita take pride in their labor, while Dez, though a good worker, is a malcontent scornful of management and firm in the belief that everyone needs to watch out for himself. He's a thorn in Reggie's side, for while Reggie wants to be supportive of his workers, he must act at the behest of higher management. For his part, Dez resents Reggie's authority, and a palpable unease exists between them.
Besides this male matchup, we're made privy to Dez's attraction to Shanita, who mostly turns away his advances, but every now and then displays a hint of interest. Most poignant is Reggie's regard and affection for the lesbian Faye, which has roots in his boyhood when she loved, and lived, with his now-deceased mom.
These people's various predicaments intensify when rumors spread of the plant's shutdown — a disaster for all, but a particular calamity for the already near-broke Faye who, one year short of retirement, would lose her pension. The crisis forces each of these people to make a choice.
A sound piece of social realism, Skeleton Crew grabs you from the start in its focus on blue-collar men and women, and their struggle against odds for dignity and self-respect. Morisseau not only furnishes these characters a platform for their travails, she endows them with strong values, big hearts and the opportunity to choose between right and wrong.
Unfortunately, the performance I attended did not soar. Many exchanges lacked a fresh edge. The actors certainly had their characters down, but too often they appeared to be coasting on technique. (This seemed particularly true of Clay, who performed the role to great accolades in Washington, DC in 2017, also under McGregor's direction). Additionally, some of the stage movement was not entirely fluid; in confrontations, actors sometimes would just stand and face each other in an artificial way. And Cheatom's interpretation of Dez struck me as a bit overly churlish and depressive: I needed more glimpses of the intelligence and edge that would secretly attract the strong, self-directed Shanita.
The most compelling moments belong to Woodside, well-cast as a man trying his best in difficult circumstances to do the right thing.
---
Gil Cates Theater at the Geffen Playhouse, 10886 Le Conte Ave., Westwood Village; Tues.-Fri., 8 p.m.; Sat., 3 & 8 p.m. Sun., 2 & 7 p.m.; through July 8. (310) 208-5454 or www.geffenplayhouse.org