Labor Day 2014: Workers Build Los Angeles Story by Story
When I heard that the new Wilshire Grand hotel was going up at Wilshire and Figueroa, I got in touch with my friends in the building trades unions and suggested a film that followed the hotel's construction from start to finish – from the first record-breaking cement pour to the topping off and finishing. They were enthusiastic about the idea.
I come from a "building trades family"– my electrician father attempted to instill the love and mysteries of his craft to me during my youth. While I've never done construction work myself, I've always felt comfortable on construction sites, emotionally at home with the unique atmosphere and rough camaraderie.
I don't merely want to archive the rise of a building with this film. I want to take a closer look at what the men and women who work there feel about their skills, their work and about the values they cultivate amongst themselves as they diligently move forward and upward.
There is a long tradition in the United States, and perhaps most of the world, of binary thinking when it comes to work. We all know the categories and the language: blue collar and white collar, vocational and academic, skilled and unskilled, those who work with their minds vs. those who work with their hands. This is a political and class language masquerading as an "objective" description of our complex work lives.
Anyone who has spent even the briefest time talking to construction workers about what they do quickly realizes how warped and outdated these distinctions are.
My interest is in deepening our understanding of what construction workers do, what their unions mean to them, how their crafts are learned and how their work contributes to identity and meaning in their lives.
When iron worker Chris Ahrens talks about the ritual of the evergreen tree as a "symbol of life," he is extending his moral imagination to the eventual visitors to the hotel that he will never meet. His work is an expression of his values.
Insulation worker Reginal Butler struggles daily with the tools and tasks of his trade. The pride he has in his work flows from those moments of self-creation.
And journeyman electrician Dino Degrassi understands the intricate relationship between "book" learning and practical experience — the thought, nuance and creativity that are required to polish his craft.
If one aspect of freedom is the desire to describe and therefore define oneself, then reinforcing the shared vocabulary of craft and quality makes possible a circle of autonomy and pride at the worksite. Union craftspeople teach each other how to interpret their own work.
When the final film is finished it will be shown in schools throughout the country, providing a more accurate look at the opportunities available in the union construction trades.
(Kelly Candaele is a writer, filmmaker, teacher and has served as a trustee for the Los Angeles Community College District.)
Two Cousins and a Magical Ice Cream Truck Figure in Leon Martell's New Play
Although not all of ICE's comedy clicks, Martell's story has both weight and charm. The production's overriding plus is its successful rendering, fashioned with humor and craft, of the difficulties immigrants face.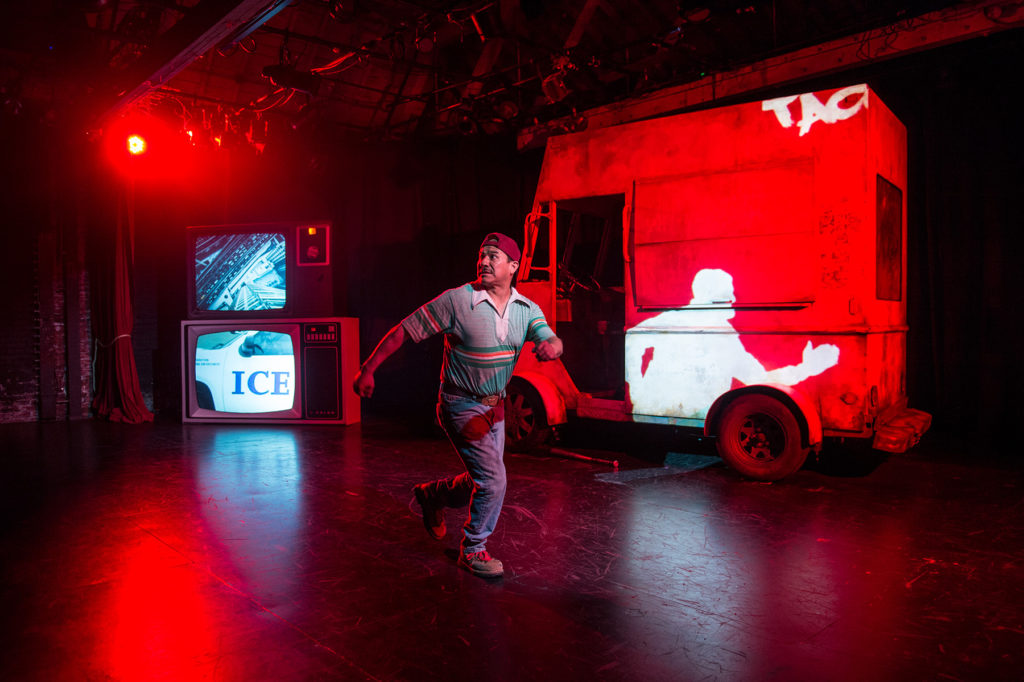 ICE, Leon Martell's family friendly play, takes place in 1988 and follows the misadventures of two undocumented immigrants: Chepe (Jesús Castaños-Chima), an avid baseball fan who dreams of making a fortune selling gourmet tacos; and his cousin Nacho (Tony Dúran), whom the beleaguered Chepe summons from Mexico to assist him in setting up his business. Directed by Debbie Devine at 24th Street Theatre, the show displays plenty of heart, not all of it realized in this premiere production. Despite this, there's enough political relevancy, moral truth and human comedy packed into the show's 65-minute time frame to overlook its shortcomings.
The core of the humor is the difference in personality between the two cousins. The ambitious Chepe is bitter and frustrated about his experience in America, where he's been cheated and lied to by bosses who exploit his labor and pay him next to nothing. Yet he's bought into the American Dream of money and fame, and to achieve that he's purchased a dilapidated old ice cream van to convert into a taco truck. It doesn't run, though, and the secret family salsa recipe is with his kin in Mexico. So, he phones home and implores his mechanic cousin to head north, bringing the salsa recipe as well as his skills.
Cousin Nacho, by contrast, is a sweet old-fashioned guy. He wants success too, but making money isn't the only thing he thinks about. He juggles tomatoes to make kids laugh and indignantly admonishes Chepe for his desperate inclination to do what it takes (steal tomatoes, for example) to score success.
Into the mix Martell tosses a blind, disgruntled priest (Davitt Felder), who plays guitar and wants to launch English classes for children in his parish (the archdiocese turns him down). Then there's Chepe's truck, which has opinions of its own. It breaks out in jingles at random intervals; later, it communicates with Nacho via blinking red letters that eerily appear on the side of the vehicle, furnishing the two men with simple directives and essential advice. When ICE (Immigration and Customs Enforcement) shows up, it alerts them to run.
Although not all of the comedy clicks, Martell's story has both weight and charm. The production's overriding plus is its successful rendering, fashioned with humor and craft, of the difficulties immigrants face. Its main weakness is Castaños-Chima's technically skilled but somewhat chilly depiction of his character, which leaves us wishing for more warmth and complexity. Felder appears awkward in his role of the blind priest, but proves versatile on video as Chepe's various nemeses. Dúran's naïve Nacho is a lovable presence from first to last.
Displayed on a monitor, Matthew G. Hill's video slides add historical and social perspective, and his backwall projections, in tandem with Dan Weingarten's lighting and Chris Moscatiello's sound, help conjure a magical aura to this parabolic piece.
24th Street Theatre, 1117 West 24th St., Los Angeles; Sat., 3 & 7:30 p.m.; Sun., 3 p.m.; through June 10, (213) 745-6516 or 24thstreet.org.
---
Copyright Capital & Main