Labor Day 2014: Workers Build Los Angeles Story by Story
When I heard that the new Wilshire Grand hotel was going up at Wilshire and Figueroa, I got in touch with my friends in the building trades unions and suggested a film that followed the hotel's construction from start to finish – from the first record-breaking cement pour to the topping off and finishing. They were enthusiastic about the idea.
I come from a "building trades family"– my electrician father attempted to instill the love and mysteries of his craft to me during my youth. While I've never done construction work myself, I've always felt comfortable on construction sites, emotionally at home with the unique atmosphere and rough camaraderie.
I don't merely want to archive the rise of a building with this film. I want to take a closer look at what the men and women who work there feel about their skills, their work and about the values they cultivate amongst themselves as they diligently move forward and upward.
There is a long tradition in the United States, and perhaps most of the world, of binary thinking when it comes to work. We all know the categories and the language: blue collar and white collar, vocational and academic, skilled and unskilled, those who work with their minds vs. those who work with their hands. This is a political and class language masquerading as an "objective" description of our complex work lives.
Anyone who has spent even the briefest time talking to construction workers about what they do quickly realizes how warped and outdated these distinctions are.
My interest is in deepening our understanding of what construction workers do, what their unions mean to them, how their crafts are learned and how their work contributes to identity and meaning in their lives.
When iron worker Chris Ahrens talks about the ritual of the evergreen tree as a "symbol of life," he is extending his moral imagination to the eventual visitors to the hotel that he will never meet. His work is an expression of his values.
Insulation worker Reginal Butler struggles daily with the tools and tasks of his trade. The pride he has in his work flows from those moments of self-creation.
And journeyman electrician Dino Degrassi understands the intricate relationship between "book" learning and practical experience — the thought, nuance and creativity that are required to polish his craft.
If one aspect of freedom is the desire to describe and therefore define oneself, then reinforcing the shared vocabulary of craft and quality makes possible a circle of autonomy and pride at the worksite. Union craftspeople teach each other how to interpret their own work.
When the final film is finished it will be shown in schools throughout the country, providing a more accurate look at the opportunities available in the union construction trades.
(Kelly Candaele is a writer, filmmaker, teacher and has served as a trustee for the Los Angeles Community College District.)
'Skeleton Crew' Is a Play With a Moral Spine
Set in a Detroit automobile outfitting plant, Dominique Morisseau's drama grabs you from the start with its focus on blue-collar men and women, and their struggle for dignity and self-respect.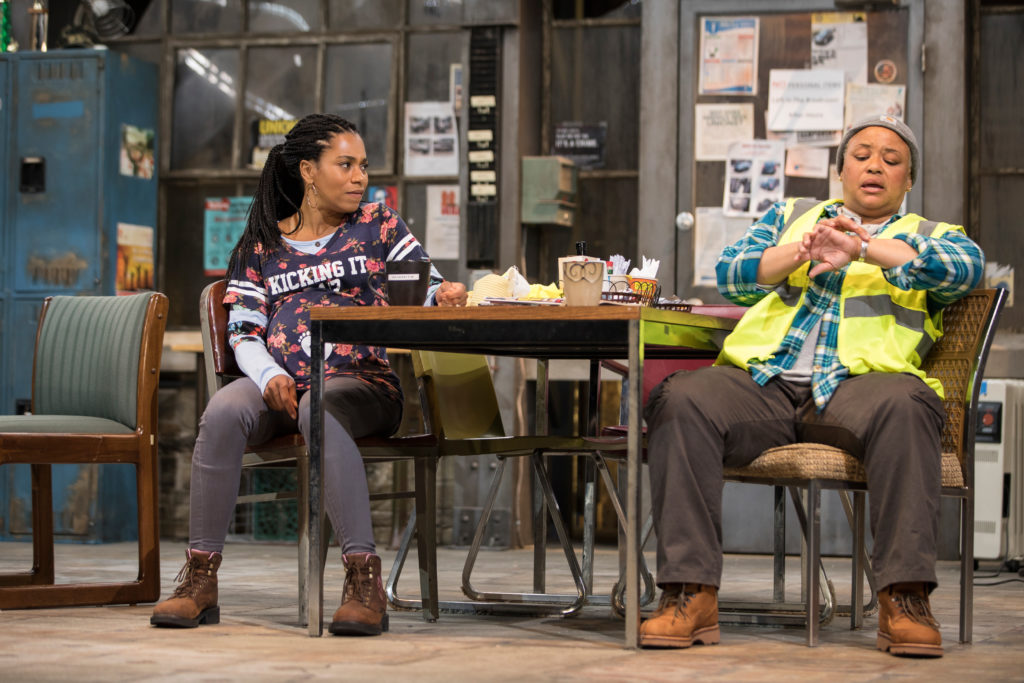 Working-class men and women of color are rarely front and center in today's media and, likewise, are presented all too occasionally on the American stage. So it's buoying to see that trend bucked in playwright Dominique Morisseau's percipient and well-crafted drama, Skeleton Crew. The play is the final installment in her Detroit  Project Trilogy; the first, Paradise Blue, is set in the 1940s amidst displacement caused by urban renewal and gentrification, while the second, Detroit '67, transpires on the eve of the 1967 Detroit riots sparked by a police action.
Directed by Patricia McGregor at Los Angeles' Geffen Playhouse, Skeleton Crew is a play with a moral spine. It takes place in 2008, when the shrinking U.S. auto industry is being further downsized. Morisseau's engaging quartet of characters — Faye (Caroline Stefanie Clay), Dez (Armari Cheatom), Shanita (Kelly McCreary) and Reggie (DB Woodside) – are employed at an automobile outfitting plant. Faye, Dez and Shanita are workers on the line while Reggie (who has a wife and kids, and has pulled himself together after a troubled youth) is their supervisor.
The first three customarily mingle in their break room (designer Rachel Myers' impressively cluttered, dingy and detailed set), trading the sort of familiar barbs and genuine concern for each other common among longtime co-workers. They also face off on philosophy: Upper-middle-aged Faye and the younger, pregnant Shanita take pride in their labor, while Dez, though a good worker, is a malcontent scornful of management and firm in the belief that everyone needs to watch out for himself. He's a thorn in Reggie's side, for while Reggie wants to be supportive of his workers, he must act at the behest of higher management. For his part, Dez resents Reggie's authority, and a palpable unease exists between them.
Besides this male matchup, we're made privy to Dez's attraction to Shanita, who mostly turns away his advances, but every now and then displays a hint of interest. Most poignant is Reggie's regard and affection for the lesbian Faye, which has roots in his boyhood when she loved, and lived, with his now-deceased mom.
These people's various predicaments intensify when rumors spread of the plant's shutdown — a disaster for all, but a particular calamity for the already near-broke Faye who, one year short of retirement, would lose her pension. The crisis forces each of these people to make a choice.
A sound piece of social realism, Skeleton Crew grabs you from the start in its focus on blue-collar men and women, and their struggle against odds for dignity and self-respect. Morisseau not only furnishes these characters a platform for their travails, she endows them with strong values, big hearts and the opportunity to choose between right and wrong.
Unfortunately, the performance I attended did not soar. Many exchanges lacked a fresh edge. The actors certainly had their characters down, but too often they appeared to be coasting on technique. (This seemed particularly true of Clay, who performed the role to great accolades in Washington, DC in 2017, also under McGregor's direction). Additionally, some of the stage movement was not entirely fluid; in confrontations, actors sometimes would just stand and face each other in an artificial way. And Cheatom's interpretation of Dez struck me as a bit overly churlish and depressive: I needed more glimpses of the intelligence and edge that would secretly attract the strong, self-directed Shanita.
The most compelling moments belong to Woodside, well-cast as a man trying his best in difficult circumstances to do the right thing.
---
Gil Cates Theater at the Geffen Playhouse, 10886 Le Conte Ave., Westwood Village; Tues.-Fri., 8 p.m.; Sat., 3 & 8 p.m. Sun., 2 & 7 p.m.; through July 8. (310) 208-5454 or www.geffenplayhouse.org