Labor Day 2014: Solidarity Forever!
For many, the legacy of Labor Day has been forgotten. We forget about the struggle that so many fought and even died for to achieve decent working conditions. We take for granted that children no longer have to slave away in American factories for 17 hours a day, six days a week. We undervalue what it took to get the weekend. After all, that's what makes Labor Day such a treat in the first place–we get a three-day weekend instead of the boring old two. And for those of us still lucky enough, the 40-hour work week is just the standard.
Longtime president and founder of the American Federation of Labor, Samuel Gompers said:
"Labor Day differs in every essential way from the other holidays of the year in any country. All other holidays are in a more or less degree connected with conflicts and battles of man's prowess over man, of strife and discord for greed and power, of glories achieved by one nation over another. Labor Day…is devoted to no man, living or dead, to no sect, race or nation."
For those of us in the Labor Movement, it becomes a bit frustrating when the public sees this important holiday as just the final chance to take a long weekend trip before a balmy summer fades into a crisp fall. That's why it's up to us to keep the legacy alive and thriving through the work we do every day. Labor Day is not just about what workers fought so hard to attain in the past, it's about what we're doing right now to stay strong in this new and unique shifting economy. It's easy to get discouraged. We've faced two decades of watching the very jobs that reminded us daily that we were the backbone of the most envied economy in the world disappear before our very eyes. The jobs that made it possible for us and our families to take part in the American Dream.
Even in the face of the worst recession in decades, we continued to work hard, taking pride in our efforts. We delivered quality work that couldn't be matched anywhere else in the world only to see our wages stagnate and jobs shipped overseas just to boost the bottom line for CEOs.
But it's important to remember that the great American middle class was not something that just happened. It was built brick-by-brick, with the hard work of our parents and grandparents and the unions that represented them. It was they who created the 40-hour work week, paid vacations and wages that were once the envy of the world. Getting back to that isn't easy, but at least we have a blueprint.
The good news is, all across California, the fruits of our labor are beginning to sprout again. From the farmlands of the Central Valley to the sprawling tech offices of the Silicon Valley, we're hearing the rumbling of change. It's America 2.0. Some of the energy may have shifted to industries that our grandparents could have never fathomed, but at its core, it's is still the same: Working people standing together, bargaining together, igniting hope and restoring America's promise.
Unions are leading a renaissance in our new economy. We're fighting to improve wages for those working two or three jobs and still falling below the poverty line. We're fighting to stop corporate bosses from stealing the hard-earned pay workers earn. We're fighting to give every worker in California the chance to earn a few paid sick days on the job. We're standing up for immigrant workers, leading the charge on federal immigration reform and pushing legislation to protect temporary workers from abuse. We're retraining workers for the jobs of the future and advocating to reduce class sizes in our schools so that teachers can teach and students can learn. We're pushing for more funding to our colleges so that California can remain a world leader in innovation. We're taking a stand against Wall Street excess.
When workers stand together, anything is possible. And CEOs know that, which is precisely why they'll do anything in their power, including spending hundreds of millions of dollars to elect their cronies, to stop us. Our strength in numbers is the only thing that can match their strength in dollars.
It's up to us to not allow the soaring vision from our grandparents' generation we've caught glimpses of to go dark. So this Labor Day let's reflect on what makes this holiday so special but let's not forget that to get back to the great American middle class, we need to do what has been done generations before us.
Whether you're a firefighter or teacher, a Walmart worker or a security officer—working people of this state need to stand together to bring back the American Dream. We need to stand together at the polls this fall to ensure the flood of corporate cash in this year's election doesn't drown out our voices. We need to stand together on the job to stop CEOs from taking the whole pie and leaving workers to fight over the crumbs. And we need to stand together in the streets to fight for justice for everyone.
Together, we always win.
(Art Pulaski is the Executive Secretary-Treasurer and Chief Officer of the California Labor Federation. His feature was cross-posted on Labor's Edge.)
---
Photo: Slobodan Dimitrov

What the NLRB's About-Face on McDonald's Means for Franchise Workers
While the National Labor Relations Board is currently divided 2-2, the confirmation of another Trump appointee will restore the Republican majority — which is bad news for fast-food-chain workers.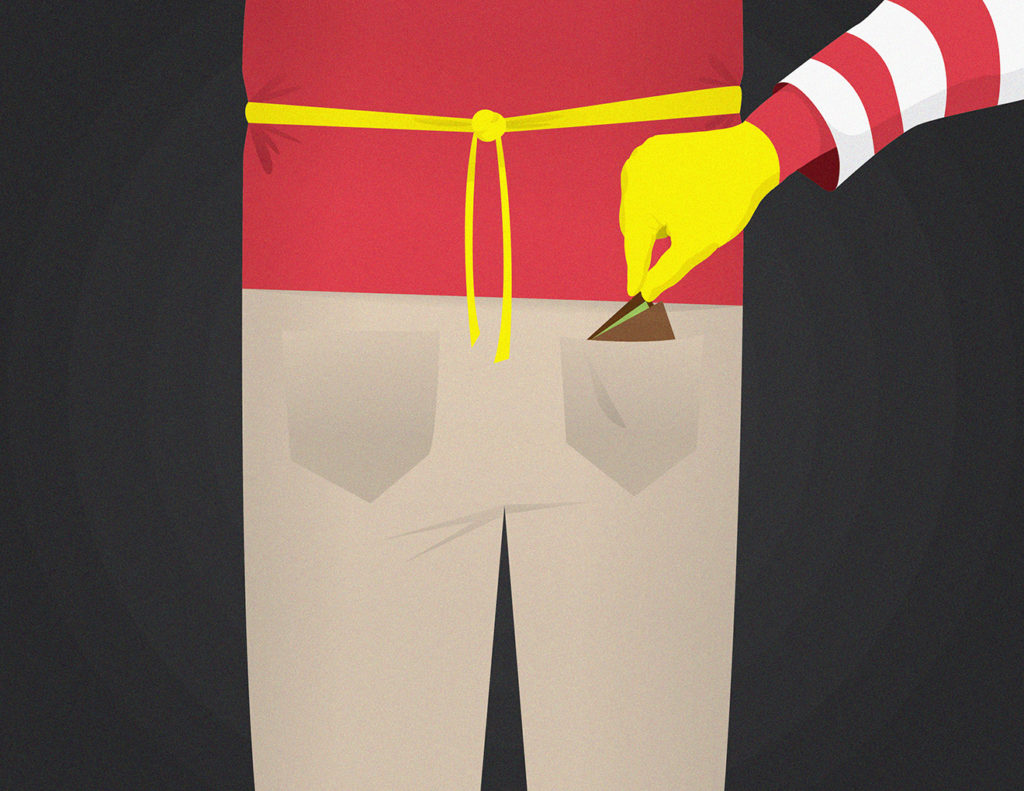 ---
With Donald Trump's election, the momentum at the NLRB is now with employers.
---
Workers at McDonald's joined the union-backed Fight for $15 campaign because many found that they could not get by on minimum wage without the help of family and public assistance. But joining that campaign spurred retaliation, with dozens of employees alleging that they lost money or their job for organizing to get better pay.
Enter the U.S. National Labor Relations Board.
In a victory for workers, the board decided the McDonald's Corporation was jointly responsible for punitive actions against employees across the country because the company dictates, among other things, how those employees cook and clean. That 2015 decision, in a case called Browning-Ferris, established a broad definition of "joint employer." It made franchisors potentially liable for the actions of individual franchises, citing the "indirect" control they exercised over employees and their workplaces. And it meant fast-food chains, among others, would have to collectively bargain with employees who joined a union.
Donald Trump was elected president the next year. By December 2017, the NLRB was back on the side of business with respect to who is and who is not a joint employer, the board overturning with a 3-2 vote the "indirect control" standard of Browning-Ferris.
Then a Republican member of the board retired, evenly dividing the NLRB along partisan lines. The board's inspector general then issued a report in February 2018 saying the December decision never should have been made — that, in particular, a Trump appointee should have recused himself due to a conflict of interest. The decision was thrown out, with congressional Democrats, such as Massachusetts Senator Elizabeth Warren, calling for hearings.
By that point, however, the NLRB had already ordered its lawyers to retreat in the most visible battle over the "indirect" joint-employer standard.
When an administrative trial began back in 2016, the NLRB had said McDonald's was jointly responsible for alleged labor violations at its franchises, including reduced hours, surveillance and wrongful termination of employees who had been organizing for better pay.
"If McDonald's is involved in determining working conditions at its franchised operations, it is responsible for what happens to workers subject to those conditions," NLRB lawyer Jamie Rucker said at the time.
But the NLRB sought and won a 60-day suspension of that trial earlier this year. Lawyers representing the Fight for $15 movement and its allies say the NLRB is now rushing through a proposed settlement that would see McDonald's get off without a finding of joint liability — which won't make it any easier for low-wage workers to collectively bargain.
"What I see is an attack on workers' ability to form a union," said attorney Marni von Wilpert of the progressive Economic Policy Institute (EPI). "If you were able to find a joint-employment relationship with the corporate [franchisor], then all of a sudden they all have one big employer, and all the employees can go to corporate McDonald's. That's really what it's all about, whether workers can organize."
Under the proposed settlement, McDonald's admits no wrongdoing, but its franchisees agree to cover back pay for workers fired as a result of their organizing.
The NLRB "is proposing a sham settlement," said Mary Joyce Carlson, a lawyer representing Fight for $15. "McDonald's directed a wave of retaliation that stretched from coast to coast and included illegally harassing, surveilling and firing workers in the Fight for $15. The hardworking cooks and cashiers who were organizing to get off of food stamps and out of poverty deserve a ruling in their case, not a settlement hammered out at the last minute in collusion with the Trump administration."
With Trump's election, the momentum at the NLRB is now with employers. Any setbacks would appear to be temporary: while divided 2-2 for now, the confirmation of another Trump appointee will restore the Republican majority. Once that happens, the NLRB can be expected to seek another opportunity to overturn the Browning-Ferris joint employer standard.
While Browning-Ferris did not explicitly pertain to the franchise model, it clearly spooked those who depend on it — and inspired those who think franchisors like McDonald's should be liable for the mistreatment of employees at locations bearing its name.
Fight for $15 has prioritized organizing at fast-food businesses, but forming unions is extremely difficult when a dozen small restaurants with the same name may have a dozen different owners. There are over 14,000 McDonald's restaurants in the United States, with only one in 10 owned by the corporation. The ability to collectively bargain with McDonald's, the corporate franchisor, would make a union's task easier — and help address the sort of labor violations that regulators routinely find at fast-food franchises. An EPI report says unionized workers are half as likely to be victims of wage theft, for example.
At an April 5 hearing, Fight for $15 attorney Kathy Krieger urged NLRB Administrative Law Judge Lauren Esposito to reject the settlement. Krieger argued that McDonald's had conspired with its franchises to thwart worker organizing, the corporation recommending, she said, that franchisees "restrict crew members from taking their meals or their rest breaks outside the crew room" as a means "to prevent concerted activity."
McDonald's attorney Willis Goldsmith said the company would never accept a settlement identifying it as a joint employer. "The franchisees, they're independent business people," he said. "They did whatever they did, and if they are willing to concede that, they're going to have to pay people. It's not our job."
While it appears the NLRB under Trump will ultimately reimpose the stricter, pre-Browning-Ferris standard that a joint employer must have direct rather than indirect control of workers, industry groups aren't taking any chances.
Jenna Weisbord, a communications manager at the International Franchise Association to which McDonald's belongs, said her group is looking to Congress to pass the "Save Local Business Act," which would legislatively reimpose the pre-Browning-Ferris standard. "We understand the Senate will take on this task later this year," she said of the bill, which passed the House last year.
A television ad campaign sponsored last year by the franchise association and the U.S. Chamber of Commerce argues the measure would restore "balance to labor law" in the face of a "runaway government agency." That agency, in the era of Trump, is increasingly tilting in the favor of business.
---
Copyright Capital & Main