As L.A.'s Rents Rise: Crenshaw Tenants Battle Eviction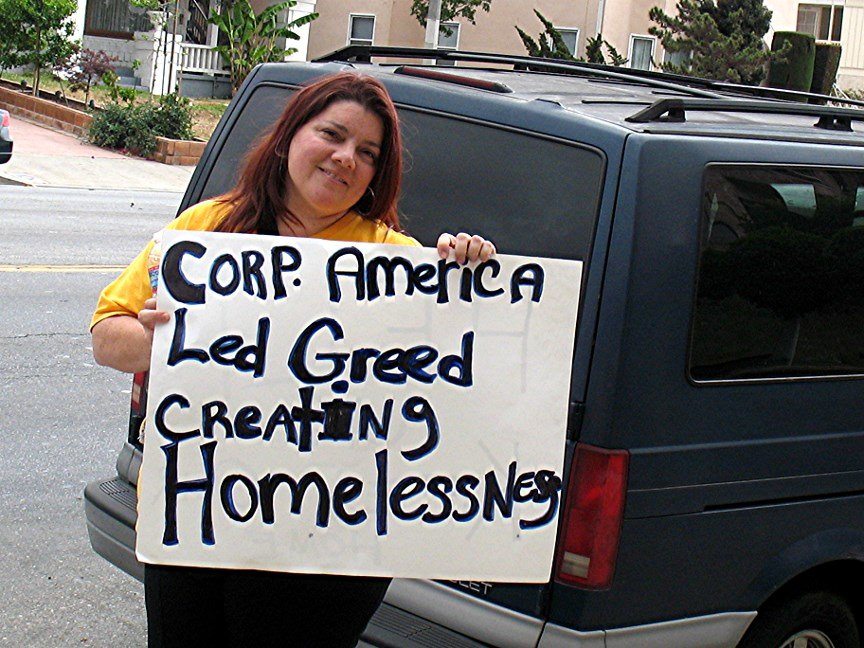 For Catherine Green, home for the last three decades has been a comfortable apartment in the sprawling 43-unit Boulevard Villa near Crenshaw and Venice boulevards in Mid-City Los Angeles. Her alert gaze, energetic demeanor and perfect posture give no hint of a life that's spanned 90 years. "I was one of the first people to move in here," she says with a strained smile. "I've seen 'em come, and I've seen 'em go. This is my community, my village."
Tanya Rhodes, a retired nurse, and her disabled daughter also call this place home, and have done so for the last 22 years. Louis Gates, a sturdy man with a steely glare, is a Vietnam vet who relocated here five years ago. Between nervous puffs on a cigarette, he expresses how happy he was when he moved in, and says sadly, "I thought this was going to be the last place I would move into." If the winds of fortune do not change soon, Gates, Rhodes and Green could join the burgeoning ranks of the city's homeless before summer.
Last Saturday all three were among a small but visible and vocal group of tenants and activists who braved jolts of high winds and rain for a noon rally outside of their building to protest pending evictions they claim the new owner, Lafayette Square Apartments LLC, has imposed on the occupants. They are mainly citizens who are sick, elderly, disabled, poor or living on fixed incomes; many are dependent on Section 8 vouchers to make rent. Boulevard Villa residents say they received a terse letter from Lafayette stating that it no longer wanted to deal with the bureaucratic hassles of Section 8 requirements and ongoing attempts to obtain rent increases.
Attempts to reach Lafayette LLC through Boulevard Villa's property management company were unsuccessful.  According to long-term renter Dexter Brownlee,  Lafayette had earlier told him it was not going to interfere with the Section 8 program and that he had "nothing to worry about." Brownlee is another vet and suffers from posttraumatic stress disorder. "I like this place," he says, "because it's quiet and everybody looks out after each other."
The new owner's action comes at an especially bad time in the city's continuing housing crunch, which isn't expected to abate any time soon. According to the rental website Zumper, rents in the city were up .7 percent for the first quarter of 2015. Zumper identifies Los Angeles as the ninth most expensive big city in the U.S. for renting, and still the least affordable. And to twist the knife further, Boulevard Villa residents say, they aren't even going to get relocation money.
"This building was constructed in 1984," says tenant organizer Leilani Zachary, "which makes it exempt from rent control restrictions and benefits, such as relocation funds, that apply only to buildings that were constructed before 1978."
As such, Boulevard Villa is not governed by the city's Rent Stabilization Ordinance (RSO), nor are its residents covered under relocation provisions of even the state's Ellis Act, which has been used in recent years to move out Californians by landlords seeking to gentrify neighborhoods. A Redfin listing for the property claims it was sold last December for $10,126,000.
"As a rule, tenants in non-RSO buildings do not have protections against eviction," a spokeswoman with the Los Angeles Housing Authority emailed Capital & Main. It is not clear, however, if rules pertaining to Section 8 housing could aid Boulevard Villa residents.

A while ago the renters, who have organized themselves into the Residents & Tenants Action Coalition for the People, took their grievances to a City Council meeting. Those interviewed Saturday, however, said they have not heard back from their Council District 10 Councilman, Herb Wesson, or the city.
During Saturday's demonstration, Boulevard Villa's on-site manager briefly emerged and asked the protestors to move off of the property, but he refused to comment on the evictions.
"These people don't have the money to move," Leilani Zachary says, ticking off a list of approximate costs involved to relocate: a credit check that runs between $35 and $50; the typical price of a one bedroom unit, $1,200 to $1,400, or a two–bedroom apartment for $1,500 to $1,700; rental deposits that can be twice the amount of the rent, plus $500 for cleaning fees. "Factor in moving costs and you are looking at around $5,000 dollars."
For Louis Gates and all of the others, the future looks grim and uncertain.
"I got my eviction notice a little over a month ago," he says dejectedly. "I have no idea where I can move to, or what to do next."
---
Photos by Lovell Estell III