L.A. Times: Will Union Vote Conk Tronc?
Today, over 350 Los Angeles Times reporters and editorial staff will vote on whether to allow NewsGuild CWA to represent them at the famously anti-union company.

---
Editorial staffers say they have been driven to unionize by a management that has undermined both working and journalistic standards.
---
Co-published by The American Prospect
Los Angeles Times

readers who have been unaware of the paper's endless management turmoil and policy changes can always view the damage in its print edition. Thinner news sections, a dwindling number of bylines and the wrap-around advertising that disguises the front-page all hint at the ongoing upheaval at the top.
Front-line reporters who bear the brunt of the turmoil have organized a union drive in response. As the Los Angeles Times Guild organizing committee announced in an October 24th 2017 letter signed by 44 editorial staff: "We wanted to stem the flight of talent and halt the steady erosion of pay and benefits."
It's the first time in the famously anti-union paper's history that editorial staff members have taken such a step — driven, they say, by a management that has undermined both working and journalistic standards. (The Times' press operators are represented by the Teamsters union.)
Today, over 350 Los Angeles Times reporters and editorial staff will vote on whether to allow NewsGuild CWA to represent them. About 70 percent of the newsroom signed union authorization cards, organizers say. Voting takes place at the Times' downtown headquarters and at its Orange County offices, with observers in place; some remote employees will submit mail-in ballots. The National Labor Relations Board will release the results January 19.
Organizers want a unified voice to formally
 

set work standards so Tronc can't make unilateral changes to employment conditions — such as the recent policy shift that eliminated accrued vacation days.

"What really kicked this off was, as we're dealing with this tumult at the executive levels, the reporters are still doing the work," said Carolina Miranda, who has seen management change at least three times in the three and a half years she has been at the paper.

One pivotal moment came recently when it became public that Michael W. Ferro, the technology entrepreneur and company chairman who changed the Tribune name to Tronc (Tribune online content), flies on a private plane that cost Tronc $4.6 million–$8,500 an hour– in seven months to sublease. The plane is subleased from a Ferro-owned company, Merrick Ventures.

"That tipped wavering [employees] toward the union," said one L.A. Times journalist who, like most staffers interviewed by Capital & Main, spoke on condition of anonymity.

According to another Times staffer, one incident that roiled editorial staff—and much of the industry–was management's behavior during a recent stand-off with the Walt Disney Company. Disney refused to provide advance copies or screenings of films to the L.A. Times because of the paper's two-part series about the cozy business relationship between the city of Anaheim and Disneyland that has garnered the theme park more than $1 billion in "subsidies, incentives, rebates and protections from future taxes." Disney found the stories unfair.

An L.A. Times staffer cited management's tepid response as a turning point. National critics associations condemned the ban and threatened to disqualify Disney films from awards consideration. D'Vorkin met with Disney for what it called "productive discussions," although the Times offered no public defense for the reporting that had sparked Disney's ire.

Part of the paper and website's chaos is evidenced in the kinds of cuts and changes in workplace conditions that have become common in newsrooms around the country as publishers grapple with changing technological models and a shifting economic landscape. In Southern California, the LA Weekly's new owner recently eliminated all but four of 13 editorial staff members; former OC Weekly editor Gustavo Arellano resigned after refusing to cut staff.

"We're the eyes and ears of the community," Carolina Miranda said of the pressure to keep reporter staffing levels low. "You need someone writing about the water. You need someone writing about electeds, sitting in interminable City Hall and CalTrans meetings. That's where the news comes from. It's important to protect our role in that ecosystem."

L.A. Times employees describe several more clear turning points in a years-long, accelerating momentum toward unionization. In 2016 the Chicago-based Tribune company, which had acquired the paper in 2000, announced its name change to Tronc, along with its mission as a "content curation and monetization company."

In August 2017 Tronc fired publisher and editor Davan Maharaj. Newsroom staff hadn't been that happy about Maharaj's management style, given his predilection for encumbering and delaying some of the Times' best reporting. The staff organized against him after "fabulous journalists, one after the other, kept leaving," one union supporter said.

The organizers had high hopes that a new editor would promote quality journalism. Then Tronc brought in Ross Levinsohn, formerly an interim chief executive at Yahoo, as chief executive publisher, and former Forbes editor Lewis D'Vorkin, as editor.

The emphasis, Levinsohn told the New York Times, would not be on investing in reporting staff but to expand the L.A. Times on "all platforms." New management pushed for budget cuts.

Organizers are looking to create a unified voice to set work standards and formally codify them so Tronc can't make unilateral changes to employment conditions — such as the recent policy shift that eliminated accrued vacation days. They also hope to stabilize the pay structure with a tiered approach that gradually increases pay for new hires as well as to improve health benefits and parental leave policies.

Union contracts also frequently include grievance processes that protect journalists' freedom to report and write by assuring that terminations are for just cause rather than "at will" whims.

"We hope it will unify the newsroom behind quality journalism instead of watching one person after the other leave," said one staffer who signed on to the October 2017 letter. The publications that will survive have invested in maintaining quality, she added, citing the Washington Post and New York Times. (Editorial staff from both publications are part of the NewsGuild's 25,000 nationwide members.)

NewsGuild organizers describe push-back from L.A. Times management as "primitive stuff."

The Los Angeles Times responded to a request for comment about the union drive via email with a statement from L.A. Times CEO and publisher Levinsohn. "For 136 years, the Los Angeles Times has served the community of Los Angeles and the world with dynamic, important and Pulitzer Prize winning journalism. It is the core foundation of our brand. Whether our newsroom unionizes or not, we will remain committed to ensuring the L.A. Times is a leading source for news and information across all media touchpoints."

Felix Gutierrez, professor emeritus at the University of Southern California's Annenberg School for Communication and Journalism, who writes about media and racial, ethnic and gender groups, has followed the L.A. Times development for decades as the paper, he said, focused on expanding toward white suburbs and "bypassing other communities. If they had adapted a demographic imperative as aggressively as they grasped the technological, they could be in a different place right now.

"The reporters are closer to what's happening in the communities than the higher-ups. They should listen to them. I don't know if they'll do that without a union."
---
Copyright Capital & Main
Two Cousins and a Magical Ice Cream Truck Figure in Leon Martell's New Play
Although not all of ICE's comedy clicks, Martell's story has both weight and charm. The production's overriding plus is its successful rendering, fashioned with humor and craft, of the difficulties immigrants face.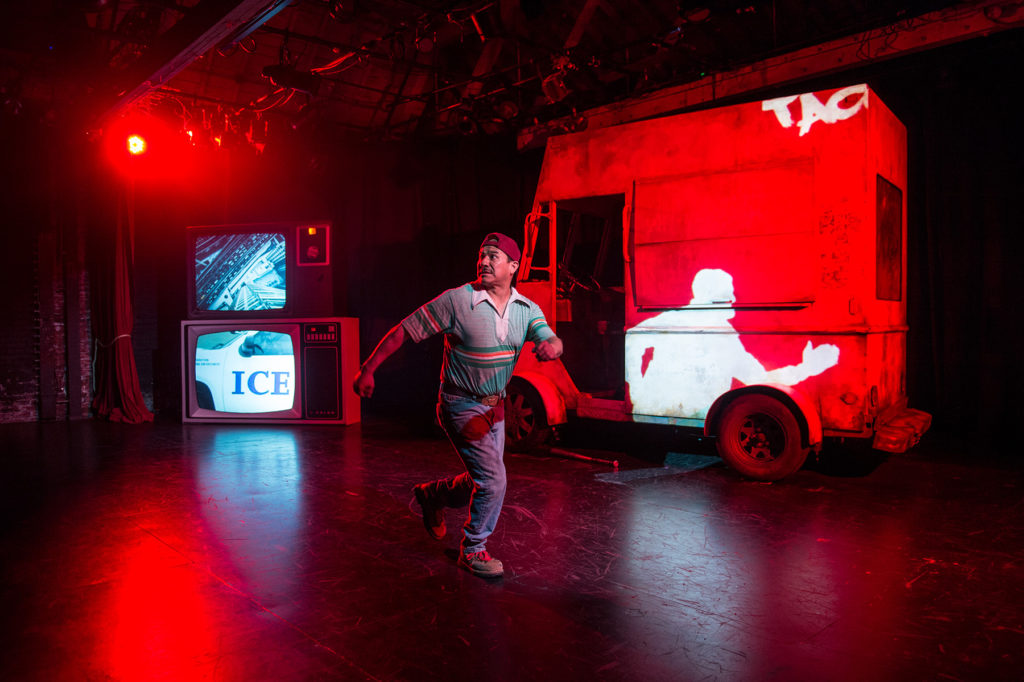 ICE, Leon Martell's family friendly play, takes place in 1988 and follows the misadventures of two undocumented immigrants: Chepe (Jesús Castaños-Chima), an avid baseball fan who dreams of making a fortune selling gourmet tacos; and his cousin Nacho (Tony Dúran), whom the beleaguered Chepe summons from Mexico to assist him in setting up his business. Directed by Debbie Devine at 24th Street Theatre, the show displays plenty of heart, not all of it realized in this premiere production. Despite this, there's enough political relevancy, moral truth and human comedy packed into the show's 65-minute time frame to overlook its shortcomings.
The core of the humor is the difference in personality between the two cousins. The ambitious Chepe is bitter and frustrated about his experience in America, where he's been cheated and lied to by bosses who exploit his labor and pay him next to nothing. Yet he's bought into the American Dream of money and fame, and to achieve that he's purchased a dilapidated old ice cream van to convert into a taco truck. It doesn't run, though, and the secret family salsa recipe is with his kin in Mexico. So, he phones home and implores his mechanic cousin to head north, bringing the salsa recipe as well as his skills.
Cousin Nacho, by contrast, is a sweet old-fashioned guy. He wants success too, but making money isn't the only thing he thinks about. He juggles tomatoes to make kids laugh and indignantly admonishes Chepe for his desperate inclination to do what it takes (steal tomatoes, for example) to score success.
Into the mix Martell tosses a blind, disgruntled priest (Davitt Felder), who plays guitar and wants to launch English classes for children in his parish (the archdiocese turns him down). Then there's Chepe's truck, which has opinions of its own. It breaks out in jingles at random intervals; later, it communicates with Nacho via blinking red letters that eerily appear on the side of the vehicle, furnishing the two men with simple directives and essential advice. When ICE (Immigration and Customs Enforcement) shows up, it alerts them to run.
Although not all of the comedy clicks, Martell's story has both weight and charm. The production's overriding plus is its successful rendering, fashioned with humor and craft, of the difficulties immigrants face. Its main weakness is Castaños-Chima's technically skilled but somewhat chilly depiction of his character, which leaves us wishing for more warmth and complexity. Felder appears awkward in his role of the blind priest, but proves versatile on video as Chepe's various nemeses. Dúran's naïve Nacho is a lovable presence from first to last.
Displayed on a monitor, Matthew G. Hill's video slides add historical and social perspective, and his backwall projections, in tandem with Dan Weingarten's lighting and Chris Moscatiello's sound, help conjure a magical aura to this parabolic piece.
24th Street Theatre, 1117 West 24th St., Los Angeles; Sat., 3 & 7:30 p.m.; Sun., 3 p.m.; through June 10, (213) 745-6516 or 24thstreet.org.
---
Copyright Capital & Main