L.A. Times: Will Union Vote Conk Tronc?
Today, over 350 Los Angeles Times reporters and editorial staff will vote on whether to allow NewsGuild CWA to represent them at the famously anti-union company.
---
Editorial staffers say they have been driven to unionize by a management that has undermined both working and journalistic standards.
---
Co-published by The American Prospect
Los Angeles Times

readers who have been unaware of the paper's endless management turmoil and policy changes can always view the damage in its print edition. Thinner news sections, a dwindling number of bylines and the wrap-around advertising that disguises the front-page all hint at the ongoing upheaval at the top.
Front-line reporters who bear the brunt of the turmoil have organized a union drive in response. As the Los Angeles Times Guild organizing committee announced in an October 24th 2017 letter signed by 44 editorial staff: "We wanted to stem the flight of talent and halt the steady erosion of pay and benefits."
It's the first time in the famously anti-union paper's history that editorial staff members have taken such a step — driven, they say, by a management that has undermined both working and journalistic standards. (The Times' press operators are represented by the Teamsters union.)
Today, over 350 Los Angeles Times reporters and editorial staff will vote on whether to allow NewsGuild CWA to represent them. About 70 percent of the newsroom signed union authorization cards, organizers say. Voting takes place at the Times' downtown headquarters and at its Orange County offices, with observers in place; some remote employees will submit mail-in ballots. The National Labor Relations Board will release the results January 19.
Organizers want a unified voice to formally
 

set work standards so Tronc can't make unilateral changes to employment conditions — such as the recent policy shift that eliminated accrued vacation days.

"What really kicked this off was, as we're dealing with this tumult at the executive levels, the reporters are still doing the work," said Carolina Miranda, who has seen management change at least three times in the three and a half years she has been at the paper.

One pivotal moment came recently when it became public that Michael W. Ferro, the technology entrepreneur and company chairman who changed the Tribune name to Tronc (Tribune online content), flies on a private plane that cost Tronc $4.6 million–$8,500 an hour– in seven months to sublease. The plane is subleased from a Ferro-owned company, Merrick Ventures.

"That tipped wavering [employees] toward the union," said one L.A. Times journalist who, like most staffers interviewed by Capital & Main, spoke on condition of anonymity.

According to another Times staffer, one incident that roiled editorial staff—and much of the industry–was management's behavior during a recent stand-off with the Walt Disney Company. Disney refused to provide advance copies or screenings of films to the L.A. Times because of the paper's two-part series about the cozy business relationship between the city of Anaheim and Disneyland that has garnered the theme park more than $1 billion in "subsidies, incentives, rebates and protections from future taxes." Disney found the stories unfair.

An L.A. Times staffer cited management's tepid response as a turning point. National critics associations condemned the ban and threatened to disqualify Disney films from awards consideration. D'Vorkin met with Disney for what it called "productive discussions," although the Times offered no public defense for the reporting that had sparked Disney's ire.

Part of the paper and website's chaos is evidenced in the kinds of cuts and changes in workplace conditions that have become common in newsrooms around the country as publishers grapple with changing technological models and a shifting economic landscape. In Southern California, the LA Weekly's new owner recently eliminated all but four of 13 editorial staff members; former OC Weekly editor Gustavo Arellano resigned after refusing to cut staff.

"We're the eyes and ears of the community," Carolina Miranda said of the pressure to keep reporter staffing levels low. "You need someone writing about the water. You need someone writing about electeds, sitting in interminable City Hall and CalTrans meetings. That's where the news comes from. It's important to protect our role in that ecosystem."

L.A. Times employees describe several more clear turning points in a years-long, accelerating momentum toward unionization. In 2016 the Chicago-based Tribune company, which had acquired the paper in 2000, announced its name change to Tronc, along with its mission as a "content curation and monetization company."

In August 2017 Tronc fired publisher and editor Davan Maharaj. Newsroom staff hadn't been that happy about Maharaj's management style, given his predilection for encumbering and delaying some of the Times' best reporting. The staff organized against him after "fabulous journalists, one after the other, kept leaving," one union supporter said.

The organizers had high hopes that a new editor would promote quality journalism. Then Tronc brought in Ross Levinsohn, formerly an interim chief executive at Yahoo, as chief executive publisher, and former Forbes editor Lewis D'Vorkin, as editor.

The emphasis, Levinsohn told the New York Times, would not be on investing in reporting staff but to expand the L.A. Times on "all platforms." New management pushed for budget cuts.

Organizers are looking to create a unified voice to set work standards and formally codify them so Tronc can't make unilateral changes to employment conditions — such as the recent policy shift that eliminated accrued vacation days. They also hope to stabilize the pay structure with a tiered approach that gradually increases pay for new hires as well as to improve health benefits and parental leave policies.

Union contracts also frequently include grievance processes that protect journalists' freedom to report and write by assuring that terminations are for just cause rather than "at will" whims.

"We hope it will unify the newsroom behind quality journalism instead of watching one person after the other leave," said one staffer who signed on to the October 2017 letter. The publications that will survive have invested in maintaining quality, she added, citing the Washington Post and New York Times. (Editorial staff from both publications are part of the NewsGuild's 25,000 nationwide members.)

NewsGuild organizers describe push-back from L.A. Times management as "primitive stuff."

The Los Angeles Times responded to a request for comment about the union drive via email with a statement from L.A. Times CEO and publisher Levinsohn. "For 136 years, the Los Angeles Times has served the community of Los Angeles and the world with dynamic, important and Pulitzer Prize winning journalism. It is the core foundation of our brand. Whether our newsroom unionizes or not, we will remain committed to ensuring the L.A. Times is a leading source for news and information across all media touchpoints."

Felix Gutierrez, professor emeritus at the University of Southern California's Annenberg School for Communication and Journalism, who writes about media and racial, ethnic and gender groups, has followed the L.A. Times development for decades as the paper, he said, focused on expanding toward white suburbs and "bypassing other communities. If they had adapted a demographic imperative as aggressively as they grasped the technological, they could be in a different place right now.

"The reporters are closer to what's happening in the communities than the higher-ups. They should listen to them. I don't know if they'll do that without a union."
---
Copyright Capital & Main
The Power of the Poster
Carol Wells, the founder of the Center for the Study of Political Graphics in Los Angeles, talks to Capital & Main about the enduring power of political art.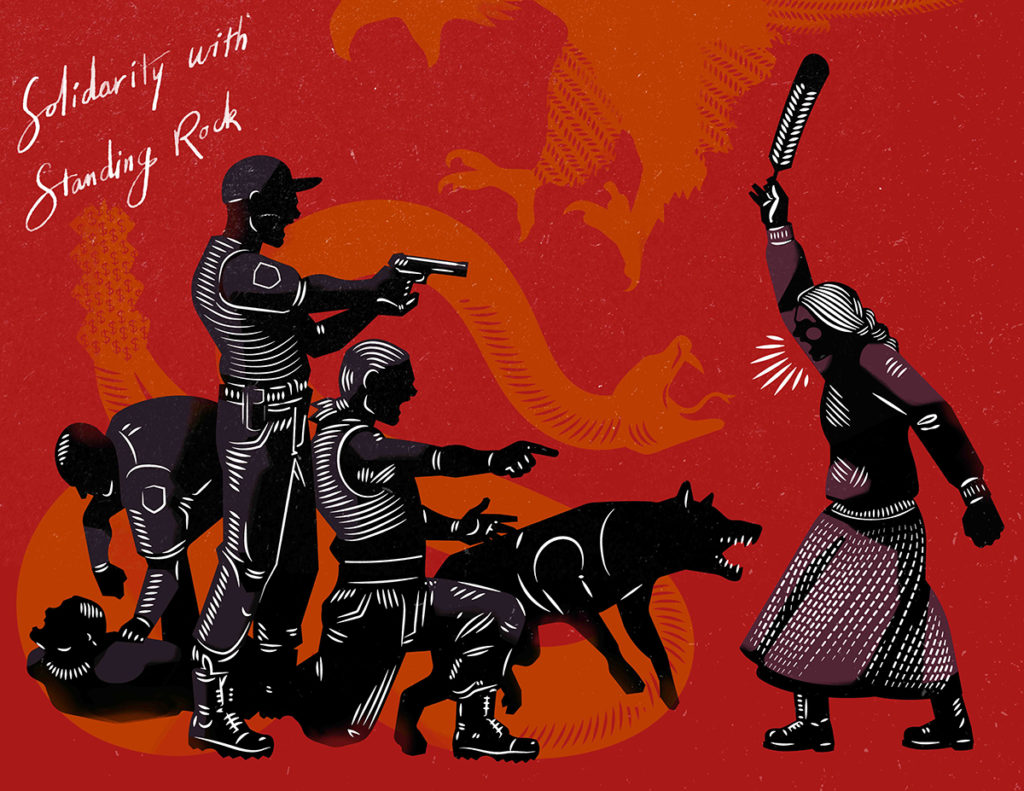 Carol Wells remembers the exact moment she discovered her calling. An art historian at the time, she was on a trip to Nicaragua with her friend David Kunzle, a UCLA art history professor, who was collecting political posters to add to his burgeoning collection. While staying with friends, Wells watched a neighbor's 8-year-old son approach a poster on the wall, stare at it intently, and then start to silently mouth the words. Wells was struck by how engaged the boy was. "In that moment I became obsessed with collecting posters."
Now over 40 years later, Wells is the founder and executive director of the Center for the Study of Political Graphics in Los Angeles. Wells has amassed approximately 90,000 posters, building one of the largest collections of its kind in the world. The Center shares its collection with the public in part through curated exhibits. This year the CSPG has produced Feminae: Typographic Voices of Women by Women and its latest is To Protect & Serve? Five Decades of Posters Protesting Police Violence, running through July 15 at the Mercado La Paloma in downtown Los Angeles.
Since that encounter in Nicaragua in 1981, Wells' obsession with collecting posters hasn't waned. In CSPG's nondescript West L.A. office space, Wells pulls out poster after poster, lecturing passionately on the backstory and cultural impact of each, including one that superimposes text from a New York Times interview with a shocking image of the My Lai massacre ("Q: And babies? A: And babies."). Recently, she managed to sit down with C&M to discuss her passion.
---
Capital & Main: So, you were an art history professor, you happen to see a kid on a trip, and suddenly your life was changed forever?
Carol Wells: Yeah, I'm in Nicaragua alone in the living room with this kid. He's looking around, and all of a sudden, he sees the poster. It was pretty big, bright green, a thick outlines of a woman holding a big basket of coffee beans. And the text in Spanish said, "In constructing the new country, we are becoming the new woman." I see him walk over to the poster and I'm watching him mouth the words. It was a pretty sophisticated concept, so I doubt he figured it out. But I literally had this epiphany: "Oh my God. That's how posters work." You're going about your daily life, and all of a sudden something breaks through the bubble, and it grabs your attention. It's the graphic, it's the color, it's the combination, and it pulls you out of your head and into that poster and it makes you ask a question. "Why is this here? What is this about? What does this mean?" And every time you ask a question, you're a different person than you were before you asked the question.
How many posters do you get a year?
We get between two to five thousand a year donated from all over the world. The bulk of our collection is [from] 1945 and later.
I assume technology has probably hurt the art form, but has it helped get the messages out?
Most people think that, and it's actually not true. Since the internet age started, there's actually a poster renaissance of works on paper. Because you can't walk with your computer monitor in a demonstration. You can't plant your monitor on your lawn.
And you can't put a laptop on the wall…
Exactly. You want to hear a really great story? Truthdig.org published a cartoon [made by] a political cartoonist named Mr. Fish. It was during the Arab spring, and he had superimposed Che Guevara with the stylized beard and King Tut's face, but it had Che's beret. And it [was titled], "Walk like an Egyptian." So, it was a reference to the music, but [it was also] a reference to what was going on the streets of Cairo. I sent it out as our poster of the week to 9,000 people. The very next day, somebody took a photograph on the street of Cairo, with somebody holding a piece of paper with that image on it. A poster can literally go around the world and people will print it out.
What struck me in viewing your exhibits is how many of these posters could still be used today, not only artistically but also, sadly, in the timeliness of their messages.
We had this fabulous poster by Yolanda Lopez, a Bay Area artist, which she first did in 1978. It depicts a young man in Aztec garb pointing a finger like Uncle Sam saying, "Who's the illegal alien, PILGRIM?" And it's a great poster, it's simple, not too many words, funny, provocative. So, we had an exhibit at UCLA in the mid '90s and there were 4 or 5 high school students standing around this poster saying, "Wow, you've got posters up to the minute." And I went over to them and I said, "Look at the date. This is before you were born."
Is that one of your goals with the exhibitions? To show the evergreen nature of this work?
Absolutely. I mean that's why we did the police abuse exhibition now. It basically goes back five decades. It's 50 years of posters protesting police abuse. Mainly in the United States, but also internationally.
What's the goal for CSPG?
Well the aim right now is really to digitize the collection and get it online. We have 10% of the collection digitized. But the mission is to collect and to document, because stories get lost. All the exhibitions, they're showing massacres, they're showing genocide, they're showing police abuse, they're showing all of these horrible things. And people often ask me, "How can you look at this stuff all day long?" I said, "Because the poster artists are optimists. They believe people can change if they have the information."
Yes, that's the reason why they're doing it, right?
That's why they're doing it, and that's why I'm doing this, because I believe that people can change if they knew the truth.
And what happens 20, 50 years from now?
Well, my goal is to stay independent, because the other option is to become part of the university. Universities, for all the fabulous things that they do, they also censor. We did an exhibition at USC in 1992 on the 500 years since Columbus, and how the legacy of racism and exploitation and genocide continues. And one of the board of trustees was Italian and took [the exhibit] as an affront to Columbus. It really wasn't about Columbus, it was about colonialism. And he ordered it down.
Do you have a favorite poster?
I'm always amazed at the creativity and vision of artists. Every week I'll say, "Oh my God, how do they think of that?" But it's always still going to be the poster I saw that kid trying to figure out. It has to be my favorite one because that one changed my life.
What makes a perfect poster?
The right balance between aesthetics and message. If you only rely on the corporate press, the New York Times and L.A. Times, for your information, you're not going to get the side from the street, from the movement, from the activists. The posters are primary historical documents that are recording the issues that were at the time, and the passions that were at the time, and the divisions that were at the time. You're not going to get it anyplace else.
---
Copyright Capital & Main