Kevin James: Restore City Services and Voter Involvement
Yesterday we published Part One of a conversation with mayoral hopeful Kevin James, continuing our interviews with Los Angeles' front-running candidates. James is an entertainment lawyer and talk-show host, who has previously served as a U.S. prosecutor and AIDS Project Los Angeles co-chairman. (The series' interviews, which have been edited for clarity, include Eric Garcetti, Parts One and Two, and Wendy Greuel, Parts One and Two.)
Frying Pan News: Your campaign's main selling point is that you are not a City Hall insider, that you have no institutional connection to the city's budget problems. Other than this, why should Angelenos vote for you?
Kevin James: Neighborhoods across our city believe that this City Council has shut them out, that they don't have a voice. We need an entirely new way of thinking about providing city services, about providing a city government that is open and honest and accountable and transparent. Where the private sector has a voice again and where everyday Angelenos from across the city feel like they're welcome. Because they don't feel welcome if they're dealing with the City Council as a whole and they certainly don't feel welcome if they're dealing with the Housing Department or the Building and Safety Department, or they're trying to open a business and they have to deal with 10 or 12 different departments.
FPN: Is there a prevalent philosophy among your opponents that unites them?
KJ: I don't blame my opponents for the national economy and for the recession of 2008. What I do blame them for is the 2007 decision that they made to provide significant raises to our city employees. They've continued to provide raises to city employees even though the city's been in deficit year after year. We were in a deficit of $200 million-plus in 2007 when they made the decision to provide the raises that they did. That's Exhibit A in the difference of philosophies. If the city's in a deficit I don't care what the projections are – at that point I'm not going to provide any raises to our city employees. I would seek a temporary revision of [those] raises.
FPN: Some would take that to mean you want to balance the budget on the backs of employees who by and large might not make that much money.
KJ: The other side is that you are trying to balance the budget, as my opponents have been doing, by destroying city services. There's a reason we have the second-worst roads in America – that we have busted sidewalks and that water mains are popping up all over the city and causing sinkholes. It's because my opponents have been raiding special revenue funds to pay raises.
I will ask our city employees to invest in our future by foregoing the future raises – the latest numbers from the L.A. Times indicate that's $167 million in savings [with which to] rebuild the private sector. I will need the ability to remove the gross receipts tax – not the business tax altogether – so that the private sector can operate in our city, so existing businesses will stay and new businesses will come.
One of the things I tell our city employee union leadership is that for us to have a healthy city to pay you a great wage and to provide a sound retirement plan, we have to have a healthy private sector. Without it none of it works. Because all the feeders into the general fund come from a healthy private sector. The business tax, the sales tax and the utility-users tax, the documentary transfer tax and the hotel occupancy tax, the parking tax and all of the fees and fines, and things that go along with it, come from a healthy private sector. If we continue to be hostile toward private industry then we are going to continue to see our budget deficits grow.
FPN: Public hostility toward government and its representatives is at an all-time high. As mayor, how would you specifically draw in Angelenos to the process of participatory democracy?
KJ: The first thing I'll do as mayor is spend a little time in town — the current mayor is gone too much. When Angelenos don't see results from their city government, when they see city services being slashed, when they feel their voice is not heard, they're less likely to participate. I'm going to hold regular town halls with a number of groups across the city, with neighborhood council board members to provide people incentive to get involved with their neighborhood council system. We'll hold town halls with parents of [L.A. Unified School District] students to talk about education issues in a way that's somewhat independent of the district.
I'll also go back on the air as mayor and do a weekend [radio] show, to provide an outlet for Angelenos to have a discussion to hear their ideas for a better Los Angeles. So we can hear about the problem in their neighborhood that hasn't been dealt with, to hear about the city department that they want to see improvement in. I'll make the department heads accessible on air and in the town hall meetings.
FPN: Would the creation of good jobs be on your agenda?
KJ: Of course it will. The creation of good jobs leads to the growth of great jobs. We have a shockingly high unemployment rate – it's 50 percent higher than the national average. You can't just blame the national economy. We have to bring back private business into Los Angeles and that means small businesses as much as anything. We have to bring Hollywood home. We have seen the exit of a significant part of an entire industry because the state and Los Angeles have allowed other states and countries to better compete for the entertainment jobs. We sat on our hands thinking because the foundation of the entertainment industry is here that we don't have to compete. I've been a lawyer in the entertainment industry for about 20 years and I know first-hand that when industry is working in Los Angeles, numerous other jobs and businesses thrive. I want to work with unions and studios so that independent film producers can make independent production more affordable.
FPN: The entertainment industry's craft jobs are very good, middle-class jobs. But so many jobs in Los Angeles are minimum-wage jobs. Can you somehow turn those kinds of low-paying jobs into more sustainable jobs?
KJ: If we focus on trade, technology, tourism, entertainment and small businesses you will see a marked increase in the level of jobs that are available in Los Angeles. Los Angeles used to be a destination city for young people, but we've been so hostile to business. Startups don't want to come to Los Angeles because of the gross-receipts tax and the inability to work with a welcoming City Hall. We had the chance to be the center of the Internet industry but it went north to Silicon Valley.
We need to do a few things to make the city a bit friendlier to our tourists. They make a two-minute mistake at a parking meter and end up with a $73 fine – it leaves a bad taste in their mouth. It also chases away customers who are residents. So many people who get tickets don't pay them because they're so high and hope they'll go away. By lowering our parking ticket fines instead of raising them – which my opponents have done, six times in seven years – we'll see our parking ticket revenues go up because more people will be able to pay a $25 or $30 ticket.
FPN: Do you support the Clean Truck Program at L.A.'s port?
KJ: I do. But my concern is that we are chasing away independent truckers and companies. Let's make it easier for them to comply with the emissions requirements that we have. If we don't do something to keep business in the Port of Los Angeles, it'll be at risk because of the expansion of the Panama Canal and the deep water port in Ensenada that we're going to have to compete with. We have environmental regulations on emissions that I support but we can meet our environmental standards without chasing shipping companies away. Ships are [now] going to be required to retrofit for plug-in capacity, which will be $2 million to $2-and-a-half-million per ship and that's chasing companies away. Plug-in is already a problem because when these ships plug in it's a drain on the DWP power grid and there's a risk of creating brownouts in the harbor and in San Pedro. But there's an alternative available right now called the Advanced Maritime Emission Control System and they use it in the Long Beach Port. It's a bonnet that captures ship emissions without having the ships plug in.
The solution I propose for the port enables us to have a cleaner port and to be able to better compete with the East Coast ports and with other West Coast ports. So you've married the environment and the economy and good union jobs with good technology.
There are other issues related to the port that are very important. We have got to find a better way to move goods off ships – we can reduce truck trips through Green Rail Intelligent Development that would take numerous truck trips off the road and provide additional jobs in the port by increasing its capacity.

Rick Scott Super PAC Donations Challenge Federal Anti-Corruption Rule
Co-published by Fast Company
The Florida governor led a group that raked in cash from Wall Street firms after Scott's administration gave them pension deals.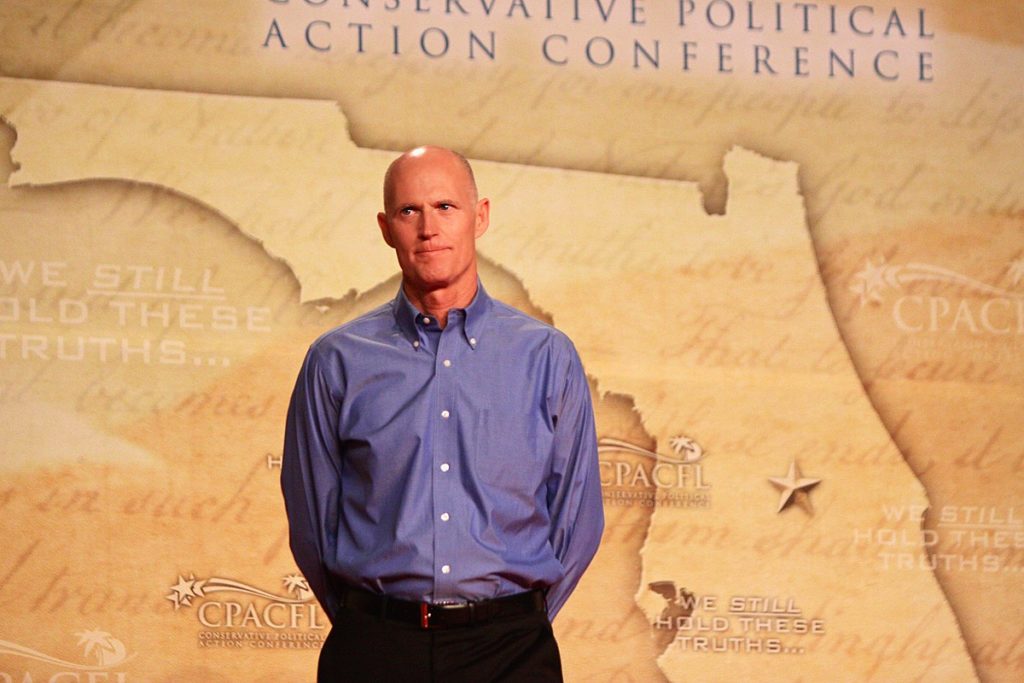 Co-published by Fast Company
A super PAC led by Florida Gov. Rick Scott raked in donations from two private equity executives after Scott's administration directed lucrative state pension investments to their firms, according to government records reviewed by MapLight and Capital & Main.
The donations were made to a committee that's now supporting Scott's U.S. Senate bid, despite a federal rule designed to prevent financial firms from bankrolling the election campaigns of public officials who oversee state pension investments.
Scott, a Republican, began chairing the New Republican PAC in May 2017 and announced his former campaign manager would serve as its executive director. Soon after, the group received $5,000 from New Mountain Capital Chief Executive Officer Steve Klinsky and $50,000 from Energy Capital Partners founder Douglas Kimmelman.
The contributions flowed to the super PAC after New Mountain Capital and Energy Capital Partners received a combined $250 million worth of new investment commitments from Florida's state pension system in 2014 and 2015. Scott is one of three state officials who oversee the $160 billion pension system. During the most recent fiscal year, the Florida investments generated more than $3 million in fees for the firms.
A 2010 Securities and Exchange Commission (SEC) rule prohibits firms from receiving investment fees from public pension systems if their executives donate campaign cash to pension overseers like Scott. SEC officials aimed to prevent investment decisions from being shaped by political influence.
But the commission didn't explicitly bar donations to "independent" political groups, unless the donations were deliberately designed to circumvent the restrictions. And it hasn't addressed whether a state official can lead a super PAC that received donations from firms with pension business and later be supported by the super PAC.
John Kuczwanski, a spokesperson for the Florida State Board of Administration, told MapLight/Capital & Main that Florida's first investments in the two private equity firms happened in 2005 and 2009, and he said Scott had nothing to do with new investments during his governorship, which started in 2011.
"The [state's] initial relationships with both managers predate Governor Scott's time in office," said Kuczwanski, whose agency manages the day-to-day operations of the pension system. "Neither the trustees, nor their appointed investment advisory council members are involved in the investment manager/fund selection process."
Scott's campaign and the super PAC did not respond to questions from MapLight/Capital & Main. New Mountain Capital and Energy Capital Partners did not return requests for comment.
Energy Capital recently completed the purchase of Calpine, whose natural gas power plant near Tampa is regulated by Scott's appointees at the Florida Public Service Commission. Kimmelman, who is now a director of Calpine, also donated $35,000 in 2017 to the National Republican Senatorial Committee, which is backing Scott's Senate campaign.
"A Very Clear Case"
Under the SEC rule — which GOP state parties have tried to overturn — investment executives are not prohibited from donating to independent political groups. But the rule allows regulators to apply restrictions to donations that are deliberately routed through third parties in order to support public officials — a situation that critics argue is happening with Scott and his super PAC.
After the governor announced his Senate bid last week, New Republican PAC's website began promoting his candidacy. End Citizens United, a Democratic-leaning political action committee based in Washington, DC, filed a complaint alleging that Scott has violated Federal Election Commission rules and is using the super PAC, which can accept unlimited donations, to evade contribution limits. Scott's campaign says he stepped down as New Republican PAC's chair in February.
In writing the original rule, SEC officials noted that while they could not restrict all donations to political action committees, contributions to third parties "may effectively operate as a funnel to the campaigns of the government officials." They said the final rule "prohibits acts done indirectly, which, if done directly, would violate the rule."
One ethics expert said that those anti-circumvention provisions should apply to the donations to Scott's super PAC.
"This appears to be a very clear case of close coordination and circumvention of the pay-to-play rule," said Craig Holman, an ethics lobbyist at the government watchdog group Public Citizen. "This is something that I'd like the SEC to pay attention to."
"No Loopholes"
The SEC has only occasionally enforced the pay-to-play rule, and the agency hasn't applied the provisions dealing with third parties to donations to super PACs. Because Scott is a sitting governor who can influence pension investments, he is covered by the rule, which has hampered the fundraising of past governors who tried to run for federal office.
A spokesman for former Texas Gov. Rick Perry's presidential campaign said the rule prevented him from raising enough money to be competitive in the 2012 race. Bloomberg reported that during the same election cycle, then-New Jersey Gov. Chris Christie was rejected as the vice presidential nominee, partly because Republicans feared the rule would prevent them from raising money from Wall Street firms that do business with his state's pension system.
"There is no way around it, and there are no loopholes," said Bill Palatucci, Christie's longtime advisor.
Even so, in recent years the rule has not deterred financial executives from donating to groups that help lawmakers who can influence pension investments. Financial executives whose firms received New Jersey and New Mexico investments continued to donate to the Republican Governors Association (RGA) when Christie and New Mexico Gov. Susana Martinez led the group. During the 2016 election cycle, executives at firms managing state pension money donated nearly $1.3 million to the GOP association, even as the group boosted the campaigns of Republican governors with power over state pension investments.
Last year, U.S. Sen. Tom Udall, D-N.M., called for the SEC to apply the pay-to-play rule to outside groups "to ensure that no one is able to circumvent these laws by using super PACs, dark money groups or other campaign spending vehicles." The RGA has argued that because it funds multiple candidates and does not allow donors to earmark contributions for particular races, it can accept donations from firms with investment business that can be influenced by individual governors. The SEC said in 2016 that donations to outside political groups "are independent expenditures that do not trigger" the rule.
"So long as the PAC faithfully observes the requirement to operate independently of candidates, a contribution to a super PAC will not trigger the [rule], even if the super PAC supports a covered official," Sam Brown, a former advisor to Federal Election Commissioner Ellen Weintraub, wrote in 2016. "Super PACs are increasingly being used in novel ways, and it remains to be seen whether these changes will result in increased circumvention risks."
---
This story is a collaboration between MapLight and Capital & Main.