Kevin James on Bringing Businesses Back to Los Angeles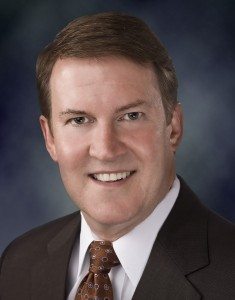 We continue our series of interviews with Los Angeles' front-running mayoral candidates, with the first part of a talk with Kevin James, an entertainment lawyer and talk-show host, who has previously served as a U.S. prosecutor and AIDS Project Los Angeles co-chairman. (The interviews, which have been edited for clarity, include Eric Garcetti, Parts One and Two, and Wendy Greuel, Parts One and Two.)
Frying Pan News: What do you believe is the role of government in addressing the inequities of the free market system?
Kevin James: A mayor should not shy away from addressing inequality. I was [a] chairman for many years of AIDS Project Los Angeles and part of the work we did was to provide a better life for people who were struggling in theirs — to find a way with the private and public sectors to obtain assistance for people who needed our help. I think that the free market can be a complement to what government needs to do to help those most in need.
FPN: Would you support a requirement as mayor that residents and elected officials have a say over whether stores like Walmart can open up in their community?
KJ: Absolutely. I've always maintained that the decision for any kind of development in a community has to be made in partnership with that community. I've supported Walmart going into Chinatown – it's a neighborhood market, not a big-box superstore, and the community wanted it. I'm not going to turn away any private employer who wants to come to the City of Los Angeles. We need jobs and there are communities that need low-cost, budget items. I'm not going to turn away 99 Cents [Only] Stores, Walmarts or Targets just because they're unpopular with some – I'm going to let the community make that decision.
FPN: So it's not the role of mayor to block a Walmart from coming in?
KJ: No. My opponents have signed pledges against Walmart but I'm not going to say to any private employer who wants to come to our city and open a legal business that Los Angeles is not available to you.
FPN: Can a mayor influence the regional economy and if so, how would you do that?
KJ: Of course, and let me point out where else I differ from my opponents. I have not supported Farmers Field in downtown Los Angeles. My support is for the Los Angeles stadium in the City of Industry, which benefits the entire region. My concern with the deal they've cut at Farmers Field is that there is real risk to the taxpayer in Los Angeles. And I am a huge football fan and do want to see football brought back to Southern California, but the Farmers Field deal is not the best deal for the city and the region.
I also believe that we should allow Ontario to control its own airport. Ontario has a much better feel for what works for their airport than LAWA [Los Angeles World Airports]. Los Angeles has to be a better partner to its neighbors.
FPN: What is your assessment of City Administrative Officer Miguel Santana, who has come under criticism for targeting workers to balance the budget?
KJ: I don't think your terminology is fair – that Miguel Santana is "targeting workers." He's trying to do his job. He works to provide, in a tough political environment, an honest assessment of where we are fiscally – and we're not getting that from the city's elected officials. About keeping him, it's just too early to answer that question. Every department head is going to have to reapply for their job.
Miguel Santana is certainly going to receive strong consideration from me. I do believe he has done his best and he has not been afraid to go toe to toe with very powerful political interests – and that's something that's attractive to me.
FPN: What is your position on privatizing the operation of the Convention Center and privatizing city services in general?
KJ: If the city can provide a critical service, it should do that. But there are some city services whose privatization would be something that would be prudent to look in to. Part of what we can do with the Convention Center is work through a public-private partnership to better run [it]. There's no reason why Los Angeles should not be a Top Five destination city.
Another area where a public-private partnership should be considered is with the Los Angeles Zoo. What we cannot do is privatize critical services like police and fire. What makes me nervous about the fiscal mismanagement of the city is that we have such a deep pension fund obligation that we're going to have to tamper with our ability to provide police and fire services.
FPN: One other area of debate has been whether the city should institute an exclusive franchise –
KJ: The answer is no!
FPN: – system for L.A.'s multi-family and commercial waste and recycling.
KJ: I am against the exclusive franchise proposal – it's bad for small businesses, commercial buildings and tenants.
FPN: Much of the mayoral debate has focused on challenges with the city budget and whether we should cut benefits for city employees. Can you offer a broad vision of how we bring good jobs, clean air and healthy communities to all of Los Angeles?
KJ: There's an incredible opportunity for a partnership between better economics in the city and a cleaner environment in the city – [by] making the city a more business-friendly city through elimination of the gross-receipts tax and streamlining the permitting process.
If City Hall will get out of the way with this burdensome gross receipts tax then we'll see increased economic activity that will spawn good-paying jobs, so we will not have to go back to our city employees anymore and say, We need you to roll back your raises to invest in the city.