Kaiser Nurses: Supply Shortages Endanger Staff, Patients
Frontline nurses claim that a lack of both N95 masks and coronavirus testing is putting hospital populations at risk.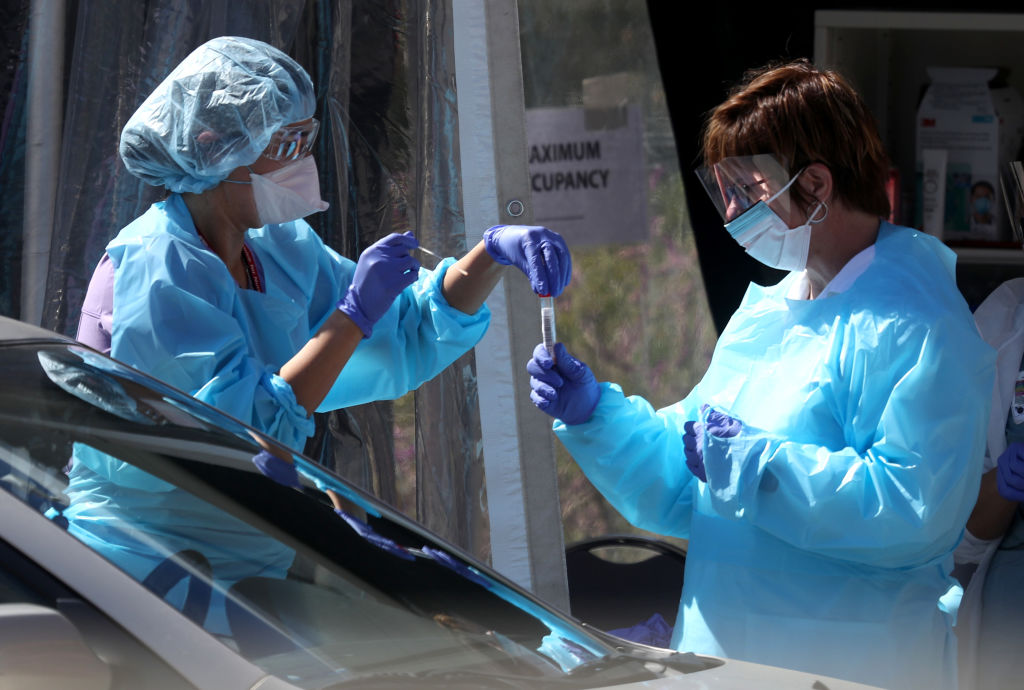 As COVID-19 continues to spread through the United States, the effort to contain the coronavirus is escalating rapidly. Last week, California Gov.  Gavin Newsom issued a mandatory order for Californians to stay at home except for "essential" activities. The statement mirrored a similar announcement from Los Angeles County officials and a "shelter in place" order for the San Francisco Bay Area.
Meanwhile, nurses caring for COVID-19 patients are concerned about staying safe at work and preventing the spread of the disease. Capital & Main spoke to Diane McClure, a registered nurse and California Nurses Association member, about the conditions that nurses are facing at the Kaiser Permanente South Sacramento Medical Center. (Disclosure: The CNA is a financial supporter of this website.) Although Kaiser Permanente says its nurses have the supplies they need to be safe at work, McClure raised concerns about access to proper personal protective equipment and COVID-19 testing. The interview has been edited for length and clarity.
---
 
Capital & Main: How has the coronavirus impacted the hospital where you work?
Diane McClure: It's massively impacted the hospital. We've had an influx of patients, of course, like everywhere else. The biggest impact we've seen is that we've not had the appropriate equipment and supplies to take care of the patients appropriately. So we are absolutely insistent that we use the highest level of standards possible, because this COVID virus — there's so much unknown about it.
And much more scientific evidence is coming out to support us using those higher standards anyhow. For example, Cal/OSHA has always maintained that this disease is airborne. The CDC is calling for droplet precautions, which completely changes what equipment you would use. With the virus being airborne, we need special masks. If you're only talking about the masks, that's a huge deal. We need the N95 mask, and the hospitals are just not providing that. They're going with what the CDC standards are.
When you use the term "airborne," can you explain exactly what that means?
With airborne viruses, the particles are so small that they literally float in the air. If you look at the evidence, people are saying it is anywhere from 30 minutes to up to three hours that this virus can stay in the air.
When droplet precautions are effective, if you cough or something comes out of your body, it's going to go down to the ground very quickly, so the likelihood of you inhaling it is much less. Things that stay in the air with very tiny particles can go right through masks. So even if you have a mask on, if you don't have the right mask on, those particles can go right through. The regular surgical mask looks like a piece of paper, and these virus particles will go right through them. Not only through the material, but also around the face because they're not fitted to the face as snugly as N95 masks.
(In response, Kaiser Permanente said: "To suggest we are not providing appropriate protective equipment is inaccurate. We are providing our staff with the protective equipment that is aligned with the latest science and guidance from public health authorities, which does not support airborne precautions but endorses droplet precautions.")
How many patients are you treating for COVID-19? How quickly is that number increasing?
I don't really have a number and I also have to be careful because of HIPAA and that sort of thing. What I can tell you is that I know it's increasing and we're expecting it to increase even further.
Besides masks, are there other resources that you're seeing shortages of?
Yes. Goggles and adequate gowns as well. Again, not paper-type gowns, but actual gowns that are a little more substantial to protect us a little bit more. Because not only does this virus linger in the air, it stays on surfaces for longer periods of time.
And the other thing is that [Kaiser] is not testing people appropriately. They're waiting too long to test people. At my facility, they absolutely refuse to test any individual — and I'm talking about health care workers — unless they are displaying symptoms. The problem with that is you can pass this virus on without having any symptoms. So you could be working for several days before you have symptoms, and you could have already passed it on, not only to your family, but anyone in the hospital.
(According to Kaiser Permanente: "We are following guidelines developed by the Centers for Disease Control (CDC) for testing for COVIDO-19 (coronavirus).  At this time, there is a limited supply of tests available throughout the United States. Tests are only available by doctor's order for high-risk patients who meet specific criteria for screening.")
How worried are you and the nurses you're working with about bringing the virus home to your families?
I hear nurses every day talking about that. They're very worried about it. The nurses want to take care of patients. They don't want to be so afraid that they want to stay home. They know they need to take care of the patients, but they also feel like we should be protected so that we don't affect people at home. And if we do get sick — and nurses are starting to get sick — who is going to take care of these patients?
I feel like not just in my area but in the country, there wasn't a focus on containment. It should have been very aggressive in the beginning and focused on containment right away, which means the minute you hear anyone was potentially infected, they stay home for 14 days.
What would you like to see the government do at the local, state or federal level to help you do your job safely and effectively?
I know that there is a law in the works, an emergency bill called H.R. 6139, which is a worker protection bill that would allow Cal/OSHA to mandate emergency guidelines that are much stricter than CDC guidelines.
I also think they need to test everyone who could have been exposed. People need to know what we're dealing with. I know that they're working on the development of more of these tests, but it's just not fast enough. We should have been way ahead of the ballgame here. We had plenty of time but now it's crisis mode and everybody's scrambling.
What would your message be to the public right now?
People need to take it seriously. They should stay home as much as possible. They should not be thinking they're safe because they don't have symptoms. They should just stay away from people as much as they possibly can. People should not go to work sick. I know they're worried about their paycheck, but just stay home as much as you can.
---
Copyright 2020 Capital & Main