Yesterday's Los Angeles Times brought a behind the scenes account of the genius of San Diego City Attorney Jan Goldsmith and his brilliant maneuvers to oust former Mayor Bob Filner.
I'm not sure what led to the piece, but in it we learn that Goldsmith—a former legislator best known for his campaign to legalize ferrets and the resulting Willie Brown quip about his toupee—was single-handedly responsible for Filner's resignation.
The key: "Goldsmith persuaded the City Council to refuse to defend Filner in the [Irene] Jackson lawsuit and instead force him to hire private attorneys."
Why so critical? "Goldsmith's investigators examined Filner's finances and concluded he could not afford lawyers to fight the lawsuit."
Why so brilliant? "'It was a bluff,' said Goldsmith, noting that California law requires a public employer to represent an employee, even a mayor, accused of on-the-job-misdeeds."
Why should we care? Well, it seems to me San Diego's city attorney has told us he a) directed his staff to investigate the personal finances of an elected official; and b) knowingly lied to other elected officials about the law so as to induce them to take a possibly illegal action.
The first is something I'm not so sure any city attorney has the right to do. Such investigations would be a part of any criminal matter, but charges against Filner were brought by San Diego's district attorney and the state attorney general. The city attorney's actions might also be part of a competent defense of the mayor, but as Goldsmith tells us, his genius was in not defending Filner, even though that may be against the law.
The second point is a more serious matter. This almost certainly violates general ethical standards, as described by the American Bar Association and California League of Cities. It could be considered malpractice. California even has statutes about attorney deceit.
Goldsmith considers it brilliant enough to mention to the Times. He might also want to mention it to a lawyer. If he can afford one.
The Tests Facing California's New Governor
Gavin Newsom now leads the state with the nation's biggest economy and largest population — and one riven by economic inequality. What will be his most important challenges?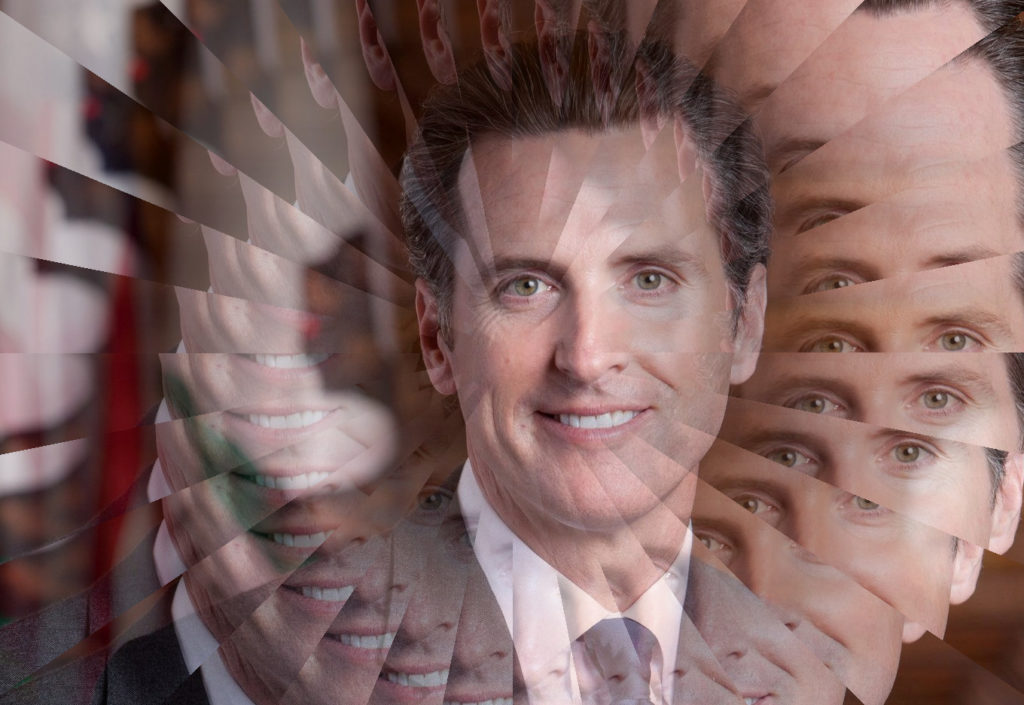 Gavin Newsom inherits a state that should be any governor's dream: A California that is the cradle of the tech revolution and brims with prosperity, a one-party state with supermajorities in both chambers for Newsom's Democrats. But there are clouds darkening the horizon: Daily prophecies tell of coming economic storms; legislative initiatives taken on behalf of immigrants, retirement security and the stemming of global warming are increasingly thwarted by a bellicose White House. And that Democratic Party monopoly in Sacramento masks a deepening ideological fault line dividing pro-business moderates and progressives – the latter of which have largely chafed for the last 16 years under the thrifty administrations of Jerry Brown and Arnold Schwarzenegger, and are eager to burst out with far-reaching (if pricey) legislation.
Then, there are memories of three high-riding liberal governors (Pat and Jerry Brown, and Gray Davis) whose programs or careers were derailed by resentful taxpayers. There are more recent memories, too: Of an impulsive, hard-partying San Francisco mayor whose blunted ambitions led him to spend eight years in the ceremonial wilderness of the lieutenant governor's office. Newsom is said to have matured into a more circumspect, pragmatic politician, although some of the old doubts were fanned back to life by an unflattering New Yorker profile that appeared shortly before his landslide victory November 6.
Perhaps overriding all these auguries is the undeniable fact that despite its enviable economy, its abundance of billionaires-in-residence and laudable array of social services, California still has the highest poverty rate in the U.S., nearly half of its children live in poverty or near-poverty, and merely finding an affordable place to live has become an existential challenge for many. These and similar factors superimpose on the state another kind of fault line, that of economic inequality. Most of the new governor's time will be spent wrangling crises that spring from this disparity. Which is why the following Capital & Main stories primarily focus on the inequality that separates so many Californians from one another.
Affordable Housing, by Jessica Goodheart.
Single-Payer Health Care, by Gabriel Thompson.
Climate Change and Big Oil, by Judith Lewis Mernit.
Inequality Interviews with Manuel Pastor, Ann Huff Stevens and David Grusky.
Early Childhood Education, by Bill Raden.
Inequality in California: Six Takeaways.
---
Copyright Capital & Main