'Julius Caesar' Firestorm: The Fault, Dear Brutus, Is Not In Our Tweets
A Shakespeare in the Park production of Julius Caesar has made an unexpected leap from Central Park's outdoor Delacorte Theater to the echo chamber of right-wing media.

A scene from the Public Theater's Julius Caesar. (Photo: Joan Marcus)
New York City's Public Theater is hardly a stranger to the precarious intersection of art and politics. But when its current Shakespeare in the Park production of Julius Caesar recently made an unexpected leap from Central Park's outdoor Delacorte Theater to the echo chamber of right-wing media, the Public found itself in a decidedly unfamiliar place for live theater in the digital era — on the front page.
A 30-second purloined video, of director Oskar Eustis' bloody staging of the assassination of a "petulant, blondish" Roman dictator soon went viral as conservative social media blasted the production for poor taste and called for boycotts.
Fox News Insider got into the act Sunday afternoon by running a segment in which host Guy Benson darkly alluded to 2011's shooting of Democratic Arizona Rep. Gabrielle Giffords, with the headline, "TAX-FUNDED PLAY 'ASSASSINATES' PRESIDENT." The latter insinuation was swiftly retweeted by Donald Trump Jr. as, "I wonder how much of this 'art' is funded by taxpayers?"
That was enough for the National Endowment for the Arts (NEA), which only recently found itself targeted for defunding by Trump Sr., to quickly circle the wagons on its website and disclaim that no NEA money had gone either to Julius Caesar or the New York State Council on the Arts' grant that does support the Public.
By Sunday night two corporate sponsors of the show — Delta Airlines and Bank of America — had pulled their financial support for the production. Delta tweeted that the company had ended "our sponsorship as the official airline of The Public Theater effective immediately." A third Public sponsor, American Express, likewise distanced itself on Twitter, saying it neither condoned nor funded the play.
The assassination of an Obama-like Caesar in the Guthrie Theater's 2012 production. (Photo: Heidi Bohnenkamp)
"To be honest I thought it was shocking and distasteful," the conservative site Mediaite quoted a sales manager for the religious-right company Salem Media Group, complaining about the show. "If this had happened to any other president — even as recently as Barack Obama or George W. Bush — it would not have flown. People would have been horrified."
But the theater site Broadway World pointed out that not only had Minneapolis' Guthrie Theater indeed toured a controversy-free Julius Caesar in 2012 with black actor Bjorn DuPaty as "an unmistakably Obama-like" Caesar, but that Delta had funded that production as well.
For at least two veteran California theater artists, the attacks brought on an unsettling feeling of déjà vu. During the George H.W. Bush era, the Los Angeles performance artist John Fleck and stage director David Schweizer found themselves at the center of a similar conservative political firestorm over their NEA-funded production of Fleck's playfully profane Blessed Are All the Little Fishes.
That furor, which also targeted gender-themed performers Karen Finley, Holly Hughes and Tim Miller — who, with Fleck, became known at the "NEA Four" — eventually ended the NEA's practice of giving grants to individual artists during the so-called Culture Wars of the 1990s.
In an email to Capital & Main, Fleck said the current uproar is a reminder that the power and relevance of theater is that it reflects the values of its live audience rather than Twitter's.
"Since the majority of Americans (and especially liberal theater goers in NYC and L.A.) feel that Trump, Bannon and Breitbart are heads of a monstrous Hydra attempting to disembowel our democracy," Fleck wrote, "we can't allow them to censor our collective truth and cast [artists] in the 'villain' role."
In a phone call, Schweizer, who described Eustis as an "old friend and colleague," and who, unlike many of those condemning the production, has actually seen the Public's staging, said the criticisms are simply misinformed about both the production and Shakespeare's intent.
"The assassination of Julius Caesar is a martyrdom that upends the whole idea of violence trying to serve a democracy," the director explained. "Maybe that's the best thing about it — the so-called assassination is really not [a] wish-fulfillment of our attitudes toward the Trump administration, because the [violence] is ultimately so complex."
For its part, the Public defended the show in a popup on its website:
Our production of JULIUS CAESAR in no way advocates violence towards anyone. Shakespeare's play, and our production, make the opposite point: those who attempt to defend democracy by undemocratic means pay a terrible price and destroy the very thing they are fighting to save.
Schweizer dismissed concerns that the controversy might trigger a renewal of the Culture Wars of the '90s, or that it would somehow result in public-arts censorship.
"I'm delighted that something like this can have some real impact and get people arguing, and that's where Oskar's coming from," Schweizer countered. "The fact that the conversation is this passionate and reaching all this news media — oh my god. Who would have thought that the Public Theater's Shakespeare production would become a national issue? I think the brouhaha is one of the healthiest things about it."

'Skeleton Crew' Is a Play With a Moral Spine
Set in a Detroit automobile outfitting plant, Dominique Morisseau's drama grabs you from the start with its focus on blue-collar men and women, and their struggle for dignity and self-respect.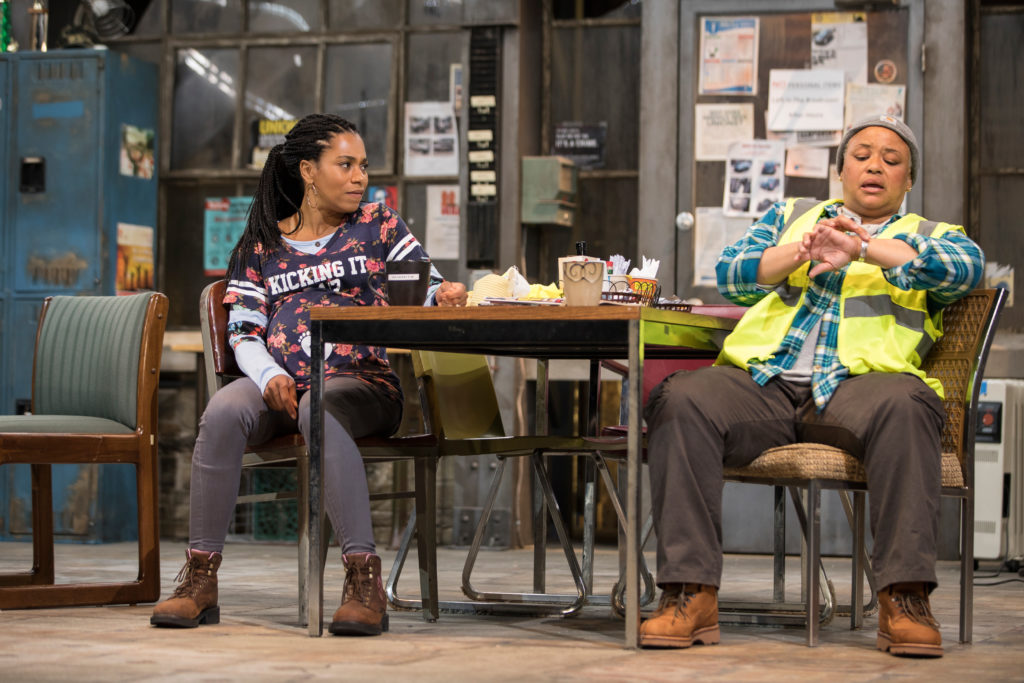 Working-class men and women of color are rarely front and center in today's media and, likewise, are presented all too occasionally on the American stage. So it's buoying to see that trend bucked in playwright Dominique Morisseau's percipient and well-crafted drama, Skeleton Crew. The play is the final installment in her Detroit  Project Trilogy; the first, Paradise Blue, is set in the 1940s amidst displacement caused by urban renewal and gentrification, while the second, Detroit '67, transpires on the eve of the 1967 Detroit riots sparked by a police action.
Directed by Patricia McGregor at Los Angeles' Geffen Playhouse, Skeleton Crew is a play with a moral spine. It takes place in 2008, when the shrinking U.S. auto industry is being further downsized. Morisseau's engaging quartet of characters — Faye (Caroline Stefanie Clay), Dez (Armari Cheatom), Shanita (Kelly McCreary) and Reggie (DB Woodside) – are employed at an automobile outfitting plant. Faye, Dez and Shanita are workers on the line while Reggie (who has a wife and kids, and has pulled himself together after a troubled youth) is their supervisor.
The first three customarily mingle in their break room (designer Rachel Myers' impressively cluttered, dingy and detailed set), trading the sort of familiar barbs and genuine concern for each other common among longtime co-workers. They also face off on philosophy: Upper-middle-aged Faye and the younger, pregnant Shanita take pride in their labor, while Dez, though a good worker, is a malcontent scornful of management and firm in the belief that everyone needs to watch out for himself. He's a thorn in Reggie's side, for while Reggie wants to be supportive of his workers, he must act at the behest of higher management. For his part, Dez resents Reggie's authority, and a palpable unease exists between them.
Besides this male matchup, we're made privy to Dez's attraction to Shanita, who mostly turns away his advances, but every now and then displays a hint of interest. Most poignant is Reggie's regard and affection for the lesbian Faye, which has roots in his boyhood when she loved, and lived, with his now-deceased mom.
These people's various predicaments intensify when rumors spread of the plant's shutdown — a disaster for all, but a particular calamity for the already near-broke Faye who, one year short of retirement, would lose her pension. The crisis forces each of these people to make a choice.
A sound piece of social realism, Skeleton Crew grabs you from the start in its focus on blue-collar men and women, and their struggle against odds for dignity and self-respect. Morisseau not only furnishes these characters a platform for their travails, she endows them with strong values, big hearts and the opportunity to choose between right and wrong.
Unfortunately, the performance I attended did not soar. Many exchanges lacked a fresh edge. The actors certainly had their characters down, but too often they appeared to be coasting on technique. (This seemed particularly true of Clay, who performed the role to great accolades in Washington, DC in 2017, also under McGregor's direction). Additionally, some of the stage movement was not entirely fluid; in confrontations, actors sometimes would just stand and face each other in an artificial way. And Cheatom's interpretation of Dez struck me as a bit overly churlish and depressive: I needed more glimpses of the intelligence and edge that would secretly attract the strong, self-directed Shanita.
The most compelling moments belong to Woodside, well-cast as a man trying his best in difficult circumstances to do the right thing.
---
Gil Cates Theater at the Geffen Playhouse, 10886 Le Conte Ave., Westwood Village; Tues.-Fri., 8 p.m.; Sat., 3 & 8 p.m. Sun., 2 & 7 p.m.; through July 8. (310) 208-5454 or www.geffenplayhouse.org