'Julius Caesar' Firestorm: The Fault, Dear Brutus, Is Not In Our Tweets
A Shakespeare in the Park production of Julius Caesar has made an unexpected leap from Central Park's outdoor Delacorte Theater to the echo chamber of right-wing media.

A scene from the Public Theater's Julius Caesar. (Photo: Joan Marcus)
New York City's Public Theater is hardly a stranger to the precarious intersection of art and politics. But when its current Shakespeare in the Park production of Julius Caesar recently made an unexpected leap from Central Park's outdoor Delacorte Theater to the echo chamber of right-wing media, the Public found itself in a decidedly unfamiliar place for live theater in the digital era — on the front page.
A 30-second purloined video, of director Oskar Eustis' bloody staging of the assassination of a "petulant, blondish" Roman dictator soon went viral as conservative social media blasted the production for poor taste and called for boycotts.
Fox News Insider got into the act Sunday afternoon by running a segment in which host Guy Benson darkly alluded to 2011's shooting of Democratic Arizona Rep. Gabrielle Giffords, with the headline, "TAX-FUNDED PLAY 'ASSASSINATES' PRESIDENT." The latter insinuation was swiftly retweeted by Donald Trump Jr. as, "I wonder how much of this 'art' is funded by taxpayers?"
That was enough for the National Endowment for the Arts (NEA), which only recently found itself targeted for defunding by Trump Sr., to quickly circle the wagons on its website and disclaim that no NEA money had gone either to Julius Caesar or the New York State Council on the Arts' grant that does support the Public.
By Sunday night two corporate sponsors of the show — Delta Airlines and Bank of America — had pulled their financial support for the production. Delta tweeted that the company had ended "our sponsorship as the official airline of The Public Theater effective immediately." A third Public sponsor, American Express, likewise distanced itself on Twitter, saying it neither condoned nor funded the play.
The assassination of an Obama-like Caesar in the Guthrie Theater's 2012 production. (Photo: Heidi Bohnenkamp)
"To be honest I thought it was shocking and distasteful," the conservative site Mediaite quoted a sales manager for the religious-right company Salem Media Group, complaining about the show. "If this had happened to any other president — even as recently as Barack Obama or George W. Bush — it would not have flown. People would have been horrified."
But the theater site Broadway World pointed out that not only had Minneapolis' Guthrie Theater indeed toured a controversy-free Julius Caesar in 2012 with black actor Bjorn DuPaty as "an unmistakably Obama-like" Caesar, but that Delta had funded that production as well.
For at least two veteran California theater artists, the attacks brought on an unsettling feeling of déjà vu. During the George H.W. Bush era, the Los Angeles performance artist John Fleck and stage director David Schweizer found themselves at the center of a similar conservative political firestorm over their NEA-funded production of Fleck's playfully profane Blessed Are All the Little Fishes.
That furor, which also targeted gender-themed performers Karen Finley, Holly Hughes and Tim Miller — who, with Fleck, became known at the "NEA Four" — eventually ended the NEA's practice of giving grants to individual artists during the so-called Culture Wars of the 1990s.
In an email to Capital & Main, Fleck said the current uproar is a reminder that the power and relevance of theater is that it reflects the values of its live audience rather than Twitter's.
"Since the majority of Americans (and especially liberal theater goers in NYC and L.A.) feel that Trump, Bannon and Breitbart are heads of a monstrous Hydra attempting to disembowel our democracy," Fleck wrote, "we can't allow them to censor our collective truth and cast [artists] in the 'villain' role."
In a phone call, Schweizer, who described Eustis as an "old friend and colleague," and who, unlike many of those condemning the production, has actually seen the Public's staging, said the criticisms are simply misinformed about both the production and Shakespeare's intent.
"The assassination of Julius Caesar is a martyrdom that upends the whole idea of violence trying to serve a democracy," the director explained. "Maybe that's the best thing about it — the so-called assassination is really not [a] wish-fulfillment of our attitudes toward the Trump administration, because the [violence] is ultimately so complex."
For its part, the Public defended the show in a popup on its website:
Our production of JULIUS CAESAR in no way advocates violence towards anyone. Shakespeare's play, and our production, make the opposite point: those who attempt to defend democracy by undemocratic means pay a terrible price and destroy the very thing they are fighting to save.
Schweizer dismissed concerns that the controversy might trigger a renewal of the Culture Wars of the '90s, or that it would somehow result in public-arts censorship.
"I'm delighted that something like this can have some real impact and get people arguing, and that's where Oskar's coming from," Schweizer countered. "The fact that the conversation is this passionate and reaching all this news media — oh my god. Who would have thought that the Public Theater's Shakespeare production would become a national issue? I think the brouhaha is one of the healthiest things about it."

A Spiritual Mystery Play Fails to Enlighten
Yusuf Toropov's drama, set in a contaminated, cancer-ridden community, involves a publisher and his brother — a priest struggling against the local archdiocese.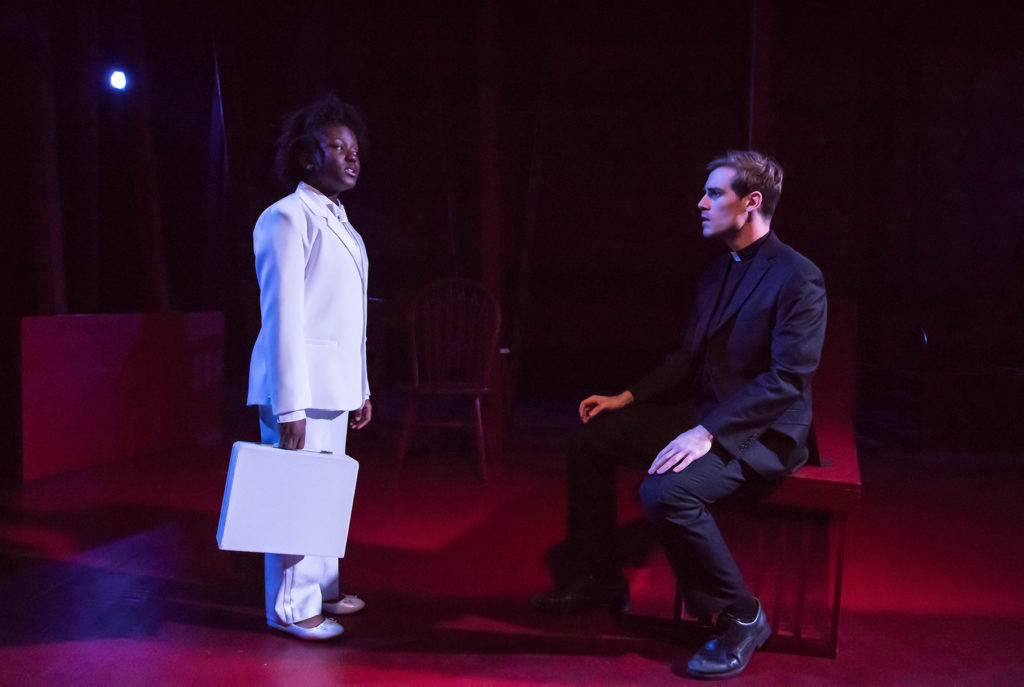 Directed by Chris Fields, Yusuf Toropov's An Undivided Heart, co-produced by the Echo Theater Company and the Circle X Theatre Co., is an aspiring work that aims to be deep but doesn't get there.
The play, running at the Atwater Village Theatre, unfolds on several levels. First, it tells the story of a young Catholic priest who must decide whether or not to publicly expose the pedophiles among his fellow clerics. Second, the work deals with our human struggle to understand why bad things happen with seeming random cruelty (a conundrum whose answers are regularly dispensed by spiritual leaders of all faiths, not very satisfactorily). On yet a third level, the play seeks to express the paradoxical wonder and mystery of life, with an assist from the supernatural.
That's a lot to cover in a little over two hours and, while the production is handsomely staged, its ambitious narrative is diminished by dangling threads, one major improbable setup near the end and too many bits of opaque dialogue.
Tim Wright, Alison Martin and Alana Dietze.
The setting is Holbrook, Massachusetts — a community whose residents have been exposed to contaminants, so cancer is rampant — in the summer of 1992. The story revolves around two brothers, both good guys: Mike (Matthew Gallenstein), a local priest who's written a revelatory book that his superiors want him not to publish, and Max (Tim Wright), an editor, who'd like to help his brother proceed.
When Max arrives at some sort of civic facility (the background particulars of this scene are unclear), he promptly tangles with an angry pregnant clerk named Lynne (Alana Dietz). A few minutes into their altercation, she goes into premature labor, and he rushes her to the hospital — the beginning of a nurturing romance.
Mike, meanwhile, is having strange dreams involving a burning typewriter and a cryptic little girl (Ann'Jewel Lee) who appears to him brandishing a dead cat. The same young person manifests in the dreams of Janice (Tracey A. Leigh, alternating with Jennifer A. Skinner), Max's Buddhism teacher, who is fond of posing riddles. Her favorite: If I am preparing to slice a cat in two, how would you prevent me from doing it?
The narrative shifts between Mike's struggle with his archdiocese, personified by its Cardinal (John Getz, alternating with William Salyers) and Lynne's problems with her dying mom Ruth (Alison Martin, alternating with Sigute Miller), a devout Catholic still in denial over her son's abuse by a priest when he was a youth.
These two storylines are interposed with the baffling dream sequences and Max's (and later Mike's) sessions with the inscrutably smiling Janice and her eschatological brain teasers. One crucial scene that leads to the dramatic climax has Mike looking to entrap an abusive priest (Jeff Alan-Lee, alternating with Jesse Bush) by attending confession with him and pretending to be a pedophile himself. The interchange, in which the priest probes for salacious details, is awkwardly plotted and escalates into over-the-top melodrama.
Cricket Myers' superlative sound design hints at the depth and scope that the playwright himself perhaps had in mind but was unable to attain. Amanda Knehans' set is an effective arrangement of wooden beams, tables and chairs that lighting designer Rose Malone smartly shades with a reddish-orange chroma, like the hues of hell. Elsewhere, she spotlights the players well.
Wright's warm and empathetic Max is highly likable, and he keeps you interested in the scenes he's involved with. Getz is appropriately unctuous as the Cardinal, and Martin draws a richly textured portrait of a not terribly educated housewife, who, buffeted by adversity, still clings to her faith. Michael Sturgis steals the limelight as a singing, simpering cleric. A couple of the other lead performances need refining.
Atwater Village Theatre, 3269 Casitas Ave., Los Angeles; Mon., 8 p.m.; Fri.- Sat., 8 p.m.; Sun., 4 p.m.; through April 22. www.EchoTheaterCompany.com
---
Copyright Capital & Main