'Julius Caesar' Firestorm: The Fault, Dear Brutus, Is Not In Our Tweets
A Shakespeare in the Park production of Julius Caesar has made an unexpected leap from Central Park's outdoor Delacorte Theater to the echo chamber of right-wing media.

A scene from the Public Theater's Julius Caesar. (Photo: Joan Marcus)
New York City's Public Theater is hardly a stranger to the precarious intersection of art and politics. But when its current Shakespeare in the Park production of Julius Caesar recently made an unexpected leap from Central Park's outdoor Delacorte Theater to the echo chamber of right-wing media, the Public found itself in a decidedly unfamiliar place for live theater in the digital era — on the front page.
A 30-second purloined video, of director Oskar Eustis' bloody staging of the assassination of a "petulant, blondish" Roman dictator soon went viral as conservative social media blasted the production for poor taste and called for boycotts.
Fox News Insider got into the act Sunday afternoon by running a segment in which host Guy Benson darkly alluded to 2011's shooting of Democratic Arizona Rep. Gabrielle Giffords, with the headline, "TAX-FUNDED PLAY 'ASSASSINATES' PRESIDENT." The latter insinuation was swiftly retweeted by Donald Trump Jr. as, "I wonder how much of this 'art' is funded by taxpayers?"
That was enough for the National Endowment for the Arts (NEA), which only recently found itself targeted for defunding by Trump Sr., to quickly circle the wagons on its website and disclaim that no NEA money had gone either to Julius Caesar or the New York State Council on the Arts' grant that does support the Public.
By Sunday night two corporate sponsors of the show — Delta Airlines and Bank of America — had pulled their financial support for the production. Delta tweeted that the company had ended "our sponsorship as the official airline of The Public Theater effective immediately." A third Public sponsor, American Express, likewise distanced itself on Twitter, saying it neither condoned nor funded the play.
The assassination of an Obama-like Caesar in the Guthrie Theater's 2012 production. (Photo: Heidi Bohnenkamp)
"To be honest I thought it was shocking and distasteful," the conservative site Mediaite quoted a sales manager for the religious-right company Salem Media Group, complaining about the show. "If this had happened to any other president — even as recently as Barack Obama or George W. Bush — it would not have flown. People would have been horrified."
But the theater site Broadway World pointed out that not only had Minneapolis' Guthrie Theater indeed toured a controversy-free Julius Caesar in 2012 with black actor Bjorn DuPaty as "an unmistakably Obama-like" Caesar, but that Delta had funded that production as well.
For at least two veteran California theater artists, the attacks brought on an unsettling feeling of déjà vu. During the George H.W. Bush era, the Los Angeles performance artist John Fleck and stage director David Schweizer found themselves at the center of a similar conservative political firestorm over their NEA-funded production of Fleck's playfully profane Blessed Are All the Little Fishes.
That furor, which also targeted gender-themed performers Karen Finley, Holly Hughes and Tim Miller — who, with Fleck, became known at the "NEA Four" — eventually ended the NEA's practice of giving grants to individual artists during the so-called Culture Wars of the 1990s.
In an email to Capital & Main, Fleck said the current uproar is a reminder that the power and relevance of theater is that it reflects the values of its live audience rather than Twitter's.
"Since the majority of Americans (and especially liberal theater goers in NYC and L.A.) feel that Trump, Bannon and Breitbart are heads of a monstrous Hydra attempting to disembowel our democracy," Fleck wrote, "we can't allow them to censor our collective truth and cast [artists] in the 'villain' role."
In a phone call, Schweizer, who described Eustis as an "old friend and colleague," and who, unlike many of those condemning the production, has actually seen the Public's staging, said the criticisms are simply misinformed about both the production and Shakespeare's intent.
"The assassination of Julius Caesar is a martyrdom that upends the whole idea of violence trying to serve a democracy," the director explained. "Maybe that's the best thing about it — the so-called assassination is really not [a] wish-fulfillment of our attitudes toward the Trump administration, because the [violence] is ultimately so complex."
For its part, the Public defended the show in a popup on its website:
Our production of JULIUS CAESAR in no way advocates violence towards anyone. Shakespeare's play, and our production, make the opposite point: those who attempt to defend democracy by undemocratic means pay a terrible price and destroy the very thing they are fighting to save.
Schweizer dismissed concerns that the controversy might trigger a renewal of the Culture Wars of the '90s, or that it would somehow result in public-arts censorship.
"I'm delighted that something like this can have some real impact and get people arguing, and that's where Oskar's coming from," Schweizer countered. "The fact that the conversation is this passionate and reaching all this news media — oh my god. Who would have thought that the Public Theater's Shakespeare production would become a national issue? I think the brouhaha is one of the healthiest things about it."

Two Cousins and a Magical Ice Cream Truck Figure in Leon Martell's New Play
Although not all of ICE's comedy clicks, Martell's story has both weight and charm. The production's overriding plus is its successful rendering, fashioned with humor and craft, of the difficulties immigrants face.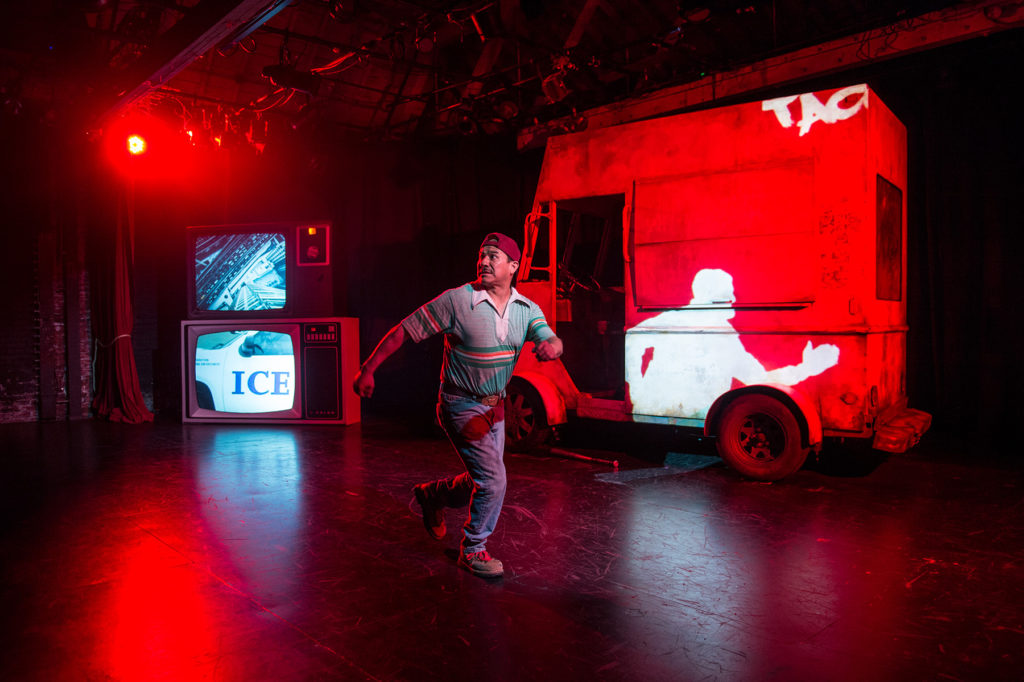 ICE, Leon Martell's family friendly play, takes place in 1988 and follows the misadventures of two undocumented immigrants: Chepe (Jesús Castaños-Chima), an avid baseball fan who dreams of making a fortune selling gourmet tacos; and his cousin Nacho (Tony Dúran), whom the beleaguered Chepe summons from Mexico to assist him in setting up his business. Directed by Debbie Devine at 24th Street Theatre, the show displays plenty of heart, not all of it realized in this premiere production. Despite this, there's enough political relevancy, moral truth and human comedy packed into the show's 65-minute time frame to overlook its shortcomings.
The core of the humor is the difference in personality between the two cousins. The ambitious Chepe is bitter and frustrated about his experience in America, where he's been cheated and lied to by bosses who exploit his labor and pay him next to nothing. Yet he's bought into the American Dream of money and fame, and to achieve that he's purchased a dilapidated old ice cream van to convert into a taco truck. It doesn't run, though, and the secret family salsa recipe is with his kin in Mexico. So, he phones home and implores his mechanic cousin to head north, bringing the salsa recipe as well as his skills.
Cousin Nacho, by contrast, is a sweet old-fashioned guy. He wants success too, but making money isn't the only thing he thinks about. He juggles tomatoes to make kids laugh and indignantly admonishes Chepe for his desperate inclination to do what it takes (steal tomatoes, for example) to score success.
Into the mix Martell tosses a blind, disgruntled priest (Davitt Felder), who plays guitar and wants to launch English classes for children in his parish (the archdiocese turns him down). Then there's Chepe's truck, which has opinions of its own. It breaks out in jingles at random intervals; later, it communicates with Nacho via blinking red letters that eerily appear on the side of the vehicle, furnishing the two men with simple directives and essential advice. When ICE (Immigration and Customs Enforcement) shows up, it alerts them to run.
Although not all of the comedy clicks, Martell's story has both weight and charm. The production's overriding plus is its successful rendering, fashioned with humor and craft, of the difficulties immigrants face. Its main weakness is Castaños-Chima's technically skilled but somewhat chilly depiction of his character, which leaves us wishing for more warmth and complexity. Felder appears awkward in his role of the blind priest, but proves versatile on video as Chepe's various nemeses. Dúran's naïve Nacho is a lovable presence from first to last.
Displayed on a monitor, Matthew G. Hill's video slides add historical and social perspective, and his backwall projections, in tandem with Dan Weingarten's lighting and Chris Moscatiello's sound, help conjure a magical aura to this parabolic piece.
24th Street Theatre, 1117 West 24th St., Los Angeles; Sat., 3 & 7:30 p.m.; Sun., 3 p.m.; through June 10, (213) 745-6516 or 24thstreet.org.
---
Copyright Capital & Main