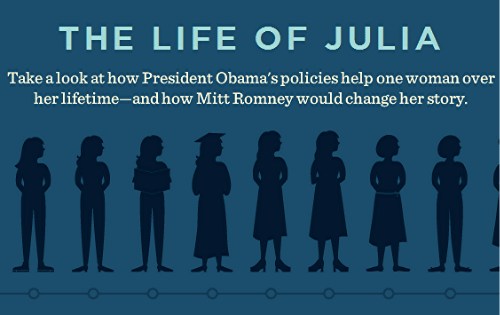 David Brooks, the usually buttoned-down columnist for the New York Times, succumbed recently to a peculiar eruption of Id.  Like many of his fellow conservatives, he's in a snit about The Life of Julia, an Obama campaign slideshow that portrays the title character benefiting from federal programs like Head Start and Social Security.  (See my previous article here.)  Brooks casts Julia as a "vision of government as national Sugar Daddy, delivering free money and goodies up and down the life cycle."  My attention was riveted by that term, "Sugar Daddy," which doesn't just refer, say, to a rich uncle, but to an older man who showers gifts on a young woman, often, by implication, in return for sexual favors.  It's difficult to imagine Brooks taking a detour into so dark a recess of the imagination if it had been The Life of James.
You might assume that Brooks's turn of phrase is an indication of a unique psychology – or psychosis — but in fact the Julia slideshow provokes on the right, broadly, some feverish and frankly contradictory musings on women, welfare and autonomy.  Though more outrageously than others, Brooks simply plays the dominant theme: concern that old-age pensions and federally-subsidized pre-school programs make people weak-willed, dissolute, and dependent.  His colleague Ross Douthat argues, in the same vein, that the Life of Julia's protagonist "depends on the state" instead of being "self-sufficient."  So far, so familiar.
But listen to William Bennett.   "Julia," writes Bennett, "is not your typical all-American girl" – again the implication of degeneracy – "but an obviously independent yuppie liberal woman." Think that word "independent" is a slip, an inadvertent departure from the program of decrying dependence?  It isn't.  Bennett takes the idea further, complaining that the slideshow makes "no mention of a father or husband," a gripe echoed by Jennifer Rubin, who terms Julia "the liberal feminists' idealized single woman: no husband and utterly dependent on government."  So is Julia dependent or independent?  Both, in the worried view of these conservatives—and in the wrong ways, too.  For with the government usurping the rightful role of a father or husband, Julia can thumb her nose at marriage.
It would be wrong to think this is "merely" a question of gender bias, columnists failing some sort of public Rorschach test.  (Maybe it's no coincidence that the silhouettes of Julia on the first page of the slideshow are reminiscent of inkblots.)  In a sense, conservatives are onto something important:  the welfare state is all about issues of autonomy, as well as social justice and fairness.  One of the things a good welfare program does is promote personal autonomy.  A well-designed scheme of health insurance regulation ensures, among other things, that women have access to birth control so that they can manage their lives and careers on their own terms.  Unemployment insurance provides some measure of autonomy from the labor market, freeing people to look for a job that's fulfilling, or at least comparable to the one they lost.    As Medicare was established and Social Security payments rose dramatically from the 1960s on, poverty among the elderly fell from 35% to 10%.  We might see this as just a matter of income.  But that financial security means an elderly person can avoid reliance on adult children—or the need to appeal to Walmart for a job as a greeter.
So historically, one of the main goals of those fighting the expansion of the welfare state has been to head off such possibilities of autonomy, in order to conserve some facet of the existing social hierarchy.  In the 1930s, southerners insisted on categorical exceptions to Social Security and unemployment insurance so that African-American share croppers and domestic workers would not benefit from them.  For decades, the welfare state was structured so that women could directly get help only from programs that were stingy and prying.  And these are still features of Temporary Aid to Needy Families, which serves an exclusively poor and overwhelmingly female population. So no one should be surprised that these contemporary conservatives are as  tied in knots about Julia's autonomy as they are about her purported dependence, mistaking a cartoon everywoman for someone else's mistress.

Award-Winning Reporter David Sirota to Lead National Investigative Desk on Inequality for Capital & Main
The New York Times has credited Sirota's Wall Street reporting for showing "that secrecy can hide high fees, low returns, excess risk and the identity of politically connected dealmakers."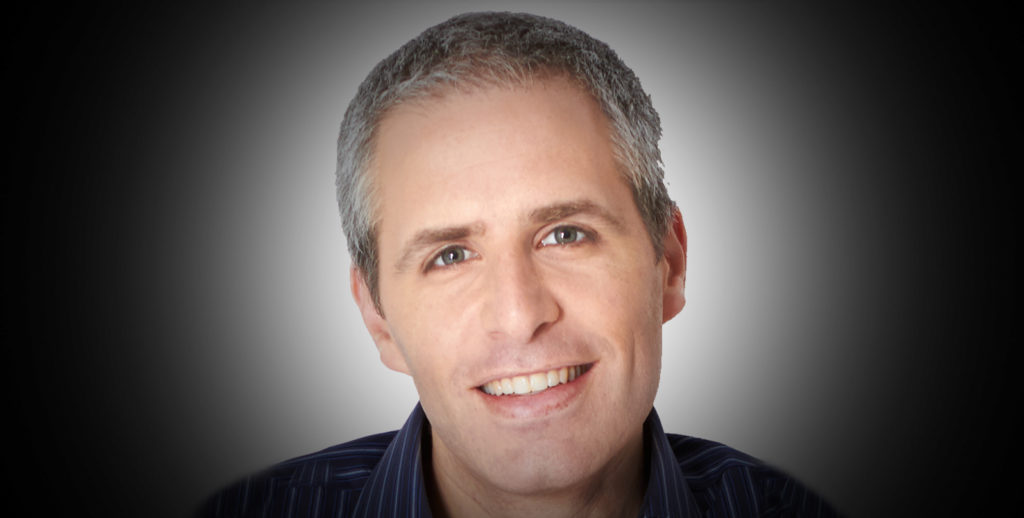 LOS ANGELES — Capital & Main announced today that award-winning reporter David Sirota will lead a new national investigative desk for the California-based publication. His coverage will focus on the country's historically high level of economic inequality, and the role of Wall Street, the private sector and government policy in perpetuating income disparity.
"I am thrilled to join one of the most promising young investigative publications in the country," said Sirota. "There has never been a greater need for aggressive nonpartisan reporting that scrutinizes how corporations, lawmakers and the super-rich wield political and economic power. Capital & Main has established a reputation as an intrepid source of hard-hitting investigative reporting. I am excited to expand their capacity to shine a spotlight on how and why America now has the highest level of economic inequality in the country's modern history."
Sirota will join Capital & Main as a full-time reporter this summer, and prior to that will consult with the publication on editorial content and partnerships. The new position was made possible in part by a grant from the Jonathan Logan Family Foundation in Oakland, CA.
Capital & Main is a non-profit publication founded in 2013 and its reporting has been co-published by (among others) The Atlantic, Time, The Guardian, Reuters, The Daily Beast, Slate, Grist, Fast Company, The Huffington Post and Newsweek. Capital & Main's reporting has won recognition from the Society of American Business Editors & Writers, the Southern California Journalism Awards and the Best of the West contest. Its reporters have been featured on (among others) PRI's The World, WNYC's The Takeaway, as well as on programs on KQED and KCRW.
Sirota has reported extensively on the relationship between money and politics, and has gained a reputation as a journalist willing to scrutinize public officials of both parties. During his career, he has become one of American journalism's most authoritative experts on complex financial systems including taxes, hedge funds, private equity and public pensions. He is a two-time winner of the Best in Business award from SABEW – most recently for his coverage of the 2017 Republican tax bill and its controversial "Corker kickback" provision. Before that, he won recognition from the Columbia Journalism Review for his reporting on how conflicts of interest shaped how Democratic Gov. Dan Malloy's administration oversaw a proposed health-care merger. Sirota has also won Ithaca College's Izzy Award and has been a finalist for UCLA's Gerald R. Loeb Award and Syracuse University's Mirror Award.
The New York Times has credited Sirota's Wall Street reporting for showing "that secrecy can hide high fees, low returns, excess risk and the identity of politically connected dealmakers." In one of its awards, SABEW said Sirota has produced "original, tenacious reporting that displayed a mastery of scouring documents, analyzing data and holding public officials accountable." The legendary late columnist Molly Ivins said, "Sirota is a new-generation populist who instinctively understands that the only real questions are 'Who's getting screwed?' and 'Who's doing the screwing?'"
"David Sirota is one of the finest investigative reporters in the country, and he promises to take Capital & Main's reporting on inequality and related issues to a whole different level," said Capital & Main board member Rick Wartzman, a former Wall Street Journal reporter, Los Angeles Times business editor and the author of four books, including The End of Loyalty: The Rise and Fall of Good Jobs in America. "David's fearless approach to holding the powerful to account is precisely what we need at this moment in time."
From 2014 to 2018 Sirota led International Business Times' investigative reporting team, where he broke major stories on how President Trump's top adviser evades ethics laws as he shapes policies that could enrich his firm; CFPB chief Mick Mulvaney's ties to the financial industry — and how he pressured regulators to back off predatory lending rules at the same time he was raking in cash from payday lenders; how Equifax lobbied against consumer protection rules just before its huge data breach; and how chemical companies that spewed toxins after Hurricane Harvey had worked to reduce safety regulations in the lead-up to the disaster.
In 2014, Sirota's investigative series for PandoDaily about public broadcasting compelled a PBS flagship station to return a $3.5 million contribution from a hedge fund billionaire. That same year, Sirota's investigative reporting about pensions for PandoDaily and then for International Business Times led the New Jersey state government to open a formal pay-to-play investigation and to divest state holdings in a venture capital firm. Sirota's reporting for International Business Times also led San Francisco officials to delay a proposed $3 billion investment in hedge funds.
"We have been longtime admirers of David's work, and couldn't imagine a better fit for our reporting on inequality," said Capital & Main publisher Danny Feingold. "David will give us the capacity to break important national stories on one of the country's great existential threats."
Sirota is also the author of two New York Times best-selling books, Hostile Takeover and The Uprising, as well as Back to Our Future, which became the basis for the National Geographic Channel's miniseries "The '80s: The Decade that Made Us." He appears frequently on MSNBC and CNN, and is the host of a podcast on economic, political and social issues.