Julia, from Cradle to Grave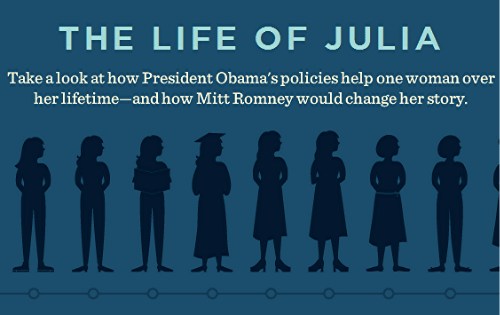 The president's re-election campaign recently unveiled an Internet slideshow demonstrating to women some possible consequences of their votes this fall. The Life of Julia, a mini-biography in 11 episodes, has an imaginary toddler, Julia, enrolling in a Head Start program, a 27-year-old Web-designer Julia benefiting from mandated preventive health care coverage, and a retiree Julia living "comfortably" on Social Security. And it contrasts the fate of these programs under Obama and Romney policies. Visually engaging but hardly dramatic, well-pitched but far from edgy as campaign advertising, The Life of Julia, I am tempted to say, is not all that interesting in itself.
Not so the conservative response to Julia. Paul Ryan, the House Budget Committee chairman, pronounced the slideshow "creepy" and "demeaning." Julia's life is "banal and hackneyed," wrote William Bennett, in a more literary frame of mind. Ross Douthat perceived liberal "condescension" at every turn of Julia's fictional life. And almost without exception, conservative critics agreed on the key phrase for mocking the slideshow: "cradle to grave."
Indeed, a Google search of the words "Julia," "Obama" and "cradle to grave" yields 130,000 hits, beginning with a RedState.com blog about "cradle to grave socialism for America." As a term of conservative denunciation, "cradle to grave" is meant to signify both a constantly prying, all-powerful bureaucracy and a weak, permanently prostrate people — a nightmare vision, in Bennett's estimation, of "a state that takes care of its people from cradle to grave." In 2012, this kind of rhetoric is so familiar that it hardly seems to require explanation.
But the term "cradle to grave" played a very different role in political discussions 70 years ago — when figures as different as Franklin Delano Roosevelt, British Prime Minister Winston Churchill and Gerard Swope, the president of General Electric, hailed the idea of comprehensive, lifelong social insurance.
It was an era in which the United States and Britain were founding modern welfare states in response to want and the Depression. It was also a time of total war, when a more all-encompassing understanding of citizenship was advanced: If the state could call on some citizens to die to protect others, it could also organize the mechanisms for mutual protection of all citizens from unemployment, poverty and sickness. The idea of a "cradle to grave" social welfare system evoked solidarity, a promise that soldiers' and workers' contributions would be reciprocated, that they would enjoy the full benefits of membership in society.
The term meant, in addition, that this promise was comprehensive in scope, embracing infants and young families as well as the elderly. These solidaristic promises were articulated in the Atlantic Charter, a statement of war aims by the U.S. and United Kingdom, in Britain's Beveridge report on postwar social policy, and in Roosevelt's speeches on a "second Bill of Rights." And they resonated with the majority of people who had vividly experienced the reality of want.
So a phrase originally tied to solidarity and full citizenship has morphed into a term that apparently invokes "creepy" government overreach and dependency. What makes such an inversion of values possible?
A number of things, likely, but one stands out: the wide reach and notable success of the very programs that constitute our "cradle to grave" welfare state. Political arguments are often as much about what's taken for granted as they are about what's explicitly said. And phrases reverberate in some social circumstances quite differently than they would in others.
The U.S. welfare state is today so encompassing that even the audience that is most receptive to the idea that cradle-to-grave welfare is "demeaning"  is surely composed of people who have benefited from tax breaks that favor parents, free K-12 education, Social Security and Medicare. Romney "better hope that the Julias are not yet the majority of the voters," writes the Washington Post's conservative blogger, Jennifer Rubin. But of course those benefiting, with Julia, from "cradle to grave" welfare have been the majority for a long time.  They often think of themselves as deserving recipients, unlike others, beneficiaries as a matter of right. Less often do they frankly acknowledge their benefiting as an indication of mutual dependence. In such a context, the political debate about the welfare state can take a deceptive turn.
The potential success of the conservative critique of Julia depends, in actuality, on denial — on many people failing to recognize or acknowledge the popular and nearly ubiquitous programs that make up actual "cradle-to-grave" welfare. And the need to sustain that sort of denial explains why the onslaught against Julia has been, in the end, rather ritualistic. Of course, these scathing discussions include standard references to the need to shore up the finances of Social Security and Medicare. But in itself this is odd. If the cradle-to-grave system is so corrupting, why stabilize it?
Bennett writes that, in contrast to liberal Julia-pandering, conservatives must make the case for "individual liberty, virtue and earned success." Yet he displays no appetite for following his argument to its concrete conclusion – i.e., showing how federal student loans, laws strengthening the right of women to sue for pay discrimination, Social Security and Medicare (the very programs touted in The Life of Julia) oppress people, promote vice, or enable unearned success. Similarly, Paul  Ryan and his colleagues have learned that even plans to end Medicare as we know it have to be presented as attempts to save it.
Seventy years after Roosevelt and Churchill's meeting of the minds, conservatives have to hope that a portion of the public will embrace their rhetoric without thinking too much about where it leads. They have to present themselves as both the implacable foes of cradle-to-grave welfare, in the abstract, and the best financial friends of the largest welfare programs, in particular. No wonder they find Julia so irritating.

Fossil Fuel Giant Stealthily Pumping Unregulated Cash Into Colorado Ballot Fight
Co-published by Westword
In a move that goes beyond Citizens United, Noble Energy is airing undisclosed ads against Proposition 112 — and the GOP Secretary of State says that's A-OK.

Co-published by Westword
In a last-ditch attempt to defeat one of the most far-reaching environmental measures on the 2018 ballot, a fossil fuel giant is blanketing Colorado television with election-focused political ads that it now claims are outside the purview of all state campaign finance laws. The maneuver — which pioneers a novel way for corporations to circumvent disclosure statutes and inject money directly into elections — has been blessed by the office of Secretary of State Wayne Williams, who has led a Republican political group bankrolled by the same fossil fuel corporation that is airing the ads.
At issue is Proposition 112, a landmark measure that would force fossil fuel companies to set their drilling and fracking operations further away from hospitals, schools, child care centers and residential neighborhoods. Natural gas colossus Noble Energy and its subsidiaries have been among the most prominent opponents of the initiative, disclosing $7.1 million in contributions to Protect Colorado, the issue committee opposing the initiative.
Noble has also given $200,000 to a PAC supporting the Republican majority in the state senate, which in recent years has been a bulwark against Democratic attempts to pass stronger safety and environmental protections regarding oil and gas operations.
However, on top of those disclosed and regulated expenditures, documents reviewed by Capital & Main show that Noble has also been airing its own corporate television ads against the measure — and the company refuses to tell state campaign finance regulators any details about the ads or about the amount it is spending on the spots.
Although the U.S. Supreme Court's 2010 Citizens United decision deregulated federal campaign finance laws, the ruling preserved state statutes that require direct election expenditures to at least be disclosed. And yet, even as Noble's ads explicitly press Coloradans to vote against the ballot measure, the company has declared that such ads are not governed by state campaign finance or disclosure laws.
Noble's move represents a bold step even beyond Citizens United: In effect, a company that turns fracked gas into corporate profits has found a way to stealthily pipe a portion of those riches around campaign finance laws and directly into an electoral process that is supposed to empower workaday Coloradans to regulate fossil fuel development.
"It looks like a potential loophole in the law that does allow a corporation to spend unlimited amounts on influencing ballot initiatives without reporting their spending," said Brendan Fischer of the Campaign Legal Center.
Noble could have simply spent more disclosed money through Protect Colorado — the regulated issue committee that files paperwork with the state. But with Protect Colorado already having saturated the airwaves with so much advertising — and with critics hammering the group for spending so much cash against the ballot initiative — Noble's new unregulated ads could be a deliberate strategy to confuse voters.
"It may be that Protect Colorado, with all of its advertising, has come to the end of a happy run of having a credible brand," election lawyer Mark Grueskin told Capital & Main. "They may want to make it look like there's a bigger, broader political consensus about these issues, and that it's not just all oil industry money protecting oil industry interests."
"We Do Not Disclose Our Advertising Budgets"
Noble's ads are explicit demands that Coloradans vote against Proposition 112 in the upcoming election.
"When you vote, we need your support to stop Proposition 112, so we can continue producing the natural gas and oil that power our daily lives," says one of the ads.
When asked if the spots are political ads, a Noble spokesperson told Capital & Main: "No."
That claim conflicts with FCC filings made by the TV stations airing the ads, as required by federal law.
Since the beginning of September, at least 12 Colorado TV stations have reported direct advertising from Noble in their political files, which are legally required disclosures "of all requests for broadcast time made by or on behalf of a candidate for public office." In FCC records, the Noble advertising is listed under "Non-Candidate Issue Ads" alongside ads from PACs like Fair Maps Colorado and the National Republican Congressional Committee.
The FCC records also show that Noble's ad campaign is being managed by the same consulting and media firms that are being retained by Protect Colorado, the industry-funded committee opposing Proposition 112. Disclosure forms identify Sadler Strategic Media as Noble's representative in placing the ads on Colorado TV stations; the California-based firm has also placed advertising for Protect Colorado. The same forms show that both Noble and Protect Colorado are represented by Pac/West Communications, an Oregon-based lobbying and public affairs firm.
Whereas state campaign finance records allow voters to see the total amount different groups are spending on elections, Noble's move allows the company to obscure those details.
"We do not disclose our advertising budgets," a Noble spokesperson told Capital & Main when asked about the undisclosed ads. "NBL opposes 112. NBL has the right to express its own views."
The lack of transparency stands in contrast to Noble previously touting its alleged commitment to disclosure.
"Transparency also extends to our political activities," wrote the company in 2017. "Noble Energy's participation at the local, state and federal level of government is essential to our long-term success. As part of the process, we disclose our political contributions online through our Political Activity Report…Transparency has proven time and time again to play a critical role in a company's business success."
"This Type of Activity Is Likely Legal"
In his reelection bid, Williams, the Colorado Secretary of State, has presented himself as a tough and impartial enforcer of the state's campaign finance and disclosure laws. However, without conducting any investigation, his office has now preemptively declared that Noble's unregulated and undisclosed ads are permissible.
"This type of activity is likely legal," said Williams' spokesperson Lynn Bartels.
Williams has served as an executive committee member of the Republican Secretaries of State Committee, whose parent organization has received $500,000 from Noble Energy since 2016, according to IRS filings. During Williams' 2018 reelection bid, that parent group, the Republican State Leadership Committee, has funneled $500,000 into a Colorado group whose mission is "to support Republican candidates for state house, state senate and statewide office," according to state records.
In a 2016 interview with the New York Times about the overlap between secretary of state candidates' fundraising and public policy, Williams declared: "When you are trying to raise money, you try to work with people who have an interest in the subjects."
In this situation, Williams appears to be working to interpret Colorado laws to let GOP donors like Noble directly bankroll future election campaigns without restrictions or transparency requirements.
According to the Colorado State Constitution, a group is supposed to be regulated as a political committee if it has "a major purpose of supporting or opposing any ballot issue or ballot question." State law says a "major purpose" is displayed by a group's "production or funding, or both, of written or broadcast communications, or both, in support of or opposition to a ballot issue or ballot question."
Though Noble is leading the opposition to the ballot measure and is broadcasting television ads against the initiative, Bartels asserted that Williams' office believes "it is unlikely Noble Energy would be found to have a major purpose of opposing Prop 112, and therefore wouldn't meet the requirement to register."
"There's been a lot of litigation about [major purpose]," Christopher Jackson, a Denver attorney who specializes in election and campaign finance law, told Capital & Main. "A lot of people have argued that means something like at least 51 percent of your funding would have to be towards this particular issue. [But] because the law says 'a major purpose,' that suggests that an organization can have more than one major purpose, so maybe that doesn't have to be a requirement."
The Campaign Legal Center's Fischer said that while Colorado law requires certain disclosures by groups that are spending to influence candidate elections, those same requirements may not apply to ballot measures like Proposition 112.
"When a group like Americans for Prosperity spends money [on candidate elections] in Colorado, they at least have to report their expenditures, if not their donors," said Fischer, referring to the Koch brothers' advocacy group. "Colorado could require something similar for spending on ballot initiatives, but it doesn't appear that it has done so."
---
Copyright Capital & Main