Judge Keeps Pensions Out of Stockton Bankruptcy Deals
Today Christopher Klein, a U.S. bankruptcy judge, approved the city of Stockton's plans to exit bankruptcy – ensuring that the pensions of Stockton's retired public workers will not be subject to a tug of war among the city's creditors.
"Judge Klein's decision reinforces the confidence we had in our plan from the beginning," Stockton City Councilmember Elbert Holman told Capital & Main by phone. Holman, along with Paul Canepa and Kathy Miller, voted to file for Chapter 9 bankruptcy; all three remain in office.
The judge's Thursday decision had not been a foregone conclusion. On October 1, Klein had ruled that the federal bankruptcy code could trump the state's retirement law that protects public employees' defined-benefit pensions – and thus expose these retirement plans for "impairment," or cuts. This prompted the Sacramento Bee's political columnist, Dan Walters, to cite a Wall Street source's favorable response: "Moody's Investors Service underscored that effect by declaring that Klein's ruling is 'welcome news for investors' in municipal debt."
Stockton's experience with bankruptcy – and the shadowy role of Wall Street credit-rating firms — is a cautionary story for cities still grappling with the effects of the Great Recession. The background to Klein's decision is one familiar to many such cities.
Before the recession, Stockton's leaders had agreed to issue seven bonds totaling $155.5 million – money borrowed for "new public facilities and downtown improvement" to be carried out between 2003 and 2009. The expectation was that "hyper growth" of real estate prices would never end, said Bob Deis, then Stockton's city manager, in a June 5, 2012, memo to the mayor and city council. Further, "developer fees and property tax growth would provide sufficient revenue to meet these new obligations."
As they did across the U.S., until real estate prices crashed nationwide, contributing to a recession that lasted from December 2007 to June 2009 — the worst economic downturn since the Great Depression. In Stockton, the city's budget gap grew as property tax revenue contracted—$37 million in 2007-08 to an estimated $33 million in 2008-09. A downward trend of reduced property tax revenue continued for city operations.
Despite the recession, Stockton's seventh and last bond was issued in 2009 in the amount of $35 million from Franklin Templeton Investment (FTI), an unsecured creditor of Stockton. Standard & Poor's Ratings Services assigned an underlying rating of "A" to this 2009 bond.
In the Stockton bankruptcy proceedings, the city reached repayment agreements with all of its creditors, except for Franklin Templeton Investment. FTI was the lone creditor that refused to accept the city's terms for repayment, calling them unfair. Judge Klein's October 1 ruling indicated agreement with FTI that a fair plan to exit bankruptcy could require Stockton's pensions to be treated as a liability subject to adjustment (like FTI's 2009 bond).
Since the housing crash, Stockton workers have endured layoffs, pay and benefit cuts (including to retirees' health care) to slow a yawning budget deficit. The California Public Employees' Retirement System-contracted pensions of the city's employees did not cause the cash-flow crisis in Stockton and its move for bankruptcy protection. The fount of the city's red ink lies elsewhere: the real estate crash and sharp drop of property tax revenue.
One big question hangs over Stockton's financial crisis: How does the Standard & Poor's rating of "A" to the $35 million bond from Franklin Templeton Investment in 2009 fit into the city's Chapter 9 filing? Standard & Poor's is one of the credit-rating agencies that fraudulently rated risky mortgage-backed bonds during the last decade, pumping up the housing bubble in Stockton and scores of other communities in and out of the Golden State before it burst. What made such mortgages so risky is clear. Borrowers lacked the means to qualify as home buyers. Lending standards went out the window. A term to describe such unqualified borrowers was NINJA (no income, no job or assets).
In his 2010 book Zombie Economics, economics professor John Quiggin explained Wall Street's part in that real estate boom-and-bust cycle. During the last decade's speculative mania, rating agencies such as Moody's and Standard & Poor's "offered AAA ratings to assets that turned out to be worthless, on the basis of models that assumed that house prices could never fall."
Bob Deis, Stockton's former city manager, wrote as much in his 2012 memo to city leaders. Was such an over-inflated rating the smoking gun for Wall Street's role in Stockton's bankruptcy filing?

What the NLRB's About-Face on McDonald's Means for Franchise Workers
While the National Labor Relations Board is currently divided 2-2, the confirmation of another Trump appointee will restore the Republican majority — which is bad news for fast-food-chain workers.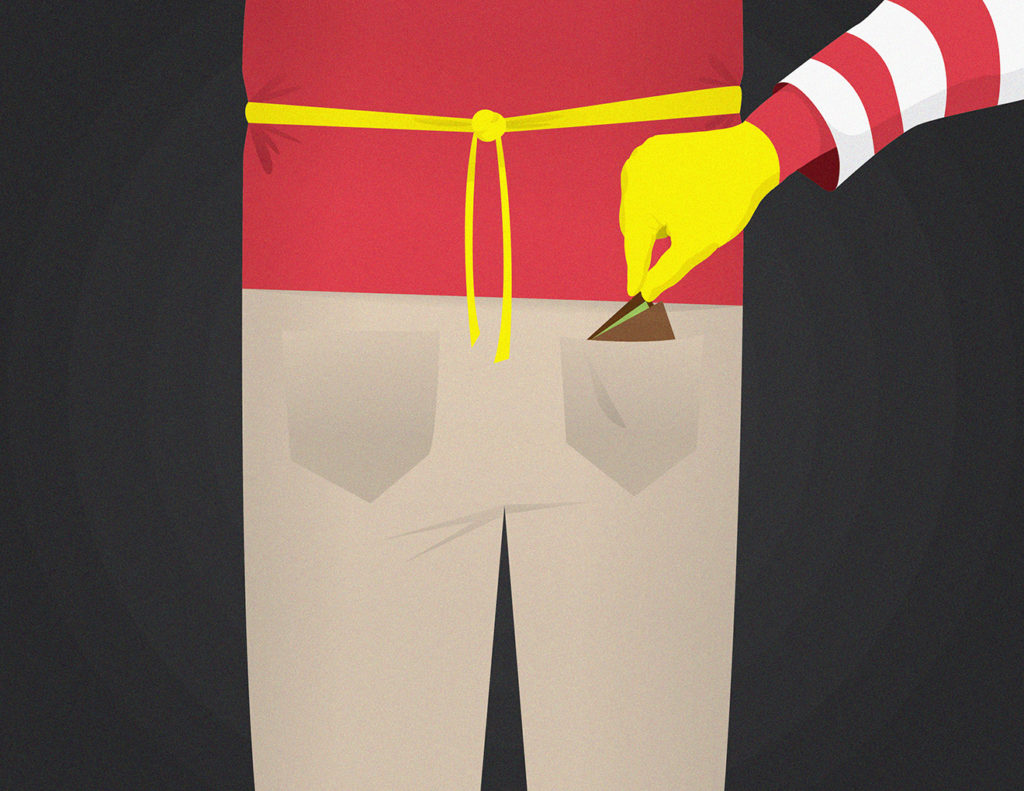 ---
With Donald Trump's election, the momentum at the NLRB is now with employers.
---
Workers at McDonald's joined the union-backed Fight for $15 campaign because many found that they could not get by on minimum wage without the help of family and public assistance. But joining that campaign spurred retaliation, with dozens of employees alleging that they lost money or their job for organizing to get better pay.
Enter the U.S. National Labor Relations Board.
In a victory for workers, the board decided the McDonald's Corporation was jointly responsible for punitive actions against employees across the country because the company dictates, among other things, how those employees cook and clean. That 2015 decision, in a case called Browning-Ferris, established a broad definition of "joint employer." It made franchisors potentially liable for the actions of individual franchises, citing the "indirect" control they exercised over employees and their workplaces. And it meant fast-food chains, among others, would have to collectively bargain with employees who joined a union.
Donald Trump was elected president the next year. By December 2017, the NLRB was back on the side of business with respect to who is and who is not a joint employer, the board overturning with a 3-2 vote the "indirect control" standard of Browning-Ferris.
Then a Republican member of the board retired, evenly dividing the NLRB along partisan lines. The board's inspector general then issued a report in February 2018 saying the December decision never should have been made — that, in particular, a Trump appointee should have recused himself due to a conflict of interest. The decision was thrown out, with congressional Democrats, such as Massachusetts Senator Elizabeth Warren, calling for hearings.
By that point, however, the NLRB had already ordered its lawyers to retreat in the most visible battle over the "indirect" joint-employer standard.
When an administrative trial began back in 2016, the NLRB had said McDonald's was jointly responsible for alleged labor violations at its franchises, including reduced hours, surveillance and wrongful termination of employees who had been organizing for better pay.
"If McDonald's is involved in determining working conditions at its franchised operations, it is responsible for what happens to workers subject to those conditions," NLRB lawyer Jamie Rucker said at the time.
But the NLRB sought and won a 60-day suspension of that trial earlier this year. Lawyers representing the Fight for $15 movement and its allies say the NLRB is now rushing through a proposed settlement that would see McDonald's get off without a finding of joint liability — which won't make it any easier for low-wage workers to collectively bargain.
"What I see is an attack on workers' ability to form a union," said attorney Marni von Wilpert of the progressive Economic Policy Institute (EPI). "If you were able to find a joint-employment relationship with the corporate [franchisor], then all of a sudden they all have one big employer, and all the employees can go to corporate McDonald's. That's really what it's all about, whether workers can organize."
Under the proposed settlement, McDonald's admits no wrongdoing, but its franchisees agree to cover back pay for workers fired as a result of their organizing.
The NLRB "is proposing a sham settlement," said Mary Joyce Carlson, a lawyer representing Fight for $15. "McDonald's directed a wave of retaliation that stretched from coast to coast and included illegally harassing, surveilling and firing workers in the Fight for $15. The hardworking cooks and cashiers who were organizing to get off of food stamps and out of poverty deserve a ruling in their case, not a settlement hammered out at the last minute in collusion with the Trump administration."
With Trump's election, the momentum at the NLRB is now with employers. Any setbacks would appear to be temporary: while divided 2-2 for now, the confirmation of another Trump appointee will restore the Republican majority. Once that happens, the NLRB can be expected to seek another opportunity to overturn the Browning-Ferris joint employer standard.
While Browning-Ferris did not explicitly pertain to the franchise model, it clearly spooked those who depend on it — and inspired those who think franchisors like McDonald's should be liable for the mistreatment of employees at locations bearing its name.
Fight for $15 has prioritized organizing at fast-food businesses, but forming unions is extremely difficult when a dozen small restaurants with the same name may have a dozen different owners. There are over 14,000 McDonald's restaurants in the United States, with only one in 10 owned by the corporation. The ability to collectively bargain with McDonald's, the corporate franchisor, would make a union's task easier — and help address the sort of labor violations that regulators routinely find at fast-food franchises. An EPI report says unionized workers are half as likely to be victims of wage theft, for example.
At an April 5 hearing, Fight for $15 attorney Kathy Krieger urged NLRB Administrative Law Judge Lauren Esposito to reject the settlement. Krieger argued that McDonald's had conspired with its franchises to thwart worker organizing, the corporation recommending, she said, that franchisees "restrict crew members from taking their meals or their rest breaks outside the crew room" as a means "to prevent concerted activity."
McDonald's attorney Willis Goldsmith said the company would never accept a settlement identifying it as a joint employer. "The franchisees, they're independent business people," he said. "They did whatever they did, and if they are willing to concede that, they're going to have to pay people. It's not our job."
While it appears the NLRB under Trump will ultimately reimpose the stricter, pre-Browning-Ferris standard that a joint employer must have direct rather than indirect control of workers, industry groups aren't taking any chances.
Jenna Weisbord, a communications manager at the International Franchise Association to which McDonald's belongs, said her group is looking to Congress to pass the "Save Local Business Act," which would legislatively reimpose the pre-Browning-Ferris standard. "We understand the Senate will take on this task later this year," she said of the bill, which passed the House last year.
A television ad campaign sponsored last year by the franchise association and the U.S. Chamber of Commerce argues the measure would restore "balance to labor law" in the face of a "runaway government agency." That agency, in the era of Trump, is increasingly tilting in the favor of business.
---
Copyright Capital & Main