John Lewis: The Fight Is Never Over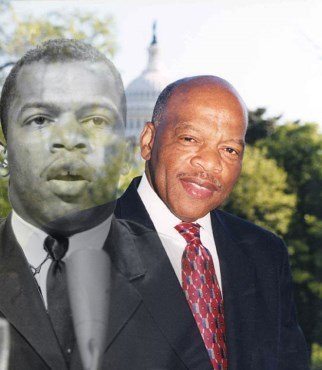 It was a long way from the elegant ballroom of downtown Los Angeles' Bonaventure Hotel back to his Aunt Senovia's tin-roofed shotgun shack in rural Alabama. But somehow Georgia Congressman John Lewis, the iconic civil rights leader whose life began in the segregated Jim Crow South, was able to pull it all together for one thousand-plus people at the Martin Luther King Jr. Labor Breakfast, hosted by the L.A. County Federation of Labor.
Speaking before a giant photo of the Edmund Pettus Bridge, where he was beaten unconscious in the aborted 1965 Selma to Montgomery civil rights march, Lewis displayed the speaking and preaching skills he said he developed at age 14 from practicing in front of the chickens who were his responsibility on the family farm. "It seemed like more of those chickens listened to me then, than members of Congress do today," he quipped.
Lewis' father was a sharecropper and a cotton picker until 1944, when he was able to buy 110 acres of Alabama land for $300 and the entire family turned to farming. In those days blacks and whites couldn't be seated side by side on a bus — all public transportation was segregated. "Those signs are gone and they will not return," the Congressman said. As a teen Lewis, along with his sisters, brothers and cousins, went to the nearest town, Troy, Alabama, to check out some books from the library – only to be told the books were for whites only. In 1998 he went back to that same library for a book signing of his autobiography.
Called "the boy from Troy" by Martin Luther King Jr., John Lewis is the youngest, and only surviving, of the 10 speakers at the 1963 March on Washington for Jobs and Freedom. He said "without organized labor the civil rights movement [back then] would have been like a bird without wings. People came from near and far to offer support."
"The struggle for civil rights and workers' rights is the same thing," Lewis added.
Recalling Aunt Senovia's strategy when her tiny house was threatened by a fierce storm and high winds, Lewis and his cousins were told to hold hands and rush to the corner of the shack that was starting to be lifted off the ground. And as the winds shifted they were told to rush to the next corner that was threatened. So too, he noted, labor and community can't let the house of labor be blown away by current legal and political attacks, and must stand together to hold it steady.
"The fight [for civil and economic worker rights] is not over; there are forces that want to take us to another place. We've heard similar voices before. You must mobilize and organize and turn people out as never before. If we can get it right here in America, maybe, just maybe, we can be a model for the rest of the world," said Lewis.
In addition to Congressman Lewis, the "Across the Bridge…" breakfast presented the First AME Church Mass Choir as well as Rusty Hicks, the newly installed head of the labor federation and architect of the morning's event. Hicks declared the federation's intention to "stop any [political] candidates who demonize the very fabric of America's future – young people of color." Hicks thanked Lewis "for never giving up, for never giving in" and for "never resorting to the politics of hate."
Los Angeles' Measure B Is a Moonshot Aimed at Creating a Public Bank
A baby step toward establishing municipal banking in America's second-largest city would be a giant leap for this national movement.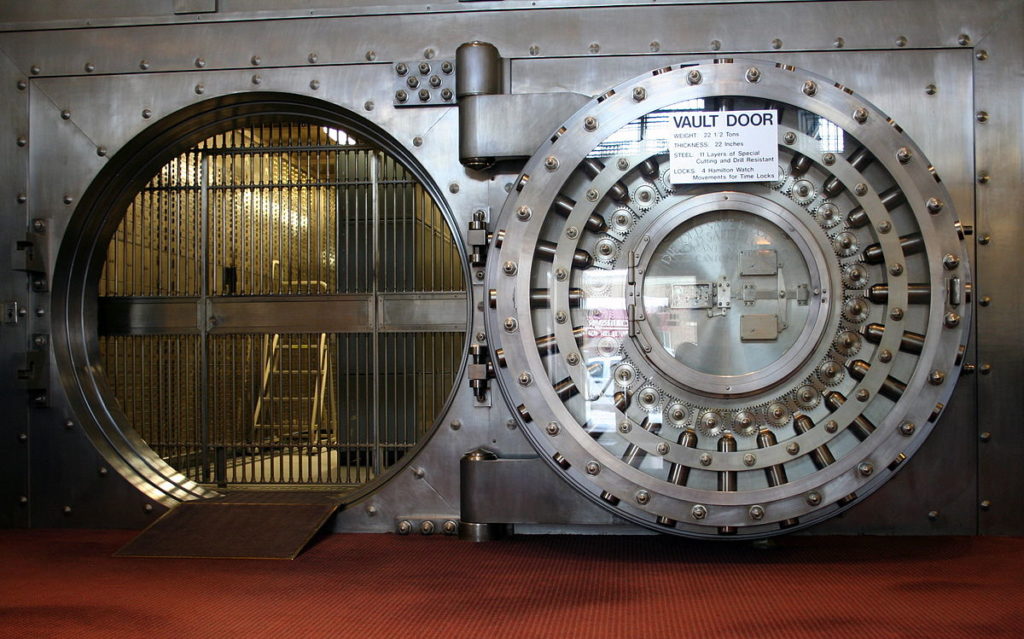 A ballot measure in support of creating a public bank in Los Angeles could serve as a referendum on an idea that has gained traction in cities and states across the country since the 2008 financial crisis.
"To have a resounding 'Yes' vote from Los Angeles, which is one of the most powerful opinion centers of the world, would be tremendously historic," says Trinity Tran, co-founder of Public Bank LA, an advocate for Measure B, which would amend the city charter to allow the city to establish a municipal bank.
But Measure B is a baby step in what promises to be a lengthy process to set up a municipal bank whose stated purpose is to provide the nation's second-largest city with a socially responsible and cost-effective alternative to Wall Street banks.
The movement for public banks draws inspiration from the success of a 99-year-old public bank in the red state of North Dakota and from Germany's network of over 400 regional public banks (or Sparkassen), which advocates say provided significant funds for the development of that country's renewable energy sector.
Since the Great Recession, over 20 U.S. states have introduced bills to establish state-owned banks or to study their economic feasibility. New Jersey Democratic Governor Phil Murphy, a former Goldman Sachs executive, successfully campaigned for his current job on the promise of creating a state-owned bank. And California's gubernatorial frontrunner Gavin Newsom has made the formation of a state bank that would fund infrastructure, student loans and housing part of his platform as well.
A lack of resources is one motivation for city and state leaders' interest in public banking, said Deborah Figart, a distinguished professor of economics at Stockton University in New Jersey.
After the Great Recession, "we really became much more aware of unmet infrastructure needs," said Figart, who conducted an economic impact study for the proposed New Jersey bank. The American Society of Civil Engineers gives the U.S. a D+ grade for the state of its roads, bridges and other infrastructure — "practically a failing grade," she noted. Meanwhile, local governments devote a significant portion of their budgets to paying interest on bonds that go to Wall Street banks and finance companies at a time when interest rates are on the rise.
In Los Angeles, the push for the bank emerged from grassroots activists who demanded that the city divest from San Francisco-based Wells Fargo, whose aggressive sales practices resulted in more than three million deposit and credit card accounts being opened without customers' knowledge.
"We knew that it wasn't really divesting if we were going to move our money to another predatory extractive bank," said Tran. "So we introduced public banking early on in the campaign as a permanent solution to housing the city's public finances."
Last year, the city paid $1.1 billion in interest to bondholders, which in turn funds "wars and pipelines and private prisons," said Tran, who would rather see tax money put to work to address city needs like housing and clean energy. Her banking advocacy began four years ago when she started meeting with fellow activists in Koreatown coffee shops. As of October 20, "Yes on B" supporters had raised $10,128 for the measure, according to the Los Angeles City Ethics Commission. No committee has been formed to oppose the measure.
There are critics, however. Rob Nichols, president and CEO of the American Bankers Association, writing in The Hill, fears that the public bank proposal would suffer from a "scattered business focus" and fall under "undue political influence" that would result in risky loans that would damage the public purse.
"It's easy to make the banks the bad guy," said Stuart Waldman, president of the Valley Industry and Commerce Association. But "it's not easy to run a bank," and a municipal bank would require significant start-up capital. "This is public money, so if they lose public money, if they realize that it doesn't work, that hurts every person in L.A."
The Los Angeles Times editorialized that the measure was one of "the most ill-conceived, half-baked ballot measures in years" and urged a no vote, in part, because the measure does not articulate a vision or plan for the bank.
But if the proposal on the ballot lacks detail, it's because city officials have not wanted to invest in a business plan and feasibility study while the city is still prohibited by its charter from operating a bank, City Council President Herb Wesson told a news conference in October.
Wesson assured reporters that there was "no way on God's green earth" the city would move to create a municipal bank without a subsequent citywide vote on a more detailed plan, and the ballot argument in favor of the measure that goes to every city voter says as much. For now, voters are only being asked to remove a legal hurdle in the charter that prevents the city from establishing a municipal financial institution.
Proponents of public banking regularly point to the Bank of North Dakota as a model. The Progressive-era institution was created in 1919 out of frustration with a banking system that was putting the squeeze on farmers. The bank was initially greeted with suspicion by a national press corps anxious about a Bolshevik incursion into the finance sector. But the bank, now very much part of the state's business establishment, has seen record profits for 14 consecutive years. Because it steered clear of the volatile derivatives market, the Bank of North Dakota avoided the upheaval many financial institutions suffered when the housing market tanked in 2008.
"It's partly because you have civil servants in charge rather than folks whose paychecks depend on how much money the bank makes in a quarter," Sam Munger, director of external affairs for the State Innovation Exchange, told The American Prospect.
Considered a "banker's bank" with a $4.9 billion loan portfolio that supports agriculture, business, homeownership and higher education, the Bank of North Dakota does not compete with other financial institutions.
"It's not a bank for regular household customers, for car loans, credit cards and mortgages," said Figart. "It is a bank for accepting public deposits and lending mostly to the public sector or public-private partnerships."
Wesson has talked about L.A.'s municipal bank as a place where the cannabis industry could park its cash since pot is illegal under federal law. Such a move could restrict the bank's ability to make federal wire transfers, but the L.A. activists who back the initiative see other uses for the bank.
"For our organization, it was never about cannabis; it was always about neighborhood issues," says Gisele Mata, housing organizer of Alliance for Californians for Community Empowerment, a community-based non-profit that has been part of the coalition advocating the bank.
Public Bank LA leaders envision Los Angeles's municipal bank playing a similar role to that of the Bank of North Dakota, but focusing on the city's priorities. "It would start as a banker's bank for the city, refinancing city debt and trying to consolidate the investment away from Wall Street and harmful extractive industries," co-legislative director David Jette told KPCC-FM in October.
Public Bank LA, he added, also envisions the municipal bank "partnering with local credit unions and community banks" to fund housing, small businesses, low-interest student loans, renewable energy projects and, eventually, credit for the underbanked. The bank could also fund infrastructure projects more cheaply than commercial banks by avoiding the interest and fees that go to commercial banks, according to advocates.
Many hurdles remain before an L.A. bank could become operational. State and federal laws do not currently provide a regulatory framework for the formation of public banks, according to an August report by the city's Chief Legislative Analyst's office. The city must come up with a source of collateral for the bank and an oversight structure, and receive approval from the California Department of Business Oversight.
But a modern public bank can be made from scratch. In April, the Federal Reserve approved a public bank for American Samoa in the South Pacific, after the Bank of Hawaii abandoned the geographically remote U.S. Territory.
The North Dakota and American Samoan banks may be rare cases for now, but Figart believes that "in the next five years, there will be" more public banks, and "in the next 10 years, there certainly will be more."
---
Copyright Capital & Main