John Lewis: The Fight Is Never Over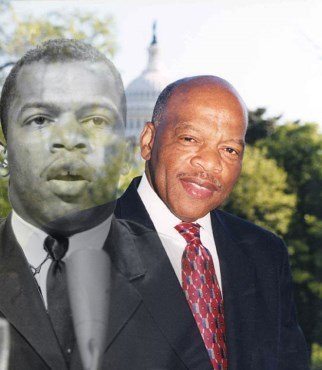 It was a long way from the elegant ballroom of downtown Los Angeles' Bonaventure Hotel back to his Aunt Senovia's tin-roofed shotgun shack in rural Alabama. But somehow Georgia Congressman John Lewis, the iconic civil rights leader whose life began in the segregated Jim Crow South, was able to pull it all together for one thousand-plus people at the Martin Luther King Jr. Labor Breakfast, hosted by the L.A. County Federation of Labor.
Speaking before a giant photo of the Edmund Pettus Bridge, where he was beaten unconscious in the aborted 1965 Selma to Montgomery civil rights march, Lewis displayed the speaking and preaching skills he said he developed at age 14 from practicing in front of the chickens who were his responsibility on the family farm. "It seemed like more of those chickens listened to me then, than members of Congress do today," he quipped.
Lewis' father was a sharecropper and a cotton picker until 1944, when he was able to buy 110 acres of Alabama land for $300 and the entire family turned to farming. In those days blacks and whites couldn't be seated side by side on a bus — all public transportation was segregated. "Those signs are gone and they will not return," the Congressman said. As a teen Lewis, along with his sisters, brothers and cousins, went to the nearest town, Troy, Alabama, to check out some books from the library – only to be told the books were for whites only. In 1998 he went back to that same library for a book signing of his autobiography.
Called "the boy from Troy" by Martin Luther King Jr., John Lewis is the youngest, and only surviving, of the 10 speakers at the 1963 March on Washington for Jobs and Freedom. He said "without organized labor the civil rights movement [back then] would have been like a bird without wings. People came from near and far to offer support."
"The struggle for civil rights and workers' rights is the same thing," Lewis added.
Recalling Aunt Senovia's strategy when her tiny house was threatened by a fierce storm and high winds, Lewis and his cousins were told to hold hands and rush to the corner of the shack that was starting to be lifted off the ground. And as the winds shifted they were told to rush to the next corner that was threatened. So too, he noted, labor and community can't let the house of labor be blown away by current legal and political attacks, and must stand together to hold it steady.
"The fight [for civil and economic worker rights] is not over; there are forces that want to take us to another place. We've heard similar voices before. You must mobilize and organize and turn people out as never before. If we can get it right here in America, maybe, just maybe, we can be a model for the rest of the world," said Lewis.
In addition to Congressman Lewis, the "Across the Bridge…" breakfast presented the First AME Church Mass Choir as well as Rusty Hicks, the newly installed head of the labor federation and architect of the morning's event. Hicks declared the federation's intention to "stop any [political] candidates who demonize the very fabric of America's future – young people of color." Hicks thanked Lewis "for never giving up, for never giving in" and for "never resorting to the politics of hate."