John Densmore on the Immigrant Heart
Well… my 68 year old brain has done it again. It's bad enough going into a room and wondering why you're in there, but leaving your wallet on top of your car at the gas station, and then driving off, has much more serious consequences. It's being pre-occupied with multi-tasking in this jet-set age that has overloaded the wiring upstairs. The New York Times had an article that creative acts need a singular focus; you can't answer the phone, eat lunch, or text while playing music or painting. So I don't know where my mind was after I set the billfold on the roof, pumped petrol, and left.
Certainly the miracle woman who was driving by later was in her present mind. That afternoon I was in a complete panic, going back to the gas station, looking everywhere, asking the attendant if anything had been turned in… all to no avail. I phoned my accountant with the depressing story, and instructed him to cancel all my credit cards and said I would be going to the DMV to get a new driver's license.
Meanwhile, the miracle woman was leaving her job at a fancy home in the Pacific Palisades, where she was a house cleaner (not for California's former governor Pete Wilson — just a maid). She drove down into the canyon, and turned on the little side street where she would catch the PCH south. Looking over at the gas station, she spotted something in the gutter. It looked like an old-style Mexican wallet. She quickly got out to retrieve the item, when the signal changed. Cars behind her started honking. It didn't bother Rosa one bit — she was on a mission. Grabbing the billfold, she jumped back in her car and sped off through the intersection. Due to her little endeavor, the rest of the cars caught a red light. Too bad for them, too good for me.
The miracle woman pulled over before going through the tunnel onto the 10 freeway. She looked at my driver's license and noticed the address was in Century City (my accountant). Instead of taking the 405 south to Culver City where she lived, she continued on the 10 to Century City… well, actually she had to take several side streets after exiting the freeway, to wind up at the Avenue of the Stars. It was rush hour and parking was twenty dollars. She went anyway. Going up to the 10th floor where my accountant had his office, she found out that the accountancy corp. had moved. The new resident gave her my accountant's number and a phone. She called and the man who pays my bills was amazed when he heard her story. He asked Rosa to hold on for a minute while he called me.
"Stop, stop… a woman found your wallet!" Fortunately, I hadn't gone to the Department of Motor Vehicles yet and he hadn't cancelled any of my cards. He clicked back to Rosa, and said he would send a messenger to her house to get the wallet. "No, no, there's money in it… someone might steal the cash." "Well, we certainly want to give you some of that for finding it!" "No, no, just tell Mr. Densmore that he should pick it up himself."
I was elated! I hadn't gone to the DMV and stood in line forever, while she had negotiated Westside gridlock to do a stranger a favor. Maybe she thought it was one of her countrymen who lost his billfold, me having purchased the machine-tooled wallet at Olvera Street (a tourist area in downtown L.A. emulating Old Mexico). But she saw my name on the license when looking for an address, and "Densmore" meant "gringo." It didn't stop the miracle woman.
I headed for Culver City, driving carefully because at that moment I, too, was an "illegal" — no driver's license. I wanted to do something for this kind woman, so I pulled into a flower shop. If she wouldn't take money, I'm sure she would take flowers… only flowers cost money… and my mind had wandered again — I was broke! She had all my dough. Cruising past her house several times, I finally caught the address and pulled over. Her apartment had the usual security grid on all the doors and windows. Another idea hit me, and this might be a good one… a good mental diversion. I shuffled around the floor boards of my Prius and found what I was looking for: a Doors CD. Maybe Rosa was into music…
The slightly over-weight, middle aged woman from Mexico opened the door. As she invited me in, I spied a shrine to the Virgin Mary on the wall behind the front door. On another wall rested a shelf full of books, with one about Mother Teresa prominently displayed on top. Rosa offered me a seat on the couch and as I sat down I heard some giggling from the hallway. Even with my pleading, "Hola… hola," we couldn't get her four-year-old girl to come out and say "hi" to the "gringo." The miracle woman went into the kitchen and brought back the familiar black Mexican wallet that had brought us together.
"Please check to see if everything is there," she insisted. Embarrassed by her concern, I quickly rummaged through and pulled out a twenty.
"You must take this for your trouble…" She shook her head.
"Didn't you have to pay for parking?" Now she was shaking her head affirmatively, and starting to give in.
"I have something else that I would like to give you… some music." I handed her the CD along with the twenty dollar bill. She reluctantly took both, saying that her brother likes music and maybe she could make him jealous if she accepted the gift. Now she had a mischievous look in her eye.
"Actually, I'm a member of this music group," I said pointing to the CD. "The Doors… have you heard of them?"
"I think so… I know my brother will know…"
"Ya know… uh… Jim Morrison was our singer," I said trying to help. Recognition crept over her face.
"I could autograph it… sign it to you…"
"Bueno," she responded. After dedicating it to "Rosa," I gave the CD my John Hancock. We sat silently for a minute or so, and then I blurted out, "I'm Catholic, too!"
Where the f… did that come from?! I guess with the Virgin Mary and Mother Teresa leering down on me, I fell to my knees (metaphorically, of course). I had been a "renegade Catholic" for most of my adult life, hating the church for giving me huge doses of "sin," as well as dominating the world with no birth control, and a whole lotta gold in their coffers.
Organized religion is not my cup of meat. Still, the goodness in this devoted woman warmed my heart, and I wanted to give back, so something in me bubbled up out of my mouth… and it made her smile… big time. They say, "Once a Catholic, it's for life." I don't like that phrase one bit, but there are many good people in all of the world's religions, it's only when they get into "my God is better than yours" that I get crazy. When the right wing attacks immigrants they focus on the small percentage of criminals but not the Rosas who contribute day in and day out to our society. She is everything they claim they want in a citizen; hard-working, honest, generous, and religious in the best sense because her actions match her beliefs.
In the coming months, as we get into immigration reform, let's try and remember the likes of the miracle woman. This great melting pot we live in has been built by immigrants, and most of them are like Rosa.
(Former Doors drummer John Densmore has written for Rolling Stone, the Guardian, the Nation and Los Angeles Times. This post first appeared on Huffington Post and is republished with permission.)
The Power of the Poster
Carol Wells, the founder of the Center for the Study of Political Graphics in Los Angeles, talks to Capital & Main about the enduring power of political art.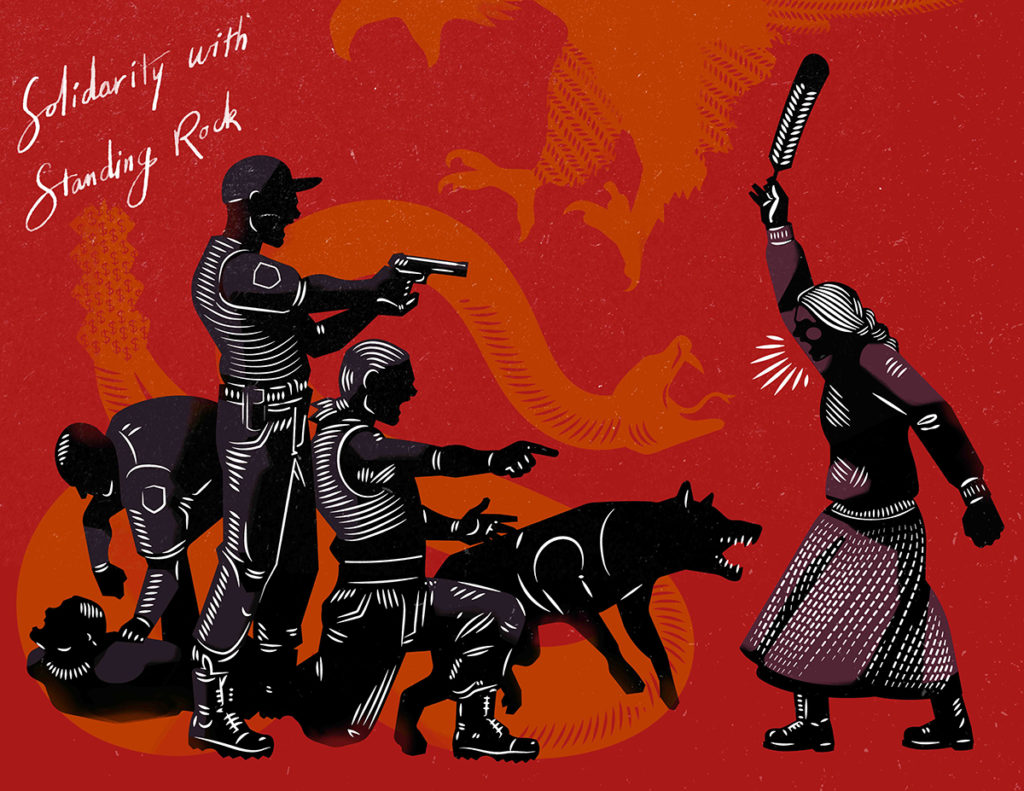 Carol Wells remembers the exact moment she discovered her calling. An art historian at the time, she was on a trip to Nicaragua with her friend David Kunzle, a UCLA art history professor, who was collecting political posters to add to his burgeoning collection. While staying with friends, Wells watched a neighbor's 8-year-old son approach a poster on the wall, stare at it intently, and then start to silently mouth the words. Wells was struck by how engaged the boy was. "In that moment I became obsessed with collecting posters."
Now over 40 years later, Wells is the founder and executive director of the Center for the Study of Political Graphics in Los Angeles. Wells has amassed approximately 90,000 posters, building one of the largest collections of its kind in the world. The Center shares its collection with the public in part through curated exhibits. This year the CSPG has produced Feminae: Typographic Voices of Women by Women and its latest is To Protect & Serve? Five Decades of Posters Protesting Police Violence, running through July 15 at the Mercado La Paloma in downtown Los Angeles.
Since that encounter in Nicaragua in 1981, Wells' obsession with collecting posters hasn't waned. In CSPG's nondescript West L.A. office space, Wells pulls out poster after poster, lecturing passionately on the backstory and cultural impact of each, including one that superimposes text from a New York Times interview with a shocking image of the My Lai massacre ("Q: And babies? A: And babies."). Recently, she managed to sit down with C&M to discuss her passion.
---
Capital & Main: So, you were an art history professor, you happen to see a kid on a trip, and suddenly your life was changed forever?
Carol Wells: Yeah, I'm in Nicaragua alone in the living room with this kid. He's looking around, and all of a sudden, he sees the poster. It was pretty big, bright green, a thick outlines of a woman holding a big basket of coffee beans. And the text in Spanish said, "In constructing the new country, we are becoming the new woman." I see him walk over to the poster and I'm watching him mouth the words. It was a pretty sophisticated concept, so I doubt he figured it out. But I literally had this epiphany: "Oh my God. That's how posters work." You're going about your daily life, and all of a sudden something breaks through the bubble, and it grabs your attention. It's the graphic, it's the color, it's the combination, and it pulls you out of your head and into that poster and it makes you ask a question. "Why is this here? What is this about? What does this mean?" And every time you ask a question, you're a different person than you were before you asked the question.
How many posters do you get a year?
We get between two to five thousand a year donated from all over the world. The bulk of our collection is [from] 1945 and later.
I assume technology has probably hurt the art form, but has it helped get the messages out?
Most people think that, and it's actually not true. Since the internet age started, there's actually a poster renaissance of works on paper. Because you can't walk with your computer monitor in a demonstration. You can't plant your monitor on your lawn.
And you can't put a laptop on the wall…
Exactly. You want to hear a really great story? Truthdig.org published a cartoon [made by] a political cartoonist named Mr. Fish. It was during the Arab spring, and he had superimposed Che Guevara with the stylized beard and King Tut's face, but it had Che's beret. And it [was titled], "Walk like an Egyptian." So, it was a reference to the music, but [it was also] a reference to what was going on the streets of Cairo. I sent it out as our poster of the week to 9,000 people. The very next day, somebody took a photograph on the street of Cairo, with somebody holding a piece of paper with that image on it. A poster can literally go around the world and people will print it out.
What struck me in viewing your exhibits is how many of these posters could still be used today, not only artistically but also, sadly, in the timeliness of their messages.
We had this fabulous poster by Yolanda Lopez, a Bay Area artist, which she first did in 1978. It depicts a young man in Aztec garb pointing a finger like Uncle Sam saying, "Who's the illegal alien, PILGRIM?" And it's a great poster, it's simple, not too many words, funny, provocative. So, we had an exhibit at UCLA in the mid '90s and there were 4 or 5 high school students standing around this poster saying, "Wow, you've got posters up to the minute." And I went over to them and I said, "Look at the date. This is before you were born."
Is that one of your goals with the exhibitions? To show the evergreen nature of this work?
Absolutely. I mean that's why we did the police abuse exhibition now. It basically goes back five decades. It's 50 years of posters protesting police abuse. Mainly in the United States, but also internationally.
What's the goal for CSPG?
Well the aim right now is really to digitize the collection and get it online. We have 10% of the collection digitized. But the mission is to collect and to document, because stories get lost. All the exhibitions, they're showing massacres, they're showing genocide, they're showing police abuse, they're showing all of these horrible things. And people often ask me, "How can you look at this stuff all day long?" I said, "Because the poster artists are optimists. They believe people can change if they have the information."
Yes, that's the reason why they're doing it, right?
That's why they're doing it, and that's why I'm doing this, because I believe that people can change if they knew the truth.
And what happens 20, 50 years from now?
Well, my goal is to stay independent, because the other option is to become part of the university. Universities, for all the fabulous things that they do, they also censor. We did an exhibition at USC in 1992 on the 500 years since Columbus, and how the legacy of racism and exploitation and genocide continues. And one of the board of trustees was Italian and took [the exhibit] as an affront to Columbus. It really wasn't about Columbus, it was about colonialism. And he ordered it down.
Do you have a favorite poster?
I'm always amazed at the creativity and vision of artists. Every week I'll say, "Oh my God, how do they think of that?" But it's always still going to be the poster I saw that kid trying to figure out. It has to be my favorite one because that one changed my life.
What makes a perfect poster?
The right balance between aesthetics and message. If you only rely on the corporate press, the New York Times and L.A. Times, for your information, you're not going to get the side from the street, from the movement, from the activists. The posters are primary historical documents that are recording the issues that were at the time, and the passions that were at the time, and the divisions that were at the time. You're not going to get it anyplace else.
---
Copyright Capital & Main