James Donaldson: An Organizer's Long Legacy
The author Sam Keen once told me that James Donaldson was the only person he ever knew who became a social worker because he needed the money. But when Donaldson shaped this city – and changed my life – social work was still in his distant future.

James Donaldson organized supply trucks that brought essentials from his Valley church to Watts during the 1965 riots.
Some of the wealthiest, most famous and most powerful figures in the world call Los Angeles their home. No one would mistake James Donaldson for one of those. Sam Keen, the author and writer for Psychology Today, once told me that Donaldson was the only person he ever knew who became a social worker because he needed the money. But when Donaldson shaped this city – and changed my life – social work was still in his distant future.
James Donaldson came to Los Angeles from the publishing world to be Theologian-in-Residence at a mainline church in Woodland Hills, when that was the western edge of the suburbs. A seminary graduate from Texas, he involved his affluent congregation in reflection using the tools of the culture – films, museums, books. And he connected the suburbanites to an African-American church in South Los Angeles.
During the curfew that followed the Watts Riots in 1965, the link between those two churches became a pipeline of survival. Short on water, food, diapers and other goods people needed to live, the Valley church filled a truck every day and delivered these staples into South Los Angeles. It changed the lives of those people – especially the ones in the truck.
It also led to the next change in Donaldson's Los Angeles sojourn. Following those social upheavals, the National Council of Churches' Commission on Religion and Race put money into Los Angeles to empower the black community through a network of congregations. There are several of those networks now, but none then. The Corridor Ministry took its name from the swath of jet noise from the flight path into Los Angeles International Airport. The Corridor started at what was then the eastern segregation line of Alameda Street and moved west across South Los Angeles to the mostly-all-white, but already changing, Inglewood.
Donaldson used his energy, intelligence and charisma to organize a hundred congregations in a short time, packed with intense meetings and several notable successes, including a commitment by the Los Angeles Community College system for a campus in South Los Angeles.
During both his Valley and South Los Angeles time, he recruited participants for a series of weekend theological trainings run by the Chicago-based Ecumenical Institute. The workshops aimed to radicalize clergy and church people. I am sure I met Donaldson during that time, but he came after me one day in Claremont, where I was a seminary student. Because we were exempt from the Selective Service, he wanted us to support draft resisters at the downtown Los Angeles induction center. We did.
Then as I began an internship year in the city, he asked me for more. Donaldson had shifted gears again, forming a branch of New Adult Community in Los Angeles and orchestrating its signature event, the Urban Plunge. New Adult Communities were a national network of experiments by major denominations to connect with the emerging youth culture. The Urban Plunge, created by people in Chicago, immersed college youth and suburban church people in the urban scene. Donaldson asked me to coordinate the logistics of a Plunge here.
So I did. Eighteen months in a row. Over a weekend, the Plunge took 100-some participants at a time from an urban church basement to the bars and peep shows of old Main Street and Hollywood, to the Black Congress in South L.A. and to meet with Brown Berets in East L.A., then to church with a rock band (unheard of in those days) and dancing on the pews (still unheard of). Not much on sleep, it mirrored the intensity of the late 1960s itself.
The Plunge became an organizing tool, which led to communal living experiments, participation in war protests, efforts to stop the nuclear power plant at San Onofre, leafleting grocery stores for the farm workers, and a white presence on the street during the Black Panthers/LAPD shootout. Meanwhile Donaldson assisted draft card burnings on college campuses and helped smuggle draft resistors into Canada.
Then it was over. Donaldson headed "back to the land" as people said in those days. The man who told me I was intelligent and taught me to read books – not just for grades but for the meaning they gave my life – and who shoved me into leading, walked out of my life for two decades. First to Glorieta, New Mexico, then to Twisp, Washington.
That's it. No fame or fortune or power. On January 7, he died – a retired social worker, yes, but a theologian, activist and organizer to the end – surrounded by friends who joined him in caring for the earth and one another.
Sometime back, maybe a decade, a hundred or so mostly-white clergy were packed into a room at one of the union halls in Los Angeles. The facilitator asked us to introduce ourselves and say how we experienced our political awakening as faith leaders. One by one it became apparent that for most of us of a certain age in that room, it was the work of James Donaldson that had formed our lives through one project or another. He lived here a brief time, but he left a long legacy.

No Walk in the Garden for the Urban Homeless
Throughout Los Angeles, landscaping is put to aggressive use, functioning as a weapon of anti-homelessness under the guise of beautification.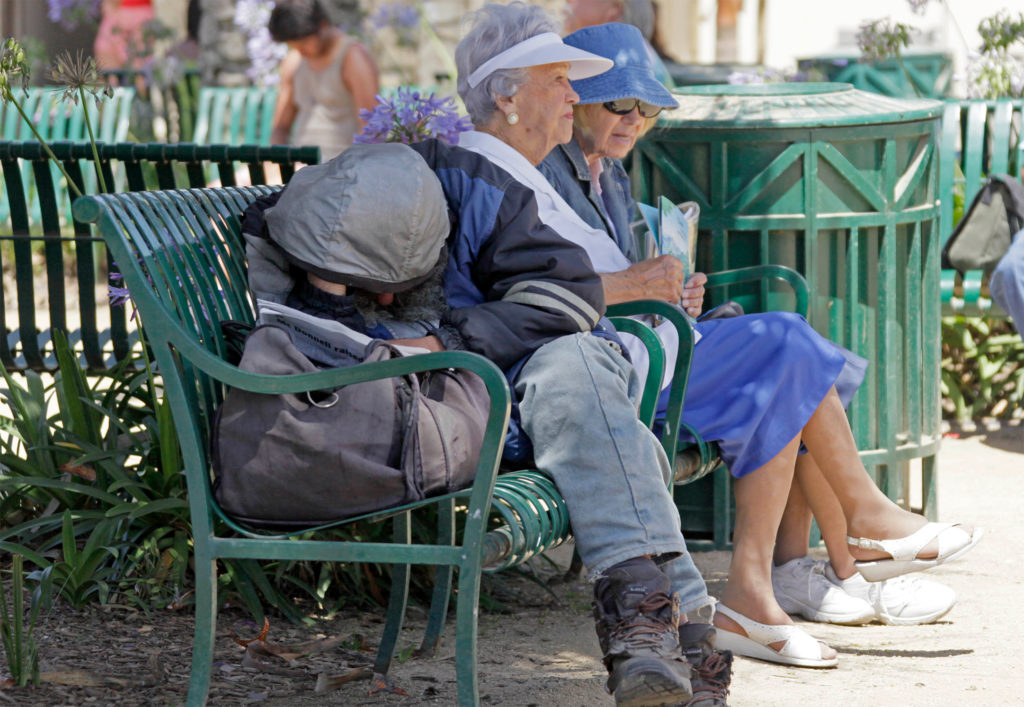 ---
The phenomenon of hostile landscaping in Los Angeles has further marginalized a swelling unhoused population.
---
Last May, in Los Angeles' coastal Venice neighborhood, Adam Smith noticed a series of planter boxes in the middle of a familiar sidewalk. Affixed near the intersection of Third and Sunset avenues, mere blocks from a Google campus and a suite of oceanside cafes, the standalone planters ran roughly the length of a wall delineating a parking lot behind a luxury condo complex.
Previously, Smith told Capital & Main, a group of six to 10 homeless people had regularly slept in tents on that block, favoring it for its relatively plentiful street light. A volunteer for the Culver-Palms Burrito Project, which prepares and serves the titular food to the unhoused of West Los Angeles, he'd become acquainted with individuals living there over the course of several years.
Once the planters were installed, however, the sidewalk was clear. "That next day, after I saw [the planter boxes] for the first time, I went there to look around because I figured they were sleeping somewhere else," Smith said. "I found people up around the corner, just, like, a block away."
---
Companies are privatizing public space to create more "landscape" for their businesses.
---
Throughout Los Angeles, landscaping is put to aggressive use, functioning as a weapon of anti-homelessness under the guise of beautification. Just as both public and private architectural design throttle space available to the unhoused internationally — via, among other examples, spikes on ledges and bars on benches to discourage sitting and lying down — and cities such as San Francisco arrange boulders to deter homeless encampments, the phenomenon of hostile landscaping in Los Angeles has further marginalized a swelling unhoused population.
Nearly 20 miles from Venice, a Los Feliz traffic median at the intersection of Vermont and Prospect avenues, and Hollywood Blvd., has regularly seen encampments arranged on its concrete ground, abutting a raised patch of desert landscaping and sycamore trees.
Christened "Vermont Triangle," the median's first redesign occurred in 2008, when the now-defunct Community Redevelopment Agency spearheaded a project to "improv[e] the pedestrian amenities" and "enhanc[e] the physical appearance of the existing median park." According to the Los Angeles Times, this yielded seating areas, lampposts to echo those at nearby Barnsdall Art Park, and the sycamores. Eventually, unhoused people began to pitch tents, availing themselves of the median's modest stretches of open public space.
Now, due to pressure from local business owners, Vermont Triangle is in flux. City Councilmember David Ryu's office, the Times noted, plans to invest $18,000 in another redesign, following a 2013 re-landscape. The 2013 update was financed in part by the Hollywood Hotel and Kaiser Permanente, according to Jeff Zarrinnam, who serves on the board of governors of the East Hollywood Business Improvement District. (Ryu's office couldn't be reached for comment.) Current proposals range from adding art installations and neighborhood signs, which Zarrinnam said the Los Feliz Neighborhood Council and East Hollywood Neighborhood Council have floated, to putting in planters.
Zarrinnam said he supports "bridge housing," a term the municipal government, neighborhood councils and local businesses use to favorably denote temporary homeless shelters and transitional housing. Yet reports indicate that the current state of temporary housing for many homeless people in Los Angeles County — who, as of May, numbered approximately 53,000 — is nothing short of abysmal. A recent investigation by radio station KPCC found infestations, harassment and medical negligence, among other scourges at various facilities throughout Los Angeles County, including those funded by the Los Angeles Homeless Services Authority (LAHSA), which conducts the county's annual homeless census.
Steve Diaz, an organizer for Los Angeles Community Action Network (LA CAN) who works with unhoused populations in downtown and South L.A., calls hostile landscaping of public space "the next level of criminalization" of homelessness. He alluded to an industrial neighborhood overlapping Skid Row, whose business owners call "The North Sea": a cluster of converted seafood warehouses and factories painted the same hues of oceanic blue — complete with landscaped sidewalks.
"They started breaking the concrete and taking away from the sidewalk to place different types of flowers, whatever garden they were putting in," Diaz said. "You have a major street [on] Skid Row that, at one point, was home to a lot of homeless folks now being gated off, and then the concrete being broken to start using these gardening pockets within the space to eliminate sidewalk access." (Miguel Nelson, a North Sea business owner involved in the area's marketing efforts, declined to respond publicly.)
As private property owners adopt guerrilla tactics to thwart homeless encampments, legal issues arise. Skid Row activist General Jeff Page has observed that, while property owners are permitted to control up to three feet of sidewalk extending from their buildings, "The North Sea is taking upwards of five to 10 feet of sidewalk, allowing only for ADA (Americans with Disabilities Act) compliance and zero space for homeless tents and/or encampments." (The Los Angeles Department of Public Works stated that the North Sea sidewalk landscaping is currently under investigation and thus couldn't comment further on the matter.)
What's more, business owners in South L.A. have illegally installed fences around their property, which, according to Diaz, will eventually give way to sidewalk landscaping. Relatedly, Adam Smith has been corresponding with city officials to ascertain the permit status of the Venice planters. The West L.A. office of the Bureau of Engineering, which issues revocable permits, told Capital & Main that it did not have a permit on file for the planters. Without one, according to the bureau, "no portion of the public right-of-way, including sidewalk, is allowed for private use."
Nevertheless, the planters remain and, according to Smith, have multiplied. Additional boxes, he said, are now ensconced in the sidewalk around the corner, to where the previously ousted people had first moved.
"For some people, [landscaping] sounds like a great idea," Diaz said. "But you're literally privatizing public space to create more 'landscape' for your business."
---
Copyright Capital & Main