Jackie Robinson, Trayvon Martin and the Ebony Boycott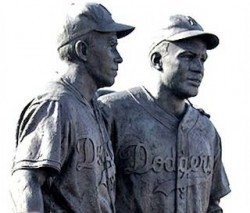 (Dave Zirin writes about sports and society for the Nation, where this post first appeared. Republished with permission.)
(MLB.com)
Sometimes it's all just too damn much. First came word this week that the famed Coney Island statue of Jackie Robinson, standing alongside Pee Wee Reese as sporting symbols of racial progress, had been defaced, with "die n***ers," "f*ck Jackie Robinson and all n***ers," and "Heil Hitler" scrawled across it. It's quite the capstone to a summer that started with the sweetly hopeful biopic, 42, about Robinson's early career and post-racial promise. There is no doubt if Robinson still walked among us, he wouldn't be shocked at the vandalism of his statue. He'd grit his teeth and set to cleaning it with his bare hands as a vein throbbed dangerously on his temple. This is the world—and the country—Jackie Robinson knew all too well.
The vandalizing of the Jackie Robinson/Pee Wee Reese monument comes days after Riley Cooper, a middling Philadelphia Eagles wide receiver, was caught on a cellphone camera angrily yelping that he was going to "fight every n***er" after a (black) security guard wouldn't let him backstage at a Kenny Chesney concert. Cooper has since gone on a tearful apology tour. Tim Tebow—his former college teammate—has pledged to "pray for him" and the Eagles want him to go through mandated sensitivity training as he strains to keep his job.
There is no connection between Jackie Robinson and Riley Cooper's scramble to stay employed, except for the ones seen—somehow—by some of the deep thinkers on sports radio. Several sports radio commentators compared Cooper and his post-slur pariah status with Robinson's lonely isolation when he joined the Majors in 1947. They implored Eagles quarterback Michael Vick to give us a "Pee Wee Reese moment" of reconciliation and put his arm around Riley Cooper's shoulders in front of the world. "We need to build bridges and stop the divisions," they said. (I apologize for the lack of links but I was driving at the time. I was just glad to get home without crashing.) This is almost too stupid for words, but I'll leave it at this: the only way Jackie Robinson and Riley Cooper should ever be in the same sentence is if you say, "If Jackie Robinson was alive, I bet he stares a hole through Riley Cooper."
Then there is Miami Heat player Dwyane Wade and his commitment to keep talking about the shooting death of 17-year-old Trayvon Martin. Wade appeared this week on the cover of Ebony with his sons in hoodies and continues to insist upon using his fame to prevent Trayvon from falling down the media memory hole. Wade was someone who tweeted after George Zimmerman was found innocent of Trayvon's murder in July, "Wow!!! Stunned!!! Saddened as a father!!! Some1 make sense of this verdict for me right now please!!! Don't worry I'll wait…"
Now, Wade's magazine cover with his two sons was a visual reminder of what he said when Trayvon was killed last year: "This situation hit home for me because last Christmas, all my oldest son wanted as a gift was hoodies. So when I heard about this a week ago, I thought of my sons."
In the aftermath, Tea Party message boards have talked about boycotting the Miami Heat. This is part of their broader plan to boycott Ebony. As the magazine tweeted archly in response, "We have so many Tea Party readers and followers. To lose all zero of them due to our September cover would be devastating." This led to the twitter hashtag #WhitePeopleBoycottingEbony, which is recommended for anyone who prefers laughing to crying.
Yes, I know there are those reading this who will see three separate events that tell three separate stories. To me they tell the same story. Sports are no post-racial oasis for the simple reason that it is a central part of the cultural life of this country. It reflects this summer of racial anguish. It's also become the arena where masses of angry young men on message boards, on Twitter and even on statues choose to puke their barbarism.
They vandalized a statue of the man the Hollywood Dream Factory told us was a pioneer of a post-racist future. I wish Hollywood instead told the story of the Robinson who said, "I cannot stand and sing the [national] anthem. I cannot salute the flag; I know that I am a black man in a white man's world." That's not just a bitter truth about how Robinson was seeing this country in the years before his death. It's a starting point for understanding how far we have to go and the seriousness of the fight ahead.