It's the Stupidity, Stupid: The Year in Quotes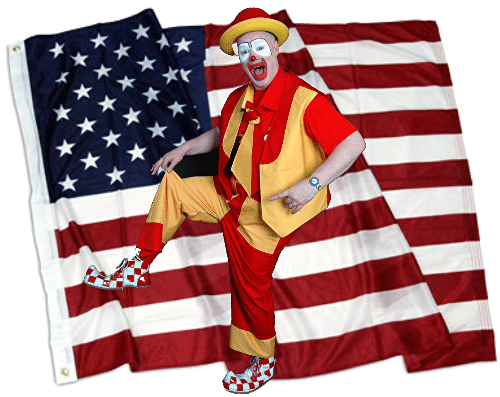 The careful Frying Pan News reader will note we make no claims that the following mots justes were 2012's stupidest quotes. How could we, in a year exploding with extreme gaffery? How, in fact, could anyone even keep a reasonable tally? Enjoy – and Happy New Year!
1. "I would say to them, 'Set me free.' " (Congresswoman Yvette Clarke, claiming Brooklyn's African Americans were Dutch slaves in 1898.)
2. "The evidence is inarguable that Australia is becoming too expensive and too uncompetitive to do export-oriented business. Africans want to work, and its workers are willing to work for less than $2 per day. Such statistics make me worry for this country's future." (Gina Rinehart, the world's richest woman, addressing the Sydney Mining Club.)
3. "We need a president accustomed to signing the front, not the back, of checks." (National Review staff's "689 Reasons to Defeat Barack Obama.")
4. "Bill Clinton just impregnated Sandra Fluke backstage." (Ann Coulter DNC tweet.)
5. "Quislings, French surrender monkeys . . . The state is going to hell. Col. Weh would not have dishonored Col. Custer in this manner." (Pat Rogers, RNC National Committeeman, in an email rant objecting to New Mexico's Republican governor's meeting with Native Americans)
6. "There are 47 percent of the people who will vote for the president no matter what. All right, there are 47 percent who are with him, who are dependent upon government, who believe that they are victims, who believe the government has a responsibility to care for them, who believe that they are entitled to health care, to food, to housing, to you-name-it." (Mitt Romney, cyborg presidential candidate)
7. "He's going to try to hand over the sovereignty of the United States to the UN, and what is going to happen when that happens? I'm thinking the worst. Civil unrest, civil disobedience, civil war maybe." (Texas Judge Tom Head on the possibility of an Obama victory.)
8. "Do you feel betrayed by your fellow Republicans?" (Mike Huckabee to Congressman Todd Akin.)
9. "In light of last week's attempted murder of employees at the Family Research Council (FRC), we pro-family organizations ask Fox News to discontinue guest appearances by homosexual agitator Wayne Besen on the popular O'Reilly Factor TV show." (Sally Kern, Oklahoma State Representative, among others, in letter to Fox News)
10. "This was Obamacare's ultimate goal: a system where the vast majority of Americans are receiving a check from the government. Then, when the system collapses under its own weight and the rising cost of premiums, the only path forward would be single-payer, the leftist dream." (Benjamin Domenech, Heartland Institute.)
Bonus Quote: Anything uttered by Donald Trump.