It's the Stupidity, Stupid: The Year in Quotes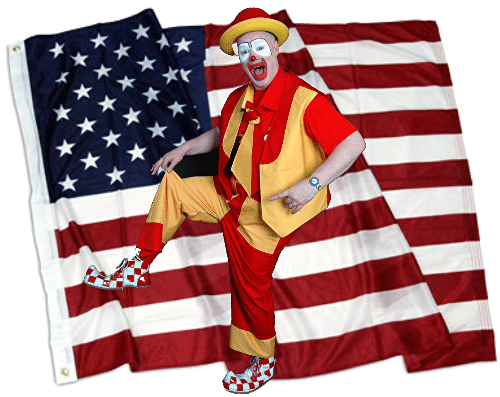 The careful Frying Pan News reader will note we make no claims that the following mots justes were 2012's stupidest quotes. How could we, in a year exploding with extreme gaffery? How, in fact, could anyone even keep a reasonable tally? Enjoy – and Happy New Year!
1. "I would say to them, 'Set me free.' " (Congresswoman Yvette Clarke, claiming Brooklyn's African Americans were Dutch slaves in 1898.)
2. "The evidence is inarguable that Australia is becoming too expensive and too uncompetitive to do export-oriented business. Africans want to work, and its workers are willing to work for less than $2 per day. Such statistics make me worry for this country's future." (Gina Rinehart, the world's richest woman, addressing the Sydney Mining Club.)
3. "We need a president accustomed to signing the front, not the back, of checks." (National Review staff's "689 Reasons to Defeat Barack Obama.")
4. "Bill Clinton just impregnated Sandra Fluke backstage." (Ann Coulter DNC tweet.)
5. "Quislings, French surrender monkeys . . . The state is going to hell. Col. Weh would not have dishonored Col. Custer in this manner." (Pat Rogers, RNC National Committeeman, in an email rant objecting to New Mexico's Republican governor's meeting with Native Americans)
6. "There are 47 percent of the people who will vote for the president no matter what. All right, there are 47 percent who are with him, who are dependent upon government, who believe that they are victims, who believe the government has a responsibility to care for them, who believe that they are entitled to health care, to food, to housing, to you-name-it." (Mitt Romney, cyborg presidential candidate)
7. "He's going to try to hand over the sovereignty of the United States to the UN, and what is going to happen when that happens? I'm thinking the worst. Civil unrest, civil disobedience, civil war maybe." (Texas Judge Tom Head on the possibility of an Obama victory.)
8. "Do you feel betrayed by your fellow Republicans?" (Mike Huckabee to Congressman Todd Akin.)
9. "In light of last week's attempted murder of employees at the Family Research Council (FRC), we pro-family organizations ask Fox News to discontinue guest appearances by homosexual agitator Wayne Besen on the popular O'Reilly Factor TV show." (Sally Kern, Oklahoma State Representative, among others, in letter to Fox News)
10. "This was Obamacare's ultimate goal: a system where the vast majority of Americans are receiving a check from the government. Then, when the system collapses under its own weight and the rising cost of premiums, the only path forward would be single-payer, the leftist dream." (Benjamin Domenech, Heartland Institute.)
Bonus Quote: Anything uttered by Donald Trump.

'Skeleton Crew' Is a Play With a Moral Spine
Set in a Detroit automobile outfitting plant, Dominique Morisseau's drama grabs you from the start with its focus on blue-collar men and women, and their struggle for dignity and self-respect.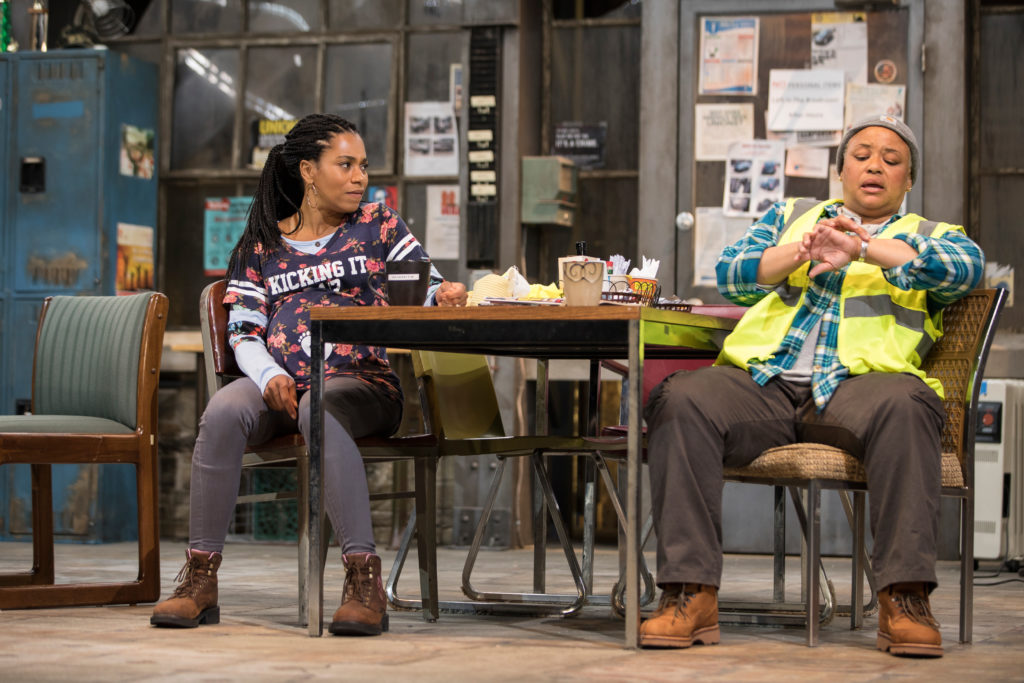 Working-class men and women of color are rarely front and center in today's media and, likewise, are presented all too occasionally on the American stage. So it's buoying to see that trend bucked in playwright Dominique Morisseau's percipient and well-crafted drama, Skeleton Crew. The play is the final installment in her Detroit  Project Trilogy; the first, Paradise Blue, is set in the 1940s amidst displacement caused by urban renewal and gentrification, while the second, Detroit '67, transpires on the eve of the 1967 Detroit riots sparked by a police action.
Directed by Patricia McGregor at Los Angeles' Geffen Playhouse, Skeleton Crew is a play with a moral spine. It takes place in 2008, when the shrinking U.S. auto industry is being further downsized. Morisseau's engaging quartet of characters — Faye (Caroline Stefanie Clay), Dez (Armari Cheatom), Shanita (Kelly McCreary) and Reggie (DB Woodside) – are employed at an automobile outfitting plant. Faye, Dez and Shanita are workers on the line while Reggie (who has a wife and kids, and has pulled himself together after a troubled youth) is their supervisor.
The first three customarily mingle in their break room (designer Rachel Myers' impressively cluttered, dingy and detailed set), trading the sort of familiar barbs and genuine concern for each other common among longtime co-workers. They also face off on philosophy: Upper-middle-aged Faye and the younger, pregnant Shanita take pride in their labor, while Dez, though a good worker, is a malcontent scornful of management and firm in the belief that everyone needs to watch out for himself. He's a thorn in Reggie's side, for while Reggie wants to be supportive of his workers, he must act at the behest of higher management. For his part, Dez resents Reggie's authority, and a palpable unease exists between them.
Besides this male matchup, we're made privy to Dez's attraction to Shanita, who mostly turns away his advances, but every now and then displays a hint of interest. Most poignant is Reggie's regard and affection for the lesbian Faye, which has roots in his boyhood when she loved, and lived, with his now-deceased mom.
These people's various predicaments intensify when rumors spread of the plant's shutdown — a disaster for all, but a particular calamity for the already near-broke Faye who, one year short of retirement, would lose her pension. The crisis forces each of these people to make a choice.
A sound piece of social realism, Skeleton Crew grabs you from the start in its focus on blue-collar men and women, and their struggle against odds for dignity and self-respect. Morisseau not only furnishes these characters a platform for their travails, she endows them with strong values, big hearts and the opportunity to choose between right and wrong.
Unfortunately, the performance I attended did not soar. Many exchanges lacked a fresh edge. The actors certainly had their characters down, but too often they appeared to be coasting on technique. (This seemed particularly true of Clay, who performed the role to great accolades in Washington, DC in 2017, also under McGregor's direction). Additionally, some of the stage movement was not entirely fluid; in confrontations, actors sometimes would just stand and face each other in an artificial way. And Cheatom's interpretation of Dez struck me as a bit overly churlish and depressive: I needed more glimpses of the intelligence and edge that would secretly attract the strong, self-directed Shanita.
The most compelling moments belong to Woodside, well-cast as a man trying his best in difficult circumstances to do the right thing.
---
Gil Cates Theater at the Geffen Playhouse, 10886 Le Conte Ave., Westwood Village; Tues.-Fri., 8 p.m.; Sat., 3 & 8 p.m. Sun., 2 & 7 p.m.; through July 8. (310) 208-5454 or www.geffenplayhouse.org