Interview: Rick Wartzman on Greed and Conscious Capitalism, Part 2
During his 20-year career as a journalist, Rick Wartzman delved deep into the reality of poverty for a major Wall Street Journal examination of the minimum wage and also mastered the intricacies of corporate finance as business editor of the L.A. Times. In yesterday's interview with Frying Pan News, the executive director of the Drucker Institute discussed the destructive force of big business' "shareholder-is-all culture." In today's conclusion, Wartzman talks about Walmart,  the outlook for unions and the need to build an education-based service economy.
Frying Pan News: How would you characterize Walmart, which is now trying to move into L.A.'s grocery market?
Rick Wartzman: Walmart is less Drucker-like than Costco, certainly, but increasingly presents a complicated picture. They've always paid lousy wages and benefits, squeezed suppliers until they choked and accelerated the race to the bottom in terms of low-cost labor. But I've always thought the plus side of the ledger wasn't empty. Walmart has always done some good with this notion of everyday low prices. That is beneficial for low-income communities. It's hard to argue that they don't have an understanding of customer value. You can't dismiss the idea that there is some social good in offering a whole range of products in neighborhoods that wouldn't otherwise have access to them. It's also gotten more complicated by the environmental gains they've made. It's easy to be cynical and say it's all posturing and PR, but by many accounts they've really moved the needle on green corporate practices. So while the things on the plus side of the ledger don't necessarily outweigh the negatives, there's no denying that the story is quite complex — and interesting.
FPN: There was a time in America when a unionized workforce was accepted by many corporations as the norm — do you think it would be good for the country if this once again became the norm?
RW: Yes, with a caveat. You can draw a straight line between the decline of organized labor and those stagnating wages that we talked about. Unions clearly had an effect not only on unionized businesses but also on nonunion businesses, which to keep organized labor at bay would give wages and benefits equal to or higher than what unionized businesses could offer. That was a big part of the balanced stakeholder approach; Kodak, for instance, would say to their workers, "Why do you need a union when we take such good care of you?" And they weren't lying. Unions clearly helped lift everyone's wages, and you can make the case that more organized labor would put upward pressure on incomes and help to recalibrate an unbalanced society.
The caveat is that there are reasons why unions have struggled — and some are of their own making. In the period beginning with Reagan, government and NLRB hostility to unions made organizing harder. Many companies have also made a concerted effort to keep unions out, and plenty have gone so far as to cheat or break the law. It's been an unfair fight in some ways. But unions have done quite a bit to shoot themselves in the foot, as well. Not all unions acted this way, but the labor movement in general became as fat, happy and inefficient as companies did in the '70s and '80s. When companies started going into decline, unions did too. The difference is that companies figured out how to pick themselves back up, whereas unions haven't. They are stuck in an old mode and they haven't innovated enough. A lot of union leaders became as bad as corporate CEOs, looking out for themselves and not the workers. And the union movement has to face up to that before there is hope of a real turnaround.
FPN: Where are the good jobs of the future that will allow us to rebuild the middle class?
RW: We're going through a wrenching change. We are in a post-industrial society. People with the knowledge win. The solution lies in creating as many good knowledge workers as we can, in creating a well-educated, creative, nimble workforce. In short, that means fixing the schools. But that, of course, is an incredibly daunting and expensive task. We have moved to a knowledge economy but we are still cranking out kids as if we are in a manufacturing economy.
FPN: But why can't the service jobs of the 21st Century be good middle-class jobs like manufacturing jobs became in the 20th Century?
RW: One way that those jobs became good middle-class jobs is that manufacturing productivity soared from the end of World War II until the early 1970s. We now need to increase service-sector productivity to see the possibility of raising all boats again. You need enough money flowing through the system.
That said, none of this will matter if all of the gains keep going to those at the top of the heap. Really, we need to take all of these steps simultaneously — better educate our children and provide meaningful lifelong-learning opportunities for adults; increase knowledge-worker and service-worker productivity; and get away from a shareholder-is-all culture.
FPN: So how does the culture shift happen in corporate America — who leads it?
RW: There are signs of it happening. There are companies, some of which have united under an umbrella group called Conscious Capitalism, that are beginning to question the shareholder maximization model. There is also an intellectual movement, which includes academics like Harvard's Rakesh Khurana, saying that maximizing shareholder value is flat-out wrong. And then there are organizations, like the Drucker Institute, which are providing alternative ways to think about these issues.
FPN: What is the L.A. media missing in their reporting on L.A. and its economy?
RW: Resources. It's impossible to have the same level of quality in a newspaper with 600 reporters and editors, rather than the 1,200 or so we had at the Times when I left. More generally, there's a void in writing about the working poor and working class and middle class in Los Angeles. Yes, there are great exceptions to that. But in general, there's a hole in terms of thinking holistically about working folks, understanding these people's lives, what they are up against, what are the big forces that are shaping huge pieces of our community.
FPN: What are the top three things the next mayor of L.A. should try to achieve?
RW: I would put education at the center of the agenda. Even though the mayor can't run the schools, Villaraigosa was onto something hugely important. We need to create more knowledge workers. We also need to prepare those who whose careers will fall somewhere in between pure knowledge jobs and service jobs – technicians who will use their hands but also need to use their heads. They need some math and English skills. But, most important, they need to know how to learn — and continually learn — because their jobs are going to change so much and so quickly over the course of their lives. There's a lot a mayor can do to keep flogging the issue in way that would be useful, encouraging more and more piloting to find things that work and scale them.
Second, a new administration might develop a business park, but one that would focus on service jobs instead of industrial jobs. The idea would be to bring in great thinkers from USC and UCLA and Claremont Graduate University to work with businesses to figure out how to raise service worker-productivity. You start with a blank slate: What would it take to make service jobs productive enough, and provide enough profit, to become real middle-class jobs?
Last, business gripes all the time about red tape and taxes. And a lot of their complaints are legitimate. Is there, then, some kind of grand bargain in which the city would strip away a lot of red tape and some taxation but, in turn, get companies to do something that would be of great social benefit? Would the Chamber of Commerce accept a citywide living wage, for example, in return for a much healthier business climate? Suppose the new mayor went to the business community and said, "Don't just automatically reject the idea of a citywide living wage. Tell me what I've got to do to make it acceptable for you."

What the NLRB's About-Face on McDonald's Means for Franchise Workers
While the National Labor Relations Board is currently divided 2-2, the confirmation of another Trump appointee will restore the Republican majority — which is bad news for fast-food-chain workers.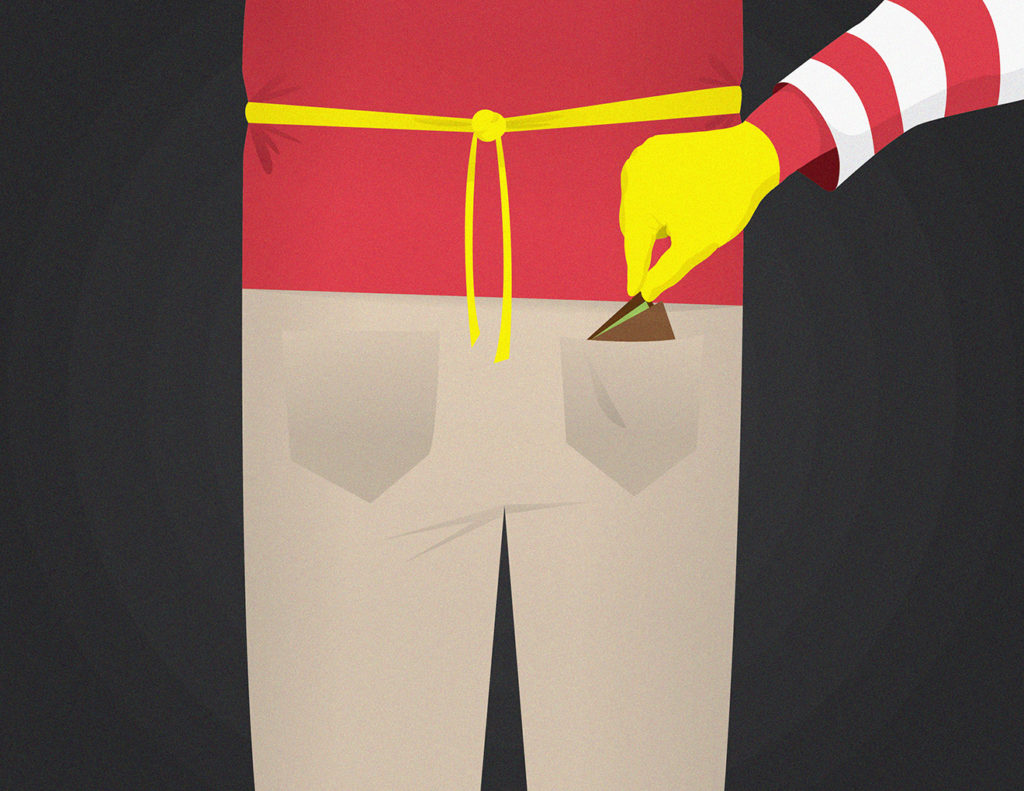 ---
With Donald Trump's election, the momentum at the NLRB is now with employers.
---
Workers at McDonald's joined the union-backed Fight for $15 campaign because many found that they could not get by on minimum wage without the help of family and public assistance. But joining that campaign spurred retaliation, with dozens of employees alleging that they lost money or their job for organizing to get better pay.
Enter the U.S. National Labor Relations Board.
In a victory for workers, the board decided the McDonald's Corporation was jointly responsible for punitive actions against employees across the country because the company dictates, among other things, how those employees cook and clean. That 2015 decision, in a case called Browning-Ferris, established a broad definition of "joint employer." It made franchisors potentially liable for the actions of individual franchises, citing the "indirect" control they exercised over employees and their workplaces. And it meant fast-food chains, among others, would have to collectively bargain with employees who joined a union.
Donald Trump was elected president the next year. By December 2017, the NLRB was back on the side of business with respect to who is and who is not a joint employer, the board overturning with a 3-2 vote the "indirect control" standard of Browning-Ferris.
Then a Republican member of the board retired, evenly dividing the NLRB along partisan lines. The board's inspector general then issued a report in February 2018 saying the December decision never should have been made — that, in particular, a Trump appointee should have recused himself due to a conflict of interest. The decision was thrown out, with congressional Democrats, such as Massachusetts Senator Elizabeth Warren, calling for hearings.
By that point, however, the NLRB had already ordered its lawyers to retreat in the most visible battle over the "indirect" joint-employer standard.
When an administrative trial began back in 2016, the NLRB had said McDonald's was jointly responsible for alleged labor violations at its franchises, including reduced hours, surveillance and wrongful termination of employees who had been organizing for better pay.
"If McDonald's is involved in determining working conditions at its franchised operations, it is responsible for what happens to workers subject to those conditions," NLRB lawyer Jamie Rucker said at the time.
But the NLRB sought and won a 60-day suspension of that trial earlier this year. Lawyers representing the Fight for $15 movement and its allies say the NLRB is now rushing through a proposed settlement that would see McDonald's get off without a finding of joint liability — which won't make it any easier for low-wage workers to collectively bargain.
"What I see is an attack on workers' ability to form a union," said attorney Marni von Wilpert of the progressive Economic Policy Institute (EPI). "If you were able to find a joint-employment relationship with the corporate [franchisor], then all of a sudden they all have one big employer, and all the employees can go to corporate McDonald's. That's really what it's all about, whether workers can organize."
Under the proposed settlement, McDonald's admits no wrongdoing, but its franchisees agree to cover back pay for workers fired as a result of their organizing.
The NLRB "is proposing a sham settlement," said Mary Joyce Carlson, a lawyer representing Fight for $15. "McDonald's directed a wave of retaliation that stretched from coast to coast and included illegally harassing, surveilling and firing workers in the Fight for $15. The hardworking cooks and cashiers who were organizing to get off of food stamps and out of poverty deserve a ruling in their case, not a settlement hammered out at the last minute in collusion with the Trump administration."
With Trump's election, the momentum at the NLRB is now with employers. Any setbacks would appear to be temporary: while divided 2-2 for now, the confirmation of another Trump appointee will restore the Republican majority. Once that happens, the NLRB can be expected to seek another opportunity to overturn the Browning-Ferris joint employer standard.
While Browning-Ferris did not explicitly pertain to the franchise model, it clearly spooked those who depend on it — and inspired those who think franchisors like McDonald's should be liable for the mistreatment of employees at locations bearing its name.
Fight for $15 has prioritized organizing at fast-food businesses, but forming unions is extremely difficult when a dozen small restaurants with the same name may have a dozen different owners. There are over 14,000 McDonald's restaurants in the United States, with only one in 10 owned by the corporation. The ability to collectively bargain with McDonald's, the corporate franchisor, would make a union's task easier — and help address the sort of labor violations that regulators routinely find at fast-food franchises. An EPI report says unionized workers are half as likely to be victims of wage theft, for example.
At an April 5 hearing, Fight for $15 attorney Kathy Krieger urged NLRB Administrative Law Judge Lauren Esposito to reject the settlement. Krieger argued that McDonald's had conspired with its franchises to thwart worker organizing, the corporation recommending, she said, that franchisees "restrict crew members from taking their meals or their rest breaks outside the crew room" as a means "to prevent concerted activity."
McDonald's attorney Willis Goldsmith said the company would never accept a settlement identifying it as a joint employer. "The franchisees, they're independent business people," he said. "They did whatever they did, and if they are willing to concede that, they're going to have to pay people. It's not our job."
While it appears the NLRB under Trump will ultimately reimpose the stricter, pre-Browning-Ferris standard that a joint employer must have direct rather than indirect control of workers, industry groups aren't taking any chances.
Jenna Weisbord, a communications manager at the International Franchise Association to which McDonald's belongs, said her group is looking to Congress to pass the "Save Local Business Act," which would legislatively reimpose the pre-Browning-Ferris standard. "We understand the Senate will take on this task later this year," she said of the bill, which passed the House last year.
A television ad campaign sponsored last year by the franchise association and the U.S. Chamber of Commerce argues the measure would restore "balance to labor law" in the face of a "runaway government agency." That agency, in the era of Trump, is increasingly tilting in the favor of business.
---
Copyright Capital & Main